Parbo
| Surinaamse Brouwerij N.V.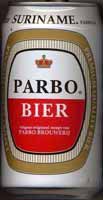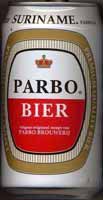 BEER INFO
Brewed by:
Surinaamse Brouwerij N.V.
Suriname
parbobier.com
Style:
American Adjunct Lager
Alcohol by volume (ABV):
5.00%
Availability:
Year-round
Notes / Commercial Description:
No notes at this time.
Added by Shaw on 10-17-2003
HISTOGRAM
Ratings: 13 | Reviews: 3

4.1
/5
rDev
+41.4%
look: 2.25 | smell: 4 | taste: 4.5 | feel: 3.5 | overall: 4.25

3.65
/5
rDev
+25.9%
look: 4 | smell: 4 | taste: 3.5 | feel: 3.5 | overall: 3.5
A friend's in-laws who live in Suriname brought back a few bottles of this pilsner and he gave me one! I always love to try "exotic" beers.
It's in a cool 330 mL brown glass bottle with a printed expiration date of "29 MRT 04" which I'm guessing (since I don't know Dutch) is the end of March, 2004. The ingredients are listed (in English and Dutch) as "malt, rice, water and hops," which I assume are not in order of quantity! I've had beers from Holland that list ingredients and with the Dutch influence in Suriname, I assume the desire to list ingredients just carried across the ocean. Let's hope that more American beers list their ingredients.
On to the beer itself. It is a pale yellow color, just like other pilsners, with a nice white head. It also has a good, grainy aroma. Its taste is crisp and refreshing, perfect for hot days. I think I can detect the rice in the aftertaste, but it is nothing bad.
Coming from warm Suriname, I'd expect their beer to be like this. Parbo is a good session beer to have on a hot day.
1,040 characters
3.3
/5
rDev
+13.8%
look: 3 | smell: 3 | taste: 3.5 | feel: 3 | overall: 3.5
Red with gold 330ml can indicates 5% vol. Born on/expire: "12 MEI 09" This can lists the ingredients (perhaps in order of concentration): "Water, Malted Barley, Rice and Hops."
Pale golden yellowish with very small ring of bubbles.
Lots of estery smells for a lager. Banana, pear, apple, bit of bread.
Tastes pretty similar to the nose. Light bready malt base with notes of banana and pear. Finishes somewhat dry, but no hops to mention, just never gets too out of balance. Pretty tasty adjunct lager.
Prickly mouthfeel, but not overly aggressive. Keeps this fruity lager pretty light and drinkable. Not bad.
612 characters


2.85
/5
rDev
-1.7%
look: 2.25 | smell: 2.75 | taste: 3 | feel: 3 | overall: 2.75

2.38
/5
rDev
-17.9%
look: 3 | smell: 2.5 | taste: 2 | feel: 3 | overall: 2.5
500 ml can, bought at the local Albert Heijn supermarket (which by the way were selling until recently the Parbo beer from Martens as it was coming from Suriname). ABV 5%. Poured into a footed pilsner glass. Clear pale yellow colour, lots of continuous activity in the glass and on top a big, three fingers tall head. Snow white and thick, soapy in texture. Adjuncts on the aroma with a very faint hops smell that is covered under all the rice. On the taste lots of adjuncts too. Mildly sweet, but the rice gives it a "dirty" flavour, and some light stale bread taste doesn't help either. Quite thin on the body, carbonation light to a medium. Overall, not that good.
669 characters

2.36
/5
rDev
-18.6%
look: 2.25 | smell: 3 | taste: 2 | feel: 3 | overall: 2

2
/5
rDev
-31%
look: 2 | smell: 2 | taste: 2 | feel: 2 | overall: 2
Parbo from Surinaamse Brouwerij N.V.
Beer rating:
2.9
out of
5
with
13
ratings