Golden Ale
| The Portland Hotel & James Squire Brewhouse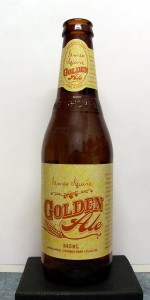 BEER INFO
Brewed by:
The Portland Hotel & James Squire Brewhouse
Australia
portlandhotel.com.au
Style:
American Blonde Ale
Alcohol by volume (ABV):
5.00%
Availability:
Rotating
Notes / Commercial Description:
No notes at this time.
Added by diablo14 on 07-12-2004
This beer is retired; no longer brewed.
Ratings: 8 | Reviews: 6
Reviews by Kulrak:

3.73
/5
rDev
+6.3%
look: 4 | smell: 3.5 | taste: 4 | feel: 2.5 | overall: 4
Pours a deep orange gold color with lots of creamy head that sticks around for a while. Smells of spicy hops (presumably amarillo as the bottle says) and a little citrusy. The taste is also a little citrusy, and there's some hints of passionfruit. Not really very malty, but not overpoweringly bitter either. Finishes nice and clean. Mouthfeel is a bit watery and a little fizzy/tingly. Overall, it's a very drinkable beer, and also very flavorful. I like it a lot, just wish it wasn't a one-time brew.
502 characters
More User Reviews:

3.53
/5
rDev
+0.6%
look: 4 | smell: 3.5 | taste: 3.5 | feel: 3.5 | overall: 3.5
Not sure if this beer has been retired for good or not, but I bought a 6 pack today from Duncan's Bottle-O... although this says Golden Ale, its rated at 4.5ABV...
A: Clear, Dark Golden with good 2 finger head, good carbonation, great head retention & attractive lacing.
S: Very fruity, little sweet honey, some floral hops...quite full, smells summery & fresh.
T: Definately earthy, some floral citrus freshness, & enjoyable bitterness to finish (not too much but!)
M: Creamy, smooth, medium mouthfeel...a tad watery yet a little scrapey on the tongue, but not a problem
D: Struggled to find any belgian flavours (this is listed as a Belgian Pale Ale)...& not overly complex but very enjoyable
699 characters
4
/5
rDev
+14%
look: 4 | smell: 4 | taste: 4 | feel: 4 | overall: 4
Had this beer 2 -12 - 2005 at portland hotel.
A = Poured a bright orange colour. Nice fluffy white head.
S = Smelt of sweet malts and summer fruits like apples.
T = Very malty with fruity middle that you can taste but then again can't. Thats right you read correct. Its there but it aint. No other way I can really describe it.
M = Moderately carbonated.
D = Refreshing. Can drink a few of these in a session and not get tired.
442 characters

2.8
/5
rDev
-20.2%
look: 3 | smell: 3 | taste: 2.5 | feel: 3 | overall: 3
another newbie at the portland, but nowhere near as good as their other new addition, the charlottes gift. this one doesnt know what it wants to be, and while theres some promise there, lacks a lot of character and balance.
cloudy light orange color with a softish head and busy bubble action going on in there. nose is lacking. some floral hops and sweetness going on, but malt and other characters are persona non grata. taste similar. lacks any force in the flavors. just not malty enuff, the fruity element is so sedate its almost comatose, and the hops come across like a shy bride on wedding night. ready to go all the way but not enuff coaxing to get the full revelation. has the potential to be a good beer, but seems to be far too restrained or under developed in every department. its not a bad drop, but a bit of a nothing beer on the whole.
they have brewed worse beers at this establishment, but this is one i hope they either tweak considerably or dispense with. for a place like this, it cant be worth mucking around with a so so beer when they have done so much better with other brews.
1,109 characters
2.71
/5
rDev
-22.8%
look: 4 | smell: 3 | taste: 2 | feel: 2.5 | overall: 3.5
Thanks to KBL Tim for bringing this beer from Australia.
I dont know if this is the same beer I had, my bottle said it was "Golden Ale, Limited Release". It sure in the frick wasnt a belgian pale ale though.
Crystal clear, pretty orangy brass color.
Malty, liberty hop aroma.
Weak, waterdown taste. Something I could see wanting to drink after getting my head mashed in playing rugby or something, but not otherwise.
Really though, too light to be pleasant. I imagine beer tasting like this if grain becomes a luxury item so that ales must be watered down to one-fifth their supposed strength.
604 characters
3.78
/5
rDev
+7.7%
look: 4 | smell: 3.5 | taste: 4 | feel: 3 | overall: 4
Poured a very bronze colour with a nice fluffy head. Smells rather sweet with earthy undertones. It tastes rather passionfruity with citrus flavours on the aftertaste. It is a bit fizzier than I am used to but isn't overpoweringly so. In all honesty I'd describe this as a girly beer due to sweetness but it is so very easy to drink. I will be buying more while it is in stock.
377 characters
Golden Ale from The Portland Hotel & James Squire Brewhouse
3.51
out of
5
based on
8
ratings.