Westside Brewing Company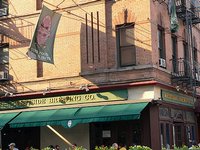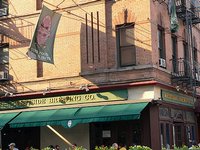 Bar, Eatery
340 Amsterdam Avenue
New York
,
New York
, 10024
United States
// CLOSED //
Notes:
Reviews by brentk56:
brentk56 from North Carolina
3.88
/5
rDev
-1%
vibe: 3 | quality: 4 | service: 4 | selection: 4
I'm going to give this place higher marks than many of the other reviewers who have preceded me. But first, let me preface by saying that each time I have been in this place, I have sat at the bar and have only had a pint or two.
I have never eaten any of their food nor have I dealt with any of the clueless waitstaff that others have complained about.
My experience has been that there are a 20+ taps of beer which provide a nice range of selection. I have had Blue Point Toasted Lager, Arrogant Bastard, Magic Hat #9, among others on earlier visits.
The bartender was very knowledgable and worked the bar area effectively. This isn't a beer bar that I would go out of my way to visit, but fits the bill as a neighborhood spot.
Jul 16, 2005
More User Reviews:
HamFon from Colorado
4.28
/5
rDev
+9.2%
vibe: 4 | quality: 4 | service: 5 | selection: 4
Visited 5 August 2008 (Tuesday) at 4PM. Although this sounds like a brewery, it's not. It stopped being a brewpub about 9 years ago, according to the bartender. However, they did have a good selection of tap beers as well as some bottles. I was able to find five beers that I had not had before on tap (Magic Hat #9, Blue Point No Apologies Imperial IPA, Green Flash Grand Cru, Legacy Euphoria, and Shmaltz Human Blockhead - see detailed ratings at www.BuildABeer.org). The bartender was very knowledgable about beer and was very accomodating in supplying tasters, even though they generally don't do tasters. Thanks Kirk! See ya at GABF! Definitely a good place to visit for a selection of interesting beers.
Aug 18, 2008
rhoadsrage from Illinois
3.66
/5
rDev
-6.6%
vibe: 3.5 | quality: 4 | service: 3.5 | selection: 3.5
When I walked in I already knew that they were no longer a brewpub but it had a nice Chicago style dark wood bar with some good taps. I was looking for local brews and hoping for a few east coast gems as I sat down at the bar. I looked around and most people were drinking mixed drinks with a few drinking beers.
They had an average selection of the popular craft beers from around the world with a few local craft brews tucked in. I tried a Mother's Milk stout and Peaks Organic IPA before I had to meet people for dinner. I decided I didn't need to stop back on my way to the hotel but it was a nice place. I was shocked when I got the bill and it was $3.00 a beer. At first, I thought she made a mistake but it say happy hour prices on the bill. I thought about asking if the $16 Old Dub 16 would be half price but that was still more than I wanted to pay to try it.
There was lots of people eating in the back but I didn't even look at a menu.
Apr 30, 2008
paddyos from Pennsylvania
3.25
/5
rDev
-17.1%
vibe: 4 | quality: 4 | service: 1.5 | selection: 3.5 | food: 4
Saturday afternoon for late lunch and drinks. Was initially impressed with both the draft and bottle selection. I ordered a Stoudts Double IPA and was served a Guinness. I called the waiter back and he seemed completely confused when I told him it was wrong - he said he would check with the bartender just to make sure. He came back and said they were out of the Stoudts Double IPA and the bartender figured she would just give me a stout. Makes complete sense, right? Ended up drinking a few Harpoon Munich Darks - which I was pretty impressed with. The rest of the party were all happy with the quality of their selections too. The atmosphere was pretty chill - not crowded at all and lots of college football on. The nachos were good, the pulled pork sandwich was better than good. If it wasn't for the inattentive, clueless waiter who at times seemd to be high, I would have no problem going back here and I most likely will.
Oct 17, 2006
soulgrowl from England
4.3
/5
rDev
+9.7%
vibe: 4 | quality: 4.5 | service: 4.5 | selection: 4
After walking around the upper west side for about an hour trying to find a bar, any bar, that was still open, we finally stumbled into the Westside Brewing Company, and a better place I'm sure we could not have stumbled into. When we sat down the barmaid told us that she had just called last call, so we just kind of sat there, not knowing what to do for a while... but then we talked to her and she was kind enough to accommodate us. They had about 20 taps and probably around 75 bottles, most of it good stuff including a lot of local brews (Sixpoint, Ommegang, etc.) and some of the more well-known Belgians like Unibroue, Chimay, Rochefort, and the like. Overall, a friendly, low-key place with a very decent selection and a friendly staff. Recommended, especially if you're in the area because there aren't a whole hell of a lot of good bars around there.
Jul 17, 2006

Billolick from New York
4
/5
rDev
+2%
vibe: 4 | quality: 4 | service: 4 | selection: 4
This upper west side corner bar, features about 25 quality bottle selections, and 18 quality taps. Its got some outside tables, nice windows, and a dark wood interior motif. All in all a pleasant feel. Getting back to the brew. I was impressed by the variety and quality. On tap they had selections from Stone, Bklyn, Ithaca, Blue pt. Bear Rep, magic hat, New castle, Chelsea (2) and some others.Minimal tap wasters, although they do offer Bud. The bottles likewise were high quality and any BA wlould find many worthy selections. They display a half dozen of the bottles with the matching glassware,(Aventinus, himay, etc) a nice touch and a sure sign they "respect beer"! Food is varied and worth a try. This is a place that while they no linger brew their own, still makes a worthy effort to offer a bunch of fine brew selections. Also this seems to be a well run, popular place that moves the liquid product quickly. Everything I tried was in good shape.Worth a visit if in the area and certaintly this is the best beer destination before or after a show at the Beacon theatre. (3 blocks away)
Aug 06, 2005
RedDiamond from Oregon
4.13
/5
rDev
+5.4%
vibe: 4 | quality: 4 | service: 4 | selection: 4.5 | food: 4
I came across the Westside Brewing Company while attending a funeral at the memorial chapel across the street. Since my spirits were in need of lifting, I returned the next day for two beers and a light meal.
Westside Brewing hasn't brewed beer in years, though I'm told their original recipes are contracted to the Chelsea Brewing Company downtown. I'm a big advocate of truth in advertising. If you don't brew, you shouldn't call yourself a brewing company. Alright, perhaps we can grandfather the name in this case because they did once brew on premises. It's been suggested to me that real estate values in Manhattan make it difficult to justify occupying too much floor space with fermenters and conditioning tanks. All that space could be filled with paying customers and the microbrewing revolution hasn't exactly set Manhattan on fire.
Still, there's nothing like a New York City neighborhood bar, and that's what the Westside really is. I love the old tin ceiling with its dormant ceiling fans, the stained glass, and that huge copper duct that hangs suspended from the ceiling. The back room has a gas fireplace and apparently the glass doors facing 74th St. open onto the deck in summertime – a precious artifact in New York. Get rid of the TVs and this place would look right at home in a movie set in 1890's New York. They offer a sizeable selection of top-shelf Scotch, specialty tequilas, and a modest choice of international wines. House beers are limited to two regulars (simply called Blonde Ale and Red Ale) and one seasonal, which on my mid-winter visit was a 10% ABV imperial stout.
The beer menu is fairly ambitious. I counted 20 guest taps covering everything from Guinness, Brooklyn, and Pilsner Urquell, to Southampton, Rogue, Magic Hat, Ithaca, Stone and Harpoon. There are also more than 40 bottled beers on hand. Food is standard American bistro and is modestly priced and well prepared. Recommended for a casual pint if you're in the area.
Mar 23, 2005
lackenhauser from Maryland
4
/5
rDev
+2%
vibe: 4 | quality: 4 | service: 4 | selection: 4 | food: 4
A great pub right around the corner from the Beacon Theatre if youre in town for a show. I have been there 4 or 5 times in the last several years. They no longer brew there but have 3 "house" beers brewed at Chelsea Brewing Company-blonde,red and stout. Had several pitchers of the red to keep the "average" beer drinkers in the group happy. It was your standard brew pub ale-not bad.
Anyway it has a decent tavern type feel to it. Bar right inside the doors and tables down along the windows. More tables in the back past the kitchen area. Any and everything I have had here has been of decent quality. Servers always seemed attentive-didnt really ask about the beers too much. They have what I would consider a very good selection-NY Micros (Brooklyn,Blue Point,Southampton),Pilsner Urquell,Arrogant Bastard,Chimay,Guinness,Sam Adams Chocolate Bock and maybe 6 or 7 other taps. For as small as they are I could find several things to sink my liver into. Have eaten here 3 or 4 times-most recently had a burger. Pulled pork sandwich is good too.
All in all a pleasant experience. I dont think Id go out of my way to get here. Its really a "beer bar" more then a brewpub but if youre up this end of the city, near Central Park West or hitting the Beacon its well worth a stop. Price for 4 of us for dinner, 2 pitchers of beer and an appetizer, with tip $100.00-not bad for NYC.
Nov 29, 2004
TheLongBeachBum from California
3.36
/5
rDev
-14.3%
vibe: 3.5 | quality: 3.5 | service: 3 | selection: 3.5
A fantastically relaxing walk through Central Park, which culminated in a dozing sleep in Sheep Meadow, meant that I was seriously chilled out by the time I woke up and realized that it was almost time to head out West and meet up, and share a beer with fellow BA [and my host for the weekend] Gentleman Rapopoda. We had agreed to meet here at a pre-determined time early on the Saturday afternoon of a long, hot and sunny 2004 Labor Day weekend.
I left Central Park at the 79th Street exit, from there it was a slow 5-10 minute walk to Amsterdam Avenue and then down to 76th Street. I arrived a few minutes before Rapopoda and used the time to check the place out.
A rather typical looking corner bar, the word "Brewing" always grabs my attention, but as I already knew, Westside ceased brewing some time ago and the word is just a throwback to the old days of filling the air with the odors of malt n' hops. A long thin corner bar, with lots of dark wood, but which seems short on open space somehow, partly thanks to the fact that Tables, Chairs and Stools are crammed everywhere. Open on its frontage on Amsterdam Avenue and side down 76th Street, it was dark inside and offered a nice cool respite from what was becoming a hot afternoon - once inside it had a nice relaxing feeling as well. As you enter from Amsterdam Avenue, the bar runs down the whole right hand side, forever seemingly. It ends with a couple of restrooms and a small backroom that is basically orientated around dining. Down the left hand side there are tables and chairs which at times open out into an external seating deck area in places. Several Banks of Taps number around 24+ Taps if memory serves me right. Many micros and regular brews, a crappy American 'Cider' are all interspersed with a few interesting macro Ales and even some West Coast brews (including Stone), plus a few from Chelsea [which was our next planned destination as it happened]. In addition to the draft brews, an innumerate amount of bottles were on display behind the dark wood bar, some of which were available, I think the bottle list totaled around 30 bottles, and like the draft brews is a mix of great, good and average.
Early in the afternoon during my visit it was quiet, a couple of guys were sat right at the end of the bar, where I decided to plonk my cheeks on a Barstool whilst I awaited the grand entrance of Dave Rap. A handful of people occupied the outside tables that run down the 76th Street side of the building. Even so, the waitress seemed more intent at staying at the far end of the Bar reading her book and ignoring all of us, much to the consternation of the guys sat near me when they wanted a refill, they basically had to shout very loud to get her attention, and even then, she did the "slow walk" up the Bar and looked pissed at being interrupted, a little attitude that was not welcome all round.
Does food, but I never had any.
Looked alright, but never really impressed.
Had enough brews for a nights drinking but I was happy with just a brace of brews.
Overall a decent enough place, but not one that really grabs your attention or induces an explosion of love; the Westside is one of those places that is really handy to know where it is if you're in the area and fancy a beer, especially if you are walking round nearby area in Central Park or taking in the local Museums.
So yes, a great place to "drop in for a brew or two", when you are in and around the local neighborhood. It is even worth the walk from the Westside of Central Park, but not much further, and not really worth a special trip. Still, it was an enjoyable place to drink a couple of beers until djgonzalez and Rokotgirl appeared to share the last beer with myself and Rapopoda and then transport us over to Chelsea Brewing for yet more beer with a few more BA's, and what would turn out to be the start to a great Saturday BA NYC session over the 2004 Labor Day weekend.
Last Visit: Saturday 4th September, 2004.
Sep 15, 2004
Loki from North Carolina
3.85
/5
rDev
-1.8%
vibe: 3.5 | quality: 4 | service: 4 | selection: 4 | food: 3
Went there on New Year's Eve to grab some drinks before we went to the concert at the Beacon. The said tonight we had to order food if we wanted a table and their weren't five open bar stools for us so we sat and ordered apps. The service was good, attractive waitress, with a little attitude. The food was ok, not good by any means, but edible.
They had a decent selection with some belgians, stone, brooklyn, etc. As well as some of the big 3. Good bottle selection as well. But since the macros are the same price as the micros and craft beers, why order one of them. Alagash White or Bud for $5...hmmm I wonder? Have Arogant Bastard on tap. The Chimay Triple seemed a little off, very minerally. Not a bad place.
Jan 02, 2004
slander from New York
3.75
/5
rDev
-4.3%
vibe: 4 | quality: 4 | service: 3.5 | selection: 3.5 | food: 4
For starters, it's about time they rename the joint because they don't brew beer anymore. Haven't in years actually. Sure, they used to. Yeah, they made beer once. Made a pretty decent brew. They were one of the forerunners in brewpubs in NYC behind Zip City. But that was some time ago and now the brewing vessels are gone.
They're running 2 dozen taps, with some decent selections (Brooklyn, Rogue, Stone) and they're pouring a few of the Chelsea Piers beers (The Checkercab Blonde and the Sunset Red Ale) but they oughta pour the whole damn lot of 'em. They've also got a decent bottled beer selection as well, sporting nearly 30 beers (Ommegang, Orval, Chimay, Corsendonk and a good deal more actually), although they're tucked away out of site. All you see in the big tubs are bottles and bottles and bottles of swill on ice in nice neat little rows. Phooey!!
The food is pretty good. I've never had a bad meal here. Decent atmosphere overall with a good dark wood decor and large windows that open out and a sidewalk eating area out front on Amsterdam and around the corner.
Jul 22, 2003
kirklstruble1 from New York
4.53
/5
rDev
+15.6%
vibe: 4 | quality: 4.5 | service: 4.5 | selection: 5 | food: 4
Although the house beers are no longer brewed on premises, it's hard to go wrong with over 20 draft lines and an extensive import and domestic bottle selection. Some prime draft examples include Stone Arrogant Bastard, Rogue Dead Guy and Chimay Triple. A must for beer lovers visiting Manhattan's Upper West Side. The food was suprisingly good too!
Jul 03, 2003
Westside Brewing Company in New York, NY
Place rating:
3.92
out of
5
with
12
ratings