Beer Blond
| Uehara Shuzou Co. Ltd. / Echigo Beer Pub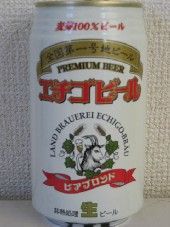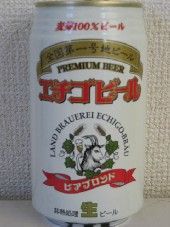 BEER INFO
Brewed by:
Uehara Shuzou Co. Ltd. / Echigo Beer Pub
Japan
echigo-beer.jp
Style:
American Blonde Ale
Alcohol by volume (ABV):
5.00%
Availability:
Year-round
Notes / Commercial Description:
No notes at this time.
Added by donnebaby on 03-14-2004
HISTOGRAM
Ratings: 10 | Reviews: 7
None found.
More User Reviews:

3.28
/5
rDev
-8.6%
look: 3 | smell: 2.5 | taste: 3.5 | feel: 4 | overall: 3.5
Appearance: It pours a pale golden body with a one finger head. The head dissipates quickly.
Smell: It lacks a "boldness" I was hoping for. There is nothing particularly unappealing but there is also nothing to write home about. There is a slight malt and cracker aroma but that is about the extent of it.
Taste: This is much better than the smell. Sweet malts and crackers blend nicely with a taste that resembles fruit punch. A touch of hops is noticed at the end before blending into an aftertaste dominated by heavy malts.
Mouth feel: The beer has a nice body for the style and the heavy amount of carbonation is refreshing.
Overall: There is nothing overly complex about this brew but it is quite refreshing and offers more in terms of flavor than almost all macro beers on the shelf in Japan.
805 characters

3.5
/5
rDev
-2.5%
Poured from a can. Large, rocky, off-white head; fair retention; some spotty lacing. Body is clear, gold. Aroma includes light, pear-like hops, vanilla sweetness. Upfront flavor is a nice biscuity malt sweetness; soapy, earthy hops. Medium body supported by lively carbonation; smooth but with a crisp bite.
Overall crisp and refreshing, much like an adjunct lager but with slightly more hop character and body. Flavor is quite light and largely characterized by a soft malt sweetness offset by the mild hop bitterness.
522 characters

4.15
/5
rDev
+15.6%
look: 4 | smell: 4 | taste: 4.25 | feel: 4 | overall: 4.25
Picked up a can in Tokyo. Poured into a goblet.
A: Golden in color, slightly red tint. Not much of a head, bubbles rising from bottom.
S: Citrus and floral notes. Light fruits, peach, pears, orange, banana. Very nice!
T: Complex, there is a lot going on here! Fruits are prominent stars off with a hint of malts, then the peach, orange and banana kick in along with a hint of hops, and finishes with sweet fruits and a hint of grains.
M: Carbonation is prominent, quite dry and light. Almost zesty!
O: This is interesting! Really fruity which I liked. The peach was great. A solid refreshing beer that is great for the fruit lover.
638 characters
3.51
/5
rDev
-2.2%
look: 2.5 | smell: 4 | taste: 3.5 | feel: 3 | overall: 3.5
The can states that this is a 100% malt beer, and goes on to explain that it is of the golden ale style, uses aromatic hops, and that it has a fruity taste. Ingredients are: malt and hops
It pours strong yellow with an exciting white head that unfortunately is gone before I blinked twice, with nothing remaining, nothing, just yellow beer.
The smell is definitely the most exciting part of this beer, with whiffs of strawberries and cream coming off, at times tending towards fermenting strawberries though... Fruity, but with very light malt accents, giving an overall light impression.
The taste is light, malty, and creamy, with the same fermenting strawberries taste. Carbonation is soft and light. Nice, firm hop presence. A bit of an unpleasant alcohol aftertaste.
Sort of interesting among Japanese beers, but not really all that enjoyable.
861 characters
3.82
/5
rDev
+6.4%
look: 3.5 | smell: 4 | taste: 3.5 | feel: 3.5 | overall: 4.5
can't say much for the style, probably the only blonde i've had was from redhook, ages ago. but after reading the BA description of the style, i would say this definitely fits (lager like) and for a japanese beer, this is quite good. also this is just the 2nd echigo that i've tried, after their great stout. i'm looking forward to the next one.
pale golden with a nice looking head that lasts a few seconds. strong fruity, malty smell, more strawberry than say a citrucy pale ale. nicely balanced, with a medium hopppy bitter finish. by no means complex or extreme but definitely drinkable
593 characters
3.35
/5
rDev
-6.7%
look: 4.5 | smell: 2 | taste: 3.5 | feel: 4 | overall: 4
Appearance: Tall, frothy, meringuey head with great retention supported by a column of bubbles, rising like little sparks, in the center of a light, peachy whisky-colored body. Almost Belgian in appearance.
Smell: Bummer. Exceedingly weak. Like, ridiculously so. So weak it's hard to describe; toasted marshmallows? Bread? Crystal Pepsi? Strawberries? So far, this is fairly disappointing.
Taste: Surprisingly robust! Sweet malts flutter above the palate with a marshmallowy lightness, then descend, transforming to become quite bready, nutty, and even toasty. Hops lack character, but they are quite brisk and quite bitter, clinching the finish with a firm, leafy tug.
Mouthfeel: Soft and airy and clean and dry. It sound like a fabric softener slogan, but there it is.
Drinkability: This turned out to be a pleasant surprise after such a laaame first whiff. If you like a good Pilsener, this is your ale!
910 characters
3.3
/5
rDev
-8.1%
look: 3.5 | smell: 3.5 | taste: 3 | feel: 3.5 | overall: 3.5
Canned, purchased in Taipei at around 1.50 pounds; BB 23/10/2007, served lightly chilled in a large bulb wine glass.
A: dark-yellowish to golden in colour, topped with a thin and loose foam settling fast to a rim; semi-lively carbonation, not overly fizzy.
S: lively fruitiness and hops comes in abundance (with notes of pineapple-ish yeastiness, grassy hops, light citrus-fruits), while the mildly grainy+cane-sugary malty layer helps to keep a healthy bedrock. Refreshing and fruity, albeit lacking a sound complexity.
T: the faint malty foretaste quickly yields to a mildly citric-zesty chewy palate and a dry-ish, semi-mineral undertone; hops are restrained in flavour, but quite pronounced in the form of a chewy-zesty palate, while an extra touch of flat bitterness makes it all the more "more-ish". A faint touch of dirty kitchen cloth hides in the end, too.
M&D: lively in mouthfeel, full of microscopic, soothing fizziness, while the body is light and enjoyable, but slightly thin in the end - overall, very drinkable. If only the flavour could be greatly enhanced, this might as well be a colourful Blond Ale.
1,120 characters

Beer Blond from Uehara Shuzou Co. Ltd. / Echigo Beer Pub
Beer rating:
3.59
out of
5
with
10
ratings