Koshihikari Echigo Beer
| Uehara Shuzou Co. Ltd. / Echigo Beer Pub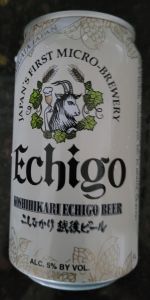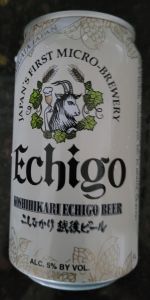 BEER INFO
Brewed by:
Uehara Shuzou Co. Ltd. / Echigo Beer Pub
Japan
echigo-beer.jp
Style:
Japanese Rice Lager
Alcohol by volume (ABV):
5.00%
Availability:
Year-round
Notes / Commercial Description:
Koshihikari Echigo Beer is a rice lager beer that uses a super-premium short grain rice called Koshihikari. Produced in the ideal rice growing region of Niigata Prefecture, Koshihikari is known to be the best quality rice in Japan. The flavor of this premium beer can only be made with this rice.
Added by donnebaby on 04-09-2004
HISTOGRAM
Ratings: 210 | Reviews: 103
3.88
/5
rDev
+15.5%
look: 4 | smell: 3.5 | taste: 4 | feel: 4 | overall: 4
Poured a super pale straw yellow with a small head that quickly vanished.
The aroma of the beer was of faint malt with some notes of corn.
The flavor of the beer started out with a light sweet maltiness, but finished very clean and dry. The hops provided a soft floral bitterness. There were some light phenolics that gave a nice tingle in the finish.
The mouthfeel on this beer was light, but in no way thin. The carbonation was lively and bright.
This was what I'd call a very good version of Asahi Superdry. Say what you want about light lagers, there are good versions that exist that are crips, refreshing, and full of flavor. This is one of them.
664 characters
2.9
/5
rDev
-13.7%
look: 3 | smell: 3 | taste: 3 | feel: 3 | overall: 2.5
Note: I don't know crap about Japanese rice beer.
Appearance- Pale straw color. Abosultely crystal clear!!!! Head pretty white with little staying power and no lace.
Aroma- Smells much like a Continental pilsner, with hints of rice, fresh corn and just a tad of wet-cardboard. As unapetising as that sounds, it actually smells pretty drinkable.
Taste: Very interesting. Again, it tastes mostly like a German or Czech Pilsner, but with a twist. There's something going on with the aftertaste. That wet carboard thing. Again, it seems to work. Not objectionalble at all.
Mouthfeel- Medium body. Good carboantion level.
Drinkability- Very easy going. Good as a dinner brew or as a working out in the yeard brew. The finish does get worse as it warms and flattens.
775 characters
3.8
/5
rDev
+13.1%
look: 3.5 | smell: 3.5 | taste: 4 | feel: 3.5 | overall: 4
A: Light staw color very light head.
S: Reminds me of the smell of sake with a touch of hops
T: Refreshingly light, and dry hint of rice and maybe a little lemon
M: Very light, little carbonation, but overal pleasant
D: Nice beer to drink with sushi and I can see myself drinking it again.
301 characters
3.33
/5
rDev
-0.9%
look: 3.5 | smell: 3 | taste: 3.5 | feel: 3 | overall: 3.5
A: About has pale as they come....the color of light straw. Clean, clear, crisp. Head is surprisingly good, stark white and webby.
S: Corn pops, freshly sprouted greens and cold, wet rice.
T: Sweeter than dry with a trippy lavender flavor to it. If I didn't know any better, I'd say that lavender was added to this beer. Maybe it is? Lightly sweet in the white corn type of way, not dry or cardboard like. Finishes very floral with more lavender like flavors.
M: Thin but fairly smooth. Crisp which fits the style.
D: One of the better Japanese rice beers I've had. At the least, it stands out from the pack and I could pick it out in a blind tasting, easy.
669 characters
2.45
/5
rDev
-27.1%
look: 2.5 | smell: 2.5 | taste: 2.5 | feel: 2 | overall: 2.5
Presentation: Half Liter bottle, though this 500ml bottle has a rather unique profile I find with its curved shoulder and neck. Sealed with a black crown cap which had a gold design and text on it. Main label has a water color scene of Paddy Fields and lots of Japanese text all over it. Thankfully the back label has some English text and describes this as from "Echigo Beer Company" and lists it as "Koshihikari Echigo Beer". No strength or freshness though.
Appearance: Pale straw body exhibits serious well-water clarity. Head is bone white and whilst it rises with a puffy start it soon settles down to a thinner covering, but it never breaks.
Nose: Tends to come off as a rice-laden light lager, which I guess it is in a way. Occasionally I detected some acidic lemon bitterness but it was very feint, too feint to register as a permanent contribution.
Taste: Grain and some musty hops, thin body reveals a tendency to be acidic at times. Finish is reasonably clean, but the centre is uneventful. Hard to add much more about this brew except for the fact that it tends to a very neutral brew, it doesn't add a lot to experience but never takes anything away from it.
Mouthfeel: Middling feel, light texture with an airy carbonation lends a very lagery feel to this offering. Sadly it gets thinner as you work your way through this brew.
Drinkability: Easy going, it has nothing to prevent you enjoying say two bottles of this, but neither does it have anything that warrants picking up a case of them.
Overall: Nothing outstanding or vaguely interesting and it suffers from some of the worst aspects of the American Macro lager. A reasonably clean drinking brew that doesn't take much effort, which is suited to a warm sunny September afternoon in Long Beach.
1,795 characters
2.65
/5
rDev
-21.1%
look: 2.5 | smell: 2.5 | taste: 2.5 | feel: 3 | overall: 3
Pour: .5L bottle to pint glass. Bottle has really cool label of laborers in a rice field, no English at all but for the import label on the back. The beer pours a clear bright yellow liquid with a loud white head that maxes out at about a centimeter. The head fizzes away very quickly and leaves ne'er a trace behind.
Nose: Associate this smell with lighter beers, almost macro lager-ish. Aromas of pear, mint, marijuana rise slightly above the smell of rice, but even with strong agitation there's not a whole lot of olfactory stimulators jumping out of this glass.
Mouth: Rice. Not in a sake way, but like rice on your plate. Has a strong bubbly mouthfeel. Malts up front and along sides of mouth, almost to the extent of a malt liquor. Has just an inkling of a bitter finish with some warmth and a chewy hop sensation, tingly with chili peppers and a grape skin sweet/bitter character. It's an excellent beer for a hot day in the sun, as long as it's served cold.
972 characters
3.42
/5
rDev
+1.8%
look: 3 | smell: 3.5 | taste: 3.5 | feel: 3 | overall: 3.5
Note: this may not be the freshest can, it says 060624. i assume that's the best before date, and that it's june 24th, which is only 10 days away. so i may try to get a fresher can and revisit this beer in the future.
appearance is standard pale lager, clear, straw colored with a nice fine-bubbled head. this echigo beer has a definite smell to it. it's not so different from other rice lagers, but stronger than most. not bad, but loses points for reminding me of every other japanese beer.
tastes like a japanese rice lager, and a fine one. smooth and thirst-quenching after a hot day. the amazing thing about this beer, and i will probably remember it for this reason, there are no off flavors. as i said, it's probably an old can. but it is still tasty and lacks the tap water taste i get from so many macros. worth a try.
833 characters
3.72
/5
rDev
+10.7%
look: 3 | smell: 3.5 | taste: 4 | feel: 3 | overall: 4
I bought it out of curiousity. As has been mentioned in other reviews, the rice "Koshihikari" is considered to be a particularly good strain of rice.
The color is very light and the head is very flimsy, which is a bad sign for the most part. Suprisingly, though, the beer is very drinkable. I think the intent was to make a super dry lager or pilsner (like Asahi) but strangely it comes out tasting kinda like a kolsch. As it is it's a easy to drink but plain beer that beats out something like Bud mostly due to a very clean aftertaste, but I feel as a kolsch it could be something special. It's a shame it follows the usual super dry style.
It's drinkable but not special in any way. More could have been done with the ingredients, but as is it's just mediocre.
769 characters
2.95
/5
rDev
-12.2%
look: 2.5 | smell: 2.5 | taste: 3.5 | feel: 3 | overall: 2.5
From a bomber into a pint glass at Surfside Sushi in PB
The bottle is beautiful. Brown glass. Cap has the nice Echigo logo and name. The front label is a piece of art -- literally there is a reproduction of some Japanese art there, amidst the Japanese lexicons. The back label actually has a little English which states that it was imported from Japan. Doesn't really say that it's a rice lager, but it does say Koshihikari Echigo Beer.
The beer pours a clear golden yellow. The head is virtually non existent like in many macro brews. Faint aroma of caramel, and perhaps I imagine a hop smell. On the tongue it's crisply carbonated and has a meek maltiness, but is this from the rice? Bitterness is low. Towards the end, there's a weird fruitiness. Not the messy sort of ale fruit ester fruitiness -- maybe it's some sort of hop flavor. Apples and pears. Totally random, but it makes this somewhat interesting. Finish is neutral.
Overall: the bottle is really pretty.
978 characters
2.98
/5
rDev
-11.3%
look: 3 | smell: 2.5 | taste: 3 | feel: 3 | overall: 3.5
The head fell in a heartbeat, as did mine in disappointment. Kind of a foamy, cobwebby head--like the foam that comes from stirring up rice whilst washing it. Afterwards, it flatlines, and only returns if aggressively shaken, which I did in a feeling resembling anger.
The smell is musty, and kind of dirty--something common from cheap japanese happoshus. I grew excited though when after shaking it I gained a slightly sour, lemon-cranberry scent.
The taste is pretty nil, light and grainy, slightly sweet. The best part is a small yet distinctive hop finish. Mouthfeel is light.
This beer is named after a type of rice famous in Niigata, where Echigo is located. This rice is used in the making of the beer. FYI, Echigo is also the old name for the area that is now Niigata-ken.
789 characters
Koshihikari Echigo Beer from Uehara Shuzou Co. Ltd. / Echigo Beer Pub
Beer rating:
3.36
out of
5
with
210
ratings