Isekadoya Pale Ale
| Nikenjayamochi Kadoya Honten Co. / Ise Kadoya Brewery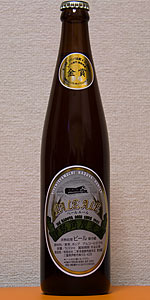 BEER INFO
Brewed by:
Nikenjayamochi Kadoya Honten Co. / Ise Kadoya Brewery
Japan
isekadoya.com
Style:
American Pale Ale (APA)
Alcohol by volume (ABV):
5.10%
Availability:
Year-round
Notes / Commercial Description:
No notes at this time.
Added by bobsy on 10-15-2008
Ratings: 11 | Reviews: 7
Reviews by falloutsnow:
3.54
/5
rDev
+5%
look: 5 | smell: 3.5 | taste: 3.5 | feel: 3 | overall: 3.5
Bottle from Brix in Omaha, NE
No bottled on date
Poured into a New Belgium globe glass
The brewery states that this is supposed to be a "pure and clean American Pale Ale," and while I don't agree with that statement, Ise Kadoya has produced a very interesting ale, whatever style it's supposed to be of. Malts are pale with a bit of caramel flavor, Cascade hops used for bitterness and citrus fruitiness. However, none of these components are in amounts strong enough to please the typical US APA consumer, making this very decent beer one to be disliked by many expecting something else. Price point ($6 for 740ml) is a bit steep, though I know how expensive things are in Japan.
Like the Genmai Ale, the beer pours an unimaginably large head, made up of off-white, medium-sized bubbles that coalesce into a large frothy mass, like a mantis eggcase, that takes many minutes to finally collapse down. Perpetual 0.5 cap of foam throughout the entire time of review. Tons of lacing left on sides of glass, horizontal lines across entire glass as well as some splotches. Out of light, the body is a medium-tone brown, in the light, it's a burnt orange color with lighter orange highlights. Semi-hazy, because I poured the yeast in, but some carbonation is still visible. This is a great looking pale ale, overall.
Aroma is of pale and toasted malts (especially when warm), some light floral and citrus hop scents, and sweet, candied pineapple. Many of the APAs I've had lately have been very focused on bitterness and hops, which is something like the description of the style, but I still find this very enjoyable.
Tasting begins with some light, sweet, malt components, which transition to fruity ale yeast esters and possibly hop usage (though they say only Cascade hops are used). Mid-palate gets some mild bitterness, spiciness, and mild pineapple flavor.
Beer is medium bodied with fairly aggressive carbonation (something has to be supporting that head). Carbonation above desired level, but not particularly harsh. Result is a semi-crisp ale that foams up slightly on the palate and drinks rather quickly. Appropriate for a pale ale.
2,143 characters
More User Reviews:

2.04
/5
rDev
-39.5%
look: 3.5 | smell: 2 | taste: 2 | feel: 1.5 | overall: 2
A - Reddish amber beer with a big white head that receded to a partial cap. Left the sides of the glass clean throughout consumption.
S - Sweet caramel and floral notes with a lot of grain and adjunct smell in there. Some hops presence, but mostly grainy.
T - Taste is really kind of bad. Sweet grains and pale malts with some floral and green wood notes. Fairly bitter on the end with a little hop bite that turns unpleasantly sour.
M - So carbonated all you really feel is bubble texture in your mouth, which makes this beer seem grosser somehow. Lighter bodied
O - Not a good beer, can get it down, but it doesn't taste very good and the mouthfeel is a killer on this. Pass.
681 characters
3.26
/5
rDev
-3.3%
look: 4 | smell: 3 | taste: 3.5 | feel: 3 | overall: 3
A: Pours a very hazy copper color with a big off-white head that fades to lacing.
S: Aroma is primarily of citrus ad grain.
T: Has somewhat of a roasted malt flavor with some citrus and a lasting bitterness.
F: A fairly medium body which is quite smooth.
D: Not bad for a Japanese brewed Pale Ale. I imagine it would be much better fresh on tap.
350 characters
4.14
/5
rDev
+22.8%
look: 3.75 | smell: 4 | taste: 4.25 | feel: 4 | overall: 4.25
3.55
/5
rDev
+5.3%
look: 3.5 | smell: 3.5 | taste: 3.5 | feel: 4 | overall: 3.5
A - Poured out a cloudy, copper/amber color with a one-finger, off-white head of foam. It left some sudsy trails of lace after some nice head retention.
S - It smelled of sweet caramel and had a strong floral presence. Even a mild fruity aroma, too.
T - Sweet maltiness with a touch of sweet fruits. It had some spicy bite from the hops.
M - It was crisp, sharp and smooth. A light to medium bodied ale with a dry finish.
D - This was an okay pale ale. It seems like it fits the English style category better.
513 characters
3.56
/5
rDev
+5.6%
look: 4.5 | smell: 3.5 | taste: 3.5 | feel: 3.5 | overall: 3.5
Pours a slightly fogged amber orange with a thick creme head. Nose is woody and slightly citric. Flavor is a consistent citrus and slightly toned earthy hop thing. Consistent bitter tone as well. Feel has a vibrant carbonation that nips a bit at the tongue. Liquid is decently thick. Fairly easy to drink. Nothing mind blowing. Would like to try it on cask.
357 characters
3.58
/5
rDev
+6.2%
look: 4 | smell: 3.5 | taste: 3 | feel: 4 | overall: 4.5
Cask at Club Popeye in Tokyo. Light amber pour with a small off-white head that delivered some lacing. Nose is full on citrus hops with a faint hint of caramel. Lots of grapefruit and citrus in the flavour, but I feel its a little unbalanced, and what caramel malt there is remains firmly in the background. Good cask body and very low carbonation. Drinkable, but perhaps one-dimensional.
388 characters
3.23
/5
rDev
-4.2%
look: 4 | smell: 3.5 | taste: 3 | feel: 3.5 | overall: 3
"Tigers die and leave their skins. People die and leave their names."
--Japanese proverb
Rich apricot orange with a slightly darker cloud of yeast oozing downward and multiple fine bubble streams racing upward. It's unusual to see yeasty haziness when less than half the bottle has entered the glass. The second pour adds a murkiness that isn't often seen in a pale ale. The aged ivory colored crown has a wonderful look that, hopefully, indicates good things to come.
This offering is single-hopped with Cascade. The brewery's aim was to create a 'pure' and 'clean' American pale ale. It's citrusy and somewhat earthy-musky, but could be more powerfully hoppy overall. Just because this bottle just showed up on local shelves doesn't mean the beer is super-fresh.
Pale Ale doesn't taste old. Unfortunately, the hops aren't prominent enough, which is most of the battle in beer of this style. The other two supposed-to-be-hoppy ales that I've had from these guys (IPA and Triple Hop) haven't been too impressive either. At least from a hop flavor standpoint. They weren't this bad, though.
The malt tastes mostly pale, with a side order of something slightly toasted. Hints of citrus peel peek in at the edges. Interestingly enough, alcohol is noted, which is very unusual at an ABV of only 5.1%. Hop flavor is even more scarce than it seemed to be initially. Sorry, but the taste and drinkability scores both get downward bumps.
The mouthfeel is barely medium for the style and has fewer than the normal amount of bubbles. I'm okay with both of those, even if this isn't exactly a treat from a sensory standpoint.
In the end, Ise Kadoya Pale Ale is my least favorite Nikenjayamochi Kadoya Honten beer. If this Japanese brewery wants to compete with the world's best, especially at the prices they charge, they had better figure out a way to create better beer.
1,868 characters

Isekadoya Pale Ale from Nikenjayamochi Kadoya Honten Co. / Ise Kadoya Brewery
3.37
out of
5
based on
11
ratings.