Ise Kadoya Imperial Smoked Porter
| Nikenjayamochi Kadoya Honten Co. / Ise Kadoya Brewery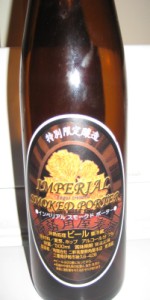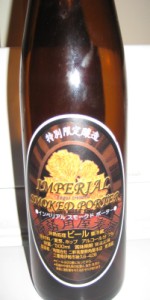 BEER INFO
Brewed by:
Nikenjayamochi Kadoya Honten Co. / Ise Kadoya Brewery
Japan
isekadoya.com
Style:
American Porter
Alcohol by volume (ABV):
7.00%
Availability:
Rotating
Notes / Commercial Description:
No notes at this time.
Added by IronDjinn on 12-12-2009
HISTOGRAM
Ratings: 11 | Reviews: 10
3.97
/5
rDev
-5.3%
look: 3.5 | smell: 4 | taste: 4 | feel: 4 | overall: 4
A lovely smoked porter. Blackish body with minimal sixteenth of an inch of off-white head. Smokey aroma. Above average mouthfeel of peaty smoke, substantial smoke flavour and very porterish. Balanced, not over the top tasty stuff, malted backbone that makes it emminently drinkable.500 ml. from Presario.
304 characters
3.91
/5
rDev
-6.7%
look: 4.5 | smell: 3.5 | taste: 4 | feel: 4 | overall: 4
This beer pours a deep, unfettered black, save a slight reddish edge when forced to the overhead light. It has a single finger of creamy milk chocolate-coloured head, which leaves a thin ring of lace as it slowly dissipates. It smells of moderately smoky chocolate and caramel malts - nothing much else discernible beyond that. The taste is lightly smoky sweet chocolate malt, a bit of saltiness, almost soy sauce-like, and a light woody, earthiness to nicely balance things out. The carbonation is very mild, the body full, smooth and silky, and it finishes clean, the singed malt echoing just a tad.
A nicely restrained, but flavourful, incarnation of the sub-style, the smokiness enjoyably softening towards the end. Thanks to IronDjinn for hooking me up.
759 characters

4.3
/5
rDev
+2.6%
look: 4 | smell: 4 | taste: 4.5 | feel: 4 | overall: 4.5
500ml bottle poured into pint glass jan8 2010
A not quite jet black with a thick mocha head that falls quickly and leaves just a ring of lace
S lots of earthy smoke like a a campfires ashes with some milk chocolate and leather
T again a fair bit of smoke but it mellows out a bit and has a little licorice to go along with the chocolate. this one grew on me and I enjoyed it more as I got to know it
M smooth and fairly full bodied it coats your mouth with a little slickness as well
D I liked it and would drink it again, a unique brew and I would never guess it was 7%alc
I'm loving these Japanese micro's flooding the shelves here in Alberta. I will admit I expected very little and have been given quite a bit in return. the price is a bit of a turn off ringing in at 8 bucks a bottle it's not going to be a everyday beer but not a bad treat
853 characters
4.15
/5
rDev
-1%
look: 3.5 | smell: 3.5 | taste: 4.5 | feel: 4 | overall: 4.5
This one's been chillin in the fridge for a bit... Time to take it for a spin!
A - Pours pitch black with a finger of mocha head, decent retention and no real lacing.
S - Smokey notes dominate alongside maraschino cherries and peaty scotch scents, with pencil shavings coming off the finish.
T - The smoked flavours come through fantastically! The peat is also quite dominant and lingers on the palette. There's a touch of bitter espresso and dark cocoa that sneak through, but the smoked flavours really mask anything else.
M - Medium bodied ale that goes down smooth and finishes surprisingly wet.
O - Wow, a unique offering that packs a ton of smokey and peat flavours and really captured the concept of a smoked porter. Really pleased by this one and I would highly recommend it to anyone with a palette for smoked ales!
829 characters
3.88
/5
rDev
-7.4%
look: 4 | smell: 3.5 | taste: 4 | feel: 4 | overall: 4
A - straight darkness, thumb of creamy mocha head slowly dissipated to a thin covering
S - definitely interesting with wood smoke, spicy, and musty odour
T - sweet and smoky malt, light chocolate and coffee, light cherry, and an earthy spicy note throughout
M - well carbonated, smooth and relatively thin, finishes musty and spicy
D - very interesting, definitely smoky with a mysterious earthy and spicy flavour that I can't put my finger on, not a sessioner but would definitely purchase again
496 characters

3.95
/5
rDev
-5.7%
look: 4 | smell: 4 | taste: 4 | feel: 3.5 | overall: 4
Dark, basically black, with a thin tan colored head. Carbonation starts hard, but quickly dissipated, minimal lace.
Lots of earthy, roasted peat smoke. Close your eyes, and it could be a smoked sausage from the barbeque.
Taste is more on the malty sweet side. Some coffee with the roasted malt. Charred wood, and lots of smoke flavor. Smoke flavor hangs around in the finish.
Medium towards full body, slightly creamy, enough carbonation bubbles to help cleanse the palate, keeping the oily coating from staying too long.
A very flavor-filled beer, I really liked the smoke component, but others in the group found it too much and the smoke was overwelming.
I compare it to a smoky, peaty scotch: the charred/smoke element is supposed to be there, and is the hilight of the flavor profile. You may not like that flavor, but you can't miss it.
842 characters

4.38
/5
rDev
+4.5%
look: 4.5 | smell: 4 | taste: 4.5 | feel: 4.5 | overall: 4.5
From a tall Euro style 500 ml brown bottle. Pours out an impressive opaque pitch black in appearance, tall spongy tan head that recedes in time to a creamy cap.
Burnt smoky malts, slight acidity. Roasted and toasted malts rest underneath.
Flavour is subtle, refined, and hits all the right notes. Roasted and chocolate malt up front, sweet yet mild acidity in the middle, dry, roasted finish, with faint earthy, woody, smoky notes in the aftertaste. As it warms cherry wood and dark dried fruits start to appear. I give it extra points for being what it is while not being too overwhelming and over the top.
Full-bodied without being thick, smooth, velvety with a bit of mild carbonation on the finish.
Well then, Ise Kadoya pretty much nailed it with their Imperial Smoked Porter, this is definitely one worth checking out if you can get your hands on it.
868 characters
3.67
/5
rDev
-12.4%
look: 3.5 | smell: 4 | taste: 3.5 | feel: 4 | overall: 3.5
S: Sweet cherrywood smoke, slightly earthy, some roastiness.
L: Dark black, tannish head, fizzy carbonation that dissipates over time.
T: Sweet smoky malt, touch of fruit on the backbone, cherries mostly. Slight coffee notes. Woody bitterness and in the finish. Fairly clean finish with lingering smoke flavor.
M: Med. full body, creamy carbonation a tad high, somewhat prickly.
An interesting beer, i found the smoke a touch overwhelming, more of a bamberg smoke beer than a smoked porter, meaty almost. That said, an interesting beer.
540 characters
4.29
/5
rDev
+2.4%
look: 3 | smell: 4 | taste: 4.5 | feel: 4.5 | overall: 4.5
A- The pour is almost jet black, the head is a deep chocolate color that has no staying power and leaves behind no lace.
S- Initially I wasn't getting much of the smokiness in the nose, but I waited and let this warm to room temperature and it started to show itself more, I really had to get my nose in this one. The smoke plays a nice supporting role to the roasted malts. I get a bit of chocolate and perhaps a touch of alcohol as well.
T- Plenty of roasted malts up front which give way to a roasted bitter finish, with a good amount of woody smoke. Not a ton going on, which works for me in this case.
M- This has a really nice mouthfeel. The body is fairly full, but carbonation remains soft and makes it oh so easy to drink. I thought this might be a bit harsh given the smoke, but this is surprisingly crazy smooth.
D- Best Japanese beer I've had to date, no question about it. This one kept getting better and better as I drank it. The appearance keeps this beer from being outstanding.
999 characters
4.58
/5
rDev
+9.3%
look: 4.5 | smell: 4 | taste: 5 | feel: 4.5 | overall: 4.5
Pouring from a 500mL bottle into a standard tapered pint glass offered a lighter, foamy head that didn't reside long with a light mocha colour that coats the glass well and hangs around longer than the head itself. The beer itself is opaque and pretty much black with some red tinges.
The smell is very interesting with plenty of smoked aroma of dark berries and oak. My girlfriend said it smells like a log cabin.
The taste is quite different than the smell, though both bear lots of smoky attributes, they deliver themselves very differently. Deep espresso and chocolate are present with a little bit of bitterness as well as some acidity. A sweet caramel is present just before the bitter finish, but the beer maintains it's smoothness from start to finish. This beer is very smooth and has primarily smoke and chocolate with a toasted malt present.
The mouth is smooth, but doesn't coat the tongue for long. It washes down quite quickly.
I enjoy this beer. I'm very glad I picked it up and will do so again.
1,015 characters
Ise Kadoya Imperial Smoked Porter from Nikenjayamochi Kadoya Honten Co. / Ise Kadoya Brewery
Beer rating:
4.19
out of
5
with
11
ratings