De Klok Blond
| Grolsch Bierbrouwerij N.V.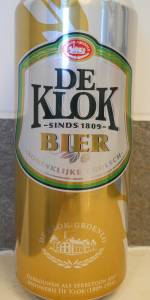 BEER INFO
Brewed by:
Grolsch Bierbrouwerij N.V.
Netherlands
grolsch.nl
Style:
Euro Pale Lager
Alcohol by volume (ABV):
4.20%
Availability:
Year-round
Notes / Commercial Description:
No notes at this time.
Added by RuudJH on 03-09-2011
Ratings: 13 | Reviews: 4
Reviews by DutchBeerDrinker:
More User Reviews:
3.17
/5
rDev
+8.9%
look: 3 | smell: 3.5 | taste: 3 | feel: 3 | overall: 3.25
De Klok brewery, as Grolsch was called from 1809 untill 1954... this is a tribute brew.
0.5 l. can, pretty cheap in the supermarket (0.6 euro). It says 4,8%abv on my can.
Made with barley malts, sugar, hops, water.
Looks golden, with a white head. Good lacing in the glass, but hardly any bubbles.
First smell is funny, of riesling wine, cider.
Then is takes back into the regular shape of lager malts, slightly sweet in taste, a bit of grassy hops.
Watery mouthfeel, but I have samples that were very carbonated and refreshing. After the smell, it stays and remains very flat and one dimensional. It's ok, just nothing special. You can drink this untill you drop (at carnaval, likely).
Cheers.
696 characters
3.64
/5
rDev
+25.1%
look: 4.5 | smell: 3 | taste: 3.75 | feel: 4 | overall: 3.75
Very drinkable. Got it in bottle rather than can as pictured. Good flavor, very smooth with nothing dominating but not watery like a light beer. Clear yellow in glass, head quickly dissipates with some lacing. Could be a good every day beer, but not special. I would buy again.
277 characters

2.5
/5
rDev
-14.1%
look: 2.5 | smell: 2.5 | taste: 2.5 | feel: 2.5 | overall: 2.5
3.08
/5
rDev
+5.8%
look: 2.75 | smell: 3.5 | taste: 3 | feel: 2.75 | overall: 3

2.71
/5
rDev
-6.9%
look: 3.5 | smell: 2.5 | taste: 2.5 | feel: 3 | overall: 3
De Klok now available on bottle too, exclusively in the C1000 chain of supermarkets. I hadn't tried it before because it was available in cans and to be honest since it's just a tribute beer I didn't think it would be any different from the usual Grolsch. Igot this one in a trial package containing two bottles, costing me 50 cents for both.So let's see.
Bottle of 300 ml. Colour is golden yellow, with two finger head, lots of bubbles in the glass. The head looks a bit soapy but it has a very good retention.
It has a weird smell, I can't put my finger on it, reminds me very faintly of corn but it can't be it.
Taste is quite different than the usual Grolsch Pilsener, more sweet and more hoppy. Not so bad.
On the body is thin and it has light carbonation.
Overall I find it to be a cheap alternative to the normal Grolsch, that's all.
840 characters
2.31
/5
rDev
-20.6%
look: 3 | smell: 2 | taste: 2 | feel: 3.5 | overall: 2.5
We pop the tab and pour a steely, translucent brew of gold. It holds a creamy one finger head of white bubbles. This retains nicely, leaving punctate lacing around the glass. Carbonation appears almost nonexistent, and no sediment is noted. The nose is pale and adjuncty in grain. There is cutting sweetness from white sugar, and savory bitterness from yellow mustard. Very light and yeasty. Our first impression is that this tastes just like a Bud light. The flavoring opens with adjuncts and pale malts, as in the nose, with a light lemony backing. The grain gives bitterness and little else. The peak shows a steely grain bite, with corn and booziness. The finish is essentially water and minerals, with a distant echoing bitterness of yeast and dried grass. The aftertaste breathes bitterly of the same, but it is light, with notes of standard yeast, flour, and crap grain. The body is light, and the carbonation is medium. Each sip gives a nice froth and cream to the mouth, coating it, and leaving it wet. Eventually the mouth dries with a filmy astringency, if you give it the time. The abv is appropriate, and the beer drinks like water.
Overall, what we enjoyed most about this brew was the lightness in flavoring. While ultimately this fact lost points for the beer, no one flavor became overwhelming to the point where the beer was undrinkable. Everything was just overly light and simplified, but if you're looking for something to sip quickly and not think about, this might be something you would enjoy.
1,520 characters



De Klok Blond from Grolsch Bierbrouwerij N.V.
2.91
out of
5
based on
13
ratings.