De Blauwe Kater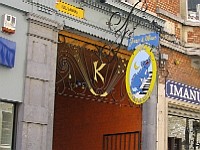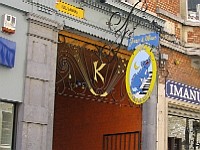 Bar
1 Hallengang
Leuven
, 3000
Belgium
+32 16 20 80 90 |
map
blauwekater.be
Notes:
Reviews by TheLongBeachBum:
TheLongBeachBum from California
3.7
/5
rDev
-6.6%
vibe: 4 | quality: 3.5 | service: 3.5 | selection: 4
A retreat for a few beers on a couple of nights during our stay in Leuven at Easter 2002. The Beer List here is so surprisingly good, varied & almost shocking at times. It contains some quite rare, oft seen beers. Never judge a book by its cover, or a Café by its frontage, or noise level. This place is a well known Jazz/Blues Bar as well I may add.
Easter is Student Vacation time, so Leuven was quiet on our visit. After questioning the meaning of the Café name, I was told by the gorgeous brown-eyed young beauty behind the bar, who spoke perfect English, that it definitely translated as meaning "The Blue Cats"; but being crazy Limeys, we ended up calling it the "Depressed Pussies".
It lies underneath an archway just off the popular Naamsetraat, & on the left hand side at the end of a dark cobbled passageway. Tim Webb's Guide suggests that the opening hours are fluid, but we always found this place open after 7pm.
The first night we sat outside in the Alleyway. There are a few round marble topped tables here. The Café is hard to miss though, for the walls are painted bright yellow, drainpipes & gutters are all bright blue! A red/blue neon sign & a lonely Leffe coachlight sign advertise the entrance.
The Beer List 'hovers' around 70 but changes frequently. Includes solid classics & Trappistes, but we found beers on the printed list that had "sold out", yet when pushed, the brown-eyed beauty offered replacements not listed. I drank the only "Malheur 4" I have ever had here; a dead beer from De Landtsheer that is no more. All-malt beer, that was superb & tasted like a light Dunkel-Weisse. Awesome. What was all the remarkable was the excuse that "it was not listed because it's no longer made". Ohhh, that brown eyed beauty, so sweet &charming, she could do no wrong!
The music is fine when it's Blues, but I cannot stand the Jazz, I would rather have my testicles rubbed on a nutmeg grinder. Those in the know say the music collection here is unequalled in both fields for classic recordings & rarities. Pass the nutmeg grinder & the Beer List.
Some may not like this place – but the adventurous beer geek will – I did. If it's busy & you don't smoke – sit outside!! Even if it's chilly, it's worth it, just to avoid the purple haze inside & for that surprise beer that suddenly appears, or just happens to be offer at the time your visit.
One of the better Beer Bars, & probably the best Beer List on offer in Leuven. No Food.
Last Visit: 31st March '02
Jun 26, 2003
More User Reviews:
YvesB from Belgium
4.22
/5
rDev
+6.6%
vibe: 4 | quality: 4.25 | service: 4.5 | selection: 4
Very nice selection of beers. We visited during Marktrock festival and as a result it was very crowded and we had to wait a little. Servant was very friendly though and we enjoyed our beers.
Oct 28, 2015

desint from Belgium
3.78
/5
rDev
-4.5%
vibe: 4.75 | quality: 4.5 | service: 3.25 | selection: 3
May 26, 2015

indiapaleale from Maine
4.34
/5
rDev
+9.6%
vibe: 4.5 | quality: 4 | service: 4.5 | selection: 4.5
Blue Cats! This is the place for Blues and Jazz music as well as a very wide array of Belgian beers including some that you won't find elsewhere in Leuven. They do have Westys but they are 10 euro for the 12 and that is waaaay too much.
It was pretty quiet when we were there and the bartender was outside playing chess with his buddy. Nonetheless he came in and talked to us for a while and shared a lot of local knowledge with us as well as talking us through the pretty extensive beer menu. He continued to be helpful every time he checked in on us.
Beer menu really is great for such a small place. Tons of good stuff including a few beers that aren't being brewed any longer and some local stuff. My brother had a tripel brewed in town that they had bottles of.
We didn't have any food and I don't think they sell any food based on what we saw.
Overall, this is a funky little beer cafe with a great music vibe and it apparently gets packed with students during term. Luckily they were all "studying" when we were there.
May 29, 2009
mvice001 from Maryland
3.94
/5
rDev
-0.5%
vibe: 3.5 | quality: 4 | service: 4.5 | selection: 3.5
I have read many reviews about this place and given that I was staying in Leuven I thought I give it a try. It had a great selection to choose from but wasn't nearly as extensive as the beer bars in Brussels. Nevertheless, I enjoyed this place. The bartender on the first night was very helpful. I ordered a Westvleteren which was on the menu and he told me that they no longer carry it. He mentioned something about how it is illegal to sell it and how they will no longer be able to carry it. They had all the trappists ales like Rochefort 10, and Westmalle. I also tried some other brews which I cannot think of on the top of my head, but was on my list (Karmeliet Triple comes to mind and Gouden Carolus)... It was bit on the pricey side as they were selling Rochefort 10 for 5 euros when you can go to the grocery store and get one for about 1.50 Euro. The reason why I give it a four for selection was because it was the best in Leuven. My only real complaint was the smell of smoke as smoking is permitted in this small bar... other bars likes Domas really sucked.
Feb 27, 2009
DrD from Illinois
4.6
/5
rDev
+16.2%
vibe: 4 | quality: 5 | service: 4 | selection: 5
Blauwe Kater has the best selection in Leuven - by far! On my three visits there during the 6 days I spent in Leuven for a conference, I only once had a beer twice, and that was a very special one: Westvleteren 6. They also had the 12, which I had only once....
They open late - at 7 on weekdays - and don't serve food, but it was a nice place to hang with friends and get to talk to the locals (and, based on the conversation at the other tables, a hangout for expats in Leuven).
The bartender was knowledgeable about the beer they served, and for the aforementioned Westvleteren, one had the choice of two temperatures, "cold" or "shelf".
If/when I return to Leuven, Blauwe Kater is the first bar I'll visit.
Jul 27, 2008
banker from Belgium
3.73
/5
rDev
-5.8%
vibe: 4 | quality: 4 | service: 3 | selection: 4
Nice dark bar that has a reasonably good selection of beers. Great place for a subdued after dinner drink. It is not very large inside but did have seating outside in the alleyway that you walk through from to get to it from the street. The beer list was good and had most of the Belgian styles covered. I did not see many difficult-to-find beers though.
I really enjoyed the atmosphere here. The walls were covered with old concert posters, etc and the blues they had playing were at a perfect volume that made the music listenable but not loud enough to inhibit conversation.
May 23, 2006
De Blauwe Kater in Leuven, Belgium
Place rating:
3.96
out of
5
with
9
ratings