Waldmann Brewery & Wurstery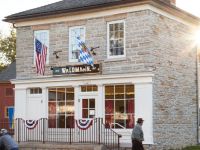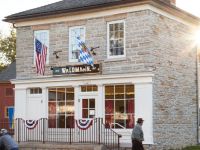 Brewery, Bar, Eatery, Beer-to-go
445 Smith Ave N
Saint Paul
,
Minnesota
, 55102
United States
(651) 222-1857 |
map
waldmannbrewery.com
Notes: The building that houses Waldmann was constructed in the fall of 1857. It is the oldest surviving commercial building in the Twin Cities. Its rich history and distinctive limestone construction merited designation as an official Saint Paul Heritage Preservation Site in 2015.
The building isn't just old — it's an old lager beer saloon. German lager beer took America by storm in the 1850s. First introduced here in 1848, lager beer became immediately popular with Americans — and frontier Minnesotans — who had never seen any thing like it before. By the time Anton Waldmann's saloon was built, Saint Paul had twelve breweries, ten of which brewed only lagers. Because Temperance supporters thought lager contained less alcohol (it doesn't), city ordinances granted favorable treatment to lager saloons.
German lager saloons were very special places. Unlike Yankee whisky bars, lager saloons served beer almost exclusively, and frequently offered hearty foods, music, family entertainment, and sometimes even political debates. Women and children were always welcome.
Waldmann stays true to these traditions today. Re-opened in 2017 for the first time in 154 years, our building still offers wood stoves, virgin pinewood floors, hand-blown window glass, a large collection of 19th century steamboat chairs, whale oil lamps (burning paraffin), and many period maps, photographs and other memorabilia. And don't forget to take a selfie with Bismark the Bison upstairs! Prosit.
Reviews: 4 | Ratings: 12
Reviews by morimech:
4.11
/5
rDev
-0.7%
vibe: 3.75 | quality: 4.25 | service: 4.25 | selection: 4 | food: 4
An old building by Minnesota standards. Has a bit of the feeling of one of those English pubs with staircases and hidden nooks of seating. Probably the closest thing to the old world you will find in place around these parts. Rustic furniture fills the space. Not really a place to hang out with friends at a bar. It is mostly table service with little, if any bar space. Food was good but I thought a bit pricey for what a person receives. Also the tableware is too small for the meal. You hear a lot of silverware hitting wooden tables as it gets knocked off the plates. The German style beer is outstanding.
611 characters
More User Reviews:

4.04
/5
rDev
-2.4%
vibe: 3.75 | quality: 4.25 | service: 4 | selection: 3.75 | food: 4.5

3.88
/5
rDev
-6.3%
vibe: 4 | quality: 4.25 | service: 4 | selection: 3.25

4.51
/5
rDev
+8.9%
vibe: 5 | quality: 4.5 | service: 4.5 | selection: 4.25 | food: 4.75
4.09
/5
rDev
-1.2%
vibe: 4 | quality: 4 | service: 4.25 | selection: 4 | food: 4.25

4.6
/5
rDev
+11.1%
vibe: 4.75 | quality: 4.5 | service: 4.75 | selection: 4.5

4.15
/5
rDev
+0.2%
vibe: 4 | quality: 4.25 | service: 4.25 | selection: 4
A pre civil war lager house reopened to do the same. You walk in and its a step back in time. Two floors with several rooms ,period lighting,fixtures and furniture old pictures and history on the wall brewery is on the rear side along with the kitchen. Looks like an outside patio is being built and a garden area to grow hops. Lagers only on tap with about six offerings both upstairs and downstairs, a unique brewpub and one that i thoroughly enjoyed.
453 characters
4.26
/5
rDev
+2.9%
vibe: 3.75 | quality: 4.25 | service: 4.5 | selection: 4.25
3.89
/5
rDev
-6%
vibe: 4.25 | quality: 4 | service: 4 | selection: 3.5
Cozy atmosphere. Converted home offers dining in smaller rooms for an intimate setting. Menu is limited to wurst and a few small plates. As a big guy I found their chairs a bit tight. Small stand up bar and beer to go as well.
228 characters

3.82
/5
rDev
-7.7%
vibe: 3.75 | quality: 3.75 | service: 4.25 | selection: 3.5
4.09
/5
rDev
-1.2%
vibe: 4.75 | quality: 4 | service: 4 | selection: 4
this place is so cool! right when you think the cities cant support yet another brewery, and right when you think they are all starting to feel the same anyway, a place like this comes along and changes all of that! its in a very cool and quaint old house with some historical significance, although i do not recall any more detail (we were drinking...). its cozy as can be in here, with a ton of restoration work done, obviously with a great deal of attention to detail. quick views back to the brew house show horizontal lagering tanks, dont see a lot of those around. the bar area is tiny, just a few seats, 6 or 8 beers on tap, all german style lagers of various colors. the place retains a lot of rustic european minimalist charm, with some period wood fireplaces heating it, gorgeous wooden features, and some old photos and trinkets from the mother land around. i love the low light, the homey floor plan, the warm heat and the smell of the wood, its perfect in the winter time, really gets me in the holiday spirit! there are so many cool little areas to sit, even the upstairs is open, mellow in here for sure, i just love the atmosphere. the beer is pretty solid, we enjoy a pilsener and a winter seasonal lager, both well made and interesting enough that these guys should do well. for me though, it was way more about the authenticity of the atmosphere than it was about the beer, i could have been drinking a miller light and still had a blast in here, really really loved it! folks said the food is excellent too, but we did not eat. i cant wait to return! not just another new brewery, this place has an awesome thing going on already!
1,650 characters
4.24
/5
rDev
+2.4%
vibe: 4.75 | quality: 4.25 | service: 4.25 | selection: 4 | food: 4.25
Waldmann Brewery & Wurstery in Saint Paul, MN
Brewery rating:
4.04
out of
5
with
59
ratings