Sainsbury's Munich Style Oktoberfest Bier
| Meantime Brewing Company Limited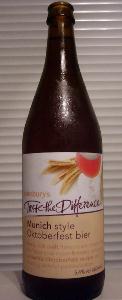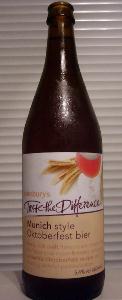 BEER INFO
Brewed by:
Meantime Brewing Company Limited
England
,
United Kingdom
meantimebrewing.com
Style:
Märzen / Oktoberfest
Alcohol by volume (ABV):
5.40%
Availability:
Year-round
Notes / Commercial Description:
No notes at this time.
Added by cypressbob on 05-27-2004
This beer is retired; no longer brewed.
HISTOGRAM
Ratings: 7 | Reviews: 7
Reviews by foles:

2.89
/5
rDev
-19.7%
look: 2 | smell: 3 | taste: 3 | feel: 3.5 | overall: 2.5
I made my way through a four pack of these (over the course of a week), each time hoping it would improve or grow on me. The pour was with basically no head whatsoever, and very little (if any) carbonation was present. The taste was a little malty, but lacked any real bite or body that I have noticed in other seasonal Oktoberfest beers. The mouthfeel was ok, as it was the only time I could notice some carbonation.
I hope this was maybe a bad batch, but I am not likely to buy another 4 pack to find out.
509 characters
More User Reviews:
3.8
/5
rDev
+5.6%
look: 3.5 | smell: 3.5 | taste: 4 | feel: 3.5 | overall: 4
Poured medium to dark bronze colour into tall glassware, with a fair tight head, though did not last so long. Aroma more malty and hint of sweetness and spice, fairly typical of the style. Fairly heavy texture, with malty slightly sweet flavour predominating, though a slightly dryish finish, so not cloying. I found this very enjoyable and surprising to have this style of beer from a UK brewer. I think it rates well against the German styles it is emulating, though not as good as the best. Definately worth trying if you enjoy this style of beer and fairly good value in a four pack of bottles from Sainsburys stores. Would certainly buy it again.
JohnW
B'ham UK Jan 2007
679 characters
3.53
/5
rDev
-1.9%
look: 3.5 | smell: 3 | taste: 3.5 | feel: 4 | overall: 4
Appearance: beautiful amber, great clarity, frothy layer of off-white foam, flecks of lace on the glass, OK head retention
Aroma: unripe banana peels, twinge of biscuity malt, just a touch of herbally hops
Flavor: scrumptious maltiness up front without being too sweet, hint of smoke enveloping it, brown sugar, iron, finishes semi-sweet with an aftertaste of caramel and yeast
Mouthfeel: medium body, fine carbonation, soft texture, slight warmth
Other comments: You know, these beers that Meantime cranks out for Sainsbury's aren't half bad. Just goes to show what a good supermarket Sainsbury's is.
613 characters
4
/5
rDev
+11.1%
look: 4 | smell: 4 | taste: 4 | feel: 4 | overall: 4
660ml bottle.
Pours a bright amber colour with a big white head that retains well.
Aroma is very strong, malty, slightly biscuity and peachy, estery and citrussy.
The first sip is very malty, subsiding to an estery fruit taste, followed by a brief citrussy bite and topped off by a smooth and crisp bitter finish.
Drinks very well, nice mouthfeel too.
363 characters
3.62
/5
rDev
+0.6%
look: 3.5 | smell: 4 | taste: 3.5 | feel: 3.5 | overall: 3.5
660ml bottle
Pours with a light amber body, nice frothy head which stays for most of the glass. Little lacing
Smell, esters of banana and peach, very sweet and pungent
Taste, sweet esters along with a dry fruity kick. Has a lovely aftertaste, sweet and a hint of cloves
Nice little marzen style, suprised also
---
Had my second bottle, 3 months later, less taste, less sweetness, dryer finish, less fruit and a corn finish, methinks this recipe has been changed somewhat, to include some extra adjuncts (ie corn)
532 characters
4
/5
rDev
+11.1%
look: 3.5 | smell: 3.5 | taste: 4 | feel: 4.5 | overall: 4.5
Appearance - True golden yellow, very clear, it looks like a filtered cider. Good head, with strong retention. How can anyone have beer these days which isnt unpasteurised!!
Aroma - Spicy and herbal hops with a strong but rich toasted malt aroma.
Taste - Crisp bitterness, a soft but persistent malty taste that follows you through to the finish which is slightly alcoholic and finished by a superb balance of hops and malt.
Mouthfeel - Subdued acidity (my big problem with lagers solved in this brew), a very light mouthfeel - it reminds of the mouthfeel or a light juice drink. And it has the same moreish result as well.
Overall - A very well balanced lager, playing on the strengths of a good lager, crisp and refreshing but light and balanced at the same time. This balance along with the mouthfeel gives it a very addictive quality to it.
848 characters
3.35
/5
rDev
-6.9%
look: 3.5 | smell: 3.5 | taste: 3.5 | feel: 3 | overall: 3
BB date: 07/03/06.
A: in a 300ml weissbier glass it pours a very dark orangey golden to slightly pale amber colour, with a constantly fizzy body and a reasonably lasting, thin, white beer head.
S: profoundly malty and lightly sweetish aroma prevails immediately, decorated with a tinge of, well, sugar-cane's lightly sweet, aromatic noble hop aroma, fruit-estery, plus faint trace of softly-zesty hops. Overall the nose is simple, malty and concrete.
T: at first it's too fizzy on the palate for my tongue to work... after my palate gets used to the texture, it tastes deeply sugary and mildly malty, with a tinge of caramel and lots of chewy bread and brown sugar in the mouth... leaving a lively malty aftertaste in the finish and very mild but noticeable bitterness.
M: the mouthfeel is quite soft despite being fizzy at the same time; but it turns rather thin vis-a-vis the consistent sugary taste towards the finish, making this beer a bit overly light-weighted.
D: overall a medium-bodied malty lager, the drinkability is however just o.k. As malty lagers are not so much my cup of tea, this one lacks the kind of depth and a more colourful flavour I might entertain. I only wish other Oktoberfest biers are more complex and tasty.
1,242 characters
Sainsbury's Munich Style Oktoberfest Bier from Meantime Brewing Company Limited
Beer rating:
3.6
out of
5
with
7
ratings