Pilsner
| Meantime Brewing Company Limited
BA SCORE
82
good
14
Reviews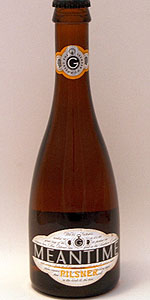 BEER INFO
Brewed by:
Meantime Brewing Company Limited
England
,
United Kingdom
meantimebrewing.com
Style:
Czech Pilsener
Alcohol by volume (ABV):
5.00%
Availability:
Year-round
Notes / Commercial Description:
No notes at this time.
Added by wl0307 on 09-15-2005
Reviews: 14 | Ratings: 23
2.8
/5
rDev
-20.5%
look: 3 | smell: 3 | taste: 2.5 | feel: 3 | overall: 3
Neatly packaged beer, 330ml of 4.7%ABV Pilsner, best before 15th Jan 2011. Poured into a fluted 'Paderborner Goldpilsner' glass on 5th Oct 2010.
Very pale indeed, good firm snowy white head on top. Light golden yellow in colour, clean and clear looking.
Grain silo smell, nothing much else.
Fairly dry start and finish, can't say it is the best Czech stlye Pilsner I've ever had, but it isn't a bad one. The hops have produced a mid-range bitterness along with the dry feel in the mouth, the dryness just a little to prominant for my tastes to be honest.
No great depth of flavours or body, just an average Pilsner/Lager beer. Not worth the money I paid for it, could have been a cheap canned beer from any mass producer, unless I'm missing something?
755 characters
3.92
/5
rDev
+11.4%
look: 3 | smell: 3.5 | taste: 4 | feel: 4 | overall: 4.5
This classy, curvy, long-neck 330ml bottle comes at just 4.7%abv.; BB 13/06/09, served chilled in a pilsner glass. Note: Perle and Hersbrucker hops are said to be used in this brew, so I would say this is more in line with a German Pilsener then?
A: pours a pale straw hue with a quite lively body full of large and medium carbonation; the extremely fluffy and loose white head settles down.
S: pretty mild in aroma, but the well-blended Perle hops and very very light and clean maltiness seems to go deep in the centre, added with a faint eggy touch on the surface; a swirl gives rise to a more assertive tinge of lightly toasted malts, a well-lagered beer's clean sour edge, and a touch of lemon or grapefruit-zest. Very clean and decent, quite like a dry German pilsener such as Jever.
T: the lightly-effervescent swallow of faintly sweet lager malts quickly turns dry, clean and crisp on the texture, decorated with a negligible touch of sourness, leaving the high-level dry, and really chewy herbal bitterness overwhelming the whole palate... more like the aftertaste of a very bitter English Bitter added with an absolute cleanliness on the palate~~
M&D: despite the fizzy outlook, the palate comes rather mild on carbonation and renders a smooth feel on top of the clean and crisp edge! The whole flavour profile seems to feature the bitterness slightly too much, at the expense of hop aroma and a more subtle malty balance. But for a Bitter fan like me, I think this Pilsener is beautifully crafted and thirst-quenching - even better than the tap version I tried exactly 3 years ago!
1,593 characters

3.63
/5
rDev
+3.1%
look: 4 | smell: 3.5 | taste: 3.5 | feel: 3.5 | overall: 4
A 330ml bottle with a use-by date of Nov 2011. I like the look of the bottles from this brewery; they have their own design which sets them out from the crowd. Label mentions slow preparation and lagering process for this beer.
Poured into a Stella chalice. Very pale golden colour, quite clear. Forms a thick white head which remains for a few minutes. A nice malty aroma with a hint of hops.
Has a rounded pale malt flavour with light bitterness from the hops. More malty than bitter, slightly sweet. Crisp and clean, but more taste than a typical mass produced lager. Goes down smoothly.
A good lager, would be excellent on a hot day. Uncomplicated and refreshing - highly drinkable.
689 characters
3.58
/5
rDev
+1.7%
look: 4 | smell: 3.5 | taste: 3.5 | feel: 4 | overall: 3.5
Pale yellow with a thin bright, white head with good retention.
Standard pilsner but a more fresh version with lots of grassy hops. Not very strong smelling but refreshing.
Mix of citrus fruits & possibly apples. There is a sort of fresh tang to the drink with a very mild bitter finish.
A very smooth pilsner that is quite light but not watery. Very easy to drink & very refreshing.
A nice, refreshing pilsner that is lovely ona warm summers day. One of the nicer pilsners I have tried, I'll be looking out for this one again.
1001 beer to try list:
http://abarwithnoname.wordpress.com
593 characters
3.39
/5
rDev
-3.7%
look: 2.5 | smell: 3.5 | taste: 3.5 | feel: 3 | overall: 3.5
A slightly hazy straw colored beer with a white head with uneven sized bubbles that leaves some lacing.
The smell is sweet citric, and rather fresh.
The taste is upfront white bread sweet, then acidity from lemon and green apples, some lemon zest as bitter finish.
High carbonation, lively small bubbles, refreshing with a dry finish.
Lively and fresh acidity is the better characteristics here. Possibly one could want some more bitterness.
445 characters

3.4
/5
rDev
-3.4%
look: 3.5 | smell: 3.5 | taste: 3.5 | feel: 3 | overall: 3.25
4.4 ABV 330 mL bottle, freshness date. Poured a pale straw colour, with a rocky white head, showed acceptable retention. Has a respectable lacing. Visible carbonation.
Smell has a firm biscuity maltiness, and a crisp floral and mineral-ey hoppiness. Green apple, and light citrus hops. Not very structured though.
Taste has a lot of fruitiness and late noble bitterness. Seems quite different for a pils, maybe its the sour citrus bitterness coming across. Grapefruit, blood orange, lemon and a biscuit malt body, theres a flash of malty sweetness, more chalky hops on the end. Finish is dry, with a lingering bitterness.
Mouthfeel is light and refreshing, could use a bit more carbonation to give more of a refreshing bite. It is pretty easy to drink though. Finish needs to be crisper I think.
While certainly better and more flavourful than your average pils lager, there is room for improvement and I'm a tad dissappointed, could use more balance. Still its not bad, with a nice bitter and fruity flavour.
1,015 characters
3.82
/5
rDev
+8.5%
look: 3.5 | smell: 4 | taste: 4 | feel: 3.5 | overall: 3.5
A - A fairly clear straw colour poured with a centimetre of white head that falls quick quickly.
S - Floral and grassy hops with a bit of graininess.
T - Much like the smell except the hops are taken over by the grainy malt taste.
M - Fairly light bodied with medium carbonation.
D - A decent & tasty Pilsener. Worth a try.
323 characters
3.88
/5
rDev
+10.2%
look: 4 | smell: 3.5 | taste: 4 | feel: 4 | overall: 4
330ml bottle, served chilled in a Delerium Tremens tulip
Pours with a rich amber body, tight white head forms. Some patchy lacing up and down the glass
Smell, rich fresh saaz hops. Some freshly cut grass
Taste, crisp mouthfeel, lots of fresh hop bitterness followed up by a crisp malt character. Somewhat bready towards the finish, along with peppery hops
A tasty pilsner, well worth the try
395 characters

3.9
/5
rDev
+10.8%
look: 4 | smell: 4 | taste: 3.75 | feel: 4 | overall: 4
Half pint at All Bar One 4.4%
A: Golden colour, clear, one finger head, retained some lacing.
S: Fruity Tettenager.
T: Mixture of zesty citrus and a touch
of sweetness. Didn't have the bitterness of
German brewed Pilsner.
M: Light body, crisp, well carbonated.
O: A pretty decent take on a Pilsner,
not as dry or bitter as German brewed
equivalents and hence easier to drink over a longer session.
409 characters
4.37
/5
rDev
+24.1%
look: 3.5 | smell: 4 | taste: 4.5 | feel: 4 | overall: 5
330 mL brown brown poured into a pint glass (sorry, I don't own a pilsner glass).
A: Rich but clear-looking yellow beer with fizz coming up from the bottom to form a nice 1-finger head at the top of the glass.
S: Smells mildly lemony and floral--maybe elderberry.
T: lemony again (only very mildly) with a nice mild sweetness to it.
M: lots of carbonation, light body in this a-typical pilsner.
D: very drinkable, especially in this 330 mL bottle. Good stuff!
464 characters

3.39
/5
rDev
-3.7%
look: 2.5 | smell: 3.5 | taste: 3.5 | feel: 3 | overall: 3.5
poured 330ml bottle into a fine pint glass
A: clear straw colored beer with a good deal of carbonation which creates a frothy 1 finger head on top of the glass.
S: Fresh earthy lemon smell with a hint of hops and some wet grains to boot.
T: Nice refreshing dry earthy citrus flavor which is mild and finishes with a back end malty flavor.
M: Robust carbonation but a very light body to this beer. Great beer for a warm summer day.
D: Very nice interpretation of the Czech Pilsner style. Crisp, refreshing and very drinkable beer.
535 characters
2.61
/5
rDev
-25.9%
look: 3.5 | smell: 2.5 | taste: 2 | feel: 4 | overall: 3
330ml brown bottle poured into a Gouden Carolus D'or glass.
A. A bright, straw coloured pilsner with lines of bubbles streaming up the glass.
N. Slightly citrusy and floral bouquet with the faintest touch of banana
T. Erm sorry, nothing except for a hoppy bitterness. Maybe I had chilled mine for too long, don't know but I found VERY little going on in my mouth to make me like this. Having said that I am not too big a fan of pilsners. The only positive comment I can make is that the taste did surprise me in that it was far smoother than what I was expecting.
M. Light, clean and much smoother than I imagined.
D. If you are a pilsner fan you may like this but as I have not had enough of this style I cannot comment on whether it is good or bad. For what it is worth, I wouldn't rush out to buy this again.
817 characters
3.37
/5
rDev
-4.3%
look: 3 | smell: 3.5 | taste: 3.5 | feel: 3.5 | overall: 3
330ml bottle, consumed Jun 2011, BBE Dec 2011.
A - Very pale straw yellow body with a rapidly dissipating head that leaves patchy cover and slight lacing.
S - Gentle malt aromas with a slight citrus touch.
T - Like the aromas, gentle tastes of malt with a light citrus note and some mild hop bitterness. Finishes relatively dry and smooth.
M - Light body, medium carbonation, smooth and dry.
O - Overall quite a pleasant light beer for sitting enjoying in a session, though probably a bit light and easy to have by itself.
528 characters
Pilsner from Meantime Brewing Company Limited
3.52
out of
5
based on
23
ratings.