High Saison
| Meantime Brewing Company Limited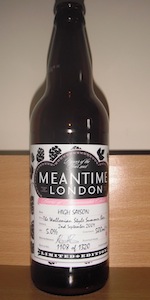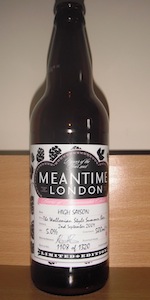 BEER INFO
Brewed by:
Meantime Brewing Company Limited
England
,
United Kingdom
meantimebrewing.com
Style:
Saison / Farmhouse Ale
Alcohol by volume (ABV):
5.00%
Availability:
Limited (brewed once)
Notes / Commercial Description:
No notes at this time.
Added by dgilks on 12-23-2009
This beer is retired; no longer brewed.
HISTOGRAM
Ratings: 8 | Reviews: 8
Reviews by dgilks:
2.9
/5
rDev
-20.5%
look: 3 | smell: 3 | taste: 3 | feel: 2 | overall: 3
Pours a nice, clear gold colour with a big, ivory head. Head retention is okay but not great for a saison.
Nice, spicy aroma with some barnyard touches. Coriander is evident as is clove.
Quite malty. This actually seems underattenuated which is disappointing. Some spiciness and bitterness but the whole thing is pulled back by the underattenuated malt profile.
Medium body and almost moderate carbonation are not what is expected in a saison. This is not what it should be.
This just isn't what it claims to be. While it is drinkable in that I'm not about to spit it out, I've had better from Meantime and this disappoints.
630 characters
More User Reviews:
2.86
/5
rDev
-21.6%
look: 3.5 | smell: 2.5 | taste: 3 | feel: 3.5 | overall: 2.5
Bottle at L'Autre Oeilin Aylmer. Very yellow body with a bubbly head. Musty aroma. Hard to get, this came via an Australian distributor. Sweet-spicey. Difficult to drink, particularly unusual for a saison. Think it had it, a few weeks past expirey.Average mouthfeel.
266 characters
3.88
/5
rDev
+6.3%
look: 4 | smell: 3.5 | taste: 4 | feel: 4 | overall: 4
Drank from my Achel Chalice
Bottle number 380 of 1320
A - This beer pours a straw colour witha foamy white head that dies quickly
S - Sweet candy sugars from the bottle.
Not much different one poured.
T - Nice spicey sugars and a hint of malt. A little sickly sweet. But true to the style.
M - Light to medium body with well balanced carbonation.
D - This is probably the only Saison brewed in England, and it's a pretty good stab at the Belgian stlye.
458 characters

3.65
/5
rDev 0%
look: 4 | smell: 4 | taste: 3.5 | feel: 3.5 | overall: 3.5
Pours an orange-gold colour, quite pale with a large amount of haze in the glass. Some off-white head sticks around fairly well and sinks leaving a decent coating of lace around. Oh yeah, that's a saison alright.
Nose also very typical of the style, lots of barnyard aroma with a strong fresh leather smell and a large citrus tang with a distinct orange peel character. Actually quite citric, but a nice saisony funk behind it. Pretty decent.
Fresh citrus and pineapple up front provide a pleasant fruity flavour, then descends into a fair funky mid-palate with touches of leather and lucerne. Fruit returns towards the back, overripe in a sweet and sour kind of way, then trails off. Taste is kind of dull for the most part though, almost like the 'funk' (which is pretty good) smothers the other flavours. There's a potential florid fruit on the palate that gets hidden under the barnyard flavour, and the whole thing ends up a bit weak, without the complexity it could otherwise have enjoyed. A bit weak on the mack, a kind of mild sour lemon note. Not bad, but could have been better.
Lots of texture on the feel - possibly too much, has an almost harsh astringency and acidity to it. Interesting but not delightful.
Certainly drinkable, although the watery sour back is a letdown. A decent saison from a country not renowned for brewing them.
1,351 characters
4.09
/5
rDev
+12.1%
look: 3.5 | smell: 4.5 | taste: 4 | feel: 3 | overall: 4.5
Picked up at Purvis Cellars, Melbourne.
Bottle 1108 of 1320. Vintage, 2nd September 2009.
Nice hazy gold colour. Head retention was pretty pour I found. Could actually smell the coriander in it which was nice.
Whilst I found it easy to drink (possibly too easy), the mouthfeel was a little sickly and stuck around too long. I have only tried a few Saisons and this is not what I expected, but still quite enjoyable and dangerously sessional.
445 characters
4.05
/5
rDev
+11%
look: 4 | smell: 4 | taste: 4 | feel: 3.5 | overall: 4.5
Pours a very nice cloudy golden yellow, with some depth. The white head is initially boisterous and frothy, becoming slightly filmy as it dissipates. Looks pretty good. The colour and body in particular are nice.
Some light herbal aromas on the nose with a hint of slight barnyard funk and a light citric acidity. Bit of meaty Belgian yeast coming through as well, which provides some solidity to the beer. A pretty good representation of the profile of the style.
Taste is light, with some nice rustic grain notes and a clean phenolic bitterness on the back, that reminds me somewhat of the phenols on a biere de garde, I guess it's closing in on that style too. Backing it up is a pleasant Belgian yeast buttery sweetness. Overall, it's pretty crisp and pretty true for the style. The mouthfeel is slightly overcarbonated.
A very drinkable saison, and a very good example of the style. Stylistically very true, possibly one of the most Belgian-like saisons I've had from outside Belgium. A little more acidity on the palate would be nice, and they could ramp up the wild notes, but its very crisp and enjoyable as it is, as well as being extremely drinkable on a summer's day.
1,181 characters
3.95
/5
rDev
+8.2%
look: 4 | smell: 4 | taste: 4 | feel: 3.5 | overall: 4
I must admit this is one style i dont see too much out of the UK and is definately a style ive got a love for,it pours a golden,orange hue with nice carbonation that leaves a creamy two finger head and average lacing,not only does it look like a saison it smells like one too with the typical barnyard funk mustiness and citrus aromas,it has an above average mouthfeel with a predominant herbal taste and finishes with a citrus kick,not a outstanding example of the style but very good and very drinkable and would buy it again.
528 characters
3.8
/5
rDev
+4.1%
look: 4 | smell: 4 | taste: 3.5 | feel: 4 | overall: 4
A - Pours a hazy mid-golden colour with a slight orange hue. 3cm off white head slowly falls to a thin whisp.
S - Light fruity notes with a touch of the saison typical spicy phenols.
T - Much the same as the smell but some light pale malt coming through.
M - Medium to high carbonation, fairly light bodied.
D - A nice beer and a pretty good example of the style.
363 characters
High Saison from Meantime Brewing Company Limited
Beer rating:
3.65
out of
5
with
8
ratings