London Lager (Liquid London)
| Meantime Brewing Company Limited
BA SCORE
80
good
14
Reviews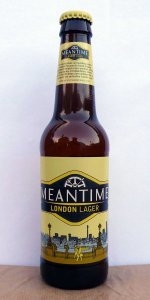 BEER INFO
Brewed by:
Meantime Brewing Company Limited
England
,
United Kingdom
meantimebrewing.com
Style:
Euro Pale Lager
Alcohol by volume (ABV):
4.50%
Availability:
Year-round
Notes / Commercial Description:
No notes at this time.
Added by CHickman on 07-01-2011
Reviews: 14 | Ratings: 56
3.23
/5
rDev
-4.2%
look: 3.5 | smell: 3 | taste: 3.5 | feel: 3 | overall: 3
Half pint in the Greenwich Union, Meantime Breweries tap house: Thin white head on a body of bright, clean golden beer, lacing all down the glass as I consumed the refreshing brew after a healthy walk.
Weak nose, like most lager/pilsner/helles beers, some grainy hints maybe, hop floral notes possibly but a great deal of anything.
Clean tasting, with some mini hop bitterness, subdued malt feel towards the end of the taste: nothing that sets it apart from cheaper mass produced UK or other lagers I've tasted, OK but that's all.
536 characters
3.5
/5
rDev
+3.9%
look: 3.5 | smell: 3.5 | taste: 3.5 | feel: 3.5 | overall: 3.5
Pale golden color with a short head with low retention. Tasted it at the brewery and unpasteurized. It lagered for 6 weeks.
Aroma of grassy hops. Mild sweet taste balanced with spicy and grassy hops giving a bitter taste.
Light Body with a medium carbonation with small bubbles.
Very refreshing beer, one notch above good mass beers.
333 characters

3.54
/5
rDev
+5%
look: 4 | smell: 2.5 | taste: 3.5 | feel: 4 | overall: 4.5
On tap at Taproom 307 in NYC; pours clear yellow color with tons of bubbles racing up the brew and a foamy 2 finger snow white head that faded slowly and leaves great lacing with rings.
Smells of light sweet malt, floral hops, caramel, corn, and grains; a very, very weak nose that has some basic sweetness but that's about it.
Tastes of sweet malt, brown sugar, floral hops, caramel, herbs or tea, corn, and toasted grains; a nice sweet basic lager that has a hint of hop spices like pepper, cinnamon and brown sugar.
Mouthfeel is light and crisp, with medium carbonation, a light feel and malty sweet finish that's slightly acidic. Highly drinkable, this is a great session beer.
692 characters
3.88
/5
rDev
+15.1%
look: 4 | smell: 3.5 | taste: 4 | feel: 4 | overall: 4
A: Pours a bright yellow with a full creamy head. Some chunks of lacing on the glass.
S: Subtle citrus aroma.
T: Nicely balanced lager. Light and refreshing flavor - hint of lemon.
M: Light on the tongue and nice creamy head.
O: Good London brewed lager.
262 characters

3.08
/5
rDev
-8.6%
look: 3.5 | smell: 3 | taste: 3 | feel: 3.5 | overall: 3
A 330ml bottle with a BB of June 2012. The label has a trendy hand-drawn panorama of London on the front.
Poured into a Sam Smith's pint glass. A clear golden colour with good carbonation. Forms a small head of white foam that doesn't hang around. Aroma of light grainy malt with a hint of stewed veg/leaves. No hoppy notes to be found.
Tastes of light malt with a faint stewed bitterness. Notes of grain and subtle background citrus, accompanied by a stewed leaf character. Mouthfeel is smooth and tingly, leaving the palate slightly dry. Mild aftertaste of stewed leaves.
Disappointing. I was hopping for a decent aromatic hop character to add floral notes to a light beer, rather than overcooked hop bitterness. The malt is too light to round out the flavour. This is a shade above a macro lager, but that isn't saying much. Spend your money on something else (like Meantime's pilsner).
892 characters
3.45
/5
rDev
+2.4%
look: 3.5 | smell: 3.5 | taste: 3.5 | feel: 4 | overall: 3
Golden straw colour with good clarity & a two finger sized, bubbly white head that has okay retention.
Light grain, some adjuncts & a little bit of grassy hops along with perhaps a little lemon too.
Well balanced & less harsh with regards to the grain than the nose. There is some good floral hops upfront and a little bit of spice mixed in too
Light, crisp & refreshing offering here that is highly drinkable & overall is very well balanced. The finish isn't all that bitter & there is a nice lingering sweetness to it.
An excellent pale/premium lager that you could drink all night. It has an excellent balance to it & although not bursting with flavour it still has enough to keep you interested.
1001 Beers Blog:
http://abarwithnoname.wordpress.com
757 characters
3.63
/5
rDev
+7.7%
look: 3.5 | smell: 3 | taste: 4 | feel: 4 | overall: 3.5
A clear golden straw colored brew, a white head with small bubbles, little lacing and small curtains.
A weak smell, bread and cereal, lemon peel, a whiff of buttered pop corns.
Tasting of sweetish white bread, lemon juice, peel and some pure bitterness.
Medium low carbonation, small intense bubbles, a fresh feeling, a medium body and a light dry finish.
Clean, tasty and refreshing.
388 characters
3.52
/5
rDev
+4.5%
look: 3.75 | smell: 3.5 | taste: 3.5 | feel: 3.5 | overall: 3.5
Cloudy yellow. Thin head.
Yeast and grain aroma. Citrus twang.
Initial mid-sweetness makes way to a light malt and spice.
A refreshing but ultimately lightweight lager.
168 characters
2.5
/5
rDev
-25.8%
Clear yellow colour, small head that vanishes too soon. Tiny lace. Herbal and citrus aroma. Light body. Clean palate, taste of citrus, herbal. A bit dissappointing, I expected more from a Meantime.
197 characters
3.18
/5
rDev
-5.6%
look: 3.25 | smell: 2.75 | taste: 3.25 | feel: 3.75 | overall: 3.25
Pours hazy light golden with small head
aroma of sweet corn
Good carbonation, corny mild grain flavours, not much in the way of hops, slight bitteress, more dryness.
meh
172 characters

3.55
/5
rDev
+5.3%
look: 3.5 | smell: 3.5 | taste: 3.5 | feel: 4 | overall: 3.5
330ml bottle purchased from Warners at the Bay and poured into a Redoak globe style glass.
Pours a light golden colour with a bit of haze about it. Nice white head of foam that measured a finger and settled at just above film.
Aroma is initially of grain while some light sweet malt comes through later on.
Flavour is clean grain with a little bit of toasted malt sweetness that carries it home.
Mouthfeel is solid, as i've come to expect from most Meantime stuff. Not a lot of bitterness in this, but some mouth coating at the end.
Overall a well brewed, clean, solid lager. Not spectacular, but decent enough.
617 characters
2.98
/5
rDev
-11.6%
look: 3.5 | smell: 3 | taste: 3 | feel: 2.5 | overall: 3
Pours straw colored and with a very nice tight white finger head that lasted. Smelled and tasted like most Lagers more going on than a BMC but not enough to make a big deal. Bit of field adn grass and hop bitterness in each. Palate is light and carbonated well but slightly aggressive. Overall it is a decent lager but there are pleanty of better ones (by the same brewer) out there. Overall just a better than Macro lager that I will probably not get again.
458 characters

3.82
/5
rDev
+13.4%
look: 3.75 | smell: 3.5 | taste: 4.25 | feel: 3 | overall: 3.75
Look is good for the style: that is, lemony and promising of refreshment. The head is somewhat durable, the cling is there, but not noteworthy. The beer's taste, however, sets it apart. There is an aspect to it that I can only characterize as "floral" that makes the beer memorable.
282 characters
2.79
/5
rDev
-17.2%
look: 2 | smell: 2.25 | taste: 3 | feel: 3.75 | overall: 2.75
Appearance - Poured cold from the fridge straight into a glass. Very little head, which quickly disappeared altogether. The beer was cloudy which was rather a surprise. It did have a satisfying straw colour to it though.
Smell - Not a big one on the nose this. Not much of anything to smell. But then, that's not unusual for a more mass-market lager.
Taste - Clean. A little malt on the end.
Mouthfeel - This I think is the greatest strength of this lager. The mouthfeel is sharp, not too carbonated and oh, so clean. On mouthfeel alone, I could drink this on a hot day for hours.
Overall - I'm a bit disappointed by this one. I was expecting something a bit more exciting from Meantime.
691 characters
London Lager (Liquid London) from Meantime Brewing Company Limited
3.37
out of
5
based on
56
ratings.