Bow Bar, The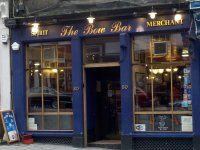 PLACE INFO
Type:
Bar, Eatery
80 West Bow Street
Edinburgh
,
Scotland
, EH1 2HH
United Kingdom
+44 (0)131 226 7667 |
map
Notes:
No notes at this time.
Added by lackenhauser
Reviews: 14 | Ratings: 18

4.58
/5
rDev
+8.5%
vibe: 4.5 | quality: 4.75 | service: 4.5 | selection: 4.5
Tremendous spot for a proper cask pint, random back street off the Royal Mile. Good vibe, warm, comfortable, zero pretense, with a fine assortment of cask selections, bottles (incl. Germany/Belgian/etc. brews). A fine place to step into for a quick pint or an afternoon hangout.
278 characters

4.38
/5
rDev
+3.8%
vibe: 4.5 | quality: 5 | service: 4 | selection: 4.5 | food: 3
Easily Scotland's holy cathedral of dispension by air pressure this has been one of Edinburgh's best real ale pubs for some twenty years. The choice of usually five real ales is largely divided between local producers and breweries from far afield. From Stewart's to Darkstar, to Dent to Timothy Taylor the cask turnover is brisk and you never know what might be around the corner so it is good idea to visit on a regular basis or you could miss something exceptional. In recent times the choice of beers has been increasingly inspired and I can honestly say that in all this time I've never been served anything less than a quality pint.
There is also a good selection of whiskies and if you want a quick snack the food is reasonable. Service is efficient but probably rather standoffish. Just make sure you behave yourself when entering this shrine though. There is a very firm zero tolerance for manic shouting or swearing as a good friend of mine once discovered. I guess that's what you get for being an arse. But nothing but respect for this pub's iron grip on its atmosphere of civility.
You cannot truly say you've experienced the real ale scene in Edinburgh unless you've been to the Bow Bar. Superb.
1,211 characters

4.28
/5
rDev
+1.4%
vibe: 4 | quality: 4 | service: 4.5 | selection: 4.5
Went here a couple of times during our stay in Edinburgh and wish we had gone back more. Great little bar with a big selection. About 5 or so cask ales and good bottle selection...tons of Scotch as well.
We went early on a Wednesday and The Bow Bar already had a good crowd...even with the crowd, the staff were on top of things so we didn't have to wait long at all for a drink.
Prices were all in line with everywhere else in this part of town.
If you're in the old part of town, this is a place you should check.
519 characters

4.1
/5
rDev
-2.8%
vibe: 3.5 | quality: 4.5 | service: 4 | selection: 4
Single room pub with a lovely fireplace and a variety of brewerania on the walls (mirrors, paintings,posters) and old school dark mahogany tables and chairs.
On the weekend this place is normally packed so getting a seat can be tricky.
Selection is excellent with 5 cask ales on rotation and tennents/budvar/guinness/a cider and some others regular. There is a small bottle selection including Aecht Schlenkerla Rauchbier, offerings from Brew Dog, Erdinger and a few Belgians.
They also have an extensive whisky list
Service is always friendly and knowledge of bar staff is always good.
Quality of offerings on cask are always excellent with regards to freshness and glassware.
A favourite of mine when near the grassmarket area.
734 characters
4.44
/5
rDev
+5.2%
vibe: 4 | quality: 4.5 | service: 5 | selection: 4
Small, uncrowded little boozer tucked away in old Edinburgh. Very easy to miss - we almost walked right by it, thinking it was a little further up.
The staff are very helpful - even going as far as picking out a single malt for my wife who's never had any before. I was surprised to encounter a fellow North American working behind the bar.
Excellent whisky selection, and about 5 casks and about as many taps. Cask is mostly local, with one bitter from Norfolk on offer. Pricing is in line with most places I've been at in the UK.
533 characters
4.14
/5
rDev
-1.9%
vibe: 4 | quality: 4 | service: 4 | selection: 4.5
The Bow Bar seems to be a must-visit place for whisky drinkers, but is also not a bad beer bar at all. They have a fairly good selection of Scottish cask ales, including some stuff from BrewDog, which is always a plus for me. It's also not your standard pub atmosphere; there's no music so you can actually enjoy a pleasant conversation with friends. While the Punk IPA I ordered was served a little warm for my taste, this probably reflects more on my American sensibilities than on the temperature of the ale, and it was still a worthwhile night out.
552 characters
4.14
/5
rDev
-1.9%
vibe: 4 | quality: 4 | service: 4.5 | selection: 4
Cool place..the main attraction is definitely the whiskey, which the staff was highly knowledgeable about, but a nice selection of scottish cask ales as well. I had one that was suprisingly tasty...very dark and fruity - damn I wish I could remember the name. One of the bartenders gave me practically a half pint of landord when I only asked for a taste. Pretty nice of him, although I can't say I enjoyed that beer nearly as much as others seem to. I just wish the beers in the UK were not room temperature and flat and considered "strong" between 4 and 5% abv. But if that's not a problem for you, definitely check this place out. Don't forget to try the single malts.
671 characters
4.3
/5
rDev
+1.9%
vibe: 4 | quality: 4.5 | service: 4 | selection: 4.5
I hit this charming little one room pub every night I was in Edinburgh. It is tiny and can get quite packed but it is worth it for the 4-5 ales they have on the air pressure dispense system. The ales also rotated on the three night we were there but included many from Scotland which I hadn't tried before. But by far, the biggest attraction here is the massive selection of single malt whiskys. Getting there early, I ordered pints and started chatting with the person tending the bar. She then spent 20 minutes of her time going over the whisky list and discussing what flavors and tastes I enjoy. It was basically mini-whisky school. Most of the staff were very friendly. The place is decorated with old beer signage and has a nice fire place to boot. A must hit when in Edinburgh!
784 characters
3.96
/5
rDev
-6.2%
vibe: 3.5 | quality: 4.5 | service: 3.5 | selection: 4
My homework as assigned by Todd: http://www.beeradvocate.com/forum/read.php?thread=469027
A lot of people recommend this as being the best pub in Edinburgh, so it was a bit of a long time coming for me to pay this place a visit.
The atmosphere was really touristy I found. Lots and lots of tourists, and lots of cigar smokers filling the place with rather noxious smoke. That being said, it is a lovely interior. A simple room, with the bar on the right-hand wall, beauitful wooden shelves behind the bar holding a rather extensive selection of single malts. The walls are decorated with mirrors from (mostly) defunct Edinburgh breweries.
The quality of the ales was superb. All fresh, clean lines, and all at the right temperature. Most excellent.
The service is what you would expect in Edinburgh. Friendly, but not overly so, and the bartenders all seem to be Australian. I don't know what it is. But 4 times out of 5 in Edinburgh I find my pint is poured by an Aussie. Maybe there's an exchange problem. My one complaint was that the pint wasn't always filled all the way, and on one occasion 3/4" of head was left in the glass. Maybe its the 100% liquid CAMRA campaign ringing in my ear, but that irked me a little. Although, at 3.5, it didn't irk me THAT much.
The selection was good. One tower containing the obligatory Tennant's/Carling swill and then a goodly number of beer engines depensing cask ales. On cask that day was Deuchars IPA, Caledonian 80/-, Lorimer and Clark SPA (Caledonian's April seasonal), Timothy Taylor Landlord, Kelburn Red Smiddy, Williams Gold, and Hop Back GFB. I think I'm missing one, but there is the gist of it. Mostly Scottish micros with the odd offering from the south.
Didn't try the food as it was dinner and they only do lunches. Although I did notice a menu for a sister-pub that does do a regular menu. It admitted that for the Bow Bar "the kitchen is tiny and the tables are the size of postage stamps" This is true.
In terms of value it is on the lower end of the "a bit pricey" spectrum. This is Edinburgh so expect London-like prices for things. If you want better prices, pop on over to the infinitely less touristy Glasgow.
Overall, I still prefer the Guildford Arms but this is much more convenient to the Royal Mile. A good bet would be to retire here after visiting the castle, and thence to the Guildford while waiting for your train at Waverley.
2,426 characters
4.06
/5
rDev
-3.8%
vibe: 4.5 | quality: 4 | service: 4 | selection: 4
Simply put, this is a great pub. There was much discussion in the group concerning which was the best in Edinburgh. The people, atmosphere, and food were just slightly better at Guildford Arms. However, if you are looking for a smaller, smokier place, that has a good down home, local grungy feel, than hit the Bow Bar.
Off the beaten track, but just a short walking distance from the Royal Mile tourist traps. We wondered over just before dinner time, and just after taking the History of Whiskey tour.
Had at least a dozen or so taps, around six were Scots only with the Froach, Dark Isle, and Caledonians on tap. Friendly staff and locals were around. This is a definite must see in Edinburgh.
702 characters

4.5
/5
rDev
+6.6%
vibe: 4.5 | quality: 4.5 | service: 4.5 | selection: 4.5
Definately the highlight of my beer drinking exploits in Edinburgh. This bar is right off of the Royal Mile, tucked away just far enough from the sprawling mass of tourists to allow for a quiet mid-day pint after touring the amazing castle that is just up the road :-) The atmosphere is cool, a bright, one room bar, with nice wood furnishing and a long bar stacked with an excellent selection of 8 or so fresh, local, cask-conditioned brews. Quality and selection are obvioulsy excellent with all of the beers (including the lovely TT's Lan'Lord) in perfect shape. This place cares about their beers, and their cellarmanship and clean lines definately show! I had quite a few brews in here including a folly ale, a caledonian 80 shilling, a landlord, and one other I forget just now. Service was quick and with a smile, like everywhere else in Scotland. This place is definately recommended as the best pub in Edinburgh. Although my opinion may be swayed in the future. The abbotsford (recommended by the barman of the Three Judges in Glasgow) was closed on my day-trip to Edinburgh.
1,084 characters

4
/5
rDev
-5.2%
vibe: 4 | quality: 4 | service: 4 | selection: 4
A small one roomed bar in the Old Town of Edinburgh. Every time i've been here The Bow Bar has been packed, either with office workers or tourists so any one visiting may be better off either in early afternoon or later in the evening when the crowds die down. Despite being packed i didn't have any problem getting served though finding a space to drink my beer was a problem!
A whisky drinkers paradise this, with a large range of Malts, the 'Malt of the Day' on my visit was Ardbeg 10 year old. For beer drinkers plenty to choose from as well with Belhaven and Caledonian beers plus guests like Timothy Taylor Landlord. I've never eaten here so can't comment on the food.
The Bow Bar is worth a visit if you are in Edinburgh!
735 characters
4.18
/5
rDev
-0.9%
vibe: 4 | quality: 4.5 | service: 4 | selection: 4.5 | food: 3
Been here twice now, and it definetly has the best selection of smaller Scottish beers I have found. A good variety of rotating ales, and they seem to change quite quickly. I had two new ones last night and several others the time before when I was there. Many of the selections I have never seen anywhere else and they go well beyond the standard array of beers available in your average Scottish pub. About 6 taps solely for Scottish micros. The food i s poor, although I may have arrived at the end of the day when all they had left was pre-made sandwiches. The crowd is generally buisness people and workers in the temporary parliament buildinigs just up the street.
Also, I saw them cleaning their tap heads last night, as I believe thye do every night. This must bode well for it as a place to sample and review new beers. Well worth the visit.
854 characters
3.94
/5
rDev
-6.6%
vibe: 3.5 | quality: 4 | service: 3.5 | selection: 4.5
This small cozy and brightly lit pub is just a 3 minute walk off the Royal Mile in Scotland's capital.They had a really good selection of Scottish micros on cask as well as Tennents "Velvet" (70 shilling nitro) and Fraoch Heather Ale.We were there mid afternoon and it was quiet,with the occassional businessmen and women coming in for a late lunch.Cannot comment on the food but as far as beer and atmosphere go its worth the trip. HINT:check out the killer cheese store across the street!!!!!!!!!!Some great selections in there as well including some excellent stilton!!!!!!!
577 characters
Bow Bar, The in Edinburgh, GB6, United Kingdom
4.22
out of
5
based on
18
ratings.