Gulpener Bock
| Gulpener Bierbrouwerij B.V.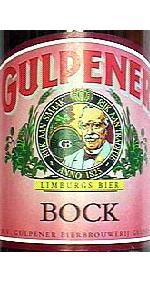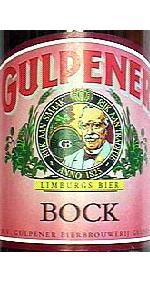 BEER INFO
Brewed by:
Gulpener Bierbrouwerij B.V.
Netherlands
gulpener.nl
Style:
Bock
Alcohol by volume (ABV):
6.50%
Availability:
Fall
Notes / Commercial Description:
No notes at this time.
Added by TheLongBeachBum on 12-21-2004
HISTOGRAM
Ratings: 13 | Reviews: 7
None found.
More User Reviews:

3.92
/5
rDev
+11%
look: 3.5 | smell: 4 | taste: 4 | feel: 3.5 | overall: 4
Bottle of 300 ml, at home. ABV is 6,5%. Poured into a snifter.
Dark ruby colour, but lighter than other bocks I had this season. One finger of head, with average retention. Light lacing around the glass, mostly where the beer touches the glass. A thin layer of foam persists through the whole drinking process.
The smell is where it gets really interesting. Sweet and sour at the same time. After that, a strong smell of boiled fruits, mostly sour cherries, and sugars, the way a fresh made jam smells.
Taste is quite similar to the smell. Boiled fruits at first, but then becomes much more complex, some apple syrup, some herbs and spices, but I can't really define what and which.
Nice full body with light carbonation.
I was looking for it for some time as it's not so widely available at the supermarkets, at least around my area, and I'm really glad I found it. Probably on my top 5 of the bock beers I have tasted this season.
935 characters
3.6
/5
rDev
+2%
look: 3.5 | smell: 3.5 | taste: 3.5 | feel: 3.5 | overall: 4
This beer is a Dutch bockbier, which in general are very sweet with roasted and caramellic notes.
Appearance is a red brown beer with a small head.
Smell is not very present, there is a light molasses smell that is probably formed by the roasted malts, but these are not very apparent. Also some whiffs of vanilla and ripe apples.
Taste of chocolate malt, which make the beer kind of roasted/burned in a mild way. I get some apple compote in the taste, let's say ripe apples Pretty one-dimensional, even for a Dutch bockbier, which usually isn't too complex. Basically there is molasses and roasted malts on top of a big, sweet body, nothing more. The reason that I gave these ratings, is that I find this beer to be quite pleasing and mild, and without being overly sweet like most bockbiers. And yes the beer is sweet and somewhat sticky, but this goes with the style and is well-done.
897 characters
1.98
/5
rDev
-43.9%
look: 3 | smell: 2.5 | taste: 1.5 | feel: 2 | overall: 2
Being one of the better breweries in holland( in my eyes) with quiet some good specialties I was half excited about trying this one. Only half cause the last year bok was candysweet. Well this year again. Starts with a sweet nose that hardly has any malt nor yeastarome in it.... but ok nothing wrong in it either.
As soon as you start drinking it you will find out that most of the added sugar is not fermented and make it into a pop with litle malt, lots of added karamel and of course tons of sugar.
The sink had most of that beer and my computer is still sticky from the drop that fell on it...
600 characters

3.31
/5
rDev
-6.2%
look: 3.5 | smell: 2.5 | taste: 3.5 | feel: 3 | overall: 4
Sampled this beer during the Food4You festival in Wageningen. The beer poured a dark amber-reddish color with a tiny light brown head.
Smell: Very weak. I think I smell some hints of grass (yeast), grains and malts.
Taste: Roasted malts (bit dark chocolate like, not common for the style), nutty and a bit fruity (apple). Very mild, bitter-malty aftertaste. Not too sweet in general
Mouthfeel: Medium carbonation and a bit light-bodied.
Overall: Very simple beer for the style. Very easy to drink though, almost a session beer.
534 characters
3
/5
rDev
-15%
look: 3 | smell: 3 | taste: 3 | feel: 3 | overall: 3
3.91
/5
rDev
+10.8%
I snagged a 0.25l glass of this on draft at Cafe 't Pothuiske on 01OCT14.... Cost was €3.85.
My small tulip held a clear, deep chestnut liquid. It had creamy, smooth beige head which coated the glass in superb fashion. Nose had some caramel sweetness and a touch of brown sugar. Lightly prickly on the tongue, it was still fairly smooth, with a medium body.
Taste had mild sweetness, though less than the nose suggested. Had some caramel and a touch of toffee, with some brown bread flavors, a hint of dark fruit, and then some floral hopping. Rather simple, and more bitter than sweet. Prosit!
3.91/5 rDev +11.4%
look: 4.60 | smell: 4.05 | feel: 4.10 | taste: 3.80 | drinkability: 3.75
1680
699 characters

3.54
/5
rDev
+0.3%
look: 4.5 | smell: 3 | taste: 3.5 | feel: 3.5 | overall: 4
It's bock season again in Holland so I went to the beerstore to buy all available. Also bought a vintage one of the Gulpener. This is the regular one.
A: Brown/ruby color with a 2 finger lightbrown head.
S: Hops, malts and something hay/grassy going on.
T: Roasted malts, liquorice and chocolate notes and a wooden tone as well. Thank god not overly sweet as many other ones.
M: Medium carbonation and a slightly creamy mouthfeel.
D: Best one I had so far... but then there are still 10 to go...
500 characters
3.96
/5
rDev
+12.2%
look: 3.5 | smell: 3.75 | taste: 4 | feel: 4.5 | overall: 4
My first 'herfstbok' of the season: dark bown amber colour with a small lacing of foam. A full nose of malt, caramel and hops, though the smell gets weaker quite fast. A very rich taste of malt and caramel, followed by a bittersweet finish. All in all very balanced. The mouth feel is very smooth and full. No surprises here, just a beer that does what it is supposed to do: being a very good example of the style 'herfstbok'. Well done.
437 characters


3.81
/5
rDev
+7.9%
look: 4 | smell: 3.5 | taste: 4 | feel: 3.75 | overall: 3.75
Gulpener Bock from Gulpener Bierbrouwerij B.V.
Beer rating:
3.53
out of
5
with
13
ratings