Wintervrund
| Gulpener Bierbrouwerij B.V.
BA SCORE
83
good
11
Reviews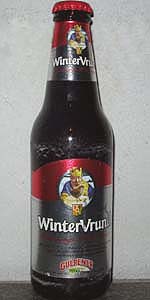 BEER INFO
Brewed by:
Gulpener Bierbrouwerij B.V.
Netherlands
gulpener.nl
Style:
Winter Warmer
Alcohol by volume (ABV):
8.50%
Availability:
Winter
Notes / Commercial Description:
No notes at this time.
Added by paterlodie on 12-31-2005
Reviews: 11 | Ratings: 24
3.77
/5
rDev
+6.2%
look: 4 | smell: 3.75 | taste: 3.75 | feel: 3.75 | overall: 3.75
very surprised to see people havent liked this much. i thought it was really solid, and very unique. it has elements of a strong german bock, i think the grain looks and tastes and feels a bit like that, sweet and hearty, european, and rich in that way. caramelized sugars and thickness are there under the tall beige head, dense for sure. it smells and tastes really good to me, some added sugar maybe like a belgian strong, but with a sort of molasses sweetness and mild spice, like a holiday fruitcake or something, booze and sludgy but also spirited and festive and quite enjoyable. there is a little tang to it, tannic for a moment, but its washed away quickly by the residual grain sugar. not sure this is spiced, but it has a little bit of that mulled thing going on nevertheless. dried apple and dates come to mind on the fruity side, and there is a bready english type yeast going on, fresh baked aromatic and a sticky sort of feel all come together. tough beer to place in terms of style, and i havent had much like it. this represents the really cool inventive side of classic european dark strong ales. really dug this, and so did the folks i shared it with. thanks to drlovemd87 for the bottle!
1,207 characters

3
/5
rDev
-15.5%
look: 3 | smell: 3 | taste: 3 | feel: 3 | overall: 3
33cl bottle. Dark ruby pour, clear with a tan head. Smells like caramel and boiled corn. Bitter-sweet with a rough alcohol and a green beer feeling. Not too good.
162 characters
3.93
/5
rDev
+10.7%
look: 4 | smell: 4 | taste: 4 | feel: 3.25 | overall: 4
Dark ruby colour with a frothy steady beige head. Full smell of juniper berries, malt and cloves. These flavours return in the taste, together with dark fruits, tangerine and some alcohol. A very tasteful winter-themed beer. One negative sidenote: the mouth feel was a bit watery and the alcohol wasn't very warming. But all in all, nice beer.
343 characters

4.2
/5
rDev
+18.3%
look: 3.75 | smell: 4.25 | taste: 4.25 | feel: 4 | overall: 4.25
This winter warmer is an exemplary model of execution that flirts with design failure. A nice blend of Belgian style strong amber with a (light) nod to an English winter warmer. The problem is the exceptional smoothness and balance results in an ephemeral taste so delicate as to be almost vapid. There's complexity to be found, unquestionably, but it requires a sporting effort. Fruity yeast dominates, very soft cured tangerines. Light fruitcake spice. Milk chocolate crumb cake. Light body, a touch sticky. Really intriguing, and ultimately most enjoyable. A bit like the Golden Age Dutch Art, instinctively satisfying at the most mindless, hedonistic level, but subtle depth awaits the contemplative.
704 characters
3.95
/5
rDev
+11.3%
look: 4 | smell: 4 | taste: 4 | feel: 3.5 | overall: 4
appearance: Copper brown with beige head, not much retention.
smell: Brown sugar and dark fruits. Roasted malts. Some rye & clove.
taste: Sweet syrupy brown sugar / caramel followed by the red ripe fruits and a very light hoppy, rye with clove like, bitter. Surprisingly light considering the ABV.
mouthfeel: A bit bland. Lacks just that little bit of creaminess to give it more body. Medium carbonation.
overall: This one surprised me. Usually these themed (winter) beers aren't really my thing, but this one is just lovely. It's a very easy drink though, so kinda dangerous :)
584 characters

3.5
/5
rDev
-1.4%
look: 3.5 | smell: 3.5 | taste: 3.5 | feel: 3.5 | overall: 3.5
Bottle, 300 ml, at home, poured into a tulip. ABV is 8,5%.
I had a long day at work and while I was biking back it started raining, I was completely wet when I reached home. So I grabbed this to warm me up. Colour is a very nice dark ruby one, with an off white head on top, almost two fingers in height after a hard pour. Very good head retention and medium lace left behind.
Aroma of roasted malts and alcohol. Very pleasant.
Taste begins sweet and on the finish it turns to a medium sour one, which in combination with the light alcohol on the taste, makes this beer taste a bit like a good red wine. Not bad at all.
Medium to thick on the body and average carbonation.
I really enjoyed this one, especially once it warmed up a bit. Then it warmed me up too. As I said, the alcohol taste is very light, making it very drinkable, I must contain myself.
855 characters

2.96
/5
rDev
-16.6%
look: 4 | smell: 3 | taste: 2.5 | feel: 4 | overall: 3
Look: the beer pours a nice brown-amber color with a medium seized head
Smell: Roasted malts, yeast, and herbal hops (clove?)
Taste: Caramel malts, sweet, and some clove.
Mouthfeel: Medium body, medium carbonation
Overall: This beer has almost no taste, pity
258 characters
4.02
/5
rDev
+13.2%
look: 3.5 | smell: 4 | taste: 4 | feel: 4.5 | overall: 4
Wintervrund, 8,5% abv., Dark seasonal beer.
Dark, with little head.
It has a fresh smell of malt and yeast, with some herbal notes. The taste is hoppy, not at all sweet.
The finish is dry and clean. Very pleasant. The alcohol is hardly noticable.
I have to agree with the previous review: the 2009 Wintervrund seems to have enjoyed some improvements. I haven't tasted this before, but I would certainly recommend it on winterevenings, warming and clean.
457 characters

4
/5
rDev
+12.7%
look: 4 | smell: 4 | taste: 4 | feel: 4 | overall: 4
To be honest, this year was the first year that I noticed this "winter" beer around.
A: LIghtbrown/amber color.
S: Roasted malts, dark fruits and liquorice.
T: Roasted malts, dark fruits, liquorice, cloves and a syrupy sweetness. Light bitterness.
M: Low/medium carbonation and a light creamy mouthfeel.
D: Not bad. Looks like the 2009 version of this beer improved when I read the previous reviews.
404 characters
2.96
/5
rDev
-16.6%
look: 4 | smell: 3 | taste: 2.5 | feel: 3 | overall: 3.5
This beer has a serious lack of taste, it starts out fine with a nice red brown colour and a nice head, smell was not very abundant but there was some cloviness and maltiness present.
Taste was bland, sticky and caramellic sweet, with the cloviness again present. A clean beer with not a lot of taste, even aftertaste is absent. A beer for people who normally only drink lager beer and want to try something 'special'.
420 characters
3.35
/5
rDev
-5.6%
look: 3.5 | smell: 3.5 | taste: 3.5 | feel: 3 | overall: 3
BBE jan 07. Nice head though not overwelming and a dark brown/ mahony beercolour without haze. Nose shows a lot of clove and anis and has next to that some caramellic maltnotes, dry overall caracter and missing IMO litle deepness. Pale carbonisation level makes mouthfeel even more empty and realy missing some bitterness or anythiong to give it something extra. Clean taste though and no ptoblem to drink.
406 characters
Wintervrund from Gulpener Bierbrouwerij B.V.
3.55
out of
5
based on
24
ratings.