Princess Pub & Grille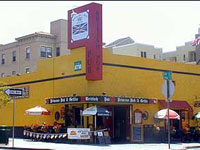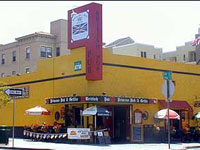 Bar, Eatery
1665 India St
San Diego
,
California
, 92101-2515
United States
(619) 702-3021 |
map
princesspub.com
Notes:
Reviews by TheLongBeachBum:
TheLongBeachBum from California
4
/5
rDev
+8.1%
vibe: 4 | quality: 4 | service: 4.5 | selection: 3.5 | food: 4
As the sun shone on the gleaming metallic golden paintwork of xlperro's Caddy, we were noisily buzzed by an in-bound 737 landing at the nearby SD Airport. We had arrived in downtown San Diego it seemed, we were already buzzing after the Oak Aged Arrogant Bastard in O'Brien's only an hour, or so, earlier. The BigDog Beer-Mobile was safely parked in Little Italy for his Wife to collect later. Myself, Mzwolinski, EyeChartBrew, Xlperro & his friend Chuck all took the short wander down the street to the Princess Pub & Grille, to the background of chagrin yells of "Mushy Peas" & "Fish and Chips" from the normally quiet & well-behaved Big Dog himself.
If you have not guessed by now, the Princess Pub & Grille is a British bar. Located on India Street, the Princess is a bright canary yellow building with red painted fittings & a huge red cigarette box shaped sign that proudly says "British Pub", as well as having a Union Jack flying from a flagstaff on the roof. Yeah, it is really difficult to miss this place!
The entrance is more of an opening on the corner of the building, rather than a door. Inside, the large curved dark wooden bar is to your left, and to the right, two rooms contain plush seating & many Tables, some set in booths for privacy. Lots of British decorations, Beer Mirrors & Dart Boards set on bare brick walls. A picture of Sir Winston looks down on the patrons at all times. Plenty of character & a good Juke Box.
Service was prompt & very courteous, a real plus I mentally noted. Imbibers on our Table rarely approached an empty glass before a well attired server arrived to enquire into "…another beer Sir?"
The Beer range has apparently subsided in recent months according to the locals BA's, but there was still a decent enough offering to attract attention, albeit rather limited to around 15 beers. The Fullers range appears to have been distilled down to just the ESB these days, which was a real disappointment.
The Food was varied, with an emphasis on Brit-Grub obviously. I opted for the Fish & Chips, which were excellent; they even had Malt Vinegar & HP Brown Sauce on the Tables which was heaven.
A very nice welcome stop on our BA SD Crawl; we all had a few beers here. Maybe a little more imagination & effort applied to the beer range may not go amiss, but I will certainly go again when in the locale that's for sure.
I Say, Jolly Good Show Chaps. Tally Ho!
Last Visit: 12th July 2003.
Jul 15, 2003
More User Reviews:

mrcraft from California
3.51
/5
rDev
-5.1%
vibe: 3.75 | quality: 3.25 | service: 3.75 | selection: 3.5 | food: 3.5
I came here for lunch today after seeing the place the day before. It's an English type pub, it's got that vibe inside with dark wood. There's a bar area and lots of tables. They had a number of monitors with sports, as one would expect in a pub.
My server was friendly, but the food took a while for it to come out, and the place wasn't crowded at all.
I ordered their Cornish Pastie which is beef and vegetables in puff pasty. It tasted good; however, portions of it were cold. Apparently, they don't make it from scratch when one orders it. Also, the pastry was not flaky like those that are really well done. It was slightly soggy and tough. I still didn't like the fact that some of the meat was still cold.
I also didn't like getting the bill before I finished my meal. To make it worse, they added $1.25 credit card surcharge even though they had no idea if I was going to pay by cash or not. I thought the prices here were on the high side.
I wasn't impressed, and I doubt I revisit this place.
Feb 06, 2015

the_encinitan from California
3.75
/5
rDev
+1.4%
vibe: 3.75 | quality: 3.75 | service: 3.75 | selection: 3.75 | food: 3.75
Feb 01, 2015

armock from New York
4
/5
rDev
+8.1%
vibe: 4 | quality: 4 | service: 4 | selection: 4 | food: 4
Atmosphere - When you walk in the bar is to the left with a dart board on the right and some more seating by the fireplace farther in. Theres a second room to the right that has another dart board and more seating.
Quality/Service - Yeah they have all of the better imports imports like Hoegarden and Guinness but they always have some local things from Firestone, Karl Strauss, and New English Brewing.
Service - For the most part is awesome there's a bartender and a waitress that are slow but there's at least four other bartenders and a handful of other waitress to choose from.
Food - I think I've had more than half of the menu from the breakfast to the late night menu and its always been excellent. They have greasy pub grub to excellent curry dishes.
While staying in SD this summer and fall this place was two blocks from my apartment so I spent many nights here it also didn't hurt that they're part of the idine program to get me airline miles.
Dec 19, 2010
magictrokini from California
3.63
/5
rDev
-1.9%
vibe: 3.5 | quality: 3.5 | service: 4 | selection: 3.5 | food: 3.5
Another English pub in San Diego, now in Little Italy. Smaller and darker than Shakespeare's, it is still covered in wood and has soccer on all the time. About the same beer selection, but with the occasional Wychwood or other oddball brew. Food is good, but not as good as Shakepseare's in terms of the "authentic" grub. Much better scotch selection, with more Islay malts. More crowded due to its proximity to Filippi's, downtown, and The Waterfront. Mroe bartenders, but about the same service as elsewhere. Decent prices.
Dec 17, 2008
stoner420 from California
3.25
/5
rDev
-12.2%
vibe: 3 | quality: 3 | service: 4 | selection: 3 | food: 3
Okay, its a British pub in the heart of Little Italy. Little Italy has recently gone through a condo boom, I'm guessing that is why the prices here are so high. $16.00 for fish and chips? $6.00 for a Fullers ESB? I wasn't expecting that. They did have fish tacos for $7.00 that were pretty tasty. Further confirming my suspicion that if there is a Mexican dish on the menu of an otherwise typical pub grub menu it is a good choice.
Beer selection was pretty typical for an English pub in America. They do have Fullers ESB, which I always enjoy. The food is pretty typical English pub grub. The atmosphere is good compared to a dive bar, but compared to other English pubs around town just okay. The long bar is nice. The clientele is mostly tourists and condo dwellers. There was terrible English pub rock music on the stereo too, the only respite being the occasional Zepplin tune. The service was good.
I remember there being a better selection of ales and the prices being lower in the past, but things have changed.
Jan 30, 2007
rayzorwit from California
3.75
/5
rDev
+1.4%
vibe: 4 | quality: 4 | service: 4 | selection: 3 | food: 4
I'm not one to promote UK brews, as San Diego has a kickass brewery scene and knocks out some good domestic brews. But if you're looking to change up the scene, I will explain why I still come here on occasion.
The atmosphere is the best thing this pub has to offer. It has lots of wood and plenty of seating. There are TVs all over the place, and it's a great place to catch a soccer game, especially World Cup. It's in the heart of Little Italy, and it's on the West side of a street, with an excellent view of a sunset sky.
The food is good. I've eaten their a few times, complete with appetizers and meals. This is a great place to grab a decent meal and decent brew, complete with ambience.
True, the beer selection could stand to beef up some. But overall, the ambience and menu make up for this. If you're a San Diego local and are looking for somewhere new to go, I would recommend this place for a meal and a few pints.
Apr 23, 2004
Princess Pub & Grille in San Diego, CA
Place rating:
3.7
out of
5
with
7
ratings