Platte Valley Brewing Company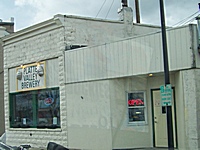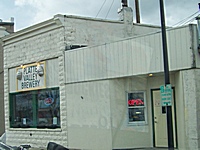 PLACE INFO
Type:
Brewery, Bar, Eatery
14 E Railroad St
Kearney
,
Nebraska
, 68847-5452
United States
(308) 237-0751 |
map
theplattevalley.com
Notes:
Platte Valley is no longer brewing beer.
Added by bditty187
HISTOGRAM
View: Beers | Place Reviews
Ratings: 14 | Reviews: 10
Reviews by kvnklingler:

More User Reviews:
4.08
/5
rDev
+17.9%
vibe: 3.5 | quality: 4 | service: 5 | selection: 3.5
They are contracting to have their beer in Columbus, Ne. They had 5 of their own plus 15 guest taps.
100 characters

3.25
/5
rDev
-6.1%
vibe: 3.25 | quality: 3.25 | service: 3.25 | selection: 3.25 | food: 3.25


3.65
/5
rDev
+5.5%
vibe: 3.75 | quality: 3.25 | service: 4.25 | selection: 3.75 | food: 3
We have visited Platte valley numerous times, and its always one of the first places we visit when in K for work or play. We were there when they were brewing on site several years ago and they had a dynamite IPA & PA. For the last several years they've just been a craft beer bar. This trip they had what they said were 3 Platte Valley beers! It appears they are contract brewing in Columbus. So Platte Valley brewing is once again, brewing! The beers were good and worth a vist
479 characters
3.73
/5
rDev
+7.8%
vibe: 3.5 | quality: 4 | service: 3.75 | selection: 3.5
Yay! They're brewing beer again. Originally was very unhappy they weren't but now I might prefer them over the other brewery in town. Selection is rather safe but has to be in this area. Really enjoyed the Octoberfest, the Brown, and the Rye PA was outstanding. Thank you for brewing beer again, never got to try it the first time.
331 characters
3.81
/5
rDev
+10.1%
vibe: 2.5 | quality: 4 | service: 4 | selection: 4
As of April 2010, Platte Valley has suspended brewing and serving their beer because of some "problem with the feds."
This ruined my visit as I was interested in sampling the beers they made on site.
They have a solid Nebraska lineup of beers but I went with an Odell's 90 Shilling as it's a style I've been brewing lately to much enjoyment.
This place is like a friend's basement bar. A low budget bar and some couches around a fireplace.
It was the bartenders first day and while she wasn't incredibly informative, she was nice and tried her best.
555 characters
3.55
/5
rDev
+2.6%
vibe: 3 | quality: 4 | service: 3 | selection: 4 | food: 3
First off: this is not as good as Thunderhead. Go to Thunderhead first.
But...it's a good brewpub in its own right. If this place was in my town and wasn't right down the steet from a place like Thunderhead, i'd go here all the time. Lots of beers on tap, including an alt (!), English IPA, Spilker Ale's Foggen Lager (guest tap), light lager, stout, belgian brown, hefe, and something called a red rock wheat, that was quite dark and pretty tasty. We went in just as it opened on a thursday and the place was empty. Still, we got some beers and they were mostly good (didnt care for the hefe though). Had a garlic bread pizza thing that was oily and kind of gross, but about right in terms of traditional american pub fare. But yeah, the beer was good and there was a good selection, so whaddya want?
805 characters

2.45
/5
rDev
-29.2%
vibe: 3 | quality: 3 | service: 1.5 | selection: 2.5
Selection: They were offering about 8 beers on the chalkboard the day I was in. They had an IPA, Alt, Wheat, Light Lager, Stout, Hefe, and a pumpkin pie brew!? They also offered 1 or 2 guest taps as well.
Quality: The only beer I sampled was the Red Rock Wheat. I thought that is was a pretty tasty brew. It seemed to lack a little in body but it was still a pretty good brew.
Staff Knowledge and Service: I thought that the service was pretty poor. I asked the bartender kid, several questions pertaining to their beers and he seem almost put out to answer them. He also slammed an orange in my beer right off the bat which I did not request. I think that he was more interested in awing people with his card tricks than serving beer.
Ambiance: The place was pretty packed for a Wednesday afternoon. They had a $2.50 happy hour going on so everyone in town was in there. The place was pretty dirty and cluttered not somewhere I will likely visit again.
962 characters

1.96
/5
rDev
-43.4%
vibe: 1.5 | quality: 2.5 | service: 1 | selection: 2.5
Stopped by Platte Valley on the way to somewhere. The location is relatively easy to find, through the main street (2nd Ave) over the bridge, a couple blocks east and next to the railroad tracks. The building is rather shabby and small. The inside wasn't any better either. A decent sized bar with some seats on the side and back. A few games too. I felt the place was rather dirty as well.
The selection was made on location. They had five beers on tap. Belgian Brown, SPL (American Lager), a Winter Warmer, German Alt, and a Stout. They had samplers and after trying them all I picked up the Alt in a growler. The beer itself was nothing great but most were worth trying. I would like to note that the Brown was not very good at all. I think some type of infection or maybe in the line or something, but the staff (see more below) was not very appreciative of my comment/notice.
The staff was horrible. When I entered, it took the bartender about twenty minutes to stop cleaning glasses and decide I needed help. When she did arrive she was not friendly or helpfully and seemed stand-offish that I needed help in the first place. She didn't know much about the beers let alone the styles. And she was very short with anything I said weather good or bad. I relate my experience with the DMV.
I didn't have any food and was reluctant to even get a growler. If you want my suggestion, your money is spent better a block away at Thunderhead. They have better staff, food and beer.
1,490 characters

3.73
/5
rDev
+7.8%
vibe: 4 | quality: 4 | service: 4 | selection: 3
Re-viewed for freshness:
I've been to Platte Valley about ten times. This place use to be a brewery, no food and they bottled (only growlers now). The taproom was tiny. Maybe twenty people could cram in there. Maybe. Well they remolded a year after my first visit, they are in same building they just knocked down a wall and extend the bar and added more seats and booths. I must say this new place lost something. Sure it is clean and warm. It is lightly decorated, just some old beer cans. Classy. They have a fireplace, a pool table, and a few TVs. Simplistic. The bathrooms are bigger now. It is comforting but the old place was so damn charming! Memories…
They now serve pizza. I have never tried it. The pizza selection is very limited and boring, IMO. I do enjoy the complimentary pretzels and mustard.
Okay. The beer here is very good. I would say it is the second best in the state only behind Thunderhead. The Stout, Alt, APA, and Pale Lager are all very good. I haven't had the Hefe in years and the seasonal beers have been good.
I've never been to the new place and not had one of Adam's parents wait on me. They are very friendly people.
All in all, I love Platte Valley. I wish it were closer. In fact I have made special trips to Kearney to drink the beer at Thunderhead and Platte Valley. I recommend staying at the Days Inn (clean and cheap) and have the local taxi company take you to and from the brewpub(s).
1,451 characters
3.93
/5
rDev
+13.6%
vibe: 4.5 | quality: 4 | service: 5 | selection: 2.5
Stopped in Kearney Nebraska at the half-way rest stop during my move from Iowa to Colorado in July 2005. Platte Valley is located in the true downtown section of Kearney, just 5 minutes north of I-80. Free parking was available within one block of the well marked establishment. I entered into a small bar (perhaps 8 stools) with a chalkboard listing the selections. Further in, the establishment opened into a seating area and a bar that wrapped around to the left. Following the bar around led me to a back room that contained a pool table and the restrooms. Back to the bar to order a beer.
The selection on the chalkboard was a bit limited, only 6 taps (alt, lager, pale, stout, wheat, seasonal--also a wheat). I was promptly greeted by a knowledgable bar-tender who offered a couple samples to help me decide and then brought me some pretzels and mustard. I inquired about a menu, as I was interested in a bite to eat. Unfortunately they serve only pizza, which was more than I was interested in. After a couple beers, I purchased a growler of alt and was back on my way.
Platte Valley is a small-time brewpub that makes quality craft beers. The alt and the pale I enjoyed were true to style and quite tasty. The two bar-tenders turned out to the be parents of the brewer and they were quite friendly and knowledgable about their son's endeavor. This, combined with the beautiful wood interior, made for a very comfortable atmosphere and helped wash away the weariness of my travels.
I was offered a tour of the brewing facilities. Apparently, they have just expanded the brewing operation and the brewing room is cram-packed with equipment. Perhaps this will allow them to expand the number of selections they offer on tap. While 6 taps is probably appropriate for Kearney Nebraska, I do have to rate the limited number of selections in context with other brewpubs. Don't let my rating in that one statistic keep you from visiting. If you are passing through Nebraska, this is one place you should plan to stop for a break in your travels.
2,054 characters

3.73
/5
rDev
+7.8%
vibe: 4 | quality: 3.5 | service: 4 | selection: 3.5 | food: 4
The Platte Valley Brewery is a modest, unassuming brewpub along the railroad tracks in downtown Kearney. The brewpub has been recently renovated; it now has a larger bar than it used to, and it now offers pizza. There's six beers on tap, a selection of mixed drinks, and pizza. That's it; nothing more, nothing less. The place is cleanly (if unimaginatively) decorated.
The beers on tap are decent, and go well with the pizza. Service is quick and friendly. Overall, if you can only visit one brewpub in Kearney, go to Thunderhead, but if you have the time, Platte Valley is worth checking out as well (both places are a block from each other, in any case).
One a side note, the brewing setup at Platte Valley is unique: nearly all the brewing equipment was built from converted dairy equipment, and nearly all the tanks used in brewing are stacked on top of each other and are crammed into a 20' x 30' area.
914 characters

4.28
/5
rDev
+23.7%
vibe: 4 | quality: 4 | service: 4.5 | selection: 4.5
This place is a small place, but with a great atmosphere. I went here on a friday night because they offer a *FREE* bowl of chili with every pint! what a score, and let me tell you: The Liberty Pale Ale goes down great with a bowl of spicy-free chili.
The place is so small and was so busy when we went, there were people sitting behind the bar, eating. My mate and I were'nt sure what to do, every place was taken, but the bartender(and wife of the brewer/owner) found us a half a table. The other couple there were very friendly and it ended up being a great night, mainly because of the proximity of the customers. It was loud and boisterous and i ate chili while watching trains come and go across the street.
They will soon add on, infact they might be done by now. They offer quite a few brews and are quite friendly.
You must go behind the bar and down a hallway to get to the can, but from there you can see the back of the building were the brewery is. I poked my head in and talked to the brewer. He told me he built the 7bbl system out of milk tanks and was very friendly.
If you are ever in Kearney, check this place out
P.S. I marked N/A for the food because i dont think they offer it, besides the free chili on Friday's and the free Burger on Saturdays.
1,283 characters
Platte Valley Brewing Company in Kearney, NE
Brewery rating:
3.63
out of
5
with
5
ratings