Barley Brown's Brewpub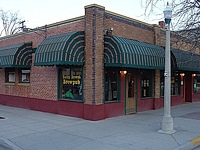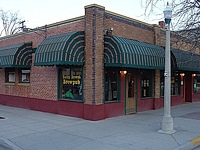 PLACE INFO
Type:
Brewery, Bar, Eatery, Beer-to-go
2190 Main St.
Baker City
,
Oregon
, 97814
United States
(541) 523-4266 |
map
barleybrownsbeer.com
Notes:
No notes at this time.
Added by Jason
HISTOGRAM
View: Beers | Place Reviews
Ratings: 22 | Reviews: 11


4.28
/5
rDev
+2.1%
vibe: 4 | quality: 4.5 | service: 4.25 | selection: 4.25 | food: 4
Visited on Saturday Oct 12. This is a surprisingly good brewpub in the Eastern Oregon outpost of Baker City.
We arrived at 5:30 PM and were surprised to see that there was already a waiting list. We were motioned over by a friendly local couple at a bar table who asked us to join them - wonderful people as it turned out. The crowd was great with a surprising number of older folks all enjoying the food and beer. They had a nice 12 beer sampler (believe they were 3 oz pours) for only $10. In particular the IPA's were quite good and fresh with full blown west coast hop profiles so I had a pint of the WFO IPA after the sampler.
Our server was attentive, friendly, and helpful. Food was very good (pasta portions were huge!).
If you find yourself travelling from Boise to Portland this is a stop you'll be happy you made.
827 characters
3.79
/5
rDev
-9.5%
vibe: 3.75 | quality: 3.75 | service: 4 | selection: 3.75 | food: 3.5
Visited on 17/04/2013 on holiday from the UK. Arrived just after 6.00 o'clock the place was busy but not to busy. waitress showed us to a table and was very friendly and Knowledgeable about the Beers tried all 11 beers on tap during our stay the food was very good the best beer of the night was Pallet jack Ipa 7.0% if back in the area will be back.
350 characters

3.6
/5
rDev
-14.1%
vibe: 3 | quality: 4 | service: 3 | selection: 4
The first stop on our Oregon beercation! Located in downtown Baker City, very easy to find. Didn't open til 4, which seemed common with some of the smaller town breweries out here. We were there at 4 on a Tuesday.
We had a sampler tray, at a very reasonable price. Favorites were the Tumble Off Pale Ale and Disorder Stout, also good was the Shredder's Wheat. The service was good, nothing special. We did get to talk with the brewer and he was very friendly and gave us some good advice on other spots/breweries to try in Oregon. I had a pint of Disorder Stout, very good. They didn't have growlers, luckily I had one in the car and we got the Tumble Off to take back to our campsite.
Overall, above average brewery that will grow. I enjoy collectables, but they had no stickers or coasters and the logo was kind of lame anyways. Low key place that I would defintely frequent again if in the area. We didn't eat but the food looked very good.
945 characters

3.1
/5
rDev
-26%
vibe: 3 | quality: 4 | service: 1 | selection: 4 | food: 3.5
Arrived on a Saturday night around 7:30, hungry and thirsty. There was a short wait in the dining room, so we headed to the half-full bar area. We sat between a couple locals and some annoying wine snobs who weren't even there for the beer. Whatever.
Our visit to BB's was marked by good beer and absolutely horrible service (thanks Kathy...). Not sure if it was the Pendleton shirt I was wearing, something one of us said, or what. But the bartender went out of her way to ignore us after our initial order of a tasting tray. After that, getting service was from her was like pulling teeth. Other patrons were treated nicely, but we got nothing but scowls. We would have sat around and had another pint or two as we were within walking distance of the hotel and the beer was good. But service was so bad, I just wanted to get out of the place. I'm sure that experience also clouds the rest of my review, which is just average.
Fortunately, the beer selection was nice and contained several beers we can't get in the Portland area. The Whiskey Malt Ale and Hot Blonde were particularly interesting. The IPA is a solid choice and very enjoyable. Unfortunately, they were out of the DIPA. The pale and stout were also nice. Overall, the quality of their beer was very good with only a couple 'just average' beers.
Food selection was decent, maybe a touch above normal pub grub. Kind of reminded me of a Rogue or Deschutes offering. I had the Kobe burger and my wife had the crab cakes. Both were good, although I'm not sure I could tell the difference between the "Kobe" and a good regular beef patty. We were both so hungry that we would have eaten most anything at the time.
Atmosphere was just okay. Nothing remarkable or memorable.
If I ever get back down to Baker City again, I'll certainly give BBs another chance and would definitely recommend their beers. But we were sorely disappointed with our visit to this brewery.
1,930 characters
3.55
/5
rDev
-15.3%
vibe: 4 | quality: 3.5 | service: 3.5 | selection: 3.5 | food: 3.5
In the heart of downtown historic baker city!
It is on the corner in a series of old gold town style buildings left from the early 1900's
Atmosphere is minimal, some beer books on the book shelf, a view of the brewery room through a glass window, a small bar near the front.
Quality of beer is quite good, quality of the whole operation is above average.
Service was friendly but pretty average, when we tried to engage in light conversation it was almost passed off...
Selection, standard pub grub, nothing to special really.
Food we did have was a burger that was only slightly better than most places we have ever been to, small portion for the price really, in a town like this, to get customers from out of town it really needs to be a great restaurant to.
767 characters
4.6
/5
rDev
+9.8%
vibe: 4 | quality: 5 | service: 5 | selection: 4
Barley Brown's has become my favorite brewery in Oregon. Shawn Kelso has been making some of the most unique and intense tasting beers in the world, so I was very excited to make the trek over here after being at a conference in La Grande. The atmosphere is nothing special, but pleasant and would be fine for a wide range of people. When we arrived they had Tankslapper on tap, which is their HUGE double IPA that was just epic fresh. We then asked if we could get a quick tour and Shawn was there and was just incredible. He was EXTREMELY generous with his time and gave us a special takeaway brew that was a real capstone to the experience. Do not miss this place if you have a chance to go.
694 characters
4.48
/5
rDev
+6.9%
vibe: 4 | quality: 5 | service: 4 | selection: 4.5 | food: 4.5
Located in the historic town of Baker City, some 300 miles east of Beervana and 2 hours from Boise, Barley Brown's is a veritable craft beer oasis, and well worth seeking out for the traveling beer aficionado.
Nice atmosphere features custom woodwork, a 6-8 seat bar with several tables, and an elongated dining area with 4-6 booths and several tables that can be pulled together for larger parties. The small brewhouse is visible from the dining area, and bags of grain are stacked in the back of dining room-this is a working brewery, after all.
While I haven't eaten there, my buddy's family enjoyed a nice meal. All the grub looked pretty good. and a perusal of the menu highlighted its reasonable price. Unfortunately, their server was a bit harried, having worked all day at another job. and messed up 3 of their 4 orders. Oops! This foipa was offset by the generous spirit of owner Tyler Brown and Brewmaster Shawn Kelso, who during my two previous visits served up a phenomenal array of excellent beers.
The key here is of course Shawn Kelso's award winning beers. The night I visited for a bottle share they had Tumble Off APA, Turmoil CDA, a chocolate beer, a stout, a wheat beer. I believe there are 8 house taps running at one time, and a couple of macro-taps for the less adventurous. While the phenomenal Chaos wasn't on line during my visit, Turmoil is one of the best CDAs availalble, IMO, and Tumble Off, a unique tasting APA, is the Barley Brown signature brew, easy drinking, a nice session beer. The quality of all the beers is extremely good.
While well off the beaten path, you really need to stop by Barley Brown's if you are in the area. Note that the pub doesn't open until 4pm and closes at 10, so plan your travels accordingly. While in Beervana be sure to check out their fine brews, available at Belmont Station, Bailey's and Saraveza. One of the best things about living in Eastern Oregon, and I'm very lucky Tyler and Shawn are such good people. Very highly recommended.
2,006 characters
3.83
/5
rDev
-8.6%
vibe: 3 | quality: 4.5 | service: 4.5 | selection: 3 | food: 3
what a find, in the middle of eastern oregon, just of the interstate 84 highway.
we had some familt there, counrty living, and they suggested we go to this spot in downtown baker city, good spot the historic area is real nice especially in the heat of summer to drop in and grab some cold beer.
they had good selection and the atmosphere was good, they had bags of malt lining the wall and cool local sponsorship posters, i think one of the owners digs cycling a lot of bike stuff everywhere.
they were out of growlers when I went which was dissappointing but it was fun and the food was good.
596 characters
4.18
/5
rDev
-0.2%
vibe: 4 | quality: 4 | service: 4.5 | selection: 4 | food: 4.5
During my first visit to Baker City, my father-in-law and I sucked down a fair amount of BB's beers. The first session was just a rack of 8 samples. which was good to get an idea of what their beers are like, but you never really get the full picture unless you have a pint, so a return trip was in order. They didn't have Turmoil on tap, but Tyler (the owner) went out back to the brewery to pour us a sample of Chaos (the Imperial version of Turmoil). That was probably one of my favorites, though the Tumble-Off and the IPA are both quite good.
The second session started off with a couple of full pints. A Tumble-Off and a Brown Ale for me; IPA and Brown ale for my father-in-law and his neighbor. The brown was a bit lackluster, but drinkable. After our beers, we were joined by our wives for dinner.
Their food is largely beef-oriented (with good reason: the Country Natural Beef co-op ranchers are in this area!) with good burgers and steaks. On my most recent visit, I had the flat-iron steak salad; a big bowl of salad greens topped with thinly sliced seared steak, sauteed red peppers, and Parmesan cheese. Served with a thick slice of "Texas toast". They also serve various pasta dishes, a good selection of pub-grub appetizers, and a good seafood dishes. I would also recommend the Angry Chicken Caesar salad. Having said that, I come here mostly for their fantastic beers and I highly recommend you come give them a try if you are ever in this area.
The ambience is friendly and open. It's a small, cozy place. Their are bags of grain stacked in the back seating area, which lends it a homey feel (homey in the sense that you're hanging out in the brewery). Service is very good. Mary and Jordan were super. The place tends to fill up quickly because it is quite small. By the time we finished dinner, it was lively and bustling. Our booth was filled immediately.
They brew a lot of great beers; Turmoil (their Cascadian Dark Ale) is probably my favorite. I like the Hot Blonde, though I prefer it mixed with Shredder's Wheat. Their other beers are all solid beers. It's no wonder they win the awards they do. The Vanilla Porter is good, as is the Tumble Off Pale Ale.
Warning: they open at 4pm so don't try to go there for lunch!
2,250 characters
4.03
/5
rDev
-3.8%
vibe: 4 | quality: 3.5 | service: 4.5 | selection: 4 | food: 4.5
Though rumor has it that a new brewpub will be opening in La Grande (in 2009), there is presently just one brewpub in the 300 or so miles between Hood River and Boise; Barley Brown's. And if you're coming from anywhere, you'll be thirsty when you get there. Barley Brown's is in the great western town of Baker City, a town built on one of the greatest roads in American history, the Oregon Trail. I could talk a lot about the place; about the library on the river, the legend of the blue bucket, or why it's, "a good place to kill a man." For now I'll stick to beer.
Barley Brown's is on Main Street two blocks from the Geiser Grand Hotel, a prominent historic landmark. The owner / brewer is a man named Brown. That should give the name some obvious context though no one would begrudge the unavoidable Peanuts reference. The restaurant is laid out in an "L" shape with the brewery behind glass midway along the backstretch. It is clean, hospitable, and family-friendly. Handsome wood and a mix of bright and subdued lighting lend casual dignity to the bar.
BB's features eight house beers with one line of macro and a cider tap. The four regular house pours are wheat, pale, golden and brown with Coyote Peak Wheat an especially popular local favorite. Other standouts are the GABF gold medal winning Tumble Off Pale and a strange brew called Turmoil that defies easy categorization but can best be described as a black IPA.
A four-barrel system with three fermenters produces unpasteurized, unfiltered ales that are not bottled and are rarely distributed. Quality varies, but the food is consistently good: pubfare, steak and pastas.
I don't generally like television in bars or elsewhere. They are social and intellectual sedatives. But the three TVs at Barley Brown's were put to good use during my visit and I'll always remember this as the bar I watched the Red Sox beat the Yankees. Nothing like beer and baseball.
1,933 characters
Barley Brown's Brewpub in Baker City, OR
Brewery rating:
3.88
out of
5
with
935
ratings