Nunchuck Ping Pong DIPA
| Kettlehead Brewing Company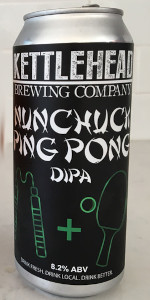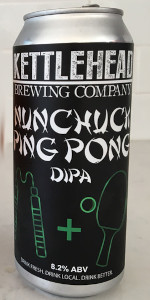 BEER INFO
Brewed by:
Kettlehead Brewing Company
New Hampshire
,
United States
kettleheadbrewing.com
Style:
American Imperial IPA
Alcohol by volume (ABV):
8.20%
Availability:
Limited (brewed once)
Notes / Commercial Description:
None provided.
This beer is retired; no longer brewed.
Reviews: 9 | Ratings: 22
4.69
/5
rDev
+9.6%
look: 4.75 | smell: 4.5 | taste: 4.75 | feel: 4.75 | overall: 4.75
[IMG] Another great beer from @kettlehead1. A NEDIPA Nunchuck Ping Pong 8.2% ABV. Pours like a glass of pineapple orange juice, with a billowy sticky white head that leaves thick lines of lace as it slowly settles into a thin layer of bubbles. 4.75
Smell is marijuana, papaya, tangerine, pineapple, pine resin, and grapefruit rind. 4.5
Taste follows crazy dank maryjane, papaya, tangerine, pineapple, pine, and a nice shot of grapefruit. 4.5
Mouthfeel is bigger than medium, a soft mouthfeel with the perfect amount of carbonation, not dry but pretty darn sticky from all the oily hops, and at 8.2% ABV extremely drinkable. 4.75
Overall I really like this dank NEDIPA, it is really a tremendous beer. I love beers like this, I can only hope @2beerdogs and @GreenBayBA enjoy it as much as me. I trust these guys that much that I would send a beer in a box that I have never had. Awesome stuff. 4.75
901 characters

4.6
/5
rDev
+7.5%
look: 4.5 | smell: 4.5 | taste: 4.75 | feel: 4.5 | overall: 4.5
Had it on tap at the brewery - which BTW I recommend. Full of flavor, super smooth especially for 8.2%. Nice n juicy with just a little bitterness. I see Kettlehead being in the top 5 in NH soon if they aren't already. Well done.
231 characters
4.44
/5
rDev
+3.7%
look: 4.5 | smell: 4.25 | taste: 4.5 | feel: 4.5 | overall: 4.5
Pours a hazy, murky, orangish color. The head is 2 finger, frothy, and with great retention. Nice lacing on the glass as the head dissipates.
The nose is, as expected, hoppy. Nice citrus hops. Mango, pineapple, seem to be the aromas to me.
Taste - Really strong mango up front - really deep rich mango. The backside I get a slight pineapple. I just can't get over the mango. Very powerful.
The body is a bit lighter than I was expecting. I get a bubbly, champagne feeling. Creamy feeling. The hops linger a bit.
Tasty, tropical, hoppy, creamy IPA.
551 characters

4.42
/5
rDev
+3.3%
look: 4 | smell: 4.5 | taste: 4.5 | feel: 4.5 | overall: 4.25
Poured hazy yellow with a thin white resistant head on top. The smell is of tripical fruit and more tropical fruit. The flavors of melon a citrus with some resin in the late finish really make this beer solid. The feel is ultra smooth and juicy. Overall the nunchuck has totally sweet skills here and I like it!
311 characters

4.41
/5
rDev
+3%
look: 4 | smell: 4.25 | taste: 4.5 | feel: 4.5 | overall: 4.5
Many thanks to SawDog505 for this can!
A - Opaque tan orange colored pour with very thick creamy lacing.
S - Spicy tropical fruit rind, a little peppery, green tea.
T - Apricot, red grapefruit, citrus, tangerine, papaya, and peppery fruit rind. Very nice resin and tropical fruit dankness.
M - Thick, full bodied, and chewy.
O - This is a fantastic beer. Seek this one out. Thanks again "Dog"!
405 characters
4.27
/5
rDev
-0.2%
look: 3.5 | smell: 4.5 | taste: 4.25 | feel: 3.75 | overall: 4.5
From a 16oz can, undated, purchased at the brewery 06/27/18. Served in a willi.
Pours a thick-looking, thoroughly opaque, murky apricot-orange with a scant finger or so of lush, silky-soft head. Retention is just meh, leaving a wispy cap and a thin but solid sheet of lacing.
A powerfully aromatic nose of overripe fruit - pineapple, mango, cantaloupe, papaya, tangerine and hash pipe scrapings.
Juice bomb. Overripe pineapple, composty cantaloupe, soft, squishy mango, papaya and pulp-free OJ. Bhang water with a squeeze of lime. Heavy, weedy and dank with low bitterness and significant booziness.
Feel is thick and juicy, heavy bodied with probably too light carbonation for its heft, and a warm, alcohol glow in the gullet.
Edited to add: carbonation level seems inconsistent from can to can - is that even possible?
Juicy, boozy and dank. You could serve this one out of a coconut half with one of those little cocktail umbrellas.
942 characters

4.25
/5
rDev
-0.7%
look: 4.25 | smell: 4.25 | taste: 4.25 | feel: 4.25 | overall: 4.25
Crowler from the source.
Pours cloudy gold with an inch-plus of white foam. Nice retention and lacing. Candied orange with pineapple in the nose. Medium bodied with a tacky, sticky mouthfeel. Piney and juicy on the palate with zero malt and minimal bitterness. Mandarin, peach, and pineapple. Finishes a bit sweet with honey-drizzled citrus.
343 characters
4.08
/5
rDev
-4.7%
look: 4.25 | smell: 4.25 | taste: 4 | feel: 4 | overall: 4
From draft at the brewery and later via cans. A very juicy IPA. Quite drinkable, and the alcohol is very well masked. My only issue with this brew is I sense a slight aftertaste that I cannot place, which slightly detracts. Still, an above average offering for a change of pace.
278 characters

4
/5
rDev
-6.5%
look: 4 | smell: 4 | taste: 4 | feel: 4 | overall: 4
Thanks to SawDog505.
Wrote up a whole review singing the praises of this beer, only to have it disappear. This is twice in a week. So here is the abbreviated version.
A: Golden orange, fluffy white head. Really solid lacing.
S: is a peppery melange of grapefruit, orange, papaya, and a hint of onion.
T: is more of the same but the onion is subtle and leans toward dank.
M: Fluffy, medium bodied, well carbonated.
O: Solid DIPA.
428 characters
Nunchuck Ping Pong DIPA from Kettlehead Brewing Company
Beer rating:
4.28
out of
5
with
22
ratings