Le Vaudrée Deux (II)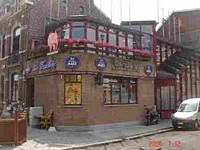 PLACE INFO
Type:
Bar, Eatery
Rue St. Gilles, 149
Liège
, 4000
Belgium
+32 (0)42 23 18 80 |
map
Notes:
No notes at this time.
Added by TheLongBeachBum
Ratings: 4 | Reviews: 4
Reviews by digita7693:

3.41
/5
rDev
-10%
vibe: 3 | quality: 3 | service: 3 | selection: 4.5
Bar has a huge selection of wonderful beers.
Several good Belgian beers on tap, though not necessarily cheap, its also about par for the course for the quality of beers you are getting.
The atmosphere is somewhat lacking and the staff can be rather unenthusiastic, but we are here for the beer, and thats pretty damn good.
I would recommend going here, just for the selection, but just 25mins away, in the netherlands, maastricht, there is a much cooler bar with an amazing atmosphere. Id go there any day
506 characters
More User Reviews:
3.83
/5
rDev
+1.1%
vibe: 3 | quality: 4 | service: 3 | selection: 4.5 | food: 4.5
I didn't have that much trouble finding the place. The hotel I reserved from the tourist information center was a lot harder to find. Fortunately, it was only a few blocks from la Vaudrée 2. As you walk in, to your right is a display case full of Beer, many of whom I have never seen before. To your left is the bar, with 24 taps, a rarity in Belgium I was told. The bar section in itself is very nice, but the rest of the place is not that great. A little bit of breweryana here and there, but it had a college campus cafeteria look. Probably one of the least interesting bars I've been in Belgium, atmosphere-wise. But the heavy lighting did make it easy to review a few Beers, so it gets passing grade from me.
Besides, the Beer list compensates easily for any shortcomings.
The Beer book is a good half inch thick, you can actually buy a copy of it, but at the rip-off price of 30 euro for what looked like plastic spiral-binded photocopies, I'll pass, thanks.
Service was typical european, slow, with a bit of light sarcasm. When I asked for suggestions with my thick french-canadian accent he replied that I should try the Unibroue Beers (hahaha). He warmed up a bit after a while, but that didn't get the Beer to the table any faster.
I didn't give the place a 5 for selection because he didn't have a few of the things I asked for in his menu, especially from his "old/retired" list, and one Beer on tap made especially for them and Kulminator wasn't available yet. Maybe he thought I wasn't worthy...Nonetheless he had a crapload of Beers I've never even heard of, and I've scavanged through this website for months preparing for this trip.
One high note about la Vaudrée 2 was the food. Everything we had here was fabulous, and reasonably priced to boot. I had the house specialty, which was an "Épée". It's basically a huge shish-kebob served on a sword hung over your plate on this holder that the waiter screws on your table. I had the beef and ostrich, but they had others, like kangaroo (!). You get plenty of beef for your buck here, I wasn't able to finish it off, and my girlfriend wasn't able to finish off her Boulets Liègeois, huge half-pound meatballs served with wine sauce. A meat lovers place to be sure, vegetarians beware.
So come for the Beer, stay for the food...and the Beer.
2,318 characters
3.85
/5
rDev
+1.6%
vibe: 3 | quality: 4 | service: 3 | selection: 5 | food: 3.5
What can you say about a bar with 900 or so beers on its menu but WOW!
Ok, it is not the most exiciting looking place and like a few others reviewers, I had a hard time finding the place, the street numbering system seems a little out of wack. A good long walk from the train station. But worth the effort
All the beer I sampled was in good shape and they had all that I asked for.
The food menu was typical of a Belgium cafepub.
I was there in the late morning. It was overly bright and moderately busy. The service was ok.
536 characters
4.08
/5
rDev
+7.7%
vibe: 3.5 | quality: 4 | service: 3.5 | selection: 5 | food: 4
After a trip to the Oleye Brewery earlier in the day, we stopped in Liège for the afternoon during our Annual Easter Trip to Belgium in 2002. We did not need to look at any Guides; we all just headed straight for this legendary bar. Related to Le Vaudrée in the Angleur district of Liège, the Vaudrée 2 has an equally impressive Beer List, but it lacks the more refined atmosphere that its elder sister has.
Vaudrée 2 is a long thin, business-like bar, which can be hard to find. I had been here twice before – but still got lost, so we had to dig out Tim Webb's Guide as it happened in the end.
Its functionality and utilitarian décor detracts from the atmosphere for me. But this is really a very minor complaint, and is totally forgotten when you get the Beer List. Claims a list of around 900 bottled beers, and it has over 20 on draft as well. The problems with keeping a Beer Cellar that has nearly a thousand beers must be difficult at best I imagine. As such turnover of some bottled beers can be slow. This means you either get a wonderfully aged example, or very occasionally, a 'dud'. For me, it's worth the gamble and I personally only ever had one "slightly old" beer here, which was easily swapped. So depending when you visit, there may be some of the beers that are not available. Maybe the real working number is around 750-800 beers at any one time. But, whatever the number, it is an excellent choice that you will rarely find equaled, let alone bettered. The list appears to have everything you would ever want and more. A plethora of Belgium Beers that includes some genuine aged examples and often beers from long gone extinct Breweries (just look for them or ask). If you fancy a real change, try one of the Foreign Beers, it has a genuinely interesting collection from some Countries and places that I have never even heard of, for example the Indian Ocean Island of Reunion!!
Service can be slow at times, and women always appear to get served in preference to men. Food is solid Pub Fare, and of good quality.
Le Vaudrée 1 in Angleur is open 24 hours, this place was as well when I visited in 2002, but I hear now that it may well have reduced to an 18-20 hour day instead, closing around 2am weekdays/4am weekends, reopening at about 7am/9am accordingly. Yeah, it's good get back to the Hotel and have a few hours sleep before it re-opens again LOL.
One of the Best Beer Lists you may ever hold in your hands.
**Highly Recommended**
Last Visit: Mon. 1st April 2002.
2,526 characters
Le Vaudrée Deux (II) in Liège, Belgium
3.79
out of
5
based on
4
ratings.