The Field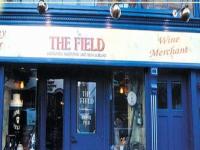 PLACE INFO
Type:
Bar, Eatery
544 5th Ave
San Diego
,
California
, 92101-6926
United States
(619) 232-9840 |
map
thefield.com
Notes:
No notes at this time.
Added by BeerAdvocate
Reviews: 10 | Ratings: 14
Reviews by djaeon:

2.75
/5
rDev
-26.5%
vibe: 4.5 | quality: 2 | service: 3 | selection: 2 | food: 4.5
It was originally a pub in Ireland. The owners tore it down and moved all the pieces to San Diego. It was then reconstructed in the Gaslamp. That's the story anyway.
This is one of my favorite places to eat downtown. The atmosphere is great. The food is great, traditional Irish dishes. The beer is great, as long as you want Guinness. All the beer they offer is mainstream. But the Guinness does seem to be better here.
If you're looking for a good beer selection, this is not the place to go. If you want some great food and a good Guinness, you'll like it.
Note: I'm basing this review primarily on the beer. If this review was for the restaurant as a whole, I would've given much higher scores.
★
701 characters
More User Reviews:

3.74
/5
rDev 0%
vibe: 4 | quality: 3.75 | service: 3.5 | selection: 3.75 | food: 4

4.28
/5
rDev
+14.4%
vibe: 4.5 | quality: 4.5 | service: 4.25 | selection: 3.75 | food: 4.75
The Field is an authentic Irish Pub transplanted in San Diego in the Gaslamp District. I read they brought over an old Irish Pub piece by piece and rebuilt it. It was a very nice vibe inside. Very dark. They had a few monitors with sports on them, probably soccer, I wasn't paying much attention.
The tap list is short. Quality beers, but ones you can find almost anywhere else. However, you don't come to the Field for the beers. It's all about the food! This was the best Irish meal I've had. I couldn't choose, so I had the sampler which consisted of shepherd's pie, Guinness beef stew, and some corned beef and cabbage. Each in its own right was delicious. I also had Goose Island IPA.
Server was friendly and service was good.
I will definitely return. I thoroughly enjoyed this meal and visit.
★
814 characters



4.18
/5
rDev
+11.8%
vibe: 5 | quality: 4.5 | service: 4 | selection: 3.5 | food: 4.5
I absolutely love this place. I live one block away and stop by regularly. All the hard wood and dim lighting gives great vibes. The quality/service here is great. The servers are nice and know everything there is to know about their menu. The beer selection is average, but the Guinness here is absolutely delicious. The selection of Irish whiskey and Scotch is good and not too pricey. The food is some of the best pub fare I've ever had(the Guinness beef boxty is wonderful). Prices here are reasonable, and overall this is one of my favorite bars in the Gaslamp.
★
566 characters
3.88
/5
rDev
+3.7%
vibe: 4 | quality: 4 | service: 4 | selection: 3.5 | food: 4
Located on 5th Ave downtown in the Gaslamp. Near K St. Parking on a busy night stinks- so walk instead!
Good atmosphere- I've been here when it was quiet and when it's been noisy and busy. At night, standing room only. Good Irish pub. They show EPL games, rugby, showcase Irish dance groups and have authentic music and singing. The food is pretty good. Best thing on the menu is the shrimp and salmon boxty- I think it's my death bed meal!. But the prices are just a tad over what I think to be reasonable - for both food and drink. The staff mostly are from Ireland, and a lot of clients are from Ireland as well. (if that means anything) The selection of beers is typical American bar plus some extra Irish/English. The Guinness on tap here for some reason tastes much better than other places I've been. Outstanding. And the bartenders know how to pour it perfectly. If you order one, you'll wait a little while to get it but it's served perfectly. Very fun place.
★
968 characters
2.9
/5
rDev
-22.5%
vibe: 3.5 | quality: 2.5 | service: 4 | selection: 2
Stopped in for a pint on my way to Rock Bottom to get my growler refilled. This kinda has your average Irish bar feel to it. It's dark lots of wood and random crap on the walls. The selection is seriously lacking to be listed as a beer bar here. The tap selection has Guinness Harp Smithwicks Kilkenny then macro crap. Looking at the coolers with bottles it's more crap that every other bar has no crafts or good imports. This place was a waste of time. If your in the Gas Lamp just go to Rock Bottom they have better beer there.
★
529 characters
3.88
/5
rDev
+3.7%
vibe: 5 | quality: 4.5 | service: 3 | selection: 3.5
An authentic Irish pub reassembled in the Gaslamp Quarter of San Diego. Really, they moved it piece-by-piece over her. Farmhouse interior, very high ceilings to dull the noise, except there is always a band here. My wife reminded me that we saw that Irish chick from American Idol here one night singing. Very good selection of Irish and British beers on tap, along with the vast selection of Irish whiskies. Haven't tried the food here, yet. Can be crowded, and on the above-average price scale. Bartenders are always busy so you have to wait.
★
544 characters

3.99
/5
rDev
+6.7%
vibe: 5 | quality: 4 | service: 4 | selection: 3.5
Located in the Gaslamp on 5th avenue, this place is real easy to find. From the street, it looks like any typical Irish bar but when you go inside, it has some real elaborate kitschiness.
There are old bicycles hanging on the wall on the outside of an attic area that (iirc) actually has seating up there. Very cool look and the lighting is great in here (quite dark). There are also saddles hanging up in this attic/eaves area too, all sorts of other cool junk that has been collected over the years.
Unfortunately, the beer selection was pretty average. I think they had one from Karl Strauss or some other local and then other than that it was your typical Guinness, Bass, Boddingtons, Harp,Stella, etc.
This place is worth going to for the atmosphere alone as it is very nice in there and location-wise its pretty convenient too if you happen to be around that area.
★
879 characters
3.43
/5
rDev
-8.3%
vibe: 4 | quality: 3.5 | service: 3.5 | selection: 3
Wandering 5th Ave in the Gaslamp I came across The Field (or Field comma The), and seeing it wasn't like most other bars/clubs in the area that require waiting in line and paying a cover, we immediately went in. As others have said, this is more true to a pub in Ireland than many other "Irish pubs" the US has to offer. Low ceilings, dimly lit (until you reach the bar and the live music), dark wood and an Irish staff make this much more of the real thing. Beer selection was typical of Ireland as well, aside from the Fat Tire, which was pretty much the best selection of draught beer on...so I had that. It was a bit cramped on this particular Saturday night, but I imagine this would be a great lunch or early evening place. A nice change of pace.
★
752 characters
3.93
/5
rDev
+5.1%
vibe: 4.5 | quality: 4 | service: 4 | selection: 3.5
I think ECB did a pretty spot-on review of this more authentic version of an Irish Pub than the typical place. This is more of a pub experience than being a place that makes its name on killer selections of beer. Authentic is the key here- they claim the bar was brought over from the Isles (don't recall if Ireland or Britain), the decor looks like creaky old wood beams and old stuff from the barn, at least some of the waitstaff have Irish (or similar) accents, a very interesting collection of antique Guinness bottles behind the bar, and what appears to be a very good selection of Irish whiskeys (or is it whisky- I can never keep it straight). They even had 5 musicians playing traditional songs on fiddles & tin whistles in front of the fake fireplace. Quite enjoyable.
Beer selection is pretty typcial of these kinds of places 6-8 taps of Guinness, Bass, and related products, a small-moderate bottle slection of American brews (Sierra Nevada and the like). Not a broad selection, but fitting for the location.
I've eaten the food here before, but it was too long ago for me to comment on it- didn't try it this time. Typical English/Irish pub kind of food. I seem to recall enjoying it, but don't recall.
Overall, not a bad place to land if you are in the Gaslamp district.
★
1,293 characters
4.38
/5
rDev
+17.1%
vibe: 5 | quality: 5 | service: 3.5 | selection: 4 | food: 5
Ambience, ambience, ambience. This place is the next best thing for folks like me who can't make it out to a pub in Ireland. Irish people seem to like this place for its authenticity as much as the Brits like the King's Head in Santa Monica. At any rate, be prepared to spend a bit of time at this place. It gets very packed, which makes it tough to get in and out. If you can make it during the day the service will be better, but it lacks the jovial mood that dominates the night.
Lots of wood, beer, and whikey...and bric-a-bric from a place in Ireland called "the Field" (hence the name). And the food is delicious. You'll walk out stuffed from their hefty portions. It's got all the qualities you would expect in an Irish pub.
The beer selection is nothing stellar. It is standard, filled with UK beers from both isles. It has a full stock of hard liquor and wines. However, the food and ambience will make you forgive them for not stocking up on any tasty domestic beers (they do have Sam Adams on tap, though).
And did I mention ambience? Look at their calendar on their Web site; they always have promotions. On Sundays they have Irish folk dancing. They have specials, too. If you're visiting from out of town, or have visitors coming in to San Diego, this is a great spot. Everyone that I've taken here agree this is a great spot. It's in the south end of the Gaslamp, and you can walk right out of the pub into the heart of San Diego's nightlife. It is not hard to understand why thie Field is a very populat spot for St. Patty's Day and the Guinness Toast. Highly recommended.
★
1,597 characters
The Field in San Diego, CA
3.74
out of
5
based on
14
ratings.