Partake Pale Ale
| Partake Brewing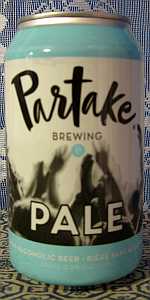 Write a Review

Average: 2.81

| pDev:

13.17%

Needs more ratings to obtain a BA Score. Reviews:

4

| Ratings: Low Alcohol Beer

| 0.30% ABV

Wants Gots Partake Brewing Ontario

,

Canadadrinkpartake.com

Notes: Year-round availibility.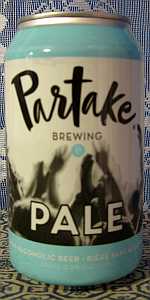 Reviews: 4 | Ratings: 6
Reviews by 69IBU:

2.1
/5
rDev
-25.3%
look: 4 | smell: 1.5 | taste: 2 | feel: 2 | overall: 2.5
Got this free can from one of the reps who visits my store. I think. It was here before I even got hired. I guess nobody else wanted it.
I thought I'd give it a fair shake. Chilled it up real nice and poured it into a clear plastic solo cup. It looks like beer, and on appearance alone at least it looks like pale ale. Pretty nice dark orange. Aroma is virtually nonexistent. I held this cup right under my nose and got nothing. But at least no smell is better than a crappy smell.
Taste is basically club soda with a light flavour of hops. It's not bad or offensive, and I'll admit it is very refreshing without an off-putting grainy sweetness that I've noticed in other non-alcoholic beers.
For what it is - a 10-calorie beverage - I think it's perfectly acceptable.
772 characters
More User Reviews:
3.06
/5
rDev
+8.9%
look: 4 | smell: 3 | taste: 3 | feel: 3 | overall: 3
2.76
/5
rDev
-1.8%
look: 3 | smell: 2 | taste: 3.25 | feel: 2 | overall: 3
I had pretty low expectations for this beer going in (10 calories?!?) and found myself pleasantly surprised. Overall, this tasted more like a lite version of a hop-forward beer to me - I might not have immediately guessed it was an NA option in a blind taste test. Manages to pull off a crispness that a lot of other NA options fail on and I did get a scent of hops when I cracked open the can. It is a little watery. The feel reminds me of Michelob Ultra. I'll be trying this one again - I suspect it would be refreshing on a hot afternoon. If you're a NA drinker who misses a hoppy finish, check this one out.
611 characters
2.92
/5
rDev
+3.9%
look: 3.75 | smell: 3.5 | taste: 2.5 | feel: 2.5 | overall: 3
I got this in an exchange with a friend. He got a double-chocolate milk stout. Funny trade. But I'm always interested in trying NA beers. I also like to be sure that I'm covering the spectrum on ratings and getting a few on the low end. Rating NA or LA beers is tough. Compared to NAs, it's solid. Compared to a pale ale, not a contender. I poured it into a 12 oz. beer glass.
Look: 3.75 - It has a nice, amber color with light head mostly disappears except for some residual.
Smell: 3.5 - Not much. I got a little that had an air of pale ale, but it wasn't a bad smell.
Taste: 2.5 - I started with 3.25, but the taste is thin, straw-like, mildly hoppy, and a bit sharp in an undesirable way. So, I bumped it down to 3.0. Then as I kept drinking, I had to downgrade it further. And then one more time. In a blind pale ale tasting, it wouldn't do well at all. Most of the flavor is on the front of the palate. Most of the aftertaste isn't great.
Feel: 2.5 - The more i drink it, the more the fizzy sharpness is displeasing.
Overall: 3.0 - I started with some better ratings, but as i consumed this, they declined.
This has some amazing pros: 10 calories is crazy and 0.3% alcohol is useful (if that's what you need). So, maybe I would go with this if it was in front of me and I needed an NA. It's better than most NAs I've had. But that category isn't my fave. BTW - I did finish the beer.
1,413 characters

3.28
/5
rDev
+16.7%
look: 3.25 | smell: 3.25 | taste: 3.25 | feel: 3.5 | overall: 3.25
355 mL can from the LCBO; packaged Sept 14 2018 and served slightly chilled. I have never reviewed a non-alcoholic beer before, and I wasn't planning to start now, but I bought this without reading the label very carefully and might as well tick it. Reviewed from notes.
Pours clear golden-yellow, with one finger of frothy white foam surviving no longer than a minute or two before disintegrating completely. No remnants whatsoever; looks still, like apple juice. Doughy malts come through on the nose, as well as some floral hops and lemon peel. Akin to a blonde ale so far.
Tastes watery, like club soda - no idea if it's inordinately watery as far as NA beers go, as the only beers I can really compare this to are light beers (which, indeed, do not taste as watery as this does). There is a slight grainy note on the front end, with faint doughy sweetness and a suggestion of floral hops tying up a diluted finish. Club soda aftertaste. Its body is light and thin, with aggressive carbonation that feels prickly and fizzy in the mouth; relatively refreshing, at the very least.
Final Grade: 3.28, a C+. Partake Pale Ale tasted better than I was expecting, but that isn't saying much. Rating this beer to style is logically impossible for me, so consider this more of a grade based upon whether or not I'd actually buy this beer in the future (at least, if I had a compelling reason to drink NA beer at all). I've had 'real' beers that were worse than this, but most of them fall under the macro lager category; any half-decent pale ale would blow this one out of the water, even Labatt 50. Then again, "any half-decent pale ale" wouldn't have a near-captive audience with few appealing alternatives baked into its target market segment, so I'm sure this will be of some utility to someone. Just not me.
1,810 characters
2.73
/5
rDev
-2.8%
look: 2.25 | smell: 1.75 | taste: 3.25 | feel: 2.75 | overall: 3
Partake Pale Ale from Partake Brewing
Beer rating:
0
out of
100
with
6
ratings