Pig's Eye Lean
| Evans Brewing Company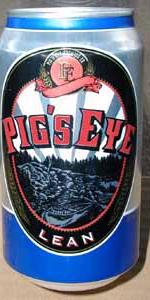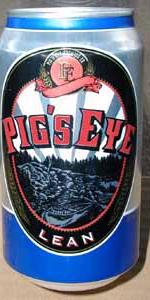 BEER INFO
Brewed by:
Evans Brewing Company
California
,
United States
pigseyebeer.com
Style:
Light Lager
Alcohol by volume (ABV):
4.10%
Availability:
Year-round
Notes / Commercial Description:
No notes at this time.
Added by ADR on 09-14-2004
This beer is retired; no longer brewed.
HISTOGRAM
Ratings: 12 | Reviews: 9
Reviews by TeamSeinfeld:

3.24
/5
rDev
+65.3%
look: 2 | smell: 3 | taste: 3 | feel: 3 | overall: 4.5
This Beer tastes like a mixtrue of Water and Hamm. Very easy to slam. For 7.99 a case you can't really miss with Pig's Eye Light but only someone who is daring enough to buy a case for 7.99 could truly enjoy it. The can design is also cool. If you are in college try it. If not you probably wouldn't like it.
308 characters
More User Reviews:

2
/5
rDev
+2%
look: 2 | smell: 2 | taste: 2 | feel: 2 | overall: 2
I don't know about this stuff. I was told it was a great regional beer. It's pretty much low quality. I really don't know if I can finish the can. At first I thought it was Busch Light but I don't even think it is that good. I taste some sort of sweet grape like flavor!? WTH is that?
284 characters
2.06
/5
rDev
+5.1%
look: 3 | smell: 2 | taste: 2 | feel: 2 | overall: 2
The beer escapes the 12-ounce can a light pellucid gold color with a smallish bright white head that is frothy in texture, after it, quick dissipation the lace left behind is a fine sheet. Nose is the prototypical malt, sweet fresh and clean, start is lightly sweet and the malt profile thin as is the top. Finish is burningly acidic and the hops sparing in their spiciness, very dry aftertaste, not bad for a light beer, but will not be anything I will try again soon.
469 characters
1.85
/5
rDev
-5.6%
look: 2 | smell: 2 | taste: 1.5 | feel: 2.5 | overall: 2
Pale, pale yellow. Crystal clear with a quickly disappearing head.
Very carbonated.
Flavor is faint at best. Maybe some grassy notes Best drunk cold (and much better if you add a lime --- dare I say a 100% improvement of an otherwise humdrum beer). Not a bad beer if you are on the Atkins diet or are broke (in Oklahoma you can get it for $2.60/6-pack or $9.99 for a case), but otherwise I don't think I would recommend it.
The one plus --- it will get you drunk.
472 characters

1.52
/5
rDev
-22.4%
look: 3 | smell: 1 | taste: 1 | feel: 4 | overall: 1.5
This was a hook-up from Tim at Pinocchio's in Media during my most recent beer run. I love going there since I CAN have the best eggplant parmigiana in recent memory on top of browsing the beer selection and having to exercise extreme restraint while there. For CANQuesters - I will probably go back in early August, so start making Want Lists now.
Wow, looking at the scores and reviews, this might be daunting to a lesser reviewer. The CANQuest (TM) dictates that I MUST finish each beer in order for it to count, no matter how painful. I am up to the challenge, having been inspired by a marathon viewing of Man v. Food and Anthony Bourdain's No Reservations. I am like a neo-hippie in that I will try anything, once.
The Crack & Glug came off without a hitch and I quickly had two fingers of rocky bone-white head that was falling like a stone. Color was a pale lemon-yellow with NE-quality clarity. Nose had a totally wrong, slightly sour, grape bubble gum scent. "Brewed by ... La Crosse, WI" I knew it! This is the work of the Cybermen! I am going to be assimilated yet again, which reminds me, I have a Cyberwoman action figure for Chaz as an illustration of what happens when we are only partially assimilated. Mouthfeel was actually slightly full, thanks to all of the carbonation and the taste was a watery sour grape/vinous flavor. Finish was tart, grapey, not good, but thanks to its being a light version, I was able to escape unscathed. What's that? I have a CAN of the Lager on-deck? Oh, my head! Would I put this in the cooler? In a pig's eye, I would!
1,571 characters
1.95
/5
rDev
-0.5%
look: 2 | smell: 2 | taste: 2 | feel: 1.5 | overall: 2
So I picked this up to try since it was $3.99 a 12 pack and I have never heard of it. "Just how good or bad can $3.99 a 12 pack be"? I asked myself. Well, let's find out. A 12 oz can with Pig's Eye Lean and "Light Beer" on the front. Bottom of the can says 041605 and 08025. I poured this into a pilsner glass
A—pours the palest yellow I have ever seen, barely any color at all, very clear, with a 2 inch fizzy white head that quickly dissolves into a thin sheet, no lacing was ever produced
S—sour, corn, grass, hay, straw, smells a little acidic, but the sourness is the most dominate smell
T—corn and straw, if there were a corn soda pop, I think this is what it would taste like
M—watery and thin (no surprise), light bodied, very fizzy
D—to be fair, I had two cans of this during the review, trying to pick up on any characteristics…however, I didn't find many. It's not offensive, just not a lot of taste. This would be a good one to slam, if that were your goal.
998 characters
1.5
/5
rDev
-23.5%
look: 1.5 | smell: 1.5 | taste: 1.5 | feel: 1.5 | overall: 1.5
Had this at the Between the Bluffs Beer Fest. Don't know how they can sell it. So pale you can barely see it. Well carbonated. A bit of a tang. Thicker than water. A hint of flavor from malt, hops, and corn. Smidgen of lace. I want to forget it. And I will as soon as I'm done here. No finish.
293 characters

2.62
/5
rDev
+33.7%
look: 3.5 | smell: 2.75 | taste: 2.5 | feel: 2.5 | overall: 2.5

1.83
/5
rDev
-6.6%
look: 2 | smell: 1.5 | taste: 2 | feel: 1.5 | overall: 2
I left my brews in the garage prior to a trip up north last fall, and had to go to a gas station, this was the best option in their selection, got some of these when camping...and figured I might as well review a couple bad one's along with the good.
A- Light, pale lager, non existent very pale white head.
S- Definite corn, rice, macro smell, with a bitter astringent character.
T- Very carbonated, tasteless, except for the sour flavor of cheap mash and corn. Bitter, but from hops, simply harsh.
M- Crisp, but not in a good way, bubbly, sharp...
D- I drank a couple of these, and honestly if I'm sitting around a fire, and on the off chance I'm craving/want a very cheap macro style American lager, I might as well buy one that is brewed locally, no matter how awful it really is.
I still have a couple of these left...and they will probably sit in my cellar for a long time...and believe this is a beer that is not going to get any better with age.
962 characters

1.46
/5
rDev
-25.5%
look: 2 | smell: 1 | taste: 1 | feel: 3 | overall: 2
This brew is watery and not much else good can be said about it. Others have said it better than I can. Mouthfeel is weak, taste was deficient as if missing the usual or required ingredients of lager, and poured appearance is without obvious merit. Drinkability would be adequate for the non-discrimiinatory palate, but would not satisfy the more erudite person.
362 characters
Pig's Eye Lean from Evans Brewing Company
Beer rating:
1.96
out of
5
with
12
ratings