Keller's IGA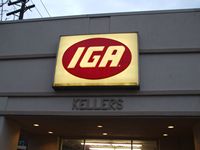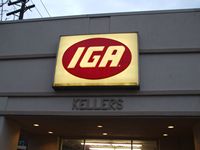 Store
319 Ludlow Ave.
Cincinnati
,
Ohio
, 45220
United States
// CLOSED //
Notes:
Reviews by nlmartin:

nlmartin from Ohio
4
/5
rDev
+11.1%
I had read previous reviews of this IGA. I still did not expect a whole lot but since I was in the neighborhood. The store is kind of run down with some broken tiles on the floor. I pressed on into a remarkably good beer section. Nearly a full half of a section devoted to beer. They had a good assortment both warm and in the cooler. The cooler had all the usual suspects, coors, bud, ect. However the cooler also contained Chimay blue, Great Lakes Nosferatu, Black Out stout. Dogfish head, assorted Avery products. The warm area had a good collection of micros and imported. A small section devoted to belgian ales and german lagers. Chimay, Corsondonk, Spaten Optimator, EKU, EKU pilsner. Micros included Allagash, Founders, Dogfish Head, Flying Dog I bought more of the Gonzo Porter man I love that stuff.
Overall a good place to pick up a fairly good assortment of beer. I didnt see anything particularly hard to find. The selection was comparable to Jungle Jims in Fairfield.
Sep 21, 2005
More User Reviews:
Urbancaver from Ohio
3.7
/5
rDev
+2.8%
ATTN: at least at this point Keller's IGA is closed. It may not reopen but if it does....
This is truly a great place to buy beer. The beer lady has great taste in brings in tons of big beer and hard to find things. Speedway stout is almost always on the shelf. Hoppin Frog's full lineup, and unusual releases from Dogfish Head, Sierra Nevada Anniversary ales. Everything you need is there. Decent prices. Not the greatest service but it does the trick. No ability to mix 6ers or buy singles though
Jan 18, 2011
pwoods from Ohio
3.5
/5
rDev
-2.8%
A nice beer stop in Clifton's gaslight district, just off UC's campus. They have a lot of beers here. Almost all of your big hitters will be here as well as plenty of locals breweries. One big complaint is they don't carry a lot of the higher ABV/expensive beers... I'd assume since they carter towards the college crowds. This means no Expedition and beers like that... even thought they carry almost all of the Bell's beers. Otherwise they have plenty of selection and quality. Service isn't the greatest but you'll usually find an employee lurking the isles pretty fast. College crowd means good prices.
Apr 21, 2010
ShareANevada from Ohio
3.65
/5
rDev
+1.4%
Years ago a friend mentioned to me I should check the selection here. I almost dismissed it, as this is a tiny grocery in the artsy strip in town, and they have minimal space for a lot of stuff.
I am glad I did check it out. They dedicate a very large amount of space to their beer (and wine) and keep a great selection on hand, and some cold. You can find much US craft here, nothing mindblowing, but can always find something tasty to drink. A number of german and belgian options too, including some higher end belgians.
It's a central location, and i've found myself several times blowing through here to grab a quick 6 on my way somewhere. Or stopping in after a round of frisbee golf across the street at Burnett Woods.
Expect no help. In my dozens of times there, I don't think i've ever been asked, or needed any. They have BA shelf talkers, so whoever their beer guy is reads up a bit. Solid selection. Good prices. Big convenience.
Free parking down the side, and there is a lower lot in the back as well. Just beware of idiots as the spaces are aligned poorly, i've been hit here once.
Apr 29, 2009
ThaBobfather from Ohio
3
/5
rDev
-16.7%
Located down Clifton Ave from the University of Cincinnati is this hidden gem grocery store.
Sort of out dated looked interior/exterior. Definitely not a suburban grocery store.
While at many places with a beer department you might find knowledgeable people that stock and work near the beer department. This is not the case. Oddly, a store with LaTerrible in it, there should be someone that works for the store that know what La Terrible is or at least what country it is brewed in.
Here is the bright spot.
The selection here is fantastic. Nearly the selection of a Hyde Park Wine and Spirits or a place like that. I would not expect this at a college/alternative neighborhood IGA. Founders, GT Lakes, Rochefort, Unibrou, ect great selection that I can't think of right now.
Apr 19, 2009
jushoppy2beer from Tennessee
4.25
/5
rDev
+18.1%
It's not often that you find a regular grocery store with such a large selection of beers. But Keller's IGA not only has a lot of beer of great variety, but there are lots of excellent craft beers here to choose from. Most of the craft beers are from regional breweries in the Midwest, such as Great Lakes Brewery in Cleveland, Ohio, and Cincinnati's own Christian Moerlein (although this is now actually brewed outside of Ohio). Also, there are local ales in growlers from Mt. Carmel Brewery. For many of these regional craft breweries, there are several beer styles in stock. And there are some great beers from farther afield as well. For example, the store stocks three different Unibroue beers from Quebec. Lots of beers from Europe are also here. Why so much beer and so much diversity at a neighborhood grocery? Perhaps partly because this is the biggest grocer near the University of Cincinnati campus. Just at the edge of UC with its 30,000 students and faculty, etc., there is a big pool of potential buyers. Also, the manager may just be a real beer afficionado. The service was certainly great, as I received personal assistance in locating beers, and friendly advice about which beers were best from among the myriad choices. I'm sure I'll return to Keller's on my next trip to Cincy.
Aug 05, 2008
becktone from Ohio
2.05
/5
rDev
-43.1%
At first I was surprised at the selection that this grocery store had. Tons of beer. I mean this store has a damn good selection. Lots of beer, and lots of good beer at that. However, I've just recently noticed that the sixer of Victory Whirlwind I purchased from them is two years old, from the 06 release. Since the best by date is printed on the bottle I didn't notice it till just now, a few weeks later when I'm on the last two bottles of this beer. Now thankfully it aged well, but the whole time I was drinking it I thought it odd and unique that a Wit would have such a strong ginger taste, I mean this tastes quite a bit like ginger ale. Any way the point is IGA has a great selection for a grocery store. However, the beer you may be buying may be two or more years old. So the selection is great, but is diminished by the age of it. And the quality-from my perspective just sucks- and the service is average...what can you expect from a supermarket. I'll not buy beer from here again...and if I do It'll be something that moves a bit quicker than any kind of special release or seasonal. Something Like GLBC burning river, commodore perry, SNPA etc. To me it seems that the store was not honest about its selection. I highly doubt that this Whirlwind was on the shelf for two years. More likely it was moved off the shelf after the season was over, put back on, moved back off and put back on. At least at other stores I've been to they are more honest...At the party source they've still got Ichabod and some Buffalo Bills on the Shelves....Least they're not hiding them in the back...just be aware at this IGA. Check bottles for best by dates if you want something fresh, if not dont bother. Like I said this Victory Whirlwind held up pretty damn well, then again it is bottle conditioned, or at least looks to be so from the bottom of the bottle.
Jun 24, 2008
mikesgroove from South Carolina
3.55
/5
rDev
-1.4%
Ahh Keller's. This was literally my very first stop upon getting to Cincinnati, and I was very glad that it was. Just a great place that I have nothing but good things to say about. Located right next to, well practically Arnolds and right down from Dewey's it was a great jumping off point for the evening. I walked in and it was your typical little grocery store with a dizzying array of aisles that I proceeded to go down until I found the one I needed. When I did I was blown away. They had one of the best selections I have ever seen in a grocery. Tons of six packs lined the wall starting with domestics from Avery, Breckenridge, Stone, Goose Island, Great Lakes, Speakeasy, Left Hand, Rogue, Southern Tier, I could go on but you get. Some bombers and singles down the end, with Stone, Barrelhouse, and southern Tier leading the way. I scored my choklat here which was the one thing I was really looking for and glad I could find. Prices were very reasonable, especially for being in the city; parking was a bit tricky until I found the back lot. Now my only complaint, and this was a big one for me they would not give me a case box when I purchased a good amount from them. This annoyed me quite a bit to be honest. The put everything into bags and I had to wait till I got to Hyde Park the next day to get an empty box, now you would think someone walks in and buys like 15 bombers of various things you would give them a box wouldn't you? That was my only gripe but it ticked me pretty good. The service gets knocked for that, I even asked the manager and he said no, but whatever. Other then that I would stop in again just bring my own box.
Jan 17, 2008
cproioi from Ohio
3.5
/5
rDev
-2.8%
Now here's a place I've been meaning to check out but I have never got up the energy to drive there. Pulled into the parking lot with no real problem finding a spot. This place doesn't seem like a place that would cater to the beer snobs of the community. Ceiling tiles where laying on the floor with big dirt stains on the floor next to the falling tile. Then I came to the beer section. Oh wow, Keller's had beers I have been trying to find with no luck, such as Founder's, Victory and Stoudts etc... The price for a six pack was averaged about $10.00. The staff seemed very happy to help me and very knowledgable. I will definately be visiting this place many times in the near future.
Jul 24, 2006
RedLion from Ohio
3.2
/5
rDev
-11.1%
Keller's IGA is great in a pinch.
Yes, they have a great selection for a grocery store, but they are still just a grocery store. Don't go in there expecting to be bowled over by their selection, or finding the rare gem you've never seen before. Keller's concentrates on serving the college crowd, which is good because it gives the student a chance to learn about beer past Rolling Rock. It's where I bought my first six of Pete's Wicked Ale, and started me down the slope of beer appreciation. I soon found myself scouring liquor stores for smaller and less well known brews after I had played out the selection there.
Keller's needs a bigger selection of single bottles. Most of what is offered is by the six pack.
Apr 21, 2005

brewdlyhooked13 from Ohio
4.15
/5
rDev
+15.3%
Keller's IGA has an ideal situation. It's an aged building, and the dingy floor tiles bespeak many a traveller, but the location just works. In the University of Cincinnati campus area and Cincinnati State Tech area, they get a wide variance of people and preferences. Hence they have developed an impressive selection of beer, unlike any other grocery store, Wild Oats comes in a very distant 2nd.
The beer guy was out, but the manager fielded my questions and called the guy on his cell phone, that's pretty cool. Beer gets about one-third to one-half of an aisle, plus 4 or 5 pairs of cold case doors. A wide variety with at least one of every beer style. They gravitate slightly more towards the mid-range to upper-range craft brewing scene, with a few surprises for the keen eye now and then.
Feb 15, 2005
AtLagerHeads from Ohio
4
/5
rDev
+11.1%
Yep. This store surely is surprising. Very nice selection of quality brews are available and there are CAMRA sheets posted near several shelves of singles. Some real nice edyakashun going on here along with the good beer choices. Really well staffed checkouts, but no one obvious on the floor to help. Very limited parking and congested university district traffic.
Jul 09, 2003
SheepNutz from Kentucky
4.3
/5
rDev
+19.4%
Don't be fooled by this place being a grocery store. They have almost the same selection as Jungle Jims, but without the hassle of driving all the way up to Fairfield. Here I found many selections that I could not find at my local KY stores, including Three Floyds, Smuttynose, Geary's, Allagash, Victory, and Avery. You can find singles, 6 packs, bombers, 750mL bottles, anything! The lady stocking the beer section was super helpful in helping me find what I was looking for. They have both sides of one aisle dedicated to beer. There were even some shelfs on the end of the aisle that I didn't see, but she pointed them out. I'm glad she did, cause one of those shelfs had their last bottle of Stone Imperial. As far as the imports go, you can find many great Belgians and Germans here as well, including St. Bernardus, Chimay, Duvel, Kwak, Weihenstephaner, Paulaner, Spaten, and Franziskaner. I also got to meet their beer manager, who was a great guy, and even took an order for Geary's Hampshire Special at my request. He told me that he can basically get what any customer requests. That is how this IGA grocery came into selling micros and imports, just from customer requests. I came out of the place with some Allagash White and Tripel, Three Floyds Dreadnaught, Stone Imperial, Avery Ten and IPA, St. Bernardus Tripel, and Weihenstephaner Hefe. Not too bad! The prices were also very reasonable. Hell, stone imperial was only $4.50 a bomber. This is really a great place to check out if you live near Cincinnati and don't feel like driving all the way up to Jungle Jims.
Jul 03, 2003
Keller's IGA in Cincinnati, OH
Place rating:
3.6
out of
5
with
13
ratings