Wooly Pig Farm Brewery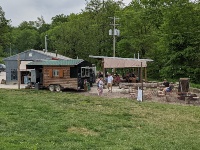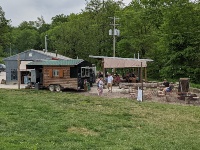 Brewery, Bar, Beer-to-go
23631 Twp 167 Rd
Fresno
,
Ohio
, 43824-9704
United States
(740) 545-8255 |
map
woolypigfarmbrewery.com
Notes: When brewmaster Kevin Ely first visited the historic Ohio farm that would become the Wooly Pig Farm Brewery, he knew he'd found the perfect site for a brewery that would combine old-world traditions with an innovative vision. The farm's patchwork of pastures, woodlands, and tilled fields transported him to the hills of Northern Bavaria, where he'd honed his taste in classic German beers and expertise in cutting-edge brewing techniques.
The Wooly Pig Farm Brewery is the first of its kind in central Ohio, but it carries on a long legacy of hard work, connection with the land, and commitment to community. Join us for a beer, and make our story part of yours.
Recent ratings and reviews.
| Log in to view more ratings + sorting options.
Ratings by Manta200:

Reviewed by Manta200 from Kentucky
4.11
/5
rDev
-8.9%
vibe: 4.75 | quality: 4.25 | service: 4 | selection: 3.75
This is an operating small farm with a brewery. Rustic and homey feeling.
The tap room was still closed due to COVID. You had to order beers at a register by the brewery bard door and then walk around where they brought it out to the side door for you. Large covered outside area with a firepit next to it. Six little separate huts to sit 6-8 people, super cozy. 12 beers on tap and a BBQ food truck. Growler fills and bottles to go.
Beer and food was very good. I wish this place was closed to my home, I would definitely visit again.
May 24, 2021
More User Ratings:
Reviewed by invertalon from Ohio
4.9
/5
rDev
+8.6%
vibe: 4.75 | quality: 5 | service: 5 | selection: 4.75
Finally made the visit to Wooly Pig, which is about a 1.5hr drive south of Cleveland. To keep this short and sweet, this is Ohio's best kept secret. Especially if you fancy German lager.

The beers are super clean, to style and brewed masterfully. I would go as far to say outside of Germany proper, this brewery may be doing the best lager I've had throughout the US. It's THAT good!

The space is super cozy and unique, the staff is extremely friendly. Dogs and pigs roaming the property, it's just quirky and inviting.

I can't speak highly enough of this place... As someone who is super critical on German lagers, they get a solid A+ on the quality here. We sampled the entire taplist and not a single beer was just OK... They were all executed extremely well and it was hard to choose a favorite amongst them.
Aug 28, 2022

Reviewed by Sabtos from Ohio
4.63
/5
rDev
+2.7%
vibe: 4.25 | quality: 5 | service: 4.5 | selection: 4.5
As you lose phone service and your GPS starts getting all funky, you may think you're going to have to look a little harder for a business than you've grown accustomed to. Maybe it will be on the left, maybe the right, maybe we're off-track altogether...but then you find yourself pulling straight onto their own damn road! It really is a private farm, except it's so much more.

You'll pull up to park beside a corrugated metal structure and walk around a sort of garage door to access their taproom. And yes, as of June 2021, they've re-opened up the interior for ordering, but while we couldn't sit and drink inside, I was able to admire their super rustic yet beautifully varnished wooden bartop. Just outside there are several vintage to near-antique tables and chairs to sit at if you want to hang near the entrance. A few of these are straight up dinner tables, which is quite fitting considering the volume of whole fam damilies that show up here to have lunch on a Saturday afternoon out of whatever food truck shows up on-site. On this day, Mai Chau offered a few fairly tasty Vietnamese dishes like pho and bahn mi, as well as some bao buns that were surprisingly better than most I've had. When it gets a little busy near the bar entrance, there are little personal pigpens for groups to congregate in, or even shaded picnic tables strewn about the property here or there. It might feel like you're taking liberties wandering off, but once you venture out a little, you'll see some discreet signage telling you where you can and can't go.

Anyway, what matters is the beer, and Wooly Pig offers far more styles of beer on draft than I thought they would on-site. I'd already had their three flagship lagers, and so I knew I was in for some deliciousness, but I only thought there might be one or two additional styles for me to try. However, there was plenty on the board to choose from. That said, the serendipity of ordering a half liter of rye dunkel as my first pour, and it not only being a mind-blowingly perfect beer to start off with, but one of the best beers I've ever had in my life, was an absolute delight. The coffee pils was also absurdly delicious.

Our visit was just such a treat, and even though you still couldn't sit at the indoor bar, the staff were delighted to have us just as they seemed to be relaxing most other COVID-19 restrictions. It was a great pleasure sitting outside on this sunny day, although it was probably a bit too hot for the pigs to make an extended appearance, which is all fine and dandy with me. We left this wonderful experience with even more positive vibes about their business as a whole, carrying away the same three beers I'd had before this visit, knowing how unbelievably perfect and fluffy in body they were, and how beautifully they expressed their malt and yeast characteristics.
Jun 11, 2021
Reviewed by Blogjackets from Ohio
4.86
/5
rDev
+7.8%
vibe: 5 | quality: 5 | service: 5 | selection: 4.5
Great small brewery and farm. Reviewed during Covid outbreak in January 2021. They have small beer huts with single tables inside. Not climate controlled, but cover for sun and moderate boost during cold months. Outdoor patio had plastic walls for the winter and tables were spaced with socially distancing in mind. Walk up service and a variety of beers and sizes were available. Growler refills and take home bottles were available. Unpretentious fire pit was welcome on this cold visit and was close to the pigpen where some of the wooly pigs were eating. A couple of hearty families used huts and visited the pigs. The beer is made in German style and is quite good. I sampled the Scwarzbier and a Coffee Pilsner. No food available at this time, but considering there is a pandemic and it's the heart of winter, beer and fire were more than enough for me. Really enjoyable visit and wish it were a bit closer.
Jan 30, 2021

Reviewed by tvanvranken from Ohio
4.16
/5
rDev
-7.8%
vibe: 3.5 | quality: 4.25 | service: 4.5 | selection: 4
This is not a wild place, at least not at 2:00 in the afternoon. What it lacked in "vibe" was made up with charm. It has only 8 stools at the live-edge elm bar and several tables inside with seasonal seating outside. There were a few locals there which added to the charm; I got a lot of area information along with the good beers. They are all lagers that ranged from the standard Helles and Dunkel to a couple of hoppier IPL's that compared well to IPA's. The Rauchbier was really tasty with a definite "hammy" smoke. Then you go out for a look at the pigs.
Dec 01, 2018

Rated by B2A from Ohio
5
/5
rDev
+10.9%
vibe: 5 | quality: 5 | service: 5 | selection: 5
My family had an absolute blast today! Beers were phenomenal and my kids enjoyed hanging out with the Wooly pigs. So glad we stopped!
Jul 07, 2018

Reviewed by slacker79 from Ohio
5
/5
rDev
+10.9%
vibe: 5 | quality: 5 | service: 5 | selection: 5
Wow! What a great little place.
Located on a farm, but not too far from a main artery in mid-south eastern Ohio, this brewery has all that you need. A nice tap room, with a view to the brewery. An outside sitting area that is covered. Food trucks to supply the good people with sustenance. Oh yeah, and the bier! Delicious stuff, everything. And a good variety of things too. Pleasant people working the place. They have bottles to go and fill growlers.
And if it matters, clean bathrooms (doesn't hurt right?)
May 22, 2018
Reviewed by Dilly84 from Ohio
5
/5
rDev
+10.9%
vibe: 5 | quality: 5 | service: 5 | selection: 5
Can't find better people to support. Beer is great, and the owners and staff are just genuinely great people. Support this business. They truly deserve it. I'm a big craft drinker, but most companies have multiple beers I don't care for with many I do so mixed bag, these guys don't have a thing I don't like. Possibly the best brewery in Ohio for drinkability, possible the entire eastern half of the country. Any suggestions I've had Kevin, the owner, has listened. Obviously more seating but that'll come, and regular carriers for the 4 packs but, nothing that would ever make me not give 5 stars
Mar 04, 2018
Reviewed by SomethingClever from Ohio
4.21
/5
rDev
-6.7%
vibe: 4.75 | quality: 3.5 | service: 4.75 | selection: 4.25
Nice taproom very cozy with nice glass windows to look out and a fire pit outside. Some long tables to sit at and a small bar. Service was good for how busy they were, a few of the beers in bottles to take home or growler/howler fills of whatever they had on tap. The beer isn't spectacular, but it is solid for the most part. If you are in the area it is worth stopping.
Feb 27, 2018
Reviewed by Marzen_Fan from Ohio
3.91
/5
rDev
-13.3%
vibe: 3.75 | quality: 4.25 | service: 3.75 | selection: 3.75
Really enjoyed all of the beers I tried recently, I am fond of German styles, which they focus on, and theirs are well done. This is also a cool place to hang out while having a few beers with friends, if only they served food this would be an even better place to spend more time.
Jan 03, 2018
Wooly Pig Farm Brewery in Fresno, OH
Brewery rating:
4.12
out of
5
with
161
ratings