Meesterstuk 2012
| Jopen Bier BV Haarlem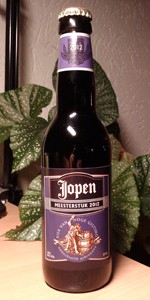 BEER INFO
Brewed by:
Jopen Bier BV Haarlem
Netherlands
jopen.nl
Style:
Russian Imperial Stout
Alcohol by volume (ABV):
10.00%
Availability:
Limited (brewed once)
Notes / Commercial Description:
No notes at this time.
Added by rvdoorn on 12-25-2011
This beer is retired; no longer brewed.
Ratings: 14 | Reviews: 8
Reviews by safaricook:

4.02
/5
rDev
+7.5%
look: 4.25 | smell: 4 | taste: 4 | feel: 4 | overall: 4
pours a very dark ruby almost black body with fine carbonation visible. fine not quite creamy medium beige stable head
nice chocolate and coffee aromas, dark malts, sweet
taste is caramel malts, moderate sweetness, very gentle bitterness, alcohol is there but nicely hidden, balanced
medium body, carbonation is plenty but very fine and pleasant, really smooth
great stout, very well balanced, this is truly a master piece
426 characters
More User Reviews:
3.16
/5
rDev
-15.5%
look: 4 | smell: 3 | taste: 2.5 | feel: 4 | overall: 4
Bottle obtained at the local liquor store (Mitra - probably the only chain that sells it).
Appearrance is style-approved dark brown to black with a big head that dissappeard in about 30 seconds leaving half an inch (but hey, it's 10%ABV).
Smell is overwhelming toasted and burnt grains with some caramel and spicyness combined with a lot of smoke and some coffee. I liked it a lot.
Taste is a bit harsh. Lots and lots of burnt grains, some red fruit and spice. A hint of grape and cherry but not so noticable since it is covered in fire and smoke.
Mouthfeel is good. Good body, balanced carbonation and enough alcohol to warm up my mouth and throat. Misses some creaminess.
Overall a very nice stout. Taste is maybe too burnt, but the high ABV covers it. Nice to enjoy on a cold winter evening.
799 characters

4.59
/5
rDev
+22.7%
look: 4.25 | smell: 4.5 | taste: 4.75 | feel: 4.5 | overall: 4.5
Nice example of the new wave of Dutch Russian Imperial Stouts. this one is a dangerous drinkable one, especialy if you compare with Molen and Emelisse versions. Chocolate and roasted coffee in the aroma and taste. silky mouthfeel (due to rye?) and a boozy finish. I really like this one and hope that they keep it in their portfolio.
333 characters
3.37
/5
rDev
-9.9%
look: 3 | smell: 3.5 | taste: 3.5 | feel: 3.5 | overall: 3
I had the opportunity to try this beer at a beer tasting at my uncle Peters place. We didn't know the style of this beer before tasting it.
A - A dark brown ale with no foam.
S - Smells a little like a dark IPA or is this a furit beer.
T - A lot heavier than the smell gave away. A tiny bit sweet and a bitter finish.
M - A medium to high carboantion.
O - Not my favorite RIS, because it looks a lot like a dark IPA.
421 characters

4.05
/5
rDev
+8.3%
look: 3.5 | smell: 3.5 | taste: 4.5 | feel: 4 | overall: 4
Like everyone else I went to the Mitra and picked up a bottle. After I tried it I ran back to get some more. I like it...
Poured into a snifter while the kids are watching some classic Christmas movie.
Came out cola black. Not the darkness or thick motor oil I'd love my RIS to look like. One finger head after a hard pouir leaving a bit of lacing. No carbonation visible.
Not a very dominant nose. Roasted malts and a bit of sweetness and chocolate bitterness.
Flavors are bolder than the nose would suggest. Great roasted malt base witha touch of sweetness and some bitterness in the end.
A medium body and a dry to neutral finish but enough flavors that linger for a while.
Overall this beer had me impressed maybe because I went in without any expectations but I did enjoy this quite a bit. Went back to buy more and will go back again to buy some. Not something you'd hunt down but something that if given the chance should be enjoyed.
946 characters



2.94
/5
rDev
-21.4%
look: 2 | smell: 3 | taste: 3 | feel: 3 | overall: 3
Like those who've hunted this one down before me, I made the epic journey to the Mitra as well.
From a bottle into a snifter
Best Before 7 November 2015
APPEARANCE: Pours thin, transparent brown and yields a three finger, thinner looking, light tan head with good retention. Head slowly fades to a thick foam cap leaving chunky foam lacing down the glass. Bistre brown body, transparent, with lower levels of carbonation evident. A splotchy wisp remains leaving touches of lacing down the glass. Far too light and transparent for an RIS, and the head was too loose on this one as well.
SMELL: Very hoppy nose on this one. Lots of American hops. Some light roasted rye malts and cocoa powder on the nose, but the hoppy grapefruit, citrus and floral hops are the most unique part of the brew. Decent strength.
TASTE: Some roasted and smoky rye malts up front, then a big hop dose comes after the swallow with grapefruit and lots of citrus flavors. A pile of bitter floral hops show up as well as some bitter cocoa powder at the finish. Big and lingering aftertaste is very hoppy, bitter, with a touch of roasted cocoa powder and some booze as well. This is closer to a Black IPA than anything.
PALATE: Medium body and higher levels of carbonation. Very creamy and smooth on the palate, goes down smooth with a little scratch and burn at the swallow, and finishes slightly sticky on the palate. Some heat lingers and a little tough at the swallow, but very nice and creamy on the palate.
OVERALL: Pretty much a stout in name only. This is far closer to a hoppy black ale than a stout, but it's still a tasty and interesting beer in itself. Much different than their Meesterstuck 2011, which was an imperial stout as well, but was much sweeter and maltier. Kudos to Jopen for being more experimental these days, and I hope they continue to go outside the traditional Dutch/Belgian styles. I'd definitely drink this one again, but not when I'm in the mood for an imperial stout. Too hoppy for my stout palate.
2,020 characters

3.53
/5
rDev
-5.6%
look: 4 | smell: 3.5 | taste: 3.5 | feel: 3.5 | overall: 3.5
We had this beer at tasting two weeks ago at my cousin Peters place. Great beers and great fun.
This beer was poured in my Essen Christmasbeerfestivalglass (what a word for wordfeud!)
I have to be honest, this wat at the end of the tasting and my light went out!! This was my 22nd beer and my nose and taste were off the charts with all the beers i had.
I did not take any notes because of my light black out but what i do know about it as that this is a good Dutch brew.
Next time i will pay better attention!
514 characters

3.15
/5
rDev
-15.8%
look: 4 | smell: 4 | taste: 2.5 | feel: 3.5 | overall: 3
Bottle from the Mitra.
Look: the beer pours a very dark brown-black color, with a nice espresso coloured head.
Smell: Roasted malts, coffee, mocha, licorice, hops (citrus) and alcohol.
Taste: Heavy on the roasted malts, spices, coffee, rye, chocolate and a strong hoppy bitterness. The taste however, is a quite overpowered by a very spicy alcohol burn.
Mouthfeel: Bit thin for the style, medium carbonation
Overall: The first beer from Jopen I ever had which I couldn't finish. The beer is out of balance with the overpowering alcohol burn and too hoppy for the style. This one is likely to improve by age though.
616 characters
Meesterstuk 2012 from Jopen Bier BV Haarlem
3.74
out of
5
based on
14
ratings.