Finkbräu Pilsener
| Oettinger Brauerei
BA SCORE
75
okay
13
Reviews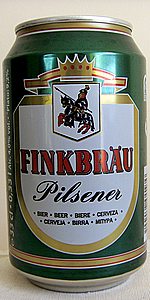 BEER INFO
Brewed by:
Oettinger Brauerei
Germany
oettinger-bier.de
Style:
German Pilsener
Alcohol by volume (ABV):
4.90%
Availability:
Year-round
Notes / Commercial Description:
No notes at this time.
Added by wl0307 on 03-23-2008
Reviews: 13 | Ratings: 27
3.57
/5
rDev
+41.7%
look: 3.5 | smell: 3.25 | taste: 3.75 | feel: 3.75 | overall: 3.5
Finkbrau Pils
,5 l can, best by 03.06.16
Have I not had enough of these basic Euro-Pils during my recent trip to Berlin that I now have to have one in Rome? I'm an idiot, but... Surprise! This one's a little better, and let's be honest, there's still not a lot of good choices in Rome unless you seek them out. Don't get me wrong, this is still fizzy gold Euro-swill made with hop extract, but at least it seems to be all-malt, and there is a nice floral note in the aroma, and a pleasant herbal hoppiness in the flavor. It's nicely balanced, although it leans towards malt - depends on your preference, but still cleans up quickly leaving a fairly dry finish. With more hop character it could be quite nice.
709 characters
3.13
/5
rDev
+24.2%
look: 3.5 | smell: 3 | taste: 3.5 | feel: 2 | overall: 3
Green 50cl can with a prancing knight on the front. Picked up from a generic-brand supermarket just inside the Italian-Slovene border, on the Italian side.
Very pale yellow colour, with lots of fizzy, coarse bubbled carbonation. Head is rocky and bubbly, but collapses pretty quickly. Reasonable lacing though.
Smells of highly-carbonated seltzer water, with a hint of resinous hops and a surprising imitation of champagne. Slight yeast funk coming off as well.
Taste is initially hoppy and sharp, but rapidly descends to a roasted, overcooked grainy bread flavour, hammered down with a whack of bread yeast. It shocked my palate initially, but after a while I was prepared for it, and it struck me more as having a simple robust bitterness. I'll give them the benefit of the doubt.
Mouthfeel suffers for the overenthusiastic carbonation job.
It's not too bad. It's got some character - this isn't your standard, easy to drink lager, but it's not an amazingly well-created one either.
989 characters
3.08
/5
rDev
+22.2%
look: 3 | smell: 2.5 | taste: 3.5 | feel: 3 | overall: 3
A- A very light/golden color.
'
S- Very weak aroma - when wafting for an aroma, I dont think I'll need to go to gym tomorrow cause I got that workout already.
T- Surprisingly better taste than aroma hinted, but still nothing fantastic. Better taste than Bud, but not a lot more.
M- light in mouth with a tingle of carbonation, nothing really special to report here either.
D- drinkable, would prefer to Bud and definitely take it over Coors Light. Probably make a good back yard bbq beer on a hot day, but I wouldn't put it out to impress anyone...
Serving type: bottle
573 characters
3
/5
rDev
+19%
look: 3 | smell: 3 | taste: 3 | feel: 3 | overall: 3
Not a horrible beer, and certainly cheaper than most imports; I picked this up at the Lidl Store in Puerto Spain for about 50 cents for a can so I can't complain. Very light golden colour. Minimal head, less than one finger, but bubbled for a while. Smell like a macro pilsner-better than coors, mild maltiness and some yeast. Taste is average and probably better than I was expecting. Mouthfeel is light bodied, mild effervescense. Drinkability is fine-of course, I did just finish going for a bike ride so it hit the spot.
My can said ABV 4.7% vice the 4%. Also, it said Pil vice Pilsner.
Cheers.
598 characters

2.85
/5
rDev
+13.1%
look: 2.5 | smell: 2.5 | taste: 3 | feel: 3 | overall: 3
It was the cheapest thing to buy at Lidl. Cold and poured into a nice glass, it really wasn't that bad. Clear golden color with a light, white head. Weak aroma; nothing remarkable. Flavour is appealing at the start, a little wheaty (I think). Flavour doesn't last long though, and the overall impression is that of a rather watery beer. There is a mild bite and I may have detected a little spice. It was refreshing and inexpensive. I can't imagine beer snobs stocking their fridges with this stuff, but if you just need some cheap brews Finkbrau might be the way to do it.
573 characters

2.83
/5
rDev
+12.3%
look: 3 | smell: 2.5 | taste: 3 | feel: 2.5 | overall: 3
Can of 500 ml from Lidl. Poured into a pokal glass.
Pours a deep golden yellow beer, with something more than two fingers of white, thick head. Heavy lacing left behind as the foam disappears very slowly. Medium activity in the glass. Malty smell, with mostly a grass aroma.
Sweet taste with a strong bitter aftertaste. Slighty metallic and hints of alcohol, although it's only 4,9% ABV.
Thin on the body with high carbonation.
Not so bad, especially if you take the price into consideration. It's not anything great either, but It could fool you on a blind test.
565 characters

2.54
/5
rDev
+0.8%
look: 2.75 | smell: 2.5 | taste: 2.5 | feel: 2.75 | overall: 2.5
Fix Helles (GR)
330ml can purchased (at Lidl) and consumed Greece.
Clear amber body looks like apple juice. The good sized head has poor retention.
Aroma: earthy hops.
Flavor: earthy hops. Mild bitterness.
O: worse than most other pilsners. Avoid.
255 characters

2.28
/5
rDev
-9.5%
look: 3 | smell: 2.5 | taste: 2 | feel: 2 | overall: 2.5
500ml can poren in a chalice glass.
A: Pours a pale yellow golden color forming a medium white aired head. Low retention and few lacings left
S: Smells lIke a cheap Lager. Sweet grains and grassy hops. Lager yeasts
T: Very hard. Very crispy. Very metallic and annoying. Dry and bitter taste with a skunky bitter hop aftertaste
M: Lager mouthfeel. Light watery body. Good carbonation. Mild bitter aftertaste. Actually, a bit acid after mouthfeel
O: Annoyng beer. Poor quality. Acid mouthfeel. To be avoided
510 characters
2.26
/5
rDev
-10.3%
look: 3.5 | smell: 2.5 | taste: 2 | feel: 2.5 | overall: 2
Purchased at the Lidl supermarket; coming in a 330ml can, BB , served chilled in a pilsner glass.
A: straw colour, pillowy off-white foamy head, with moderate fizziness.
S: mild sourness of a lager and floral hints of hops combine with a weirdly plastic grainy sweetness added with a dusty touch.
T: neutrally flavoured, showing just a faint taste of bitter-sweet grains, some lemony sourness, egg white... overly bland, with very little input of hops overall, although a little bitterness does manage to reveal in the end.
M&D: quite sprtizy, albeit not OTT, this is a feather-light-bodied and bland lager, certainly not recommended here.
645 characters
2.23
/5
rDev
-11.5%
look: 3 | smell: 2.5 | taste: 1.5 | feel: 1.5 | overall: 3.5
Few aromas in the nose. A first mouth immediately think of the water and has many flavors that last. Only the bitterness in the finish just slightly raise the power but it is artificial and unpleasant.
A poor beer and a poor lager. Just commercial and very cheap... as many others lagers in cans i think.
304 characters

2.14
/5
rDev
-15.1%
look: 3 | smell: 1.5 | taste: 2.5 | feel: 2 | overall: 2
330ml can. Footed Pilsner glass. Enjoyed on jul´12. Pale golden, filtered beer. White, close, crown. Fairly good retention. Slightly metallic, cardboard & sulphury odors cover floral aromas. Earthy, bitter & spicy flavors. Light body, high carbonation. Watery texture. Thankfully tasting is much better than odor. Typical cheap macro pilsner.
343 characters

2.1
/5
rDev
-16.7%
look: 2.75 | smell: 2.75 | taste: 1.75 | feel: 1.75 | overall: 2
As "Finkbräu Pils" - though this is distinct from the 2.80% ABV version.
5.0% ABV. Purchased at a Lidl in Porto, Portugal. "Specially made in Germany."
A: Pours the usual off-white cap and yellow body. Average vibrance, below average (1 minute) retention. Leaves no lacing as it recedes. Clean, with no lees or sediment visible in the body. Appears well-carbonated.
Sm: Clean neutral barley. Neutral pilsner malt. Maybe a blip of grassy hop character...I'd guess Noble, but it's so faint it's barely even there.
Aromatic intensity is very low. Suggests an insipid inoffensive beer, but notably one that doesn't seem to have any off-notes (e.g. metal) and one that doesn't seem watery.
T: Taste is of cheap pilsner malts, some malt extract/syrup, and, unfortunately, some off-putting metallic off-flavour.
Cheap tasting and imbalanced. I find no hop presence whatsoever. At least it's not watery...
Mf: Unrefreshing, slightly syrupy, slightly sticky, smooth, wet, light-bodied, and a bit too thick for a pilsner. Sharply overcarbonated.
O: Most extract homebrew pilsners I've tried surpass this in terms of quality, but it's not egregiously bad. I've definitely had worse, and it's worth noting that this isn't watery (though maybe that would be better than the syrupy mouthfeel it does suffer from). Not a bad student lager for those on extreme budgets, but it won't appeal to the discerning drinker. Still, something tells me the ubiquity of Lidl stores will nevertheless bring me into repeat contact with this brew...
Low D (2.10) / NOT RECOMMENDED
1,560 characters
1.83
/5
rDev
-27.4%
look: 2 | smell: 4 | taste: 1 | feel: 1 | overall: 1.25
Review: 25 cl Bottle of Finkbräu De Luxe: ABV: 4.5% The Lidl France special that's as cheap as shit. On pour a good creamy head appears but which dies a death. The beer has a lovely clear yellow colour. Quite a bit of fizziness, and didn't have any lacing. Aroma is a typical beery smell, a strong smell of sweet grains. which I liked. There was little or no taste, or at least nothing I could discern. A slight initial taste at start of hops, but fell flat on the mouth. Also was a bit dry in the mouth, no taste at all, disappointing, No real stand out taste here, some malt and hops flavors but mostly watery.
617 characters
Finkbräu Pilsener from Oettinger Brauerei
2.52
out of
5
based on
27
ratings.