Bryant-Lake Bowl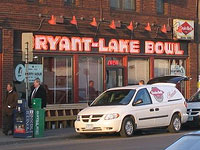 PLACE INFO
Type:
Bar, Eatery
810 W Lake St
Minneapolis
,
Minnesota
, 55408-2846
United States
(612) 825-3737 |
map
bryantlakebowl.com
Notes:
No notes at this time.
Added by tavernjef
Reviews: 25 | Ratings: 40

3.7
/5
rDev
-11.5%
vibe: 4 | quality: 4 | service: 3.5 | selection: 3.5 | food: 3.5
Bowling Alley/theater/bar all wrapped into one! What a cool concept. The are greeted as you walk in by tables and the bar off to your left. Nice open kithen. Further on is the bowling alley with about 6-8 lanes. No electronics here, you better know how to keep score!
Small draft selection but good offerings overall. They typically have several Bell's on and will also have some locals. Nothing too crazy. The bottle list is pretty good too but can be a little pricey.
Food is good but can be a little pricey. Decent breakfast as well. Fun place to go if you are in town and want to bowl and drink some craft beer.
★
617 characters
4.3
/5
rDev
+2.9%
vibe: 4 | quality: 4.5 | service: 4 | selection: 4.5
I went to the Bryant Lake Bowl for a couple hours tonight, first time there. What a hoot. I sat at the bar with a fellow whos wife was hosting the "Bowling for Boobs" event to raise money for breast cancer awareness. Very pleasant guy, great cause. Had several great beers on tap; Surly Abrasive Ale, Bells Oberon, Great Divide Hades, and Founder Breakfast Stout. They probably had 12 other raft beers on tap, and lots more in bottles. I really enjoyed the atmosphere of the place. Most highly recommended!
★
506 characters

4.05
/5
rDev
-3.1%
vibe: 4.5 | quality: 4 | service: 4 | selection: 4 | food: 4
The atmosphere at the Bryant Lake Bowl (BLB) is typically lively, loud, and you can always hear the sound of bowling pins crashing down. This place is a staple for a lot of people in uptown and it can be a refreshing place to go to.
They craft beer selection is small, but hey they have craft beers on tap. I wouldn't say that they are extremely overpriced either. I noticed a few weeks ago an account for the BLB on BA pimping there stuff.
The food selection is good. I have primarily gone here for brunch on the weekends more so than in the evening hours. They have some good bloody marys...is that blasphemy on a beer site? As a conscious consumer I think it's great that they buy fresh, organic, and local ingredients.
The service like every damn place can change from time to time. Typically the servers are top notch, but the bartenders suffer from some kind of pretentiousness common to uptown.
★
904 characters

4.1
/5
rDev
-1.9%
vibe: 5 | quality: 4 | service: 4 | selection: 4 | food: 4
I stopped here for a friends 21st birthday a while back and a couple times since.
Atmosphere is great. Beer and bowling, doesn't get much better than that does it?
Quality is good too. Old school feel with friendly people and a great location. Walking distance from most other Uptown attractions.
Serive is good, but it can get rather busy on weekend nights. I've had to wait for a server and wait for lanes to open up on a couple occasions, but that just means that this place is doing well for itself.
The selection surprises me. I never expected to see Bell's, Minnesota locals and even some Belgians on the beer list.
Food is surprisingly good. We split some apps and my friend got a very tasty grilled cheese (with tomato and garlic) free for his birthday that we all shared. Prices are very reasonable.
A pretty cool place, but I wouldn't come here for just the beer, as bowling is and always will be the main attraction for me.
★
940 characters
4.13
/5
rDev
-1.2%
vibe: 5 | quality: 4 | service: 4 | selection: 4
Bryant Lake Bowl combines a two of my favorite things, bowling and good beer. The lanes suck and the house balls are even worse, but the vibe of an old school bowling alley more than makes up for it. The beer selection is very solid. Mostly American micros with some rare beers usually thrown in, and some interesting imports including some nice Belgians ales. Service has been good every time I've stopped in. The staff doesn't seem to know everything about beer, but they know enough about what is on tap to answer most reasonable questions. Overall, BLB is a great place to waste away an afternoon.
★
601 characters
3.86
/5
rDev
-7.7%
vibe: 4 | quality: 4 | service: 4 | selection: 3.5
Stopped by with a friend after happy hour at the Herkimer, a block or so away. This is the sort of place you love to see in Uptown, a little dark, hip (but not intimidating), and full of personality. We sat at the bar with the bowling to our right and big windows to the left.
The bartenders were friendly and happily offered their take on the taps. My only qualm with the bar was that I thought my pint of Rogue was a touch steep at $6. The selection was small, but interesting enough to know these guys meant business.
A cool place to check out, I think next time I might try to stop by during happy hour because I'm cheap like that.
★
642 characters

4.1
/5
rDev
-1.9%
vibe: 5 | quality: 4 | service: 4 | selection: 4 | food: 4
I've been visiting the Bryant Lake Bowl for many years, and for a short while I considered it to be my local. As far as atmosphere is concerned, the 'BLB' has it in spades, and herein lies a conundrum integral to its reson d 'etre. Sure it's a bowling alley from another era, complete with the sort of retro-chic charm that drives hipsters to distraction, but it's also a theater / performance space, bar ad cafe. Some might consider the mere concept of such a venue to be arty and pretentious, but it literally comes with the territory. Also, an establishment as ambitious as the BLB will inevitably (although no intentionally) spread its charm too thin, but while it sometimes fails, its collective strengths are far more appealing than the sum of its individual shortcomings. The place claims a fairly small footprint, whether in terms of a dining venue, bowling lane, or theater, and to that end it is rather heavily trafficked, inducing a good amount of distraction on the part of its waitstaff. Given the amount of distraction said staff face they do a great job and maintain a commendably cheerful disposition. And when it comes down to it, I've always felt that both the owner and the staff do an admirable job of walking that fine line between retro-hip and post-modern kitsch that such a place exudes. To this end all are welcome and made to feel equally welcome - this ain't just a hipster's hangout. The menu could best be described as unpretentious pub grub meets New American cuisine, and while some might read a degree of pretention into that last category, in this town, especially in the past decade or so, this has been par for the course. Food itself is above average-to-good, with prices as close to inexpensive as you can get without rejoicing in the cheapskate-glory that is a classic dive bar menu (e.g. 75 cent Old Style and $1.50 chili dogs. Beverage selection has always been a strong suit at the BLB, especially given the fact that the beer list has always maintained a degree of precedence over the wine list. This isn't to say that the wine list is a slouch as such, but with a more traditional wine bar to her credit, BLB's owner Kim Bartman seemed content to allow the 'beer bar' aspect of the BLB to blossom. Tap and bottled beers are listed on a blackboard on a wall straight ahead and to your right, just after entering. The bar itself -to your left upon entry- is not so much small as it is busy: this place has an active, thirsty clientele! In the past, I've noticed that the bar tends to posess some unheralded jewels amongst the beers available on hand, and knowing that I'd say you'd be doing yourself a favor in asking the bartender if there are any rare or otherwise unlisted items. In terms of selection, there are 20 taps to choose from, and these frequently feature seasonal craft offerings from Anchor, Bell's, and Victory, as well as locals like Summit and Surly. Belgian beers of every stripe turn up as well, and sell-through with increasing rapidity. Overall, the staff (and particularly longtime bartender Dan Hadley) are up on their beers, so should you feel any hesitation in trying something new, look no further for your recomendations. Definitely worth a visit whenever you have the opportunity, and also makes for a great 'local' watering hole!
★
3,300 characters
4.13
/5
rDev
-1.2%
vibe: 4 | quality: 4 | service: 4 | selection: 4.5 | food: 4
Bryant Lake Bowl is the kinda place you want to bring friends to when they come from out of town. Located on Lake St, in the Lyn-Lake neighboorhood, it might as well be located in the 1950's. The building itself houses a theater, a bar/dining area and a bowling alley. We stopped in just after happy hour (I know...bummer) on a Friday for some food and had no trouble finding a place to sit.
Parking could be an issue...I live in the area, so walking is a great option- if you're looking for a ramp there is one available about 2 blocks West on Lake St.
We were greeted promptly and given our menus. BLB now offers many meals/dishes prepared with organically grown meat, and also vegetarian options...this in no way detracts from the flavor- the burger I ordered was juicy and fantastic!
On to the beers- the selection is amazing. They have around 20 taps, offering everything from Belgiums (Delirium Tremens) to locals (Surly Furious). They have some Rogue and Victory on tap, as well Bells, Anchor and many other notables, but the best part about it was the staff- everyone seemed to be knowledgable about the beers...asking my opinion of the Furious, offering suggestions to my table-mates, and overall- knowing their beer. A+ in that department. They also have a chalkboard with up-to-date listings of what's on available on tap and what style it is...very nice.
Prices were reasonable and they have a happy hour M-F with discounted taps. A must-stop in the uptown area!
★
1,480 characters
4.2
/5
rDev
+0.5%
vibe: 4.5 | quality: 4 | service: 4 | selection: 4.5
Kind of a hole in the wall place, right on Lake Street, so it's fairly easy to find. Visited on a Sunday night, a fairly small bar, not too much seating, but an awesome selection of beer. There is maybe 20 tables, with a bowling area in back. Quite a few taps that you won't see many other places in the metro area, including Rogue, Sierra Nevada, regionals, micros, several Belgians. I did not have time to try the food, but I glanced at a menu and it looked reasonable. A small, yet friendly looking place, I wish I could have spent more time here.
★
550 characters

4.28
/5
rDev
+2.4%
vibe: 5 | quality: 4 | service: 4 | selection: 4.5 | food: 4.5
This is an aptly named establishment, since it is just off of the corner of Bryant & Lake Streets. Very inspired!
Coming through the door, I was absolutely flabbergasted that Mini-Apple-Us gets to have something like this. The place seems like a time warp to the 1950's, but with good beer. The restaurant tables are made to look like bowling alleys and the wood panelling and star-patterned acoustic tiles are probably original. The back bar has a really Roy Lichtestein-ian looking mural of a bowling ball and flying pins. Why "Bowl" in their name and the emphasis on bowling as a decorative theme? Howzabout a fully-functional 8-lane bowling alley all of the way aft, champ? Yowza!
The lavatories are on the right, headed aft, and hanging above the twin doorways are a pair of chalkboards. The left announces the upcoming shows in the theatre (!) and the right has the draft list of ~ 19 taps, all rockin', plus the daily specials. The theatre is an 85-seat theatre, complete with stage, off to the left of the bowling alley.
I'm coming back!
★
1,055 characters

4.5
/5
rDev
+7.7%
vibe: 4.5 | quality: 4.5 | service: 4.5 | selection: 4.5 | food: 4.5
2-26-04
Back before he added BLB to the Beerfly Database, tavernjef and I discussed this, and he said, "does it belong? After all, it's a bowling alley." Well, he answered his own question when he added it, it is and it isn't, it was once, it still is, and it will never be just that again.
There are still signs of BLB's past, like the Grain Belt and Pabst signs outside, but that will never change, despite the makeover that Kim Bartman gave it over a decade ago. Now, it's easier to say what the BLB isn't, rather than what it IS. As for me, up until recently, I could say that I've done everything you could do there but drink wine and bowl. Then, I tried to bowl, and, really, let's forget about that. What have I done? Seen plays, monologues, comedy, films, heard jazz, pop, rock, ate a bunch, and drank aplenty.
The staff is almost uniformly great, and I've rarely met a dud in that department. Consider yourself lucky if you're at the bar, and get Dan at your service. The bar features only wine, and plenty of beer, no liquor, but we care about the beer, and what beer! No huge conglomo-brews, lots of locals, the best of America's micros, always some Bell's and Belgians, lambics, and even gueze, and every time I visit a surprise of two. Something always changes, among the 24 taps, and plenty of variety among the bottled selection.
The food menu is eclectic, and always good, ranging from vegan to bison, and fish and more, and ranging inexpensively in price.
Best yet, nestled deep in the Hipster Central neighborhood of Uptown Minneapolis, it really is a great meeting place for all manner of folk. Be ye white or black, rich or poor, gay or straight, hip or square, upwardly mobile or working-class stiff, it doesn't matter, as long as you like good beer or wine ...or not! I once saw Dan deal with a smelly ragamuffin looking for Bud, and he presented the olfactorily-offensive man with a bottle of PBR and a glass and
I watched the man pour it out contemplatively and slowly savor it from the glass. Now, that's a good beer bar, where even the lowliest can seem like a connoisseur!
...7-22-05, update
On my latest visit, last night, I had the pleasure of speaking to Dan, who still rocks the bar. Highlights among the tap beers included rogue Brutal Bitter, Delirium Tremens, Mojo IPA, Two Hearted, and others..had my first Double Diamond...alcohol has been added, for those who need their Cosmos and double scotches, as well as sidewalk seating for the nicotine-addicted. Still highly recommended.
★
2,536 characters
4.43
/5
rDev
+6%
vibe: 5 | quality: 4.5 | service: 4 | selection: 4.5
Wow. This is about the coolest place I've ever visited. It's a pub with bowling in the back and a threater through a side door. The establishment is located south and west of downtown Minneapolis, not far from 35W. Parking was difficult to find...I wound up parking in the lot of the gas-station next dor (with permission from the attendant). I went in expecting bowling lanes with a bar that offered crummy beers and fried grease as food. Instead, I walked into a small dining area with a bar to the left. Through the dining area is a host table (could be for seating, I didn't ask for a table) that opened up a bowling lane for me and directed me to the rental shoes. The establishment has a comforatble and rustic big-city feel about it...not granola...not yuppy...just...down to earth. Creative...positive. Relaxing.
The bar had perhaps 20 beers on tap, with so many good offerings that I was disturb I wouldn't get to try everything I had an interest to try. Although Prima Pils was available on tap, I went for the Bell's Two-Hearted. It's just such a fantastic beer I have to have it whenever I get the opportunity.
Anyway, I met up with a couple other BAs, we got a lane, and we bowled a couple games. While we were playing, I noticed people entering a door on the other side of the bowling alley. Apparently, they had tickets to the show in the theater that was through the door. Also, while I didn't order any food there, I did have a good look at some of the dishes that were being served up and they looked quite tasty. I didn't look at the menu, but I wouldn't be surprised if they offered organic dishes. This place is really cool.
★
1,651 characters
4.2
/5
rDev
+0.5%
vibe: 4.5 | quality: 4 | service: 4.5 | selection: 4
Hipster Heaven.
Or at least it was, about 5 years ago or so. Why? Because the place has character. Housed in a bowling alley (and bowling, by the way, has become cool again too), this place has a lot of charm. When you're at the bar, you will most likely have to sit at one of the little tables alongside the windows or sit at the bar. There is a lot of soft, dramatic lighting and wood paneling.
The service is great. Every time I've been here I've had a friendly server who was very accomodating.
The tap lines are pretty impressive (especially for a bowling alley). There are at least 20 different beers on tap, and most of the time, you can get at least one or two rarities. All of the time, they support local domestic microbreweries, and it's almost certain you will find Summit, James Page, Bell's, etc... in addition to some smaller breweries as well. There are also some Belgian style beers in bottles.
Although the selection is not that impressive, it is constantly rotating. Every couple of months, a couple new beers will rotate through.
Definitely give this place a shot. You'll be charmed by it.
★
1,126 characters

4.45
/5
rDev
+6.5%
vibe: 4.5 | quality: 4.5 | service: 4.5 | selection: 4.5 | food: 4
A fun place to get a great beer. While this place can be crowded, loud, and smokey, their generally excellent service paired with bowling and a large selection or beers (at least for the TC area) put this near the top of places to go. Generally it is pretty busy, but tables turn over pretty quickly. Food has also been excellent, though on theatre nights it can be a little slow so order right away.
When visited in Dec-03 they had Bell's Two Hearted, SN Celebration Ale, Bell's Batch 6000, Anchor Porter, etc... on TAP, not even mentioning a large assortment of bottled beer (trappist ales, Cantillon, etc...). They run a nice happy hour after work and street parking is generally available and free after 6pm.
★
715 characters

4.18
/5
rDev 0%
vibe: 4.5 | quality: 4 | service: 4 | selection: 4.5 | food: 4
This multiplex of fun has it all from live music, small one man plays, and of course bowling. Oh yeah some good beers to choose from as well. One of the best places to bowl and enjoy an actual Belgian beer. You just don't see that at any other bowling alleys, ever. At least not in my experience. Ya bowl, ya drink, ya eat, its great, stay late for some of the bands or small plays being put on.
I like going there to bowl and drink, some of the music bores me a little, I can only take so many garage bands who make there CD's from there Mac's, but every once in awhile you get some real kickin' - groovin' music. The food is pretty good as well.
Choices of beers run through a small assortment of micros such as the Bell's line with some being on tap, along with Summit, Anchor, and Anderson Valley. A small selection of stouts and porters, all varying from the UK, Germany, and the US. A few Mexican beers and some marcos and then the Belgians of just over a dozen lambics, dubbles, and whites to choose from. Wow. They beat out alot of small town liquor stores. Albiet the service their can really linger depending on how busy the place is, but they're always nice and quite interesting to talk with.
A pleasure to visit for something a little different from the ordinary bar/pub scene. Check out the website, it has all you need to know.
★
1,348 characters
Bryant-Lake Bowl in Minneapolis, MN
4.18
out of
5
based on
40
ratings.