Dismiss Notice
Cloister
| Durham Brewery Ltd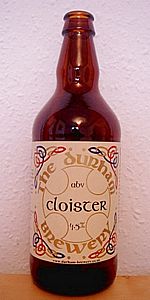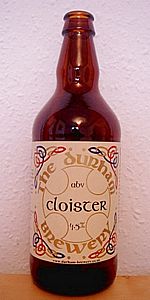 BEER INFO
Brewed by:
Durham Brewery Ltd
England
,
United Kingdom
durham-brewery.co.uk
Style:
English Bitter
Alcohol by volume (ABV):
4.50%
Availability:
Rotating
Notes / Commercial Description:
No notes at this time.
Added by Todd on 09-25-2003
HISTOGRAM
Ratings: 14 | Reviews: 11
Reviews by IronDjinn:

3.53
/5
rDev
-3.8%
look: 4 | smell: 3.5 | taste: 3.5 | feel: 3.5 | overall: 3.5
Thanks to Jim at Sherbrooke for the sample. From a 500 ml brown bottle. Pours out a slightly hazed golden honey hue, tall firm rocky white head with serious retention.
Mild bready malt on the nose, dry spicy, leafy hops, light touch of citrus.
Dry grains up front in the flavour, finishing with dry spicy, leafy, herbal hops that linger on in the aftertaste.
Mouthfeel is on the light side, smooth slick texture, medium carbonation.
Easy drinking, decent hop presence, yet still fairly one-dimensional in the flavour department.
532 characters
More User Reviews:
3.2
/5
rDev
-12.8%
look: 3 | smell: 3 | taste: 3.5 | feel: 3 | overall: 3
Hazy appearance.real dry character, as found in the Graduation, almost Orval-ish type dryness, wheaty, metallic, salty and bitter, smells more hoppy than it tastes, similiar to the Graduation, with a similiar metallic edge, not bad, but again fell short from making a good impression, it was OK.
295 characters
4
/5
rDev
+9%
look: 4 | smell: 4 | taste: 4 | feel: 4 | overall: 4
500ml bottle. How does a 4.5% ABV product have a BB date two and a half years from now?
This beer pours a pale, discretely hazy golden amber hue, with two fat fingers of foamy white head, which leaves a decent pock-marked wall of lace around the glass as it sinks away. Very cask-esque.
It smells of crisp, pale biscuity malt, citrusy, leafy hops, and some subtle spicy yeast. The taste is more crisp, pleasantly edgy pale malts, zingy Saaz hops, in their lemony splendour, and followed up by some further herbal hop notes.
The carbonation is quite sedate, the body a supple medium weight, and equally smooth, showing some lingering cask-friendly aspects on that front. It finishes just off-dry, the bready, biscuity malt still tangling with some persistent herbal, fruity hops.
A decently flavourful blonde ale, if that is what this really is - the English bitter presumption on the label actually seems more current and certainly much more apt. Agreeably sassy, this one is, whatever it supposes to be.
1,008 characters
3.18
/5
rDev
-13.4%
look: 4 | smell: 3.5 | taste: 3 | feel: 3 | overall: 3
4.12
/5
rDev
+12.3%
look: 4 | smell: 4.5 | taste: 4 | feel: 4 | overall: 4
500 ml bottle, bought in Scarborough. ABV is 4.5%. Bottle conditioned. Deep golden colour, huge white head. Lovely hoppy aroma with notes of citrus / grapefruit and pineapple. The flavour is also distinctly hoppy throughout, with grapefruity notes, but there is also a tolerable malty base. Refreshing, even though I drank it a bit too warm. The excellent Durham Brewery proves they can brew good beers with a moderate ABV too.
427 characters
4
/5
rDev
+9%
500ml, bottle-conditioned. Beer is over-lively upon opening, with fobbing. Poured gold, beer clouds as the carbon dioxide is released. (later pours). Spicy on the nose. taste: spicy, peppery hop (saaz). Sweet. Mouthfeel medium bodied. overall: a very good bitter. The predominant hops are not british, so perhaps not an english bitter. Recommended.
350 characters

3.63
/5
rDev
-1.1%
look: 4 | smell: 3.5 | taste: 3.5 | feel: 3.5 | overall: 4
A - Pours a hazy gold with a pillowy inch of firm white head. No visible carbonation.
S - Lemon, hay, grassy hops, light caramel note.
T - Initial grassy hops, before lemon peel pushes though in the middle. More herbal hops come through towards the end along with a dry and astringent finish, which has a tannic flavour.
M - Surprisingly full mouthfeel, even with some spiky carbonation. Very nice, until about two thirds of the way through the drink this disappears and the mouthfeel becomes quite thin and watery.
D - Nothing too complex, but a pleasant thirst quencher and some interest.
594 characters
3.65
/5
rDev
-0.5%
look: 3.5 | smell: 3.5 | taste: 3.5 | feel: 4 | overall: 4
Huge white head on this. Cloudy orange body. Sweet malty scent with a nice citursy hop hint. Big yeasty biscuit nose.
Biscuity taste, lots of malts and yeast in there. Light hops, hints of lemon. Light bitterness. Nice smooth carbonation, a great session beer.
261 characters
3.21
/5
rDev
-12.5%
look: 4 | smell: 3 | taste: 3 | feel: 3.5 | overall: 3.5
Pours as a hyper carbonated warm honey coloured beer with a massive foamy off-white head...looks pretty good. The aroma is quite light, with a touch of fruitiness, possibly lime, and the impression of a biscuity malt. The flavours are dry and bitter with biscuity malts and a hint of toffee and cream. The mouthfeel is very active with tons of carbonation but it still manages to retain a decent body and smooth texture. Much more like a traditional bitter than an American blonde in opinion. A middle-of-the-road drinkable bitter.
531 characters
3.83
/5
rDev
+4.4%
look: 4 | smell: 3.5 | taste: 4 | feel: 3.5 | overall: 4
Poured from a 500ml bottle into a pint glass.
Pours a hazy pale golden colour with an interesting lively head and lots of lacing as you drink down.
Smells fresh and grassy, some malts creeping through as well.
Tastes mildly hoppy but well balanced, refreshing and thirst quenching without an overload on the taste buds.
Overall quite a lovely beer.
352 characters
3.97
/5
rDev
+8.2%
look: 3.5 | smell: 4 | taste: 4 | feel: 4 | overall: 4
A - Pours a slightly hazy, deep golden colour into a pint glass with a couple of centimetres of head.
S - Nice fresh fruity and floral hop notes dominate the smell, almost like an APA. A slight malty touch to balance it.
T - The malt is a lot more present in the taste, giving a nice biscuity touch. The hops linger on the back on the tongue for a while.
M - Medium bodied with fairly low carbonation.
D - A nice beer indeed! These guys certainly know what they're doing. Despite the fairly high price tag I can see myself buying more.
535 characters
3.58
/5
rDev
-2.5%
look: 4 | smell: 3.5 | taste: 3.5 | feel: 4 | overall: 3.5
Bottle-conditioned in a 500ml brown bottle, BB Dec. 2007 and tasted in mid-Feb. 2007. Served cool in a straight imperial pint glass.
A: bright amber in colour, coming with a fluffy off-white foamy head and nice & steady streams of fizziness.
S: fresh whole-flower Fuggles hops with a hay-ish touch come together with grapefruit jelly and liquid-sugary malts, while a mildly sulphurous hint hides at the back. Overall, the aroma is hop-dominated, pretty straight forward and in need of a desirable weight from malts.
T: mildly spicy and citric zesty in hoppiness, backed by a slowly manifesting tannic bitterness as in green-tea leaves… turning dryish, along with a lingering aroma of Fuggles and a mildly herbal bitter-sweet touch. Consistently lively is the tannic touch as in crushed citrus seeds, while some yeasty tastes from the bottle-conditioning yeast sediments remain at the back of the palate.
M&D: pretty refreshing fizziness remains throughout the drink, while the bitterness is on the whole quite enticing, making it quaffable and more-ish. That said, the flavour profile is in need of more complexity to be truly remarkable.
1,140 characters

Cloister from Durham Brewery Ltd
Beer rating:
3.67
out of
5
with
14
ratings