Temptation
| Durham Brewery Ltd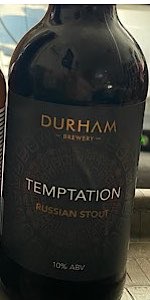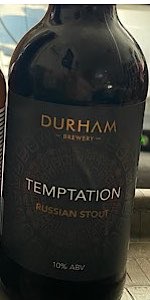 BEER INFO
Brewed by:
Durham Brewery Ltd
England
,
United Kingdom
durham-brewery.co.uk
Style:
Russian Imperial Stout
Alcohol by volume (ABV):
10.00%
Availability:
Rotating
Notes / Commercial Description:
No notes at this time.
Added by CRJMellor on 04-13-2005
HISTOGRAM
Ratings: 32 | Reviews: 21
4.06
/5
rDev
+2.8%
look: 3 | smell: 4.5 | taste: 4 | feel: 4 | overall: 4
Consummately black with a thin, coffee-brown head. Deliriously complex aroma, Black Sambuca and dark Belgian chocolate, dark rum and dark treacle, coffee, port, and vanilla. Thick and very ripe on the palate, supersaturated with figs, licorice, molasses, and sherry. Profoundly malty with nary a hint of hops, save for a slight citric bitterness that gets lost a bit in the bitterness of dark chocolate, coffee, and burnt grain. Oily and thick, rich and robust, a lovely sipping beer for after dinner.
501 characters

4
/5
rDev
+1.3%
look: 4 | smell: 4 | taste: 4 | feel: 4 | overall: 4
A - Pour jet black with a thick dark tan head. This bubbles away and slowly drops to a thin cap.
S - Molasses, toffee, rum-soaked prunes, figs, coffee, chocolate, honey.
T - honey sweetness and ripe dark fruit at first. Caramel/toffee fill the mouth in the middle, with coffee creeping through towards the end. Liquorice comes through right at the end, before chocolate takes over in the aftertaste along with a hint of alcohol warmth
M - Medium-full smooth body. Soft carbonation.
D - Lighter than other RIS's I've tried, aiding drinkability. Another very tasty offering from Durham.
588 characters
4.17
/5
rDev
+5.6%
look: 3.5 | smell: 4 | taste: 4.5 | feel: 4 | overall: 4
Bottles says best between March 20007 & March 2012. Hopefully I'll be able to hold onto the other bottle longer than this one...
A - Poured into a a snifter blacker than a midnight sky with a few centimetres of light brown head that falls away rather quickly.
S - Smell is chocolate, alcoholic fruitiness.
T - Taste is pretty complex and full on. I get chocolate, dark fruits, quite a strong smokiness, fairly full on alcohol presence.
M - Medium to full bodied with a low carbonation.
D - A very intriging RIS that will be interesting to see how it ages. 6 months into it's 5 year suggested drinking period it's pretty good.
A damn fine beer to treat with respect.
665 characters
3.53
/5
rDev
-10.6%
look: 4 | smell: 3.5 | taste: 3.5 | feel: 3.5 | overall: 3.5
500 ml bottle, bought in Scarborough. Bottle conditioned. ABV is 10%. Pitch black colour, moderate tan head. Unusual perfumed aroma, dark fruits, liqueur, some oak, chocolate and liquorice. Very intense perfumed and sweet flavour, surprisingly moderate roastiness, notes of liquorice, hints of tar. Moderate hops in the finish. Not an easy drinking beer, but definitely something out of the ordinary.
400 characters
4.28
/5
rDev
+8.4%
look: 4.5 | smell: 4 | taste: 4.5 | feel: 4.5 | overall: 4
Is it really a one-off brew? Weird, as I keep seeing it available in different shops and places. Anyway... Bottle-conditioned in a 500ml brown glass bottle, "Brewed Sept. 2005", "Best b/w Jan. 2006 and Jan. 2011". served cool in a large tulip-shaped wine glass in two pours.
A: pours a jet black hue; a spongey-textured khaki frothy head sustains very well, and leaves tight sheets of lacing behind; seemingly lively carbonated body, as far as the streams of light-coloured tiny fizz just below the foamy head are concerned. Great-looking beer.
S: very intense roasty and sweet-malty aroma: melted (75%-) dark chocolates, sweet coffee and roasted (wal-)nuts' roasty edge with a tarry kick, combining with a heavier, sweet malt-grist and treacles-like malty platform (with a faint trace of chicory-honey...?!); a rather perfumy-fruity hoppyness (the label says it's Goldings~~), a subtly sour dark fruitiness, and semi-sharp hop resins at the back help result in an overall 3D-structured aroma... The warming alc. sustains firmly in the background, not unexpectedly due to its abv. Very intense, but not harsh or intrusive, well-blended, with plenty of hops to boot... albeit a touch too sweet for me.
T: oily and lubricating coffee-syrup and coffee-liquor prevails upfront with a subtle entry of sour-sweet ripe dark fruits or dried black dates... followed by creamy black malts, treacles, a deeply aromatic roasty edge of roasted-nuts (walnuts+almonds) plus chocolate-coated coffee-beans, before a licorice-like herbal bitter taste and aroma assume the dominance in the long aftertaste and expands to the deep end of the tongue... the chewy and lengthy dryish-bitterness boasts a good input of hops, while a soothing flow of warming alc. quietly slip down the throat, like the smooth "kick-back" of a mellow Port. Surprisingly clean finish, without undesirable syrupy or thick mouthfeel.
M&D: 110%-bodied and blown with layers of flavours, but deeply in line with modern English interpretation of Russian Imperial Stout or a super-robust version of sweet Stout, not as bold and hoppy as American counterparts, nor as woody and stale as traditional English RIS. The result is utterly enjoyable though, showing a skilful-blending of black malts and good body of hops, as shown by the lingering bitterness, although a fuller performance of complexity is yet to be brought up--maybe because this bottle is still too young? Gotta grab several more bottles to age and see its true potential. A really enjoyable beer all in all!!
2,529 characters
4.03
/5
rDev
+2%
look: 4.5 | smell: 4 | taste: 4 | feel: 4 | overall: 4
500ml bottle obtained via trade with CRJMellor. Bottle conditioned, and hoofed back from the UK by him. A hearty thanks for the opportunity... Note that the label also notes that it is "suitable for vegetarians", thank goodness...
Poured into a Rapscallion glass, formed a dense 1/2" brown head over the opaque dark brown/black brew. Head fades but hangs on with a combination of small and airy bubbles, and lacing is minimal. Looked like a cask brew presentation, which is I assume the point. Aroma is dark grains with, some vinous fruits appearing as well. Flavor is hearty dark grains, with the dark fruits and alcohol also raising their hands and shouting "HERE!" Mouthfeel is smooth, albeit a tad bit thin for the style, and drinkability is good as well. Very enjoyable offering, search it out.
802 characters

3.95
/5
rDev 0%
look: 4 | smell: 4 | taste: 4 | feel: 3.5 | overall: 4
Pours deep maroon with black current down the middle. Thin froth of tan head rises and disappears.
Aroma of chocolate, raisins, nuts and resined hops and some caramel.
Flavor is chocolate covered caramel with a wheat backbone and some dark citrusfruit notes as it warms.
Mouthfeel is a tad thin for style. Very dry finish leaves a slightly chlaky aftertaste.
Drinkability is solid excpet for the little bit of thinness mentioned before.
440 characters
Temptation from Durham Brewery Ltd
Beer rating:
3.95
out of
5
with
32
ratings