White Stout
| Durham Brewery Ltd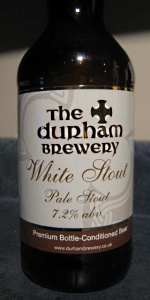 BEER INFO
Brewed by:
Durham Brewery Ltd
United Kingdom (England)
durham-brewery.co.uk
Style:
English Barleywine
Alcohol by volume (ABV):
7.20%
Availability:
Rotating
Notes / Commercial Description:
No notes at this time.
Added by soulgrowl on 07-27-2012
Reviews: 8 | Ratings: 14
Reviews by soulgrowl:
4.08
/5
rDev
+4.9%
look: 4.5 | smell: 4 | taste: 4 | feel: 4.5 | overall: 4
Brassy gold, mostly clear, with a proud, white head. A noble-looking beer that would please those inclined towards the Belgian look. This is brewed with Columbus hops, so naturally this has a wonderfully aromatic aroma (if you'll forgive the redundancy). Apricots, lavender, mango, pineapple, and a twang of lemon verbena. Is a "white stout" a sort of proto-IPA? No idea. But it tastes that way. Balanced, starkly fruity, and crisply bitter yet still malty and full-bodied – Campari, lemon and orange rind, guava, pineapple, and pure barley malt all come through. There's also a touch of alcohol – not enough to make this hot, just enough to make you aware of its strength. Carbonation is spot-on, frothy yet not overdone, and it helps to accentuate its fruity aromatics. Quite a nice beer, really well balanced and full of flavor. Not too much of any one thing.
★
866 characters
More User Reviews:
3.53
/5
rDev
-9.3%
look: 4 | smell: 3.5 | taste: 3.5 | feel: 3.5 | overall: 3.5
500ml bottle - 'white' stout, eh? I'm reminded of the white whisky I had a while ago - hopefully this comes off a whole lot better than that did.
This beer pours a clear, pale golden colour, with three fingers of puffy, silken, foamy off-white head, which leaves a decent array of chunky lace around the glass as it slowly ebbs away.
It smells of mildly roasted caramel malt, and subtle citrus, leafy hops. The taste is biscuity, bready pale malt, some hefty (for England, anyway) bitter citrus and pine hoppiness, and a further herbal zinginess.
The carbonation is a tad sassy, but knows when to pipe down, the body medium light in weight, and a mite bit too astringent to be deemed all that smooth. It finishes mostly dry, the herbal, citrus, and grassy hop notes overriding anything the malt can muster to throw at it.
A hard one to classify, this - the 'whitening' takes much more away than just the expected hue. As the label explains, the only thing stout-like about this offering is the fact that it is stronger than your average beer, which it is indeed, and hard to notice, at that. The hoppiness sure does seem to push this into Imperial IPA territory, well away from even the mere thought of typical stout, or barleywine, for that matter.
★
1,253 characters

3.4
/5
rDev
-12.6%
look: 3.75 | smell: 3.75 | taste: 3.25 | feel: 3.25 | overall: 3.25
4.72
/5
rDev
+21.3%
look: 4 | smell: 4.5 | taste: 5 | feel: 4.5 | overall: 4.75

3.42
/5
rDev
-12.1%
look: 4.25 | smell: 3.5 | taste: 3.5 | feel: 2.75 | overall: 3.25
500mL bottle purchased from Hunter Valley Cellars in Pokolbin, NSW. Probably grey market as I haven't seen much of this brewery around elsewhere.
Pours a champagne colour, bright gold with over-vigorous head. White, foamy, retaining thick. Good-looking beer, if only the head were a bit toned down.
Smells malty, with lots of strong grainy connotations. Oatmeal, pearl barley and a touch of peanut upfront, then gets slightly bready with sourdough and yeast and a touch of honey. Whisper of pear character on the back.
Taste is also malty, with sweetness descending into sourdough bready character midway, giving way to a quite sweet and boozey finish. Honey, touch of clove and a sweet marmalade character on the back. Reasonably heavy, reasonably malty, but tastes a bit unhinged.
Body is full, but a strong booze heat is slightly off-putting. Carbonation still manages to show through somehow.
Decent white stout, a good coherence to the intent here. Just tastes a bit boozey and unbalanced.
★
999 characters


4.04
/5
rDev
+3.9%
look: 4.25 | smell: 4 | taste: 4 | feel: 3.75 | overall: 4.25
500ml bottle poured into a pint glass
Look: Golden yellow with a bubbly, off-white head. Decent retention and a certain amount of lacing left behind. Pretty fizzy right out of the gate, so would benefit from careful pouring.
Smell: It's very sweet - quite grainy, as you'd expect, but there's something else there which I can't quite put a name to - sort of a cross between cough medicine, honey and bananas with just a touch of alcohol.
Taste: Again, quite sweet and grainy - there's a certain amount of bitterness followed by bready, yeasty flavours and a bit of alcoholic warmth. Definitely on the sweet side, though.
Feel: Here's where the sweetness lets the side down - whilst it's not unpleasant it is quite heavy going. You won't be throwing this down your neck with wild abandon. Good flavour profile, though - malts and grains, sweet honey and pear notes followed by alcoholic warmth and a touch of bitterness.
Overall: I have a certain affinity for Durham Brewery - I grew up and went to school in the area and had a relative who lived not far from where the brewery is now. Naming this 'White Stout' was always going to raise a few eyebrows. It's interesting, that's for sure - far too sweet and boozy for prolonged drinking, but definitely worth a shot. Tone down the sweetness and the alcohol aftertaste and it'd be a winner.
★
1,343 characters
4.03
/5
rDev
+3.6%
look: 4.25 | smell: 3.75 | taste: 4 | feel: 4.25 | overall: 4.25
Pours clear and golden into a glass from a bottle. Offwhite head is three fingers, creamy and frothy, just like you'd expect of a good stout.
Aroma is clean, mild and slightly creamy. There's a slightly grainy and sweet character like honey on toast.
Flavour is floral, grassy, with something sweet like pear or nectar. There's a nice Belgian quality to this ale along with some lean towards a Hefe; pale malts, yeast and peppery hops. It's a very well balanced ale, the sweetness lessening after the sip; rather just satisfying the front palate before it rolls into more robust flavours. The aftertaste is like a bright fruit marmalade on seeded bread.
Feel is medium-full bodied, a little oily with a dry finish. Carbonation is minimal.
A very nice barleywine with just the right mix of flavours; it's tasty yet subtle, full yet light on the tongue, and quite easy drinking for 7.2%.
★
889 characters
3.23
/5
rDev
-17%
look: 4 | smell: 2.75 | taste: 3.25 | feel: 3.25 | overall: 3.5
500ml brown bottle shared with me blind by my brother Sam.
Pours a pleasingly clear coppery golden colour, with a huge, frothy head of white. Lots of crackly, intense lace. Nice fine carbonation. Looks pretty good.
Nose is overly sweet, slightly toffeed and a bit sherry-like. Slight spice to it as well, giving more candied orange characters. There's a hint of something soft and vegetative, but not enough to balance the sweetness. I'm not a big fan.
Taste is a little better. Here there's a definite sharpness to it, providing an almond-skin type bitterness through the centre. Around this, the malt still has a slight oxidised character to it, but it's a lot thinner as well, which actually helps with the balance. Back is a little bit dry and dank, but it's pleasant enough.
Feel is quite light, but with a slickness around the edge.
Overall, I'm not hugely impressed, but there's some nice things to it, and the beer is much better than I thought it would be given the aroma.
★
986 characters


4.06
/5
rDev
+4.4%
look: 3.75 | smell: 4 | taste: 4 | feel: 4.25 | overall: 4.25
Served at cellar temperature from 500ml bottle into straight pint glass.
L) Gutted. Its not white. Kind of a pale golden colour, very hazy. Thin bubbly white film. A few big bubbles rising from the bottom.
S) Very different; very strong smell of yeast, like in a 1980s home brew shop. Some slight fresher citrusy notes, reminiscent of a hefeweizen.
T) Quite bitter, certainly hop-led. Reminiscent of a Belgian pale ale. Yeasty. Not really like anything else I have drunk.
F ) Well carbonated and some weight in the mouthfeel. The yeastiness gives a depth of flavour. There is hop bitterness, but it does not linger unnecessarily in the mouth after the gulp. Its not white and it doesn't taste anything like a stout, but it is a flavourful drinkable strong beer and a 500ml bottle too, strongly recommended for anyone who is looking to try something different.
★
874 characters
4.12
/5
rDev
+5.9%
look: 3.5 | smell: 4 | taste: 4 | feel: 4.5 | overall: 4.5
Purchased at the Durham Brewery's brewery shop, this ale, according to Steve the Head Brewer, is a re-creation of an old tradition of strong pale ale (termed "Pale Stout" here), before Stout was permanently attached to the increasingly popular Porter ale in the 18th century. Judging from this intention, against the background of British brewing history, I would have thought that it only does justice to categorise this ale as a Barleywine, or a Stock Ale even, given that the paler type of ales (e.g. Burton-style pale ale) had not been invented and distributed around the globe (right?). Coming in a 500ml brown bottle, BB 08/2014, served cool in a straight imperial pint glass.
A: pours a translucent, dark orange amber body, coming with a dissipating white fluffy beer head and rather restrained carbonation. The colour is a bit… too light, for any Barleywine, I've got to say.
S: the nose gives itself away – there's no stale-ness or weighty maltiness; instead, this ale smells like a modern, hoppy IPA! It's full of mango, green guava, ripe star fruit like fruit esters, sherbet, and aromatic, piney, hay-ish & orangey hops, on top of a weaker presence of rather pale malts. The smell is rich and condensed enough to serve as a reminder of its alc. content, and also of the weight of malts, although it definitely does not manifest in the form of sweetness.
T: wow… the initial, clean palate of fruity hops is quickly superseded by a flow of lightly stinky/leather-ish/earthy biscuity malts and Fuggles-like dried leaf hops, underneath an overwhelming wave of chewy but not overly tannic hop bitterness, then the bitterness sinks in to render a really deep, long aftertaste of earthiness with a mild savoury touch as possibly caused by yeasty elements/sediments, as well as tropical-fruit estery aroma that lingers well. The IBU is certainly on the high end, while the body of malts seems to retain itself pretty well on the other hand; the result is a harmonious strong pale ale that indeed is like one's modern IPA but not quite… so.
M&D: very well bottle-conditioned, as demonstrated by the healthy supply of tiny bubbles experienced on the palate, this ale tastes fresh despite its alc. content, and the alc. hides exceptionally well behind, leaving only a wee bit of warmth to be enjoyed in the long finish. Like the previous reviewer, I can't seem to agree on the category submitted here, but this is a successful bottle-conditioned strong pale ale all the same, deserving a round of applause for the lovely aroma and taste it shows.
★
2,572 characters
White Stout from Durham Brewery Ltd
3.89
out of
5
based on
14
ratings.