Biergarten Viktualienmarkt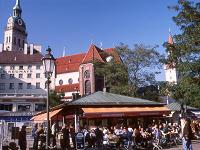 PLACE INFO
Type:
Bar, Eatery
Viktualienmarkt 9
München
, 80331
Germany
+49 89 29165993 |
map
biergarten-viktualienmarkt.de
Notes:
No notes at this time.
Added by bierman2000
Reviews: 9 | Ratings: 16

4.31
/5
rDev
+4.4%
vibe: 4.5 | quality: 4.5 | service: 4 | selection: 4.25 | food: 4.5
A special place distinct for Munich. A wonderful cute regular market surrounds a bust but picturesque biergarten. The beer served is always from Munich but from which Munich brewer differs day to day. Good beers and good food.
226 characters

4.5
/5
rDev
+9%
vibe: 5 | quality: 5 | service: 3 | selection: 5 | food: 5
The Viktualienmarkt in Munich is possible one of the greatest places you can ever visit ever. It is like a giant farmers market/ flea market where an array of wonderful food and crafts can be bought. The market itself is nestled behind Marienplatz. Every morning, I would go to the market and buy fresh cheese spreads, olives and bread from a Turkish stand. I would wash this down with a liter of beer purchased nearby in the market. There are many giant wooden benches to eat and drink at; attendants clean up after you so it is very clean.
541 characters
3.73
/5
rDev
-9.7%
vibe: 4 | quality: 4 | service: 3.5 | selection: 3.5
This is a small Biergarten in Viktualienmarkt, simple enough.
It is nice to be in the shade of the trees. Me and some friends were here on a sunny Friday afternoon. We got some food from the surrounding vendors and sat here to eat it and enjoy some beer. The food at the markets here can be expensive so watch out. The beer isn't as bad. When you are done you can rinse your hands off in a fountian.
It isn't the quietest or best Biergarten, but it is worth a stop if you are in the Viktualienmarkt or around Marienplatz.
523 characters
4.08
/5
rDev
-1.2%
vibe: 4 | quality: 4.5 | service: 4.5 | selection: 3 | food: 4.5
A very easy biergarten to find and visit. Just off Marienplatz, in Viktualienmarkt, a great outdoor market. Walk around the market, checking out the dozens of produce vendors, then setlle down for dinner here. Self-serve with a small marked-off waited-on section. Good food from the small stand, including bavarian favorites- sausages, kraut, etc. Great food. Nothing crazy about the selection here, just the normal picks for any biergarten. Very convenient location. If you don't speak German, but don't want to experience bavarian culture in the middle of 100 tour groups in the hofrauhaus, this is the place to go. A lot of locals go here even though it's right in the middle of the tourist area of the city. All the people serving food and beer here speak English and are friendly. If you do speak German or want to travel further, I'd head to Hirschgarten.
861 characters
4.05
/5
rDev
-1.9%
vibe: 4.5 | quality: 4 | service: 4 | selection: 4 | food: 4
Strolled into the market expecting the standard kind of stuff, but in the end discoved this little gem of a beer garden.
A mass of tables within the market with several stalls selling draught Helles and bottle Hefes along side some pretty tradtional German beer food from hot on the plate food to "make your own" deli selections.
I had a Helles and a Hefe from Hacker-Pschoor. Delicious. To go with this was the Weisswurst and a dirty big salty pretzel. Not too shabby for 11AM on a Saturday.
Large variety or people here, a lot of tourists, means it is a good place to relax for a while on the communal tables.
Well worth a stop when doing the central sights of Munich!
675 characters
4.35
/5
rDev
+5.3%
vibe: 5 | quality: 4.5 | service: 4 | selection: 4 | food: 5
This is one of my favorite places to go in Munchen, period. There is nothing like the fact that there is a large biergarten in the middle of a large city. The biergarten has a different bier on tap daily, the 6 main Munchen breweries share this spot, so you can always get a good bier. Spaten, Paulaner, Augustiner, etc. Good stuff.
There are many food stuffs around. You can get great bavarian faire or fish or simple bread items.
The atmosphere in this biergarten is the best around. You see tourists, locals, and people of all ages hanging out having a bier, talking, reading, people watching, etc. Always a great time and a great place to spend a few hours.
I highly recommend this area and plan to spend a few hours and a few euros...Prosit.
749 characters
3.79
/5
rDev
-8.2%
vibe: 4.5 | quality: 4 | service: 3.5 | selection: 3.5
This is a great place to visit on a fine sunny day, stroll around and see the sights (and some weird things too!) have a beer and maybe something to eat. Lots of seating and tables under the trees and among the market stalls, though in fine weather you might find it difficult to find an empty place! But great atmosphere with locals and tourists enjoying themselves, plenty to see and do as you stroll about the market stalls, see the sights, and the smell of food and fresh produce & flowers, or even pick up a bargain too. A must see when in Munich, even if you do not find a seat to sit and enjoy the beer of the day!
JohnW
B'ham UK April 2007
651 characters
3.73
/5
rDev
-9.7%
vibe: 4 | quality: 4 | service: 4 | selection: 3
This beergarden is situated right in the middle of Munichs main open air market.
Each brewery takes it in turn to sell their beers at the hut, this time my visit coinsided with Lowenbrau. Draught Helles, or bottled dunkel and wheat beers are all that is available, no matter which brewerys beers are on offer.
So a Masses of Lowenbrau Helles were drank, while the girls went and bought the rolls, meat, cheese and olives from the surrounding market, for lunch. They found us (sod it) and laid out the food and shared the next litres!
Full of locals shopping and doing the same as us, eating and drinking the good local stuff. If the weather is good and you are in Munich, make the effoert and see whos beers are available.
731 characters
4.25
/5
rDev
+2.9%
vibe: 5 | quality: 4.5 | service: 4 | selection: 4 | food: 4
I have been here numerous times, so I was a bit surprised to find I had never reviewed it. So...
The Viktualienmarkt is unlike any other Biergarten you may have come across in München, or Germany altogether. It is really a conglomeration of a farmers market, numerous small food shops, craft stands, and outlets which offer food and bier... all put together in a big, open-air square in the middle of the city, just a short stroll from the Marienplatz. You can get fresh, uncooked sausages to bring home and cook, hardy cheeses, warm loaves of bread... you name it. Fruits, vegetables, flowers, even wreaths and other decorations made from hops and hop-vines.... take your pick, there will be a stand here with what you want. Hungry now? Grab some Nürnburger Bratwurst mit Senf in a roll and stroll around a bit. Or go into one of the self-serve shops and grab a plate of Currywurst mit Pommes. Find a bench or chair at a table and wash it down with a tasty local bier.... There are many different shops to grab a bier from, serving the big-6 local stuff, as well as some goodies from outlying German towns, like Aying and Kaltenberg...
One of the larger establishments here has waiter/waittress service for you if you like. It's still outdoors, but please note: the table-cloth on the table signifies that it's waiter served; no cloth = self-serve and self-seat...
So, buy some Wurst at one stand, some cheese elsewhere, grab a bier... find an unclothed table and have yourself a picnic-lunch München-style. Most every German Biergarten allows you to bring your own grub and sit for a spell and munch, so long as you buy Bier from them. No problem...
Great atmosphere.... tasty food... thirst-quenching Bier.... go for it!!
Zum Wohl!!
overall: 4.25
atmosphere: 5 | quality: 4.5 | service: 4 | selection: 4 | food: 4 | $
141
1,834 characters
Biergarten Viktualienmarkt in München, Germany
4.13
out of
5
based on
16
ratings.