Der Königliche Hirschgarten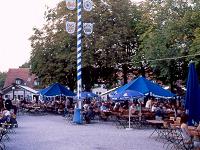 PLACE INFO
Type:
Bar, Eatery
Hirschgarten 1
München
, 80639
Germany
+49 89 17999119 |
map
hirschgarten.de
Notes:
No notes at this time.
Added by bierman2000
Reviews: 10 | Ratings: 14
Reviews by Domingo:

4.2
/5
rDev
+6.3%
vibe: 4.5 | quality: 4.5 | service: 4 | selection: 4 | food: 4
The largest biergarten in the world. Who knew?
The actual garten is located about 10 minutes from the Laim S-Bahn stop.
It's a pretty giant park that's built around the biergarten itself. When you walk in there are pens full of deer and horned sheep. There are also 2-3 playgrounds for the kids and several wide open fields. About 100 yards ahead is the area with the food, beers, and restaurant. If you keep walking, there are small hiking trails that circle the park, grill areas, a half dozen large fields, and a small wooded area in the back.
On to the beers/food, right? They serve Augustiner hell, Tegersnee Spezial, and Konig Ludwig Dunkel and Weiss. Pretty odd to see 3 different brewers at one garten. The Tegernsee Spezial is popular, but a bit boring to me. However the Kaltenberg items and Augustiner hell are great options. You can also get radler/russ/juice/cola mixes of anything if you like.
For food, they have the standard items you'd expect (Leberkase, ribs, obatzda, fish on a stick, pork knuckles, etc.) and prices are affordable. The full service restaurant is supposedly wonderful, however we didn't eat there. On their menu, there were other beers like Augustiner weiss, which is always a plus.
This is a great get-away park for anyone looking to relax and have few great beers. Plus, it's only about 10-15 minutes from downtown Munich.
Definitely stop by if you can.
Edit: The restaurant (Koniglicher Hirschgarten) is pretty tasty, has a larger list of beer options, and had excellent prices, too. We showed up on a day with rain, so the normal establishments weren't open, but the restaurant was good enough that I wasn't even overly disappointed. It's probably worth noting that there's now a Hirschgarten S-Bahn stop that has you approaching the park from the other side...but is actually a bit further from the biergarten itself!
1,861 characters
More User Reviews:
4.38
/5
rDev
+10.9%
vibe: 5 | quality: 5 | service: 4 | selection: 4 | food: 3.75
Lived in Munich for two years and this biergarten was my favorite. Augustiner on tap from wooden barrels? Pro tip - bring your own food.
136 characters
3.85
/5
rDev
-2.5%
vibe: 3.5 | quality: 4.25 | service: 4.5 | selection: 3 | food: 3.5
4.04
/5
rDev
+2.3%
vibe: 4.5 | quality: 4 | service: 3.75 | selection: 4 | food: 4.5

1
/5
rDev
-74.7%
vibe: 1 | quality: 1 | service: 1 | selection: 1
For the first time in my life I was escorted off the premises.
I was taking lots of photos because it was so nice. Then someone behind one of the food counters started shouting at me "Loeschen, loeschen" ("Delete, delete). OK, I thought, he wants me to erase the photo of him. So I did. Then he told me to erase all my photos of the beer garden I erased a couple and went back and sat down.
Then the boss (Johann Eichmeier) came and told me I had to show him all the photos I'd taken and erase them, even the ones that were just of my beer. He threatened to call the police if I didn't. Even the one of the entrance, taken from the street. He claimed that it was all private property and I couldn't take any photos. He followed me out onto the street shouting insults at me.
It's the most unpleasant experience I've ever had in a pub. And the only time I've ever been thrown out.
I've taken photos in thousands of pubs. I've never had that reaction before. so aggressive and threatening. It really spoiled what had been a great experience.
I really wouldn't recommend going there, unless you like being shouted at and threatened.
1,135 characters
4.25
/5
rDev
+7.6%
vibe: 5 | quality: 4.5 | service: 3.5 | selection: 4.5 | food: 4
I have to start by saying that I love the German biergarten, and German food. I visited 8 in Munich which I was there, and this one was my favorite. The service is average, as far as biergartens go. Self service, and a small waitered section. I was there for one of the Germany world cup matches so of course it was completely packed. I still had a great time, though. The place is just huge- I hear the biggest in the world? And I had trouble finding a seat. They had plenty of TVs, and many stands open, so you never waited too long for your next mass. A good selection, too, as you could get more than just helles. They have one stand that does the "special" stuff, which one of the guys filling beer, very busy, politely directed me to when asked (in German). There you'll find Konig Ludwig Dunkel, which I enjoy as a widespread dark german beer.
It's in the hirschgarten, obviously, "deer park," and they stock the park with different animals. The park and biergarten was filled with locals, as it's a little ways away from the city, and about a 10 minute walk from the closest u-Bahn station. I'd recommend this biergarten over any other.
1,145 characters
3.65
/5
rDev
-7.6%
vibe: 3.5 | quality: 4.5 | service: 3 | selection: 3 | food: 4.5
Octoberfest 2009: After spending the early part of the afternoon in the Fischer Vroni my wife, bierman9 and his mate decided to take the s-bahn out to here.
The park in which the Hirschgarden sits in is huge, we arrived in daylight and left in darkness, could we find our way back to the s-bahn? No, is the answer you are looking for. My wife I evendually found our way to a bus stop and managed to miss our train out of Munich by 10 minutes!
Augustiner beers only, we had the O'Fest Marzen, just to top up what we'd had earlier. Sat on a bench seat, we passed the time away putting the world to rights and the merits of various beers, towns and bars, great fun. There was just one serving area/bar where you queued up to get your beer or food. The curry-wurst and chips we had were fantastic, the beers just as good as you'd expect, fresh and far too drinkable.
This is a place to visit if you like open spaces, deers (there is a compound full of them next to the beergarden) and Augustiner beers. Just make sure you leave before dusk sets in.
1,047 characters
5
/5
rDev
+26.6%
vibe: 5 | quality: 5 | service: 5 | selection: 5 | food: 5
I can't say enough good things about this biergarten. I visited during Oktoberfest 2007 and found it to be outstanding. The weather was perfect, they had a great band playing, the place was pretty busy but not overly packed - no problems finding a seat. Beer was great, good food selection. The atmosphere is amazing, set in the middle of a big park, with deer next to you. I wish they had these in the U.S., I'd be there every weekend. The only downside, I guess, is that it is in the outskirts of Munich so it is a short trainride and then a short walk to get there (if you are staying near the Oktoberfest fairgrounds). Well worth the visit, can not recomend it enough!
672 characters
3.8
/5
rDev
-3.8%
vibe: 4.5 | quality: 4 | service: 3 | selection: 4 | food: 4
I came here on a Sunday night for dinner and beers (after an awesome weekend in Munich). There were no tourists as far as I could tell, probably due to the slight effort required to get there. Easy if you know about it, just take any S-bahn to Laim. then walk about 10 minutes to the beer garden. The Beer Drinker's Guide to Munich served me well once again.
There were thousands of seats here, almost all at picnic tables surrounded by a beautiful park. There were large penned in areas with deer grazing, some actually had small racks. The deer were really friendly, you could feed them from your hand. The beer selection was pretty good, several breweries to choose from (Augustiner, Tegernsee, and Kaltenburg). I went with Tegernsee as I never had it before. It was OK, actually really good in 1L given the unbelievable surroundings. The food was self-serve for the most part, although there were some tables in front of restaurants on one side. The food was great, half chickens and pretzels, Bavaria.
What a great way to spend a Sunday.
1,048 characters
4.25
/5
rDev
+7.6%
vibe: 5 | quality: 4.5 | service: 5 | selection: 3 | food: 4
Great beer garden, apparently the largest in Europe (I think). Whilst staying in Munich, our hotel was a two-minute walk. It was a great place to start your day. Great food and litres of Augustiner. Since it is in the suburbs of Munich, it is not packed with tourists. I saw many families and couples bring in their own food as well and set up little picnics. This is the kind of place that makes you want to pack up and move to Europe and open a bed and breakfast. The service was very quick and friendly. The deer were also a nice touch.
539 characters
4.15
/5
rDev
+5.1%
vibe: 5 | quality: 4 | service: 3.5 | selection: 4.5 | food: 4.5
This place is awesome! I have been to quite a few beer gartens now and I have to say that --this is my favorite--. I went twice while in Munich: on a Friday around dinner time in great summer weather, and again on a cold rainy afternoon. I can sum up the cold rainy afternoon visit by saying it was cozy, very much relaxed, and mostly empty. However on the warm Friday, the Hirschgarten was packed!! The place holds about 9000 people and I still had to search for a seat! I had an Augustiner which is always a good choice in Munich. Selecting a mug, rinsing it, and having it filled for me was a very unique experience and I enjoyed it. The place is mostly occupied by Munchners having their beers or meals. There was a large group of people next to us drinking beer and playing cards. In addition to your typical pork, sausage, and potatoes you can find a lot of fish here. You'll smell it on the way in. The Tiergarten next door is a good place to relax as well, featuring a fenced in area of some large antlered deer. I will definitely return.
1,046 characters

3.86
/5
rDev
-2.3%
vibe: 4 | quality: 4 | service: 4 | selection: 3.5
I witnessed a torrential downpour, while drinking a liter of bier under a biergarten tent here. It was one of the finer experiences i had. There is something about being in a safe haven with a liter that lifts the spirits. The workers were very helpfull and even delivered some food to neighboring tables using umbrellas. It was quite chilly that day, so it wasn't very busy.
My group got to this garten a different way than Bierman did. We first visited the western-residence, nurenburg or nymphenburg, i cant recall. We then walked south for about 15 min and came upon the north entrance.
Good place to check out and from what i saw the food looked good.
662 characters
4.06
/5
rDev
+2.8%
vibe: 4.5 | quality: 4 | service: 4 | selection: 4
I finally got to experience the reknowned Hirschgarten! I tried here in 2001 on a cloudy, cool day, and it was closed! This time it was sunny and almost 80F. The Hirschgarten is a very large Biergarten (I believe the largest in the world, according to The Beer Drinkers Guide to Munich) in München. It is easily reached by taking most any of the main S-Bahn lines to the Laim stop. From there, it is about a 15 minute walk, first through a traffic tunnel, and then through large playing fields and past the enclosed deer-pens. There are hundreds of long tables and accompanying benches and chairs scattered throughout the large, outdoor complex. One particular area has tables with table-cloths and umbrellas. This is the area where you can get served, if you like. Otherwise, at tables without cloths, it is self-serve, and you can bring your own picnic-type lunch to eat, so long as you order bier from the Hirschgarten. Bringing your own Bier is a big etiquette no-no! There are 4 or 5 Bier stands around the area, serving different brews. Some have Augustiner, others Bier from Bräustüberl Tegernsee, and yet others with the Kaltenberg products. I chose a Kaltenberg WeissBier and a table under a big-ass chestnut tree. If you opt for a litre of Augustiner, for example, you must select a glass mug from a shelf, rinse it, and then give it to the Bier-pourer before you pay. Getting a Weissbier, they take of the glass for you. It is a very relaxing, enjoyable time! It's hard to imagine you're almost in the middle of a city of millions while sitting and enjoying a bier in the relative calm of the Hirschgarten. Selection is good, though I'd personally recommend Augustiner or Kaltenberg, which are quite good, before the Tegernsee offerings. Service is how you rate yourself, in this instance, as I bought and lugged my bier to my table!! ;-) Zum Wohl!!!
overall: 4.06
atmosphere: 4.5 | quality: 4 | service: 4 | selection: 4 | food: n/a | $$
65
1,957 characters
Der Königliche Hirschgarten in München, Germany
3.95
out of
5
based on
14
ratings.