Guinness Open Gate Brewery & Barrel House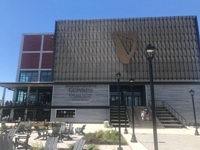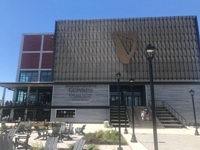 Brewery, Bar
5001 Washington Blvd
Halethorpe
,
Maryland
, 21227
United States
|
map
guinnessbrewerybaltimore.com
Notes: We're here to combine 259 years of Guinness brewing experience with American beer creativity.
The U.S. is the world's epicenter of beer innovation. American brewers excel at re-interpreting traditional styles and creating new ones. So, we decided it's time to open our first stateside brewery since 1954. Our site in Baltimore will take everything we've learned in Ireland and up the ante with an experimental brewery, taproom, restaurant — and a barrel house, enabling us to experiment using our centuries-old expertise in aging beer in wood.
THREE BEER MAKING FACILITIES (ON THE SITE OF A FORMER WHISKEY DISTILLERY)
1. 100-hectoliter production brewery where we make Guinness Blonde and other new Guinness beers.
2. 10-barrel experimental brewery where we explore new Guinness beers.
3. A barrel-house, where we experiment with aging Guinness beers in an assortment of spirits barrels.
WE'RE LOCATED ON THE SITE OF THE FIRST MARYLAND DISTILLERY OPENED AFTER PROHIBITION.
Since 1934, whiskey has been distilled, aged and blended right here. The building that contains our tap room, experimental brewery and barrel-house is one of four rick houses specifically constructed to age whiskey in oak barrels. We're just adding a new chapter for beer.
Reviews by Chris_n_Rod:
Chris_n_Rod from Massachusetts
4.23
/5
rDev
+2.9%
vibe: 3.5 | quality: 4.25 | service: 4.25 | selection: 4.5
Once you get over the fact that it is a bit of a tourist trap and will therefore be kinda cheesy, it is a nice place to enjoy some beer. The outdoor section on a nice day is a fantastic place to be and they have a great selection of dark beers with new offerings being released regularly. I wouldn't say it's a place to go out to regularly, but definitely worth a stop if in the area!
Nov 12, 2019
More User Reviews:

Fr33man from Maryland
3.9
/5
rDev
-5.1%
vibe: 3.75 | quality: 4 | service: 3.75 | selection: 4
Tour and tasting was fantastic. Service was average and the Guinness 200th anniversary was supposed to be on tap wasn't available. Excellent but pricey food in the restaurant.
Jan 19, 2020
zachattack12 from Kentucky
4.33
/5
rDev
+5.4%
vibe: 4 | quality: 5 | service: 5 | selection: 3
Vibe: a little bit on the corporate-y side, but other than that, it was pretty cool. It was almost like a museum of brewing, so that was interesting. I went early in the day, and it wasn't too crowded. By the time I left, herds of people had come in. Glad I came when I did.
Quality: Over the Moon... a stout that I actually like. That is almost impossible. That alone gives them 5 stars.
Service: Excellent. Everyone here was incredibly nice. The bartender was very friendly and helpful. I guess she was a different person than the other reviewer had, because she encouraged us to try different samples of the beers (she gave my friend FOUR samples before he also settled on Over the Moon). The people that work here seemed to genuinely enjoy their jobs. Way to go!
Selection: Very, very dark beer heavy. While I'm usually not a fan, they actually had some pretty good ones. Tried sips of the Barrel Aged Stock Ale, and it was really good. If you aren't a fan of dark beers, they had a raspberry ale and I'm pretty sure I spotted some bottles of Flying Dog for sale.
Dec 02, 2019
Arg914 from New York
4
/5
rDev
-2.7%
vibe: 4 | quality: 4 | service: 4 | selection: 4
Aug 22, 2019

O-Meg from New York
3.71
/5
rDev
-9.7%
vibe: 3.5 | quality: 3.5 | service: 4 | selection: 3.75
Aug 22, 2019

gabe71tx from Virginia
4.1
/5
rDev
-0.2%
vibe: 4.25 | quality: 4 | service: 4 | selection: 4.25
Jun 18, 2019
macshark from Virginia
4.5
/5
rDev
+9.5%
vibe: 4.5 | quality: 4.5 | service: 4.75 | selection: 4.25
Apr 29, 2019

Higdon from Maryland
4.46
/5
rDev
+8.5%
vibe: 4.75 | quality: 4.5 | service: 4 | selection: 4.75
Dec 28, 2018

JonB25 from Delaware
3.67
/5
rDev
-10.7%
vibe: 3.75 | quality: 3.5 | service: 3.75 | selection: 3.75
Oct 26, 2018

BillRoth from Maryland
3.91
/5
rDev
-4.9%
vibe: 3.75 | quality: 4.25 | service: 3.75 | selection: 3.75
Big shiney new and corporate like. Everything including people are nice. But pretty sterile.
Beer selection is wide but let's face it... this is Guinness entering a robust diverse craft beer market that it is just another... and relatively untried option. That tastings weren't offered/almost discouraged... does little to help someone try something without purchase.
Getting high quality and properly poured Guinness and FES is very welcome. But visit likely to be a one off.
Worth going /experiencing once.
Sep 21, 2018

paulish from New York
4.25
/5
rDev
+3.4%
vibe: 4.25 | quality: 4.25 | service: 4.25 | selection: 4.25
Sep 01, 2018

Boone757 from Virginia
4.3
/5
rDev
+4.6%
vibe: 4.75 | quality: 4 | service: 4.25 | selection: 4.5
Feb 22, 2018
Guinness Open Gate Brewery & Barrel House in Halethorpe, MD
Brewery rating:
3.88
out of
5
with
270
ratings