1602 Colonial Style Porter
| Buzzards Bay Brewing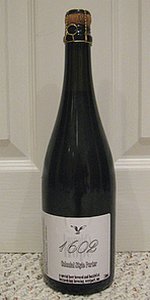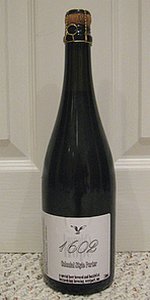 BEER INFO
Brewed by:
Buzzards Bay Brewing
Massachusetts
,
United States
buzzardsbrew.com
Style:
American Porter
Alcohol by volume (ABV):
not listed
Availability:
Rotating
Notes / Commercial Description:
Formerly known as "Buzzards Bay 1602 Colonial Style Porter".
Added by taez555 on 02-15-2009
This beer is retired; no longer brewed.
Ratings: 12 | Reviews: 8
Reviews by jlindros:
4.22
/5
rDev
+19.9%
look: 4 | smell: 4.5 | taste: 4 | feel: 4 | overall: 4.5
Wasn't sure what to list this beer as, so I think "Sour Porter" is the best description. If I remember correctly, they took a porter style and soured it with some spontaneous fermentation and blended it with the original porter. I'm sure I mixed up some of the details there, but hopefully it's close enough. It was an experiment they did that I hope they make a full time product.
A: Big thick 2 finger head and very dark color of the beer, a little light comes through showing some chunkage.
N: Some dark malts and roast, a similar porter style nose, then some sour fruits and yeast come through. Hints of chocolate tartness.
T: Similar to the nose, a malty porter like taste to start, then lots of sour tart fruit. A little more roast and chocolate malts and other dark malts. Some tangy and acidity, and a light raspberry flavor.
M: Medium body with lots of carbonation.
F: A little sour to finish with some lingering roast and porter flavors, and more bright fruit. It's also pretty dry.
999 characters
More User Reviews:

2.71
/5
rDev
-23%
look: 4 | smell: 3 | taste: 2.5 | feel: 3.5 | overall: 2
Picked this up in July.
Dark, opaque brown with a massive, foamy head that shrinks into a thick, lumpy top. Estery, gassy aroma at first. Dark chocolate and sour cherry and apple...not really like your average porter. Chocolatey porter-like flavor with a significant, ever-lingering sourness underneath. Winey, tart dryness. Milky, floaty mouthfeel, but sour. It's not really my thing...seems like an accident.
411 characters

4.4
/5
rDev
+25%
look: 4 | smell: 4 | taste: 5 | feel: 4 | overall: 4
Buzzards Bay came up with a great idea for this one...taken from buzzardsbrew.com:
"OK, here's a dilemma that the colonies dealt with: we order some Porter from our cousin in England and when the hearty brew arrives via boat, well, it isn't like it was back home; the rish sweetness has dried out and the beer is decidedly tart. And so it is with our special release small batch 1602 Colonial Porter. This slightly soured beer has lots of dark roasted malts and plenty of rich layered complexity. Great brew for hearty winter fare like yankee pot roast, beef stew or robust venison dishes.
Oh, and in case you're wondering, 1602 was the year that Buzzards Bay was discovered by the English explorer, Gosnold."
pours a pitch black black color with a thin once finger beige head that simmers into a decent lacing around the glass.
smells great. a slightly sour smell up front gives way to dark roasted malts. very interesting. smells like no other porter i've had before
tastes..wow. amazing. rich dark roasted malts up front (maybe coffee or chocolate malts...or both) quickly give way to a sour slightly tart flavor...almost a cranberry like tartness. i've never had a porter like this before. this is absolutely remarkable. well done.
drinkability is good. i could drink quite a few bottles of these. too bad they're kinda hard to come by.
overall-- this porter will blow your mind. either you'll love its distinct tartness or hate it. either way, it'll raise any beer lover's eyebrows. this is quite a ballsy attempt at a porter-- and they nailed it. get this beer and enjoy it.
1,586 characters
4.08
/5
rDev
+15.9%
look: 4.5 | smell: 4 | taste: 4 | feel: 4.5 | overall: 4
Poured from a corked & caged 750ml bottle into a US tumbler pint glass.
A: The beer is a deep dark brown color, with a large foamy light brown head that fades slowly and leaves a thick lace on the glass.
S: The aroma is estery and contains roasted malts, coffee, dark fruits and a touch of hops.
T: The taste starts with a quick burst of tartness that fades into a robust dark roasted malt character and semi-sweet flavors of black coffee and dark chocolate. There's a touch of smokiness and a very mild but complementary hops presence. Everything together keeps a good balance and a very good complexity. The after-taste is slightly tart and slightly sweet.
M: Smooth and very crisp, medium body, medium carbonation, finish is clean and dry.
D: Tasty, goes down easily, not too filling, decent kick, good representation of style while adding a conceptual twist, this is an excellent beer to drink if you're looking for something a bit different and intruiging.
966 characters
3.18
/5
rDev
-9.7%
look: 4 | smell: 3.5 | taste: 3 | feel: 3 | overall: 3
Caged and corked, purchased this beer at the Brewery in September '09. Considering Buzzard's Bay is closing, this may be the first and last time I taste this beer.
This beer poured a dark black body with a effervescent off-white head. Doesn't really sit there, more of a soda type that'll go down pretty quickly.
Nose is classic porter yet slightly muted. Chocolate, fresh dark grain, little touches of coffee, some nice ale like caramel malt smells that give it that classic porter, right on the end of being a stout, but still retaining pale ale sort of smell.
Tastes is medium to light bodied with a very strong thin mouth feel at first with a metallic thin overly carbonated effervescence. It continues to be very thin on the tongue but it goes into a very sharp fruit, almost a sharp apple tartness, mixed with some subtle cherries and then into a dark burnt malt, coffee, dark chocolate, sort of taste. Chocolate covered apples. Hmm.... Hops are kept to a minimum with only enough peeking through to give it a little bitterness and earth. Ends with a lingering tartness.
Very tart for a Porter. Almost like it's starting to go. Considering Buzzards is co-owned by a winery, I'd almost say wine-line. It's decent, but to be honest, it needs to be higher in ABV to hold up or necessitate a 750ml bottle. I can't imagine this beer will age well at all.
1,360 characters

3.65
/5
rDev
+3.7%
look: 4 | smell: 4 | taste: 3.5 | feel: 3.5 | overall: 3.5
750ml corked and caged bottle purchased at the brewery in November of 2009. Served in my SA Sensory pint. Poured like cola - color, consistency and the sizzle/pop of the head. Head was two inches, khaki-colored and rootbeer float-like and slowly receded into a quarter inch consistent cap with some arcs of lacing adhering to the walls of the glass during the tasting. Interesting aromas off the cork pop - some sour/tart dark fruit hits the nose initially, but a malty/roasty/chocolatey character makes up the backbone. Taste is a much more muted and a bit watery - the boldness of the nose dissipates in the flavor profile with the slightly sour/tart dark fruit being the most dominant quality, yet still a shadow of the nose. Mouthfeel is light-medium, just shy of prickly and also a bit gassy. This beer has some potential; however, the gassy nature of the body and the dull flavors detract from the overall experience. Decent, but a bit of a let down.
956 characters

4.2
/5
rDev
+19.3%
look: 4 | smell: 4 | taste: 4.5 | feel: 4 | overall: 4
I picked up the champagne-corked bottle from the brewery a few months ago for $7. Not a bad price for a bottle of that size.
It looked very nice in the glass. The smell was strong and acidic, which was a hint of things to come. It felt good in the mouth with the roasty, dark malts quickly yielding to a sourness I've only experienced in a few lambic beers. Had I not expected it, the sourness might have been confusing and off-putting. Because I had been anticipating the sourness it was a welcome delight.
It isn't an everyday beer, but it certainly is a nice treat at a great price. Great to share with a group of beer geeks who are looking for a new flavor they may have never experienced before.
703 characters

4.02
/5
rDev
+14.2%
look: 4 | smell: 4.5 | taste: 4 | feel: 4 | overall: 3.5
Thanks to sleepydave for bringing over this rare treat.
Pours a dark, dark brown with a thin, light-tan head. Light lacing left behind.
The aroma reminds me a bit of Cuvee de Tomme and some of the other Lost Abbey sour offerings. A little bit of vinegar, cherries, blackberries, oak and vanilla. Touch of alcohol. Some darker malts and light funk. Quite good.
The flavor is thick with vinegar notes, cherry, blackberry, green apples and hints of chocolate and darker malts. Some alcohol and vanilla. Probably the best soured porter I've had, but I haven't had too many.
Mouthfeel contains a bit of mouth puckering, light carbonation and a decently thick body. Rich with some warming alcohol.
Drinkability is fairly good, but the thickness, sour notes and ABV do cut it down a bit. I'm unsure of what the ABV is, but you can definitely start to feel it. A good sipper.
Overall, I thought this was a pretty good beer. I've heard that this was intentionally soured and I've also heard that it was meant to be a normal imperial porter that got infected. Either way, it turned out to be a pretty tasty soured porter. Worth trying if you know anyone that has a bottle or two.
1,175 characters

1602 Colonial Style Porter from Buzzards Bay Brewing
Beer rating:
41.7%
out of
100
with
12
ratings