Dismiss Notice
Undrinkable Ale
| Buzzards Bay Brewing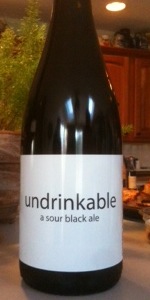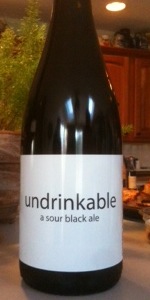 BEER INFO
Brewed by:
Buzzards Bay Brewing
Massachusetts
,
United States
buzzardsbrew.com
Style:
American Wild Ale
Alcohol by volume (ABV):
not listed
Availability:
Limited (brewed once)
Notes / Commercial Description:
No notes at this time.
Added by jedwards on 12-11-2011
This beer is retired; no longer brewed.
HISTOGRAM
Ratings: 13 | Reviews: 8
Reviews by smcolw:
3.57
/5
rDev
+10.5%
look: 3.5 | smell: 4 | taste: 3.5 | feel: 3 | overall: 3.5
Dark brown color. May be cloudy. Modest head that settles to only rim bubbles. No lace.
Dark sour cherry aroma with some solid high toasted malt.
Leans toward the roasted malt side. This is sour but nowhere near the level of a lambic. The tartness is similar to a cider. The body is rather thin with a high level of carbonation.
332 characters
More User Reviews:
2.67
/5
rDev
-17.3%
look: 3 | smell: 3.5 | taste: 2 | feel: 2.5 | overall: 3
An ominous label from Just Beer. No ABV or other details of any kind beyond the standard redemption values and government warnings.
Cork comes out of the bottle with a healthy pop. Pour is dark in color but translucent, with about half a finger of loose foam which persists.
Smell is straight brett funk -- no other characteristics readily detectable. Taste is similar, funk on the front end and hint of roast without acidity on the back. Mouthfeel is thin but not watery. Despite the label's claims, this is not sour at all, and also quite drinkable. Kind of a difficult rate -- there's almost nothing there other than the classic funky nose and flavor.
656 characters

3.6
/5
rDev
+11.5%
look: 4 | smell: 4 | taste: 3.5 | feel: 3 | overall: 3.5
Reviewed blind as part of Blind BIF 7, courtesy of ShogoKawada. Poured into a tulip.
A - The stream of beer out of the glass is a sort of mahogany, but it looks practically black in the glass. About a finger of sandy head which drops but never reveals the surface of the beer. Decent lacing.
S - A touch of wine-like acidity (definitely thinking this will be sour) with lots of sweet raisins and prunes. Maybe some roastiness? I'm not sure what to make of it.
T - My first thought, spoken aloud: "This is unusual." There's a decent sour pucker, but no sharp acidity, somehow. The sourness vanishes quickly leaving a thin backbone of dry, slightly roasty malt. A tiny bit of the same dark fruits as in the smell, but without nearly as much sweetness. It's weird -- the flavor is pretty intense right when I take a sip, but as soon as I swallow I'm left with the impression that it was kinda bland. Then I take another sip and it's briefly intense again... I still have no idea what to make of this.
M - A bit thin and watery, with a little carbonation.
Overall... I have no idea what this is. It's certainly not bad, but it's not fantastic and it's strange how quickly all the flavors disappear after each sip (my roommate corroborates this). I have absolutely no idea. American wild ale?
Non-blind thoughts:
Well, this certainly didn't live up to its name. I was actually thinking I could just quaff this because it's pleasant but borderline bland. A strange experience and an excellent beer to taste blind.
1,513 characters

3.76
/5
rDev
+16.4%
look: 4.25 | smell: 3.75 | taste: 3.75 | feel: 3.5 | overall: 3.75

3.47
/5
rDev
+7.4%
look: 3.75 | smell: 3 | taste: 3.75 | feel: 3.25 | overall: 3.5
750 ml bottle poured into a snifter. Purchased some time in 2012.
A- dark brown, kinda muddy with a light mocha head that reduces to nothing . No lacing
S- not too good in this category. Garbage - like funk, some chocolate and coffee, acidic.
T- not bad at all! Subtle tartness, sour green grapes, chocolate, light coffee, roasty on the finish.
M- light body, kinda watery. Over carbonated
Pleasantly surprised with this one .. Never thought I'd describe it as complex but that's what it is. Nice base stout characteristics with a distinct tartness for balance.
569 characters

3.23
/5
rDev 0%
look: 4 | smell: 3.5 | taste: 3 | feel: 3.5 | overall: 3
Procured at the Track 84 Xmas party. Served in a tulip. Pours one shade shy of black with a half inch, loose, tan-colored head embedded with tiny pinpricks. Some thin strands of lacing are exposed during the tasting. A really interesting nose on this one - lactic sourness dark malt and spoiled milk (especially as it warms). There's actually not that much happening in the flavor profile - only faintly tart with a charred/ashy character. There's really not much flavor to this beer. Mouthfeel is light-medium in body with a lively, slightly assertive, carbonation and a trace of astringency. Overall, this beer does not merit the name - I wouldn't call it undrinkable but there's not much character to this beer.
714 characters

4.37
/5
rDev
+35.3%
look: 4.25 | smell: 3.5 | taste: 5 | feel: 3.75 | overall: 4.5
A: pours a fairly thick with a black to brown color with about 2 fingers of a khaki head which stayed around for a long while with a good ammount of lacing not any achol legs to speak off when held to the light there ar hints of some lighter brown colors
S: the smell seemed to change a bit as it warmed up but it started with a nice sour funk to begin with with some chocolate and coffee notes underneath after a while while it warmed out some more there was a bit of dank smell which may have been some more hop aroma coming out almost had a sincoe type of smell
T: getting more of the sour and chocolate favors coming through almost like eating dark chocolate with an orange flavor to it but very pleasant overall good mix of maltiness and sour
M: medium body coats fairly well but is a bit thinner than a normal stout
O: overall this is a great tasting sour ale I love the black sour ales that I have had so far and I believe that this stands up fairly well to likes Iof other beers such as tart of darkness great job hop I can get more
1,046 characters


2.98
/5
rDev
-7.7%
look: 4 | smell: 3.5 | taste: 2.5 | feel: 3 | overall: 3
On a trip down to the brewery for a few cases I saw this sitting on the shelf next to the counter. I figured it sounded like a challenge, so I naturally bought a bottle. I let this sit around for a few weeks in the fridge until I finally had a few friends over to share it.
The beer was exactly as the label described: a sour, black ale that was undrinkable. With the warning on the bottle (and on the nose) that this was going to be sour, I was able to look through the tartness and I actually enjoyed the flavor for the first few sips. As I drank more my palate was just assaulted by the sourness to the point that I had to keep taking breaks. The 750ml was a big bottle for even the three of us splitting it - the bottle took a few hours of sipping until we finally worked through it. I don't know that I would buy it again, but it was certainly an experience that I am glad I had.
886 characters

1.89
/5
rDev
-41.5%
look: 3.25 | smell: 1.75 | taste: 2 | feel: 1.25 | overall: 1.75
It seems that they have tried to capitalize on a mistake in brewing. It is not quite "undrinkable", but close. Also, it has the smell of soured wine in the bottle just after opening. Tastes medicinal. The joke is on the person who purchases & attempts to enjoy this beverage.
275 characters

Undrinkable Ale from Buzzards Bay Brewing
Beer rating:
3.23
out of
5
with
13
ratings