Claddagh Irish Pub, The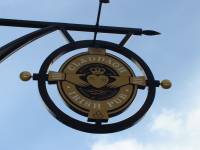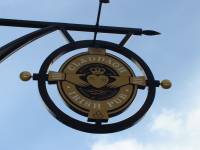 Bar, Eatery
8745 Sancus Blvd.
Columbus
,
Ohio
, 43240
United States
(614) 885-0100 |
map
claddaghirishpubs.com
Notes:
Recent ratings and reviews.
Ratings by BigAlofOrion:

More User Ratings:
Reviewed by goblue3509 from Pennsylvania
3.26
/5
rDev
-5.5%
vibe: 4 | quality: 3 | service: 3.5 | selection: 3
Nice place inside, setup like most other irish pubs you have been in. Located in a strip mall near the polaris mall and across the street from bj's so you could make a beer day out of it. The inside also had an ice bar for your drinks which was a nice touch but not necessary. The selection was what you would expect the usually irish beers with a couple of locals on tap. The service was quick and knowledgeable but I was only at. The bar so not sure bout the waitresses. Overall it was a nice place to grab a beer nothibg special but worth the time for a quickie.
Jul 24, 2010
Reviewed by pullingguard79 from Ohio
3.03
/5
rDev
-12.2%
vibe: 3 | quality: 3 | service: 3 | selection: 2.5 | food: 4.5
By the Polaris mall and one of the few places that is not a large chain (ie Olive Garden, Applebees, TGI Fridays)

I wish I could tell you more about the beers they had but I really can't. When I sat down and looking at the menu I saw the wine menu on the back but there was no beer menu anywere to be found. Just something about a restruant that goes for the irish pub/beer theme and doesn't have a beer menu yet has a wine menu bothers me. Then I asked the waitress what was on tap. She rattled off about 10 beers in about 5 seconds and the ones I could understand were the typical stuff Miller, Bud, Guiness, Bass and harp. She describe a couple beer and she describle one as an "Irish Bud Light" which scared me. I then asked her what type of Ales they had. I ended up with a Smithwicks which was fine.

The food and appertiser were good. The menu followed along the normal pub food. I had a Irish Mote Cristo which was very good.

Overall, the place was fine. Something about not having a beer menu just bothered me. The food was very good. I would not make a special trip to Claddagh since there are better places in Columbus but if I was in the Polaris area I may give it another shot.
Nov 18, 2004
Reviewed by mattcrill from Ohio
3.2
/5
rDev
-7.2%
vibe: 4 | quality: 3 | service: 3 | selection: 3 | food: 4
Tucked away in the Polaris area and a nice oasis in a sea of strip mall madness.

Has that "pub" feel to it even if it is a chain. Tall arched ceilings, plenty of wood, candles all around, arching stone walls, a fireplace, and cobblestone flooring make for a cool little location.

We went on a Saturday night and it took about 10 minutes to get seated. Not bad at all.

Nothing jumps out at you as far as the beers on tap. I would suggest the Claddagh Red. It's made by Goose Island for Claddagh and it's nicely done. You can get the usual assortment of Harp's, Bass, Guinness, Strongbow, Kinsale, and Blue Moon as well as an assortment of bottles and some single malt scotches. Nice but nothing out of the ordinary.

Food here is pretty top notch. I had a bowl of potato and cabbage soup that was pretty amazing. Also, the corned beef and cabbage was most tasty.

A good place to go to check out. I dig Irish food and pubs so this hit the spot for me. I can see why some would say it's kind of bland but it worked for me.
Oct 31, 2004
Reviewed by AtLagerHeads from Ohio
3.66
/5
rDev
+6.1%
vibe: 3.5 | quality: 4 | service: 4 | selection: 3
Not nearly so "Irish" as the other Claddaghs, this location is much too suburban-strip-mall-ish to establish the kind of chemistry as at the other Columbus location on S. Front. The use of wood inside the bar is good and not as heavy and dark as some locations. Also full of windows so it seems lighter and airier. The outside black and gold trimming seems out of place here. The beers are nearly the same, better Irish, though I did not notice the Fuller's and Young's that were at the downtown shop.

Service is very good, in fact, I'd say they looked a bit overstaffed. Good parking unlike downtown and Newport. Definitiely a place I'd like to spend time, though the others I've visited are more appealing.
Sep 04, 2003

Reviewed by Dogbrick from Ohio
3.8
/5
rDev
+10.1%
vibe: 4.5 | quality: 4 | service: 4 | selection: 3 | food: 4
In the Polaris Mall area of north Columbus, this pub adds a much needed element to the scene. Granted it is a chain pub and very similar to most of the "authentic Irish pubs" I am seeing more and more of, but it is pretty much the only place in the mall area where you can get a decent beer. Everything else in the area is of the TGI Friday's/Olive Garden/Red Lobster persuasion.

Located in a strip mall of sorts, parking should not be an issue. The inside is very nicely done. The ceilings are high, the tables and chairs are all wood, and the bar (which is very high) is in the center of it all and has a nice copper look to it. There is a lot of stonework inside, as well as tall bookcases, fireplaces and more than a dozen different chandeliers hanging throughout. There are also a couple of "snugs" which offer a little privacy (always nice). A patio is available as well with a view of a man-made pond and a Bank One corporate office.

The beer selection is not great by any means, but I must say it's nice to walk into a bar and not see any Bud/Miller/Coors on draught. They have the usual Irish beers like Guinness and Harp, as well as Claddagh Irish Red (by Goose Island, the same as Kilgubbin), Blue Moon, Boddington's, Strongbow cider and Hoegaarden. They have around 11 draughts total, and you can get a 2oz. sample of any of them for 25 cents. They also have a sampler of all of their draught beers for $8. The bottle selection is pretty limited, with Chimay Red and SNPA being the only somewhat unique selections I could find.

Service has been excellent. The bartenders are very fast and cordial, and even discuss where to find good beer in the area.

There are lots of traditional Irish plates available. The Monte Cristo was the true test for me and it was very good.
Jul 13, 2003
Claddagh Irish Pub, The in Columbus, OH
Place rating:
3.45
out of
5
with
6
ratings