Brew Depot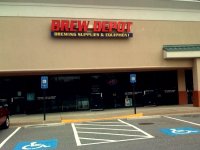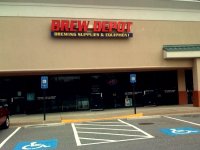 PLACE INFO
Type:
Homebrew
10595 Old Alabama Road Connector Rd
Alpharetta
,
Georgia
, 30022-8276
United States
(770) 645-1777 |
map
beernecessities.com
Notes:
None provided.
PLACE STATS
Reviews:

11

Ratings:

pDev:

12.83%
Reviews: 11 | Ratings: 12
2.63
/5
rDev
-36.3%
vibe: 3 | quality: 1 | service: 3.5 | selection: 3.5
I have been to Brew Depot/Beer Necessities several times. It is the only reasonably stocked HBS near me. I recently purchased a bunch of equipment from them--brew kettle, immersion chiller, fermentation carboys, etc.
Today I went to specifically buy some yeast to repitch a beer. They had the yeast in stock (WLP800), and I let them bag it up, paid for it, and went on home.
When I got home I discovered that they had sold me out of date yeast--two months out of date. The "best by" date was January 20, 2012, and they sold it to me on March 17, 2012.
If I thought it was a simple mistake, I would not be so perturbed. But the clerk that helped me picked through the yeast to get me the two vials he sold me. I find it hard to believe that it was an accident.
762 characters

4.3
/5
rDev
+4.1%
This is my home brew shop and I find myself there at least once a week.
The selection is ok, and the location to my house is excellent.
The best part of the place is the owner Bob. He gives excellent advice on brews and and really solid advice on recipes.
Kits are all Brewers Best, standard selection of other stuff. Nice grain selection and they will grind it for you and seal it into bags. Excellent yeast selection, all kept in a fridge.
If your in the atlanta area, this is the best homebrew supply store around.
524 characters
4.5
/5
rDev
+9%
This is my homebrew shop of choice.
It is a bit out of the way for me, but out of the other homebrew shops in and around Atlanta, this is the best one that i have found so far.
Equipment- They carry a good sized supply of the most common things and will special order items as needed.
Grains- stored in sealed buckets. I would like to see the actual color ratings posted as well, but they will provide if requested.
Hops- Some shortages noticed in 2009, but that was to be expected. I have just found the whole leaf hops section and am pleased.
547 characters
4.45
/5
rDev
+7.7%
The new shop is in excellent condition and just a few minutes from GA400. I go there mainly for ingredients and occasionally to replace tidbits like tubing, gaskets, airlocks etc. So I cannot comment on equipment very well.
Grains: Excellent selection of just about any grain you want. They are all kept in air tight contatiners and I have had good luck with them. I did once buy what was labelled "Amber Malt" but it turned out to be Brown Malt. I'd also like to see the maltster and the °L for each of the specialty malts as Roasted barley can vary from 350°L up to 500°L. That's a huge difference. They sell 55# sacks at a reasonable price too, and this is the only way I buy my base malt. I wish they carried Crisp Maris Otter rather than Munton's though.
Grade: A
Yeast: Again, excellent selection, with a good price. I don't venture into Wyeast often so I can only comment on WLP products. I've never had a bad vial and they very rarely don't have what I'm looking for, twice in two years. I'd suggest calling first if you're looking for a rarer yeast like a platinum strain. Also check the dates on the vials as less common yeasts don't get rotated as often. I've never found an "expired" yeast, but I still always check.
Grade: A
Hops: If you disregard prices, you might not even know we were in a hop shortage based on their selection. They carry lots of pellet and plug varieties with a few whole leaf options too. The only hops I've tried to get and couldn't were Northern Brewer and Fuggles. My one complaint is that the non-plug hops are kept at room temp in non-vacuum sealed bags. They are oxygen-barrier, but that doesn't help much if they're sealed with oxygen in the bag... I try not to buy these unless absolutely needed as you know %AA and oils degrade rapidly at warmer temps.
Grade: B- (refrigerated pellets would make it an A, vacuum sealed and refrigerated would make it A+)
Overall I think this is the best Homebrew shop I've set foot in in the four years and 3 states I've brewed in. I used to buy solely from online shops for price and selection's sake, but Beer Necessities is very competitive with price and matching or beating most shops in selection. I am still buying pellet hops from online retailers though due to the temperature storage situation though.
2,296 characters

4.65
/5
rDev
+12.6%
Am just getting into home brewing and cannot say enough about this place. While I cannot comment on the ingredients selections, which appeared to be great. I wanted to review this place primarily on the basis of service. Extremely helpful, and sharing from a great wealth of knowledge. Had stopped in over the months leading up to the big purchase, and was always warmly greeted, and surprised at the time the owner took, even though I had yet to purchase anything. I will update this review as I learn more, but for any novices out there, this is the place to begin. To me service is of utmost importance, and The Brew Depot (as it says on the sign) is tops in that department.
678 characters
4.3
/5
rDev
+4.1%
Got my first brew kit here and I've been buying my gear from here ever since. Anything they haven't stocked in the past they can get. Great yeast and grain selection. Only complaint is that they let me buy a Fermentap way back when...worst contraption ever. Everything else I've purchased there is great.
Currently they are located at (the address has changed):
10595 Old Alabama Road Connector Alpharetta GA. 30022
Which is a much better location than there previous one...and much larger too.
Very helpful staff especially if the owner or his wife is in.
561 characters
4.35
/5
rDev
+5.3%
Went up here with promises of a cheaper carboy than at Wine Craft.
Quality is good. I didn't notice any egregious problems with the storage of anything.
Service is good. The grain room girl was a bit snarky, but the two owners were very nice and answered all questions I had. They even reminded me to get a stopper for another carboy I bought. They'll crush the grain for you, and even when I called the phone only had a chance to ring once.
Selection was very good. The grain room in the back is very well-stocked, the hop selection is pretty big, and there are plenty of other goodies there. I've only been there once so I can't give a really in depth analysis, but from what I saw there won't be much that I won't be able to find there.
Overall I will be travelling up GA-400 to Beer Necessities instead of Wine Craft. Almost everything is cheaper, and the selection is better.
EDIT: Both the name and the address has changed. It's now off of Mansell Road and the sign reads Brew Depot.
994 characters
4.3
/5
rDev
+4.1%
My girlfriend bought me a homebrew kit from these guys for Christmas. She told me how great they were and how helpful. When she gave it to me, she also gave me a business card with the owner's cell phone number written on the back. He said to call anytime with questions; I did. It was the day after Christmas, and I had a question about the mixture. I called him and he instantly helped me out without asking any questions. Unreal! That is service!!
Since then, I have gone back to the store and these guys have been more than helpful. Any question that you may have, they answer it for you and spend the time with you that you need.
Their selection is good, with supplies for the beginner to the seasoned vet. The pricing is right on track and reasonable.
I will definitely make this my one stop shop from here on out for all my homebrewing needs. Add the selection, the service, and the reasonable pricing, and it pretty much makes it a no brainer. Great job that these guys are doing. If you are ever in the area, you must stop by and see them.
1,053 characters
3.65
/5
rDev
-11.6%
A decent homebrew shop, I did not have much time here, well not as much as I would have liked, but stopped in a few months back when I was in town. Pretty simple store, with pretty much everything that you need. Very easy to find, with ample parking in the strip mall. Was greeted as I walked in and asked if I needed any assistance, which I didn't but it was nice to ask. Looked like they had a fairly decent selection and the prices seemed about right. I was only stopping in as I had been down the street at the Taco Mac and saw this place as I was coming in. Not bad and if I lived in the area I am sure I would frequent it a lot more, especially now that I am finally going to start brewing on my own. Will have to stop in on my next trip and see how they are at giving advice.
783 characters
3.85
/5
rDev
-6.8%
A small, but good, homebrew shop located in the shopping center of the Derby, an Italian Resturant and next to a cigar shop.
The quality of their ingredients is superb, and have led me to some top notch brews.
The service is questionable. Bill is a great help, has helped me tremendously. He will just talk with you and not pressure you to buy anything you dont need. learned a lot from him. Bob, the owner has seemed to be consistently rude to my brother and I when we go in. I dont think he really means it, it could just be his personality, but after 5 or 6 visits to the store I doubt I will be returning.
The selection is good and varied. Even though the grain is in the back and you cant see what you are getting.
The price seems fair enough for me not to complian too much (and Im a complainer)
Overall I was content with the store, I just got bad vibes every time I talked with the owner, and will drive a bit further to another brew store, or order grains and hops off NorthernBrewer.com
1,002 characters

4.5
/5
rDev
+9%
Although I am a homebrew novice (just batches in fits and starts over the years) this has to be the best homebrew store I've ever been to.
The most important part of brewing is the quality and freshness of the ingredients (my downfall..., well, one of many in my brewing failures) and everything here is fresh. All the brew kits are fresh, the yeast is fresh, the extract, everything. The guy must have some serious turnover.
Service was attentive and knowledgable. They saved me some money on my glass carboy by mentioning a package special they had that included the handle, stopper and airlock at a reduced price.
Selection was more than fine for this beginning brewer but they seemed to have everything you need for all-grain brewing.
Prices seemed fair to me, certainly comparable to other websites. Good place and seems to be the only homebrew shop near me now that the one in Marietta closed down.
909 characters
Brew Depot in Alpharetta, GA
Place rating:
4.13
out of
5
with
12
ratings