Texels Goudkoppe
| Texelse Bierbrouwerij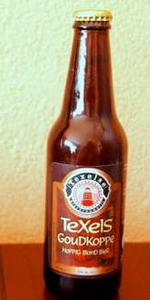 BEER INFO
Brewed by:
Texelse Bierbrouwerij
Netherlands
speciaalbier.com
Style:
Belgian IPA
Alcohol by volume (ABV):
6.00%
Availability:
Year-round
Notes / Commercial Description:
No notes at this time.
Added by PapaEugene on 08-14-2009
Reviews: 7 | Ratings: 17

3.6
/5
rDev
-5.3%
look: 4 | smell: 4 | taste: 3.5 | feel: 3 | overall: 3.5
A: Pours murky orange, golden with a really creamy foamy white head that sinks into quite nice lacings. It probably couldn't look any more unfiltered...
S: Yeast, spices and citrus galore! Sweetness from the caramell malt is balanced with the hops.
T: Yeast and spices. But even more hops and grassy malt. Sweetness and citric notes.
M: Long lovely bitter aftertaste. Body is too light, though while carbonation is quite offensive.
O: Could have been so much better with more malt in it - this was too thin to be an IPA.
526 characters
3.67
/5
rDev
-3.4%
look: 3 | smell: 3.5 | taste: 3.75 | feel: 4 | overall: 3.75
Bottle served at Alkmaar's Proeflokaal de Boom. Served in its own branded glass. On to the beer:
A small soapy head develops over this hazy washed out orange color of a beer. Not much retention on top. The nose brings esters, some faded herbs and leaves, showing that the hops have left their marks. Its dry taste starts the adventure. Pockets of bread crust enter the stage. There's a leafy hop bitterness, also woody notes. A kiss of biscuit is then followed by a dry and modestly bitter aftertaste.
Dry and pleasing, perhaps best served as an aperitif. I had mine on its own in the late morning of Alkmaar's cheese market.
628 characters
3.8
/5
rDev 0%
look: 4.5 | smell: 4.5 | taste: 3.5 | feel: 3.5 | overall: 3.5
A: Hazy golden-blonde colour, nice thick head and stable head
S: Citrus, hops, something bready
T: A lot more hops then in the aroma, there's a sweet bitterness, a bit too straight forward.
M: Very creamy, a bit under-carbonated
O: I'm not convinced, it's not bad but not my cup of tea
BTW I'm not so sure this is an IPA
325 characters

3.92
/5
rDev
+3.2%
look: 4 | smell: 3.75 | taste: 4 | feel: 3.75 | overall: 4
I Just had this in Amsterdam and it was hazy orange poured in its own glass with a pretty head of foam. It was served from the tap at De Pilsener Club. Not the strongest IPA but the taste backed it up.
201 characters

3.99
/5
rDev
+5%
look: 3 | smell: 4 | taste: 4 | feel: 3.5 | overall: 4.5
Thanks PapaEugene for the nice nice introduction about this beer from the Dutch island Texel. Got this beer from a friend of mine, who bought it in the brewery. Poured the beer into a Mort Subite glass. The beers pours a hazy golden-yellow color (a bit urine like) with almost no head. The lacing appeared to be a bit messy and not very stable.
Smell: Very clear floral and spicy hops, some grain and some citrus fruits (orange, lemon)
Taste: Not as fruity as could be expected based on the smell. Mainly soft bitter hops, spicy (coriander), orange zest, light alcohol. After that, a nice, creamy and very soft sweet-bitter aftertaste appears.
Mouthfeel: relatively high carbonation, light-bodied. Easy to drink
Overall: Nice refreshing beer. Very easy to drink. Will definitively have it again!
799 characters

3.99
/5
rDev
+5%
look: 3 | smell: 4 | taste: 4 | feel: 4.5 | overall: 4
Another beer from the expanding collection of the Texel brewery in Oudeschild. A blond beer with hops. All natural ingredients come from the island itself making this beer extra special. Nowadays most Texel beers are available in specialized shops throughout Holland. This one however was "imported" by my parents.
A: Opened the botlle and one fourth of its content gushed out on the table. Not amused. A nice yellow/lightbrown color but no head. Probably that's still on the table.
S: Hops for sure. Floral and a little peach. Some citrus as well.
T: Hops, grains a little yeast. Slightly bitter in taste and aftertaste. Less fruit as expected.
M: Medium carbonation and a light body with a pleasant finish.
D: Very drinkable. I'm starting to get a lot of respect for the Texel brewery. The fact that all their ingredients come directly from the island make this a unique beer for me. Skuumkoppe remains my favorite though.
939 characters
4.01
/5
rDev
+5.5%
look: 3.75 | smell: 4 | taste: 4 | feel: 4.25 | overall: 4
When poured in its glass, this beer looks like a Hefeweizen: light orange colour, hazy substance and a creamy head of foam. It also smells like one, with cloves being prominent. The taste however is typically belgian blond, with lot of fruity esters caressing your taste buds. Hints of tangerine and peach. As you get closer to the bottom, the beer starts to feel like a Hefeweizen as well, with the yeast giving a creamy touch. Nicely bitter aftertaste. Good beer.
PS: It is qualified here as an IPA for some reason; I'd go for "Belgian Pale Ale".
549 characters
Texels Goudkoppe from Texelse Bierbrouwerij
3.8
out of
5
based on
17
ratings.