Akkurat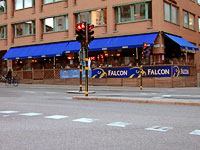 PLACE INFO
Type:
Bar, Eatery
Hornsgatan 18
Stockholm
, 118 20
Sweden
+46 8 644 00 15 |
map
www.akkurat.se
Notes:
Closest Underground station: Slussen
Thursday nighs (not during summer) are "German nights" with cask lagers from Franken and German-style food.
On Sundays, there are often concerts with blues/rockabilly/progressive acts. Check the homepage for details.
Added by BeerAdvocate
Reviews: 35 | Ratings: 60
4.74
/5
rDev
+3.5%
vibe: 4 | quality: 5 | service: 5 | selection: 4.5
The place to be in Stockholm for beer. A large bar area with a number of tables, and an adjacent room. There is a good amount of room, but it got a little crowded when I got there (it settled down after a while). Some light music plays in the background and there are a number of signs stating whats on tap along with some other beer decorations.
The people working were very helpful and knowledgeable about the beer. I talked a bit about different beers whenever they weren't busy. They were quite nice.
The selection is great, a large number of beers on tap from all over the world (US, UK, Belgium, Germany, Sweden, and others) along with a few Swedish and UK cask ales and a weekly Cantillion on tap. Outside that, there is also an extensive bottle list, and even more in the cellar. There are a lot of beers with a number of vintages (including a lot of Belgians). Quite impressive.
The value isn't bad for being in Stockholm and ordering beer. If you are looking for cheap beer, look elsewhere (I mean outside of Sweden). As far as Swedish standards go, it is pretty average. On tap will be around 50-80 SEK and some of the bottles can be around there. A number of the semi-rare bottles will be 10-200 SEK with the bigger/rarer ones being more.
If you love beer and are in Stockholm, this place is definitely worth checking out. Very friendly people working and drinking here. Just remember you are in Sweden so alcohol will be expensive. Very good selection, especially in the Cuvee (cellar). Also you can pick up a Närke Kaggen! Stormaktsporter here (vintage 2006 ran me 375 SEK in 2010).
★
1,602 characters

4.86
/5
rDev
+6.1%
vibe: 5 | quality: 5 | service: 4.5 | selection: 5
Stopped by this legendary beer bar on a trip to Stockholm.
My wife and I stopped by here after dinner on a Saturday night and it was packed. There was no room at the large bar and only one table open in the back dining area. We were told that that table was reserved for people who were dining I was visibly upset so they let us sit there anyway.
The atmosphere of this place is pretty awesome. When you walk in there is a large bar straight ahead with a seated dining area to the right and a back dining area to the left. We sat in the latter. The place is pretty dark which is always nice with a very cozy comfortable vibe. No televisions that I noticed and inoffensive music played not too loudly.
The room we were sitting in was the vintage room with a huge cabinet filled with rare vintage singles that range from 33cl to methuzelas. As I mentioned above, we didn't eat but the service was very good at our table. They accommodated us even though we weren't eating and let us take up one of their few precious tables. Our server was very patient while we looked at the ridiculously rare and extensive bottle list.
This place had the best selection of any bar I've been to in the world. Vintage Westy, Cantillon Loreik, 1996 Chimay Blue, 1992 La Trappe, 1996 Westy 6!, 1998 De Cam Oude Gueuze, Drie Fonteinen 50th Anniversary, Cantillon Muscat 1996-2004, Cantillon Reed Gueuze Muscat, Cantillon Reed Gueuze Pinot Noir, Cantillon Soleil de Minuit, 1990 Rodenbach Grand Cru, 1986 De Dolle Oerebier, and also both versions of Narke Stormaktsporter. I mean c'mon is this place even serious with this list? Absolutely ridiculous! The best selection anywhere I've been in the world.
The prices are very expensive because they exchange rate is bad and everything in Stockholm is expensive. $6 for a can of soda! The prices limit what you can sample but this is the greatest beer bar on earth selection wise and should not be missed if you are anywhere even close to Stockholm. I can't wait to someday revisit.
★
2,011 characters
4.4
/5
rDev
-3.9%
vibe: 4.5 | quality: 4.5 | service: 4.5 | selection: 4.5 | food: 3.5
Great place. It was just over from my hotel which is near the bridge to Gama Stan. Easy to find and get to. Bartenders and guests were friendly. Superior selection of beers including some Swedish, USA, Belgian, and others. Also have real beer (a Swedish cask lager and an English cask ale). Only had fries (good) and mayo (home made). It was late last night, Friday and they were pretty busy, but not nearly as much as some nearby places. Which was great for me. It was a warm evening, but outside seating was full, so I sat inside at the bar. Surprisingly, since there wasn'lt any airconditioning, it was comfortable. Great bottle selection as well. Amazing scotch whisky selection. Not cheap, but not much here is easy on the wallet.
★
735 characters
4.34
/5
rDev
-5.2%
vibe: 4.5 | quality: 4 | service: 4 | selection: 5
Akkurat is an amazing place when it comes to beer, if you are in Stockholm you need to go here.
Big open bar area with tables in a backroom as well. This place was packed the few times I've been but we've managed to get a table after a bit of waiting (with drinks in hand).
Beer menu is crazy, they have lots of stuff listed as being in their cellar and costs are ridiculous for some of the older stuff. I don't think they have everything they say they do though.
I actually had a Stone IPA here as I'd been without a super hoppy IPA for two weeks and needed one! I'm thinking it cost me around $7 for the bottle but it was worth it.
Lots of taps, definitely focusing on European stuff and not on American micros...go for Belgian.
Awesome beer bar in Stockholm that is a cool place to spend a TON of money on beer. Sweden isn't cheap, Stockholm isn't cheap and Akkurat sure as hell ain't cheap.
★
899 characters
4.68
/5
rDev
+2.2%
vibe: 4 | quality: 5 | service: 4.5 | selection: 5 | food: 4
Akkurat Belgo Bar is without a doubt one of the best beer bars in Scandinavia. The beer selection is daunting, the staff is knowledgeable and friendly and the food is tasty and filling.
When you approach the bar one of the first things that strikes you is that there seems to be beer taps just about everywhere. In fact if you stand in the wrong place it can sometimes be hard to get eye contact with the staff since there's a couple of beer taps in the way.
The selection on tap is a mix of the standard lagers for the average lager boy, micro brews of different nationalities, and Belgian beers. Lately they have started with a dedicated Cantillon tap where you can find Cantillon's that you might not even have seen on bottle.
There's also 5 hand pumps in the bar, but I've never seen more than 2 or 3 cask ales running at the same time. The selection of cask ales is very good, with a mix of ales from small British and Swedish producers.
If that's not enough there's also a large selection of bottled beers of different nationalities. As the name suggests a lot of the beers are from Belgium, but there's also beers from Sweden, US, UK and other countries.
If you have brought your large wallet you should really check out the cuvée as well, since it contains a lot of rare vintage beers. Although the staff doesn't guarantee the condition of the vintage beer, I have never been served a bad vintage beer as of yet, and that's not from lack of trying.
The food is also very good, and the specialty of the place is different kinds of mussels. However, if you plan on eating there you should call ahead and reserve, because it can get quite crowded at times.
All in all this is a place you shouldn't miss if you're ever in Stockholm.
★
1,744 characters
4.18
/5
rDev
-8.7%
vibe: 3 | quality: 4.5 | service: 4.5 | selection: 4
I went there a saturday night so it was completely crowded, but it was okay anyway. I guess if you go there earlier like 6pm or on weekdays it might be nicer....anyway:
They had a pretty good selection of beer. I only read the blackboards over the bar 'cause I couldn't find a menu and the bartenders were really busy and stressed. I had a blue Chimay and even though the bartender was busy and doing several things at the same time he served me the beer perfectly. It had a perfect hat and everything - the best Chimay I ever had!
I guess i shouldn't go out when everyone else have already crowded the place I'm going to :)
Anyways, this is a place I'm definately gonna go back to. I recommend it! Great service, good selection of beer and a quite reasonable price (even though there are no places in sweden that have reasonable prices - at all!)
★
850 characters

4.6
/5
rDev
+0.4%
vibe: 4 | quality: 5 | service: 4 | selection: 5
Best selection of beers I've ever seen in Europe, esp ales and taps (20+). Service was prompt, very helpful and funny, as were the almost omniscient beer geeks at the bar!
The terrace was a bit small and thus crowded in summer but there's a separate tap there. I guess there's just not more space on the pavement.
Given higher wages/prices in Sweden than in continental Europe, the prices were OK, comparable to almost any other bar in Stockholm. That's why we didn't try the food there; we were a bit short on funds.
★
520 characters
4.2
/5
rDev
-8.3%
vibe: 4.5 | quality: 4.5 | service: 3.5 | selection: 4.5 | food: 4
What a knockout beer bar! For starters it was an unexpected find in Stockholm. I was told before traveling that Stockholm and Sweden for that matter weren't really on the beer map. Put down the lousy travel guides- Stockholm has some great beer selections. Maybe this isn't surprising, but I found Brooklyn IPA at the traditional meatball restaurant Pelikan. I had something else, being in Europe and all.
The atmosphere was great. Traditional bar atmosphere that looked like it could have been really dirty, but like the rest of Stockholm was actually really, really clean. Beer bottles lined a shelf that rested above the bar- most of them were really unique.
The selection was outstanding. I didn't count droughts, but there may have been up to 20...? Cantillion was on, and I tried Bink Bruin from Brouwerij Kerkom- on drought. It was really amazing and served in proper glassware. My second beer was a Swedish russian imperial. Also outstanding. They had a bunch of seasonals including stuff from the U.S. like Geary's.
Food was slammin. We had mussels and frites. The mussels sauce was I think a wit- and definitely some of the best I've had.
The value was ok, though the dollar was taking a turn for the worst, so nothing in Europe was a real value.
★
1,264 characters
5
/5
rDev
+9.2%
vibe: 5 | quality: 5 | service: 5 | selection: 5 | food: 5
Visited twice on my Stockholm tour and I can truly say, Akkurat's one of the best beer bars in the world. In terms of selection, if you're looking for lambic, they have the best list in the world, period. I don't know how or why, but they have a special relation with both Cantillon and 3 Fonteinen and have special beers from both breweries. They also have a lot of other Belgian ales, including many vintages. As for Swedish beers, they have both Imperial Stouts from Narke, enough said. I was also impressed with their selection of American beers, including many vintages. The staff treated me kindly and the food I did have was quite good. Sunday night is band night and it was cool. I came back on my final night and had an incredible night of fine ales and really treated myself. Akkurat is a very special bar.
★
816 characters

4.22
/5
rDev
-7.9%
vibe: 4 | quality: 4.5 | service: 4 | selection: 4.5 | food: 3.5
Went there on a Monday night. Excellent and relaxed place, mostly male guests. Having said that the crowd was mixed in terms of professional background and age. A fair amount of suits and tie though. The range of beer was excellent although I had expected some more tap variety but the selection was still far better than any bar I have ever visted in Sweden except for perhaps Vildanden in Lund. Entering the premises I immediately ordered a sour Cantillon on tap. I guess you have to be a true beer fan to appreciate something like that. My ignorant Carlsberg drinking friend tasted it and rolled his eyes in amazement: "Is this a beer?" I followed up with an Inveralmond Export Ale- couldn't help mixing styles as I had only a day in Stockholm- but it turned out to be pretty skunky. Stuffed myself with fries and mayo and went on with another Belgo. All and all Akkurat offers most of the things a beer aficionado requires for a successful visit.
★
950 characters
4.4
/5
rDev
-3.9%
vibe: 4 | quality: 4.5 | service: 4 | selection: 5 | food: 4
Belgo bar with a selection of brittish and belgo beers as well as lambic. Very knowledgeable staff, and very knowledgable crowd. If the staff can't help you with the information you ask for, it's not unlikely that one of the regulars can give you an entire lecture.
Very good food. Not unexpensive, but excellent. Good service indoors, not as good outdoors.
Try the truffels with kriek. Exceptional!
Cellar with selection of vintage beers (not tried by me). For a reasonable price Akkurat hold different kinds of tastings (beer, whiskey).
★
547 characters
4.3
/5
rDev
-6.1%
vibe: 3.5 | quality: 4.5 | service: 4.5 | selection: 4.5 | food: 3.5
Akkurat can be found close to subway station Slussen in Stockholm. Part of the "Golden Triangle" with Akkurat, Oliver Twist and Svejk.
The place has a very large selection of beer and whisky.
The staff is usually very knowledgeable and if the place isn't crowded they're happy to answer any questions and talk about beer. Watch out for the lunch staff though, since it happens they know very little of beer.
Might be difficult to find seating unless you book ahead.
Specializing in Lambic type beers, including some brewed by Cantillon brewery specially for Akkurat.
★
580 characters
4.95
/5
rDev
+8.1%
vibe: 4.5 | quality: 5 | service: 5 | selection: 5 | food: 5
Akkurat Belgo Bar has to be one of my favorite beer bars I've ever visited. My wife and I really enjoyed the atmospherei inside as well as the outdoor seating. The service was excellent at the bar, not so much outside. We were served by Richard at the bar, who happens to be one of the most knowledgable about beers from anywhere in the world. His service and conversation definitely enhanced our visit.
While we were there, they had a Lambic Festival taking place and it was definitely a Lambic Festival. There were at least ten lambics on tap (one or two on handpull) and even more in bottles. A great selection of beers other than lamics, too. I would venture to say they covered a majority, if not all of the Swedish micros.
In addition to the beer selection, they also have an amazing selection of whiskey and tequila.
The food was very good as well and prepared very true to their Belgian roots.
I think about this place a lot and would love to go back there tomorrow. Don't miss it while you're in town.
★
1,026 characters
4.22
/5
rDev
-7.9%
vibe: 3.5 | quality: 4 | service: 4.5 | selection: 5 | food: 3
Akkurat Belgo Bar is very likely Scandinavia's best beer bar, and maybe one of the five best in the world. Hundreds of beers on bottle, some 20 different brands on tap (some of them guest beers), 5 real ale hand pumps with an ever rotating assortment, an cuvée crammed with vintage Belgian beers. And, in addition to that, they offer one of the widest whisky selections in Europe.
The staffs are always competent and willing to give suggestions or tell some facts about the beers or whiskies, even when the bar is crowded.
Belgian-inspired clam dishes dominate the menu, and they are very popular among the patrons. On some rare occasions, the delivery of clams doesn't show up and on those days, I have seen people leave the establishment crying. I don't like shellfish, so I find their meat dishes more interesting (the deer steak with Islay gravy is highly recommended). To be honest, the food was much better for 4-5 years ago, now is still good but not great. If you want to eat, be sure to reserve a table at least in the same afternoon, as the restaurant usually is very crowded.
The price level is surprisingly low for the selection and standard of drinks. Sweden is an expensive place for alcohol and diner-out, but the prices here are on the same level as the run if the mill pub or comparable restaurants in Stockholm: A pint of real ale is SEK 58, a plate of cheese and sausages SEK 78 (September 2004).
The atmosphere can be a little noisy, but it is a jolly noise. The guests are often very mixed; clerks in suits, bikers with beards and leather trousers, beer-nerds who measures the foam with a ruler, senior citizens enjoying a large terrine with clams and the old friends who discuss if Ardbeg 1974 or 1976 is the best choice for half an hour, all in comfort and well-being. Sometimes (mostly Sundays) they arrange concerts in the bar, the styles are mostly blues-rock, boogie-rock or rockabilly.
The premises is not the best, the bar is located in an office building from the late 1980's, and despite the dark wine red walls and ceiling, the collection of beer signs, bottles and miscellaneous odds and ends collected on the walls, the rooms can be somewhat desolate when it is uncrowned.
The establishment is divided into a large bar and a restaurant, the latter open in the evenings. They also got some minor assembly rooms that can be reserved.
Akkurat arranges very interesting of testing and tasting of beer and whisky, ask the personnel or check the web site for details!
★
2,526 characters
4.66
/5
rDev
+1.7%
vibe: 4.5 | quality: 5 | service: 4 | selection: 5
When a bartender at a Stockholm brewpub recommended this place, little did I know that I was about to visit one of the best beer bars in the world.
The bar is located just south of Gamla Stan (the old city). The bar looks nice and has plenty of seating. The service was very good, but the bartenders were pretty busy. The prices were reasonable for Sweden, which is an expensive country to drink in.
On to the unboring beer list. If you love Belgian ales, don't miss this place. The selection was amazing. Highlights included full Belgian Trappist lineups, several dozen Lambics, and about 20 Belgian taps with no Stella or Hoegaarden in sight. About half of the list was privately imported so you won't find these beers anywhere else in Sweden. They had cask ale also but I didn't even check the lineup. I even saw some American micros such as Anchor Old Foghorn.
My brother and I only had time for a few beers. We choose Rodenbach Grand Cru, Rochefort 10, and Delirium Nocturnum. All were excellent and served in proper brewery glassware.
Right before we had to leave we found out they have a separate vintage beer list!!! I didn't even get a chance to look at it, but I remember hearing about aged Rodenbach Grand Cru and vintage Brooklyn Monster. Akkurat even allows private parties to hold tastings in the beer cellar. These guys also host local beer festivals.
This bar goes so far beyond anything I've seen in Sweden. Next time I won't make the mistake of arriving 90 minutes before close on my last night in Stockholm. Akkurat earns a place among the very best beer bars in the entire world.
★
1,614 characters
Akkurat in Stockholm, Sweden
4.58
out of
5
based on
60
ratings.