Oliver Twist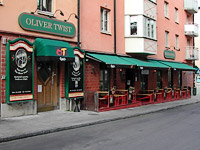 PLACE INFO
Type:
Bar, Eatery
Repslagargatan 6
Stockholm
, 118 46
Sweden
+44 (0) 8 6400566 |
map
olivertwist.se
Notes:
Nearest underground station: Slussen
Added by BeerAdvocate
Reviews: 23 | Ratings: 32

4.16
/5
rDev
+4.8%
vibe: 4 | quality: 4.5 | service: 3 | selection: 5
Stopped by here during a trip to Stockholm.
Quaint little beer bar on the island of Sodermalm in Stockholm. I heard good things about this place and happened to see it while exploring the city so stopped in for a beer that turned into four or five. As soon as you walk in there is a small bar with a bunch of tap handles and a chalkboard of what's on tap. Opposite of the bar is a huge wall with chalkboards announcing specials, events, new bottles and American offerings.
The service just average but there were some cool locals in there who I started talking beer with for a few hours. They were fascinated with American beer so we talked about the different U.S. microbreweries that they liked and how they Scandinavian brewing scene had changed over the last few years. I had such a good time that if my wife wasn't waiting for me at the hotel i would have stayed there all night.
On to the beer! This place had an amazing selection of draft beer and bottles from all over the world. They had a bunch of Scandinavian stuff like Nogne O, Mikkeller, Haandbryggeriet, Nils Oscar, etc as well as a bunch of Belgians, Germans and a huge selection of American craft. This place had more American craft offerings than most beer bars I've been to in the States. They had a bunch of North Coast, Stone and even Utopias!! I couldn't believe it. I have access to most of the American beers so I stuck with the Scandinavian beers. My only criticism of this place was the price. It wasn't expensive in comparison to other places in Stockholm, but everything in that city is so damn expensive. A can of soda cost me the equivalent of six American dollars! You don't even want to know what the tab ended up being here. My head hurts thinking about it but it still was a lot less expensive than Akkurat.
1,795 characters
3.35
/5
rDev
-15.6%
vibe: 2.5 | quality: 3.5 | service: 3 | selection: 4 | food: 3
I want to like Oliver Twist, I really do. They are very serious about their beer (and they will not allow you to forget this for a second upon entering the place), they have a good selection and a wide and varying range of taps. They focus primarily on American and British beers with others thrown into the mix, as well as up and coming Swedish breweries. The problem is that it is just really tough to be in there and have a good time.
It's very very expensive (think case prices for American bottles, not bottle prices). Draught beer is marginally cheaper but not much. The selection varies but it never really gets too far away from the overlying theme of confused English pub - trying to be American sports bar - trying to be a local hangout.
Gets ridiculously crowded on weekends, and is often full on most weekday nights. (Not recommended when the local soccer team is playing.) Try and get their earlier rather than later. Do what you can to get a table, or even better sit outside. Otherwise you will constantly have people bumping into you and pushing through you to get to the bar. Unfortunately there are always people taking up the entire space in front of the actual bar itself, this makes it nearly impossible to get a chance to order and you can easily spend 10 minutes just trying to get a pint. This really puts a damper on things when you are trying to just get a round in.
The food is standard pub food, and expensive even by Swedish standards. Can be worth eating just to get the table service as it will allow you to enjoy the evening without having to battle the crowds at the bar.
Worth a trip if you are trying to find some hard to find US imports or English cask ale. Otherwise take a walk down to Akkurat if it's beer you are looking for.
1,769 characters
4.2
/5
rDev
+5.8%
vibe: 4.5 | quality: 4.5 | service: 4 | selection: 4 | food: 4
This is the sister pub to Akkurat, which is located a few hundred meters away. With two such good pubs that close together any visit to one of them invariably results in a visit to the other as well.
While Akkurat is a Belgo bar, Oliver Twist is more of a traditional pub. Like its sister OT has a lot of taps, with an innovative system where the taps are located above each other on high pillars. The advantage of this is that the taps don't block your line of sight to the staff, like they sometimes do at Akkurat.
There are around 25 taps all in all, and of these 3 are hand pumps. The kegs are a mix of the standard lagers and more interesting beers like different micro brews. The range of cask beer here usually mirrors Akkurats in that they usually are from the same breweries, but a different brand.
Behind the bar is a couple of large coolers containing their bottled beers. Although they don't have as many different kinds as Akkurat, OT has specialized in American craft beers. They import the beer themselves and usually get a delivery a couple of times a year. If you are fortunate enough to visit just after they have received a delivery you might find beers that are usually hard to find outside the US.
The resturant part of the pub is located away from the door, past the bar, and serve excellent interpretations of your standard pub grub.
In conclusion, this is a good place for a pint in Stockholm. If you are looking for a place that's a little more relaxed and laid back in comparison to Akkurat, but with almost as good selection of beers, then Oliver Twist is the place for you. In fact, even though I'm very fond of Akkurat, I usually find myself spending more time at OT just because I like the atmosphere.
1,736 characters
4.14
/5
rDev
+4.3%
vibe: 4 | quality: 4 | service: 4.5 | selection: 4
I went there last week and they explained that they had a primary focus during the summer: american beers. To attract tourists perhaps? Or maybe just to prove that there are more styles of beers than just european styles. Exciting indeed, but I didn't feel like tasting any of them at the time. I'll certainly do soon, it would be really fun!
Their selection was pretty wide, not top class but still impressive. I had a Hoegaarden (perfectly served at the best temperature and in a cold glass! Best witbier I ever had) and tasted one of the IPAs the bartender recommended (can't remember what it was called) and it was really good.
The bartender had vast knowledge about beer and was very enthustiastic. He had several recommendations and let me taste the beer before I decided on which to choose. Great service!
The price is reasonable, just the price you would expect.
It's placed on a smaller street but not far from the bigger streets so getting there is easy. The atmosphere is somewhere between an english pub and a cozy restaurant with wood interior.
I really recommend it. I didn't have the time to eat there when I was there, but I saw some of the dishes other people ordered and they looked delicious!
1,216 characters
3.9
/5
rDev
-1.8%
vibe: 4.5 | quality: 3.5 | service: 4 | selection: 4
Visited Oliver Twist a couple times on my Stockholm expedition. They have a nice range of bottled Swedish beers and bottled American craft brews. On tap, there were some nice selections including some tasty Swedish ESB's along with some American beers. They also had some authentic cask offerings both from Sweden and the U.K. I was treated really well by the staff and found the place to be well run. While I did not have any food, I saw some dishes that looked tasty and tempting. This wasn't my favorite bar, probably because I'm an American and have access to so many of their beers, but I still found it to be a really impressive establishment.
649 characters
4.34
/5
rDev
+9.3%
vibe: 4.5 | quality: 4 | service: 4 | selection: 5
Small pub just south across a walking bridge from Gamla Stan.
I counted 42 taps (incl 3 pulls) running at the "Pissed", mainly of the British varieties. There were some Swedish labels hidden amongst though so ask the bartender. Plently of Swedish brands in bottles if so inclined.
Mainly stools for sitting and locals said it gets backside to elbows during the rush time. The number of customers started picking up as it started to get dark outside. I had a long conversation with a local who was a cricket conductor and had a local imperial stout that was too sweet and not enough flavour.
It was funny that all the locals were hanging out waiting for Sierra Nevada Pale Ale to get tapped as the good beer in the series of imports from US.
Didn't try the food but made the place smell good; would try next time.
816 characters
4.13
/5
rDev
+4%
vibe: 4 | quality: 4 | service: 4 | selection: 4.5 | food: 4
Oliver Twist is a beerbar just 2 stops away with the subway from stockholms centralstation. It is close to its sisterpub, Akkurat, but has a different focus when it comes to beers. When i was there they had about 25 different beers on tap, mostly swedish and danish. They had a decent selection of brews from USA and all around the world and the bartenders and waiters had good knowledge about the beers they were serving. The food was excellent and actually surprised me, pubs usually don't serve food this good.
This was my first time there but i'll be sure to visit this place again as i found the atmosphere there better than Akkurat (less crowded) and the selection of beers was also better (esp the selection of beers from USA). I also had the pleasure to spend the evening with fellow beeradvocates Bark and Rindlow which made the experience even better. Highly recommended!
884 characters

4
/5
rDev
+0.8%
vibe: 4 | quality: 4 | service: 4 | selection: 4
Oliver Twist is located in a great corner of central Stockholm just a few steps from Akkurat, another great bar with Belgian profile. Went there on a late Friday afternoon. The place was packed by normal people congregating in various groups around the room. Probably after work sessions. I felt immediately at home in the relaxed atmosphere. Quick service despite the rush. But I can just imagine what it would have been like before smoking was banned- pretty low visibilty, next to no oxygen. Sometimes no smoking is a blessing. The selection of beer was excellent although the tap variety was not that great. Considering it's a British style pub there should be something more interesting than Bombardier. And where were the real ales?
738 characters
4.13
/5
rDev
+4%
vibe: 3 | quality: 5 | service: 4 | selection: 4.5 | food: 2
Quite a good selection of different beers. Emphasis on american beers and swedish micro breweries. Knowledgable staff. The privately imported american beers can be quite expensive, one IPA from Rogue (33 cl) cost SEK 140 (about $20)! I mean, it was good, but still. Prices like that will keep you sober, which ofcourse is a good thing, or broke, which is bad.
The food is not impressive, not even by pub standards. To be honest, stick to drinking and get your meal someplace else.
This bar is the little sister (in all aspects) of the belgo oriented Akkurat, which is located just a few blocks away. But since the american beers are their speciality it is still one of my favorites.
688 characters
3.83
/5
rDev
-3.5%
vibe: 3.5 | quality: 4 | service: 3.5 | selection: 4 | food: 4
Oliver Twist is the "baby sister" of the extraordinary beer bar Akkurat, located just a few blocks away.
Oliver Twist (or "OT" as they often call themselves) is more of a cosy local restaurant than a beer/whisky-institution. In recent years, they have focused on American microbrewers. Of course, they have beers from Sweden, Belgium and Britain etc too, but if you are looking for a interesting selection of hoppy brews from the other side of the Atlantic in Sweden, this is the place.
Apart from the "house beers" Hell, Heaven and Fallen Angel (all from Jämtlands bryggeri and developed in collaboration by Akkurat, OT and Jämtlands), they usually offer some 20 kegs and 3 cask ales (they were one of the first Cask Marquee pubs outside of Britain) and approximately 150 bottled beers, all carefully selected by the staff. Check out the web site for an updated list (click the "nyheterna" link).
The majority of the food is the expected pub grub; fish & chips, steak, chilli con carne, filled hot baguettes, pasta, luxury hamburger… It is a bit costly, but the food is much better prepared than in most pubs. Please note that there are two totally different menus, one for the bar and one for "the tables". I still haven't figured out why.
I can personally recommend the "Janssons frestelse", a traditional Swedish dish of sliced potatoes, pickled herring and onions that is baked in cream (it is much better than it sounds). The spicy frozen cheesecake is lovely, too.
The overall atmosphere is relaxed, inviting and friendly. Many of the guests are regulars and locals. At summertime, they open the windows and put up a small beer garden at the pavement. The open design can make the restaurant noisy and as a guest you are quite exposed. Not the place for a discreet romantic dinner, I would say.
The friendly staff got good knowledge of beers and they can often give good advices. At times, the place can get very crowded and then, the personnel seem to be easily stressed.
2,014 characters
3.83
/5
rDev
-3.5%
vibe: 4.5 | quality: 4 | service: 3.5 | selection: 4 | food: 3
Oliver Twist can be found close to subway station Slussen in Stockholm. It's on a parallell street to the big pub street Götgatan in the southern parts of the city center.
Oliver Twist, or OT for short, is one of the better beer places in Stockholm, specially for finding some (for Sweden) rare Brittish or American beers.
The place is a bit pricy, but the selection makes it worth it.
Free hot dogs is nice, look by the door early before they run out.
Has a tendence to get very crowded.
Usually runs some sort of special beer festival or something like it.
572 characters
4.36
/5
rDev
+9.8%
vibe: 4.5 | quality: 4.5 | service: 4 | selection: 4.5
I went there in June of this year and had a great time. They had a Hip Hops On Tour "event" taking place, consisting of about 20 different bottled American micros, all of which were hoppy. These were in addition to their normal selection of American micros they have. The Hip Hops On Tour included beers from Brookly East IPA (very good beer), Avery, Lost Coast, North Coast, Bell's, Two Brothers, Three Floyd's, Victory, Tuppers, Rogue and others I didn't write down.
The atmosphere was somewhere in between an English and an American pub, probably more on the American side. Good music, free hot dogs during happy hour (think it started at 4 or 5P), and the menu looked good as well. We didn't eat there, but no specific reason for not doing so. The staff was decent, but not great. They all spoke English with us and were decent overall. Not great, not poor. Lots of beers on tap, including several Swedish micros, some English real ales, Sam Adams, and many other choices. Definitely worth stopping at.
1,010 characters
4.3
/5
rDev
+8.3%
vibe: 4 | quality: 4.5 | service: 4 | selection: 4.5
This was the first "quality" bar i went to, quite some time ago, and i was impressed even then.
Generally its just a tiny bar, in a quite small room with a great selection of beers. They have recieved the CAMRA award several times i think, this means that they constantly serve "real beer" and up to date they've had like 800 different beers.
A lot of swedish beer, a good selection of traditional "top notch" beers with a special belgian section on the list.
Quite recently theyve imported a lot of american micros which is extremely reare to get your hands on otherwise.
Simply put, just a very good bar with great selection.
639 characters
Oliver Twist in Stockholm, Sweden
3.97
out of
5
based on
32
ratings.