Hertog Jan Weizener

Arcense Stoombierbouwerij (Hertog Jan Brouwerij)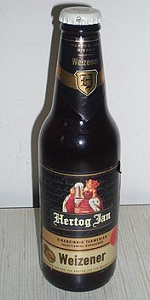 Rate It
Beer Geek Stats
| Print Shelf Talker
Style:

ABV:

5.7%

Score:

Avg:

3.6

| pDev:

14.72%

Reviews:

14

Ratings:

From:

Avail:

Year-round

Wants

Gots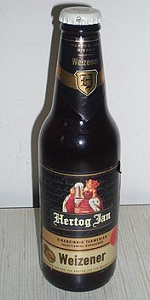 Notes:
Daniel473 from Netherlands
4.35
/5
rDev
+20.8%
look: 4.25 | smell: 3.5 | taste: 4.75 | feel: 4.5 | overall: 4.5
Marvelous beer, has the classic qualities of witbier and still remains unique. I'd call it a splendidly wrought witbier in classic manner with a unique twist that brings it up to great standard in terms of taste. Overall a very pleasant beer with an exquisite quirk in my honest opinion. Reminds me of honey ale except white.
Aug 07, 2020
stevoj from Idaho
3.1
/5
rDev
-13.9%
look: 3 | smell: 3 | taste: 3.25 | feel: 3 | overall: 3
Looks and tastes more like a German hefeweizen than a witbier. Body is heavy and bready, taste also. Thick, creamy head and hazy straw color. Not sure if this beer knows what it wants to be...
Jan 08, 2016
Zet from Netherlands
3.6
/5
rDev 0%
look: 3.5 | smell: 3.5 | taste: 3.75 | feel: 3.5 | overall: 3.5
Light orange with a decent head of foam that collapses steadily, leaving a steady lacing on top. Smell of cloves and herbs with hints of lemon zest. More citric in the taste: lemon and tangerine accompanied by coriander. Malt and lemon in the finish. Decent beer, more witbier than Weizener though.
Sep 14, 2015

BeerDrinkersWorldTour from Northern Ireland
3.75
/5
rDev
+4.2%
Appearance – Pale hazy amber colour. This beer raises a tall rocky head that dies quickly and leaves a fingernail covering as you drink. Some lacing in the glass.
Smell – Very fruity on the first wiff. There is citrus (lemon zest) and possibly some banana. There are also some spices such as paprika and a peppery note.
Taste – The taste leans more towards the orange end of the citrus than I expected banana flavour also pronounced. Some white pepper and paprika but it is not very pronounced. Some cereal grain and the distinctively bready, soft taste of wheat malt.
Mouthfeel – Medium to thin body leaves a dry feeling in your mouth
Overall – Nice and mild and very easy to drink but it does have a full flavour. Very fresh I suspect this beer is brewed with spring water and has been filtered to some extent. There is a tiny sweetness to it but not as sweet as some other wheat beers. Give this beer a day in court yourself I think you will be very pleased by the results.
Sep 23, 2014
IPA35 from Netherlands
3.44
/5
rDev
-4.4%
look: 3.5 | smell: 3.75 | taste: 3.25 | feel: 3.25 | overall: 3.5
A very hazy beer, rather pale but it has a banana coloured 'centre'. A white rocky head that vanishes surprisingly quick.
Smells typical weizen, very fruity forward. Citrus peel and banana. Spices too. Peppery.
Taste is below average compared to mainsteam German offerings. Malty (barley dominates) and some citrus and other weizen flavours. Average.
Mouthfeel is medium, smooth. The carbonation is rather strong.
Overall an average weizen.
Feb 13, 2014

biegaman from Canada (ON)
3.58
/5
rDev
-0.6%
look: 3.75 | smell: 3.75 | taste: 3.5 | feel: 3.5 | overall: 3.5
On-tap at the Beer Temple, in Amsterdam.
Hertog Jan Weizener pours with waves of white head and a cloudy orange colour. The haze is not only anticipated but a requirement; wheat has more protein and protein causes cloudiness. It also supports a thicker, longer-lasting head, as is also evidenced in this example.
This beer has the expected smell of bananas that have been doused in cracked black pepper but it's not as aromatic as hoped for. Fact is if you don't use enough malt you're starting from a deficit; this beer would be considered a little malnourished by German wheat beer standards.
Weissbier is a style difficult not to enjoy; this one has a bland, commercialized quality but is still very drinkable (albeit not terribly refreshing). The taste features the same fruity banana flavour, one that's been stewed in clove and white pepper, though it's a bit numbed. There is also cereal grain and the distinctively bready, soft taste of wheat malt.
The mouthfeel features a notably creamy texture to go along with the tinge of sweet vanilla flavour. This 'banana and vanilla cream' combo isn't quite enough to induce chocolate cravings, but the beer is every but as suited to a hot day as any ice cream split.
Hertog Jan Brouwerij is not really depriving the world of anything by keeping their beers by and large within the Netherlands. Their Weizener is a very average offering. Still, it's something I'd prefer to pretty much anything by other large Dutch breweries like Grolsch or Heineken.
Aug 21, 2013

Douberd from Netherlands
3.09
/5
rDev
-14.2%
look: 3.5 | smell: 2 | taste: 3.5 | feel: 3 | overall: 3.5
Bottle 0.3 cl, poured.
Hazy yellow colour, soapy two finger head, with good lasting time.
Nothing special on the smell front.
Taste is fruity and a bit metallic. I think I can taste something like orange, or mandarins.. Not quite sure
Medium thin body, leaves a dry feeling in your mouth.
Nothing special with this one, but easy to drink.
Feb 04, 2012

Filosoof from Netherlands
3.9
/5
rDev
+8.3%
look: 4 | smell: 4 | taste: 4 | feel: 4 | overall: 3.5
After tasting the Grolsch (like a dish-cloth smelling Weizener), it was nice to wash it away with this Hertog Jan Weizener. A typical B+ beer if you would ask me. Not very special, but drinkable, without being irritating.
L: like all wheat beers: okay, lasting top;
S: typical Hefeweizen smell, with a touch of orange (?);
T: in line of the smell, but a bit flat; don't know what to mention here specifically;
M: okay;
O: quite regular Weizener; not liking the big Dutch brewers, this is the exception if I am in a nationalistic mood.
Oct 24, 2011

Brabander from Netherlands
2.98
/5
rDev
-17.2%
look: 3.5 | smell: 3 | taste: 3 | feel: 2.5 | overall: 3
Not very impressed by this beer to be honest. It is hard for a Dutch brewer with Germany in the neighbourhood to make a good Weizenbeer. Hertog Jan tried it but did not succeed.
I tried this beer tonight with some sport friends. The beer was serverd in the original 0,3 liter glass. Cloudy darkyellow fluid with little head.
The smell is very average, if someone would say it is another beer than Weizen you would believe him. Taste is very average and not inviting to have another one. The taste has something twisted which i can not really describe. The taste has almost something chemical. Too bad...
Jul 04, 2011

czfreeman from California
4
/5
rDev
+11.1%
look: 4 | smell: 4 | taste: 4 | feel: 4 | overall: 4
Poured into a weizen Glass. Nice murky orange-yellow hazy body.Thick creamy head, medium carbonation. Looks like a great German Hefe.
Light banana esthers, creamy wheat, but also a light Belgian touch.Coriander, orange, honey, fresh grass, add an interesting Hoegaarden-like touch to the brew.
Taste is peppery, light, and more carbonated than a German Hefeweizen. Coriander, spice, orange, banana, wheat, and a light prickle of pepper on the finish. Flavor is subdued, but good.
Light, well-carbonated and refreshing.
Its nice to see a Belgian take on a German style, rather than Hertog Jan attempting to brew an exact copy of a German Hefeweizen.
I liked this brew and will buy again.
Apr 26, 2011
BlackHaddock from England
3.98
/5
rDev
+10.6%
look: 4 | smell: 3.5 | taste: 4 | feel: 4 | overall: 4.5
Second beer in one of my random tasting evenings: brown 30cl bottle, best before 3rd July 2011, drank and reviewed 31st Jan 2011.
Poured into a stemmed tulip (Hoegaarden Grand Cru). Cloudy body, dull old gold in colour, clean white crown of bubbles on top.
The smells were of yeasts and wheat, as the beer warmed some vanilla and banana esters began to appear, not as strong as many Weizenbiers, but the smells are there.
The taste is a mix of typical hefeweizen flavours with a heavier than normal malt content added for good measure.
Full bodied and full of flavours, an interesting variation to the German dominated style.
Really enjoyed it.
Jan 31, 2011
RuudJH from Netherlands
3.6
/5
rDev 0%
look: 3.5 | smell: 3.5 | taste: 3.5 | feel: 3.5 | overall: 4
Dutch brewed Weissbier, Witbier... brewed with roasted malts.
As Hertog Jan is trying to please the more serious beer drinker with their range of particular brews, brewing a wheatbeer is good thinking, obviously: what else do you want when it's summer?
Golden ale, big head, ok carbonation. Not too hazy.
Smell is mainly malts. After a bit of banana, floral hops, herbs, citrus, yeast, there's more maltyness.
Similar taste: more malts. It's all quite modest in flavour and aroma...
Mouthfeel is smooth and mellow, but watery too. The alcohol is hardly noticable.
Like a good hefe, this one is very easy drinkable as a sessionbeer, on a terrace or in the garden. Carbonation makes it refreshing.
As I've reviewed Hertog Jan before: this brewery makes very balanced beers, but a bit boring too.
So, in this style there are so many superior examples, from both Germany and Belgium, I'd only pick this one, when I'm on holliday in Arcen, and I could have this on tap at the brewery.
Jun 07, 2010

rvdoorn from Netherlands
4.3
/5
rDev
+19.4%
look: 4 | smell: 4 | taste: 4.5 | feel: 4 | overall: 4.5
Had this beer during another beer evening with PapaEugene.
Poured into an original palm glass. The beer pours a hazy golden-yellow color, with a nice 2-finger-thick snow-white head.
Smell: Strong sweet banana, citrus (lemon), yeast and floral hops
Taste: Light grainy, light hoppy, lemon, banana. The aftertaste is coriander with a bitter and quite dry finish
Mouthfeel: Medium-bodied, high for the style! Medium-low carbonation. Creamy and smooth
Overall: A very nice Weizen beer, the best Dutch I had until now. I politely disagree with absumaster, who probably added this beer as a Witbeer. This beer is clearly a Weizenbeer, as indicated on the bottle and the brewery website.
Nov 01, 2009
Absumaster from Netherlands
4.07
/5
rDev
+13.1%
look: 4 | smell: 4.5 | taste: 4 | feel: 3.5 | overall: 4
An orange, murky beer with a big head that fades into a 1 inch thick, creamy head.
Smell is light phenolic and light malty. The wheat adds a nice grainy smell. There is a citric twist to the smell that is hoppy and a little like fresh grass. Some coriander also.
Taste of wheat, which holds between a Weizen and a witbier. A strange twist, with the wheatmalt part of a Weizen and the spiciness and yeast profile of a Belgian witbier. This works wonderfully. The label mentions coriander and orange zest as ingredients and both come through in the taste, but at a subtile level. I am not sure why they called this a Weizener, when it is more a witbier than a Weizen, but it probably has something to do with popularity of Weizens these days. Body is light and drinkability is good. Great beer to enjoy in the sun.
Apr 23, 2008
Hertog Jan Weizener from Arcense Stoombierbouwerij (Hertog Jan Brouwerij)
Beer rating:
82
out of
100
with
40
ratings