Hertog Jan Naturzuiver Bier
| Arcense Stoombierbouwerij (Hertog Jan Brouwerij)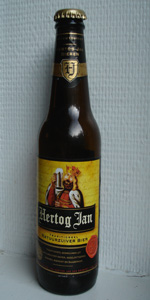 BEER INFO
Brewed by:
Arcense Stoombierbouwerij (Hertog Jan Brouwerij)
Netherlands
hertogjan.nl
Style:
Euro Pale Lager
Alcohol by volume (ABV):
5.10%
Availability:
Year-round
Notes / Commercial Description:
No notes at this time.
Added by JanM on 09-15-2008
Reviews: 8 | Ratings: 35

2.06
/5
rDev
-24.3%
look: 3 | smell: 2 | taste: 2 | feel: 2 | overall: 2
This should be a traditional beer but I found it to be a boring eurolager. It smelled just like it: sweet, wet cloth, and poured golden yellow with lots of carbonation and semi-thick foam. I'm not exactly sure what naturzuiver stands for in Dutch but I'm sure that a traditional beer was not made with maize like this one is. The taste was sweet, bitter, watery, and somewhat musty. My general impression was that the beer was not balanced between the taste notes. So, a not so very interesting and thin eurolager of the kind there are already too many of.
556 characters
2.36
/5
rDev
-13.2%
look: 2 | smell: 3.5 | taste: 2 | feel: 2 | overall: 2
A: Looks like a barely carbonated European lager. A somewhat orangey urine color.
S: Although the smell is weak, what's there is a nicely sweet malt smell, almost radler esque.
T: Almost more like childrens apple juice than beer. That's how the sweetness translates. Seriously, it tastes like a direct cross with a very mild beer and childrens apple juice. And I guess that wouldn't be too bad, but I must emphasize that it's what makes the apple juice flavor kiddie like is what makes it gross.
M: Almost no carbonation. Almost medium bodied.
O: Pretty bad beer.
567 characters
2.53
/5
rDev
-7%
look: 3 | smell: 2.5 | taste: 2.5 | feel: 2.5 | overall: 2.5
Oh dear: 30cl bottle, best before Apr 2013. Brought back from Holland to drink at leasure: poured into a Duvel glass on 10 Dec 2012.
Bland and boring: looked your typical Pilsner/lager but lacked the sparkle or crispness to carry off the appearance. Odourless and almost tasteless: a slight hop bitterness towards the end of each gulp but nothing at all to get excited about. It may well quench your thirst after cutting the grass or hedge but for the beer hunter, forget it!
476 characters
2.68
/5
rDev
-1.5%
look: 2.75 | smell: 2.75 | taste: 2.5 | feel: 3 | overall: 2.75
I think I am going to rate this a little better than most people did. I am not saying that it wasn't a little plain but this style is supposed to be a little bit neutral. It poured golden and transparent with not much carbonation to the body. The head was minimal but the lace was not bad. The aroma was more malty than hoppy but both were pretty mild. The flavor was a little bit grassy like a pils with some hop tones. The mouthfeel was medium and a little slick.
467 characters

2.73
/5
rDev
+0.4%
look: 3 | smell: 2.5 | taste: 3 | feel: 2.5 | overall: 2.5
Typical session beer in The Netherlands. A lot of people consider it superior to Heineken and Jupiler but that's an opinion in the end.
A: Pours a pretty average pale lager color. Slighly golden. Pours a 1-2 cm head which dissappears after a minute. A tiny lacing stays.
S: Smell is not really present. Smells quite sweet and a bit of malt.
T: Quite sweet, nothing spectacular.
M: A bit of carbonation. Between light and medium bodied.
O: Beer that you can drink 6-7 of and still taste nothing.
499 characters
2.74
/5
rDev
+0.7%
look: 3 | smell: 2.75 | taste: 2.75 | feel: 2.5 | overall: 2.75
A rather bland and dull pilsener. Aroma and flavor are very subdued. Pours with a nice frothy head, but color is a pale gold. Tastes like a watered down beer....
161 characters

2.91
/5
rDev
+7%
look: 3.5 | smell: 2.5 | taste: 3 | feel: 3 | overall: 3
"naturzuiver" means "naturally pure" in Dutch.
I like Hertogs Weizen quite alot, hope this one defies the previous reviews.
Pours a pale lager color, pale straw like, head is decent.
Smells of...cheap lager, unfourtunatley. Corn, sweet sugar, light malty notes.
Smells almost entirely of extract, little to no hops detected, only a light bitterness on the finish.
Flavor is better than expected. Light malt, lightly bitter, finishes rather light and refreshing. Some of the maly extractlike notesin the aroma come through, but not overwhemlingly so.
Light, goes down easliy, light and not complicated.
For the price, I will stick with Hertog's Pils, it is by far way more superior.
682 characters

2.94
/5
rDev
+8.1%
look: 3 | smell: 2.75 | taste: 3 | feel: 3 | overall: 3
From a 300ml bottle into a Hertog Jan pilsner glass.
A: Pours a pale, golden yellow. Frothy head of a couple of fingers, which stays for a minute or two. Leaves some lacing. The head retention is minimal, but it's there. No visible activity.
S: Some sweet maltiness and a bit of grassy hops.
T: On par for a standard (euro) lager. Some sweet malt flavor, but not much. There is a VERY light bitter aftertaste.
M: Drinks smoothly, is refreshing and crisp. Clean finish. Carbonation is within range for style..
Overall: Maybe a little sweet, but more pleasant to drink than other mainstream beers avaiable in The Netherlands. A solid standard lager that is easy to drink...a lot of.
683 characters
Hertog Jan Naturzuiver Bier from Arcense Stoombierbouwerij (Hertog Jan Brouwerij)
2.72
out of
5
based on
35
ratings.