Hertog Jan Dubbel
| Arcense Stoombierbouwerij (Hertog Jan Brouwerij)
BA SCORE
83
good
10
Reviews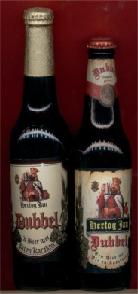 BEER INFO
Brewed by:
Arcense Stoombierbouwerij (Hertog Jan Brouwerij)
Netherlands
hertogjan.nl
Style:
Dubbel
Alcohol by volume (ABV):
7.30%
Availability:
Year-round
Notes / Commercial Description:
No notes at this time.
Added by Jason on 01-06-2004
Reviews: 10 | Ratings: 33
2
/5
rDev
-44%
look: 2 | smell: 2 | taste: 2 | feel: 2 | overall: 2
What to say about a abdij bier that is not even one... not much except that it smelled like a pilsener, just a little (bad)chocolate in the taste and sweet... hardly any bitteness in smell, taste and aftertaste... sweet, sweet .... not pleased to taste one again.
263 characters
2.78
/5
rDev
-22.1%
look: 3.5 | smell: 3 | taste: 2.5 | feel: 2.5 | overall: 3
I have to agree with the people reviewing before me. This was not very outstanding. Information on the label mentioned caramel colouring, which should not be used in any beer IMO. Still I reviewed this beer without any prejudice.
Colour was OK, black or dark brown with a retaining head. Smell was that of molasses and slightly oily with a bit of chocolate flavor.
Taste was very much like the smell, molasses and oily, almost absent bitterness and a little sticky. It lacks any form of complexity. I always perceived Hertog Jan to be a very good brewery, with the outstanding Grand Prestige and Triple, but this is too bland for me.
639 characters

3.33
/5
rDev
-6.7%
look: 3.5 | smell: 3 | taste: 3.5 | feel: 3 | overall: 3.5
The beer was in a ceramic bottle. Drank it in a westvleteren chalice which is ok for this type of beer. The beer has a nice (slightly brownish couloured)head and a darkbrown colour of the beer itself. You would almost think that you have a westvleteren! Which is, of course, really not the case. For a dubbel it is an OK beer, no more and no less.
Smell is average, not unpleasant.
382 characters
3.53
/5
rDev
-1.1%
look: 4 | smell: 3.5 | taste: 3.5 | feel: 3.5 | overall: 3.5
500ml ceramic bottle bought from The Vineyard, Belfast...
Poured a deep burgundy red colour... Creamy tan head poured thick and foamy with tight bubbles then faded to light ring around the edge... sparse carbonation and... some light lacing...
Aroma - Toasted biscuity malts, spicy fruits (raisins, currents, prunes), winey hints, faint aniseed notes, some nuttiness, earthy, some light rum notes coming through, light brown sugar sweetness, some spicy hops..
Taste – Quite strong spicy fruits (raisins, prunes, some strawberry hints), woodiness, aniseed notes, peppery, warming alcohol notes coming through, toasted biscuity malts, light caramel / molasses sweetness, peppery hops, some light rum traces...
Feel - Pretty sharp and dry with some smoothness coming through afterwards... medium bodied...
Overall - An ok beer.... Everything could do with being beefed up a little though... worth a try...
918 characters

3.7
/5
rDev
+3.6%
look: 3.5 | smell: 3.5 | taste: 4 | feel: 3.5 | overall: 3.5
Beer bottle (50 cl. in stoneware), purchased in Bières & Chopes, and tasted in 2011.
Appearance : deep red color, with tan foam head.
Smell : roasted malt and fruity aromas.
Taste and mouthfeel : caramel malt flavours with a hint of bitterness in finish.
Drinkability : a good beer in the Belgian style Dubbel.
312 characters

3.75
/5
rDev
+5%
look: 3.75 | smell: 3.75 | taste: 3.75 | feel: 3.75 | overall: 3.75
Served in a Leffe chalice, it pours a dark brown, clear, almost copper-like, with some red glare when playing with the light. The head is small, light brown, and had almost no retention. It leaves a nice lacing on the walls of the glass.
The bouquet is of malty sweetness, caramel, cherry, dark fruits as in prune, raisins and figs, just a tad phenolic as in medicine and a slight hint of booze. Aggressive swirling also reveal some hoppy spiciness, although such spiciness is not present normally in the bouquet.
Complex flavor, and quite tasty too.
Upfront a high carbonation that introduces a blast of multifaceted sweetness. Caramel, dark fruits, cherry, spiciness, phenolic, steely malty sweetness.
Mid-flavor a slight bitterness enters to balance this beer, and the new tamed sweetness lingers along with a subdued bitterness.
The finish is long, spicy and bittersweet with a caramel note.
Medium to light body, slightly silky and smooth.
A nice and tasty dubbel.
976 characters

3.95
/5
rDev
+10.6%
look: 4 | smell: 4 | taste: 4 | feel: 3.5 | overall: 4
Poured from a 50cl stoneware container into a tulip. Points for the badass bottle. Nice rocky head, but it needs a little bit of a force pour. Retention isn't great, but at least it leaves a thin cap on top of a dark, clear, blood-ruby beer. More clear amber than many darker brown dubbels.
Smell is cherry and booze and cinnamon with a little caramel/toffee breadiness in the background.
Sweet and spicey. Just a hint of bitterness in the middle. Definitely some nice dark fruit suggestions, and not too heavy on the crystal malt. The peppery booze helps balance the sweetness, but is also nicely balanced. A little chocolate makes this one taste like one of those chocolate bon-bons with the cherry liqueur inside.
Light body for the style, some moderate viscosity and lifting carbonation keep this from becoming unpleasant but it feels lacking.
Overall an interesting take on a dubbel, a good beer with balanced flavors. I would like to see this scaled up a little, especially with the body. Worth it though and I would buy it again, if only for the sweet ceramic bottle.
1,078 characters

4.13
/5
rDev
+15.7%
look: 4.5 | smell: 4.5 | taste: 4 | feel: 3.75 | overall: 4
Pours deep brown with a very mild foam head, almost no retention. Smell is complex, fruity and malty, almost no hops. Taste is strong and malty, sweet but balanced, bitterness is low. Medium body with low carbonation. Overall a good dubbel in a beautiful bottle.
262 characters

4.2
/5
rDev
+17.6%
look: 4 | smell: 4 | taste: 4.5 | feel: 4 | overall: 4
500 ml ceramic bottle, black painted, with a cork on top. At home, poured into a chalice.
Small head, something more than one finger, off-white in colour, with average retention. Second pour was into a tulip, not any difference. Colour is deep ruby, almost brown. Lots of tiny bubbles rising to the top.
Aroma of light caramel, red sweet wine.
Tastes more like wine too, the alcohol very nicely conceiled. Mostly sweet, with a short acidic finish. A subtle cinnamon note on the finish as well.
Full body and as much carbonation as needed.
A very tasteful dubbel.
563 characters

4.31
/5
rDev
+20.7%
look: 5 | smell: 4 | taste: 4.5 | feel: 4 | overall: 4.25
Poured into a wine glass from a 50cl bottle
A - a deep opaque blood red/brown/black, with a half finger deep tan head and some sugar legs/lacing
S - Belgian like yeast, sugar, sweet wine notes, sweet malts, slight booze note, very nutty, holiday like spices
T - Chocolate, sweet malts, chewy grains, red wine blend, belgian yeast, lots of brown earth, sugar, caramel, nuts, vanilla
M - Full bodied, well balanced, nice complexity, medium acidity, medium plus carbonation and a lovely sweet to bitter sweet
D/O - Very nice, rich, refreshing, simple flavor but full of flavor. This one is great with any thing grilled, fresh vegetables and desert of any kind. If this was cellared it may have received my highest regards. Though, I only had one and have never had this so I couldn't and didn't. If you can get two and age one -- this one still tastes pretty young.
Final thoughts - This one was 9 euros and has a really nice 7.5 abv perfect for sharing or lone wolfing it.
977 characters
Hertog Jan Dubbel from Arcense Stoombierbouwerij (Hertog Jan Brouwerij)
3.57
out of
5
based on
33
ratings.