Hertog Jan Oerblond
| Arcense Stoombierbouwerij (Hertog Jan Brouwerij)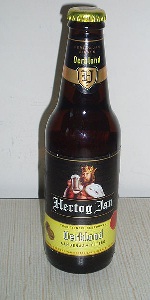 BEER INFO
Brewed by:
Arcense Stoombierbouwerij (Hertog Jan Brouwerij)
Netherlands
hertogjan.nl
Style:
Belgian Pale Ale
Alcohol by volume (ABV):
6.20%
Availability:
Year-round
Notes / Commercial Description:
No notes at this time.
Added by Filosoof on 10-29-2011
Reviews: 8 | Ratings: 17

4.1
/5
rDev
+20.9%
look: 4.5 | smell: 4.5 | taste: 4 | feel: 3.5 | overall: 4
Hertog Jan has given beer lovers an opportunity to choose the new beer: a blond or a brown. A choice out of two isn't big, but the result is okay though.
L: yellow golden look, with a good top;
S: malty, flowers, honey (?);
T: nice, round but not the promised bitterness;
M: a bit undercarbonated, smooth but a bit weak;
O: just another nice beer of Hertog Jan; the name Oerbier is somewhat over the top for a regular beer.
430 characters
3.73
/5
rDev
+10%
look: 3.75 | smell: 3.75 | taste: 3.75 | feel: 3.5 | overall: 3.75
On-tap at Cafe Katoen, Amsterdam, Netherlands
A: The beer is crystal clear deep yellow in color and has no visible carbonation. It poured with a finger high off white head that died down, leaving a thin layer of bubbles covering the surface.
S: Light to moderate aromas of Belgian yeast are present in the nose.
T: The taste has flavors of Belgian yeast, pale malts and hints of peppery spices. The spices become stronger as the beer warms up.
M: It feels medium-bodied and slightly dry on the palate with a moderate amount of carbonation.
O: This beer is very nice and drinks rather easily.
596 characters
3.5
/5
rDev
+3.2%
look: 3.5 | smell: 3.5 | taste: 3.5 | feel: 3.5 | overall: 3.5
It was this one, the lager or the weizen so the choice was easy.
Drinking this pretty much unchilled but let us see...
A rather nice, light golden colour. A rockly white head with nice lacing. Very little visible carbonation. Reasonable retention.
Smells very Belgian, which is probably a good thing for this macrobrew.
Very yeasty (even though it is a filtered beer). Citrus peel is dominating, leafy hops (not very bitter) and light malts. Spice as well.
Tastes very reasonable actually. A simple, rather light blond ale.
Said to be bitter but is not very bitter really, some herby hoppiness on the aftertaste.
Rather sweetish from the malts. Other than that it has some citrus and light spice.
Mouthfeel is light to medium and the carbonation is rather weak.
Decent beer.
780 characters
3.47
/5
rDev
+2.4%
look: 3.25 | smell: 3 | taste: 3.75 | feel: 3.5 | overall: 3.5
This beer pours a clear orange, golden color with a settling head.
The smell is not too outspoken. There is a malty smell that reminds of honey and sweet malt.
Taste is quite bitter, more bitter than the draft version. The beer has a clean character, and leans heavily on the malt. The malt adds a sweet malty taste that has honey and dextrines in there. The hop character is clean and there is no real hop aroma. A decent beer.
430 characters

3.45
/5
rDev
+1.8%
look: 3.5 | smell: 3.5 | taste: 3.5 | feel: 3 | overall: 3.5
Clear, light orange/earthy colour with very think head and some medium bubbles op top.
Smell is quite faint, some malt, grassiness, yeast and hops. Faint lemon-peel. It's nicely balanced though.
Taste is light malty, a tiny bit of yeast and little burned and spicy notes. Some citrus, and then nice light hop notes.
Mouth: quite dry, light carbonation. It's almost like a pilsner. Expected a bit more.
Hertog Jan has a lof of drinkable beers, but most lack character and are a bit bland. This is no exception, it's supposed to be their 'bitter blond', but it has and almost pilsener character. Very drinkable though.
622 characters

3.11
/5
rDev
-8.3%
look: 3.5 | smell: 2.5 | taste: 3.5 | feel: 3 | overall: 3
Poured from the standard Dutch bottle of 300 ml.
Colour is dark yellow, with lots of bubbles rising, and a one finger head.
Smell is of corn and hops.
Taste is pleasant, barely noticeable bitter, certainly not as much as I was expecting fromm the description on the bottle, and a bit metallic.
Mouthfeel is medium thin bodied, dry, average carbonation.
Overall, not bad. Calling it a premium beer (oerbier) though.. I think not.
433 characters
3.03
/5
rDev
-10.6%
look: 3 | smell: 3 | taste: 3 | feel: 3.25 | overall: 3
Sweet and light (as in watery mouthfeel) for a Belgian style. Small creamy head and clear dark golden in color. Aroma is malty, Taste is lightly of malt with lingering sweetness. Needs some work...
197 characters
2.57
/5
rDev
-24.2%
look: 2.5 | smell: 3 | taste: 2.5 | feel: 2 | overall: 2.5
exp: aug 2013
A: transparent golden orange, no head, little carbonation.
S: vanilla, soapy, chocolate, bit of an alcohol sharpness. interesting...
T: strange. half like a cheapish higher alcohol dutch/belgian/french style beer, but there's a little something there. honey, sweet, alcohol, eh
M: Basically no carbonation, but therefore smooth. Boring
O: Not great, maybe I'm not a huge fan of this brewery
405 characters
Hertog Jan Oerblond from Arcense Stoombierbouwerij (Hertog Jan Brouwerij)
3.39
out of
5
based on
17
ratings.