Elliot Glacier Public House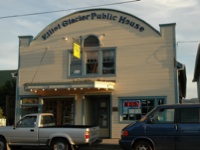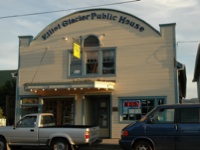 PLACE INFO
Type:
Brewery, Bar, Eatery
4945 Baseline Road
Parkdale
,
Oregon
, 97041
United States
(541) 352-1011
// CLOSED //
Notes:
No notes at this time.
Added by BeerAdvocate
HISTOGRAM
View: Beers | Place Reviews
Ratings: 4 | Reviews: 4
Reviews by loren01:

4.7
/5
rDev
+11.6%
vibe: 5 | quality: 4.5 | service: 4.5 | selection: 5
Stopped by this place recently on a trip out to Oregon. Would have never known about this place if not for beeradvocate. Glad we made a little side trip off the main road to get here though. The scenery at this place is some of the best scenery I've ever experienced. The back patio looks directly into the north side of Mount Hood, its right there...pretty awesome. I don't know why anyone would ever want to sit inside with a view like that. Had a scottish and a pale ale both of which were not outstanding but very solid. Didn't try any food but the people sitting next to us had the nachos which looked awesome. Would seriously reccomend this place if you are ever in the area.
681 characters
More User Reviews:
3.48
/5
rDev
-17.3%
vibe: 4.5 | quality: 3.5 | service: 3 | selection: 3.5 | food: 3.5
Visited Sunday 30 August, 2009.
After a weekend spent camping and hiking around nearby Little Crater Lake/Timothy Lake, our worn-out and hungry band of six descended on the sleepy village of Parkdale for some much-needed food and ale. Driving down Hwy 35, we nearly missed the turn-off for this town (there's not much to Parkdale beyond apple and pear orchards); once we arrived on Main Street the 'yellow chiffon'-colored pub was easy to spot.
A small placard outside says this was the town's original movie theater (ca. the 1930's), though little remains of the former use. The inside is more of a lodge, or a contemporary church - one devoted to beer: white walls and ceiling, exposed wood beams, a knotty pine bar and trim, worn floors, a nifty little balcony above. Along with a few sets of aged skis and snowshoes, hundreds of beer coasters and cans/bottles from various eras line every ledge, creating an informal 'breweriana' museum. We picked a long table, right at the center of the room between two counters (one where you order food, the other where you pay for it and order beer). Pints are $4, glasses are $3 and pitchers are $12; all pretty simple math.
The 'crowd' on a Sunday afternoon around 4pm was a mix of locals/regulars and outdoors enthusiasts (mountain bikers in full gear or campers, like us, with dust-covered shoes and tired expressions, etc.). We all ordered food - a variety of burritos, nachos and sandwiches - which just about covered the gamut of the limited menu (fondue was one of the handful of other options). I picked a Verde Chicken Burrito, which was perfectly tasty with its smothering of salsa, beans, cheese, sour cream and jalapenos. Others were less impressive, including a half-eaten bean burrito and a sad fudge brownie, that bore a resemblance to the cow-pies we'd passed along our hiking trail. The (free) popcorn, however, was a terrific bonus, quite addictive.
There were 6 house beers on (plus bottled Miller Lite!); I had two pints during our stay but tried 3 others. My first was the Belgian Wit, which bore a refreshing and vaguely Belgian zest; my second was the Ghost Ridge Imperial Stout, perhaps too carbonated, but a tasty roasty/chocolate-y sipper to end on. I also tried the Dubbel Espresso Belgian (not very good), the Red Hill Scottish (overly-roasted but decent, especially if you like dark malt bitterness) and the 5th Anniversary IPA (balanced and tasty, although of the Pale Ale persuasion - and definitely the lightest yellow/golden of any 'IPA' I've ever seen). The only one I missed was the Porter. Overall beer quality seemed average, or a little above. Selection was a nice assortment of styles, so a small plus there as well... A side note: the house root beer was aromatic and delicious, a bargain at $2 for a pint.
Servers seemed to be too young to serve to be quite honest, a late teens/early twenties mix that seemed able enough in the kitchen but hardly able to handle the beer-pouring duties (case in point: I say: "I'll have the Wit". She, standing at the taps, says: "OK. Point at which one that is"). Friendly enough, but otherwise only adequate.
Having read the previous 3 reviews, I probably expected more than I should have from this pub. We all left satisfied - decent pub food, beer in our bellies - but none were overly impressed by the place; even the admittedly gorgeous back porch view of hulking Mt. Hood seemed a bit less majestic than anticipated. Worth a visit for the outdoor beauty and cozy intimacy inside, but beers and food are not enough to make this a repeat. Hood River (Double Mountain!) probably wins next time...
3,626 characters
4.28
/5
rDev
+1.7%
vibe: 4 | quality: 4.5 | service: 4.5 | selection: 4 | food: 4
When I visit my friends in Hood River, this is a must stop place. Best if I'm alone because my wife likes the winery tours that are near by.
An old time theater building, the view out the back window of Mt. Hood is great. They also have an outside seating are weather permitting. Inside is just fine and the service is always friendly and quick with no pressure. Oh, best if you go get your beer and go to the food counter and place your order. It is not the kinda place where they come rushing over to you. So the first time the service may seem off, if you do not take charge and get what you want. Once you've ordered the food comes quickly and the beer is fresh and interesting.
I'm a dark, malty beer kind of guy and they usually have a scottish, or porter, or stout that meets my needs.
One fun trip is to ride the train up from Hood River. The downside is they don't give you enough time to really sit back and try all the brews. But you can ride the train back to Hood River and then drive up later.
1,016 characters
4.38
/5
rDev
+4%
vibe: 5 | quality: 4.5 | service: 4.5 | selection: 4 | food: 4
Every time I think of this place, I am flooded with the notion to return. To begin with, it's the only bar for twenty miles in any direction. Parkdale has one gas station, one bar, and a large fruit distribution warehouse. The surrounding vicinity hosts thousands of acres of orchards, mostly pear. There's also a mountain in the vicinity. You'll notice it.
The Public House occupies an old movie theater built in 1936 and located on Parkdale's main street. The brew house nests on the east side of the building and is visible behind a series of glass windows that begin near the bar and follow the stairway to the loft. To the right is a small kitchen behind a service counter. To the left rear is the bar.
But the best feature at EG is the beer garden. The garden has hop vines in whiskey barrels and tables made of cable spools covered with checkered tablecloths. A pear orchard stretches from a grassy parking area towards the horizon; an old historic farmstead is perched beside it. Next-door is a Mexican tienda. And then there's that mountain.
From the back porch of the Public House, Mt. Hood looms like a god. It is a breathtaking spectacle and to sit outdoors enjoying an Elliot Glacier beer is an experience every northwest beer hunter should know. During daylight hours there are few brewpubs anywhere that can rival the awe-inspiring scenery from Elliot Glacier's beer garden.
The Public House features six regular beers. They make their own root beer too but have no ales on nitro, and none cask conditioned. As a whole, Elliot Glacier beers are characterized as being of low attenuation. They are wortish and sweet with minimal carbonation, all of which suggests substantial retained fermentable sugars. I have no difficulty drinking these beers. I think of them collectively as Parkdale green ales or simply Parkdale Green.
Food is simple owing to the constraints of the modest, home-style kitchen. But the menu is unique among regional brewpubs. There's free popcorn at the bar and the usual burgers, burritos, and nachos. But Elliot Glacier also has a sloppy joe, a self-serve salad bar, and the house specialty, fondue. The food I sampled was flavorful, the chicken, succulent. And the service was very kind. Monday and Tuesday feature build-your-own tacos which draws a loyal crowd.
Upstairs is a cozy nook with darts and games and an impressive collection of beer cans from around the world. The windows along the stairwell allow for unique angular glimpses into the brewery. There's also a self-serve book exchange and a movie screen. And there's no TV in the house.
Parkdale is notable as being the site of the world's first artificially inseminated turkey. (Imagine that - the world's first turkey baster turkey). The town draws a lot of tourist traffic from the historic railway that runs south from Hood River. Tourists walk from the depot past the regional museum, and along the wooden plank sidewalks straight to the Public House. It's also a popular destination with touring motorcyclists and outdoor recreationalists. Don't miss it if you're in the Hood.
3,103 characters
Elliot Glacier Public House in Parkdale, OR
Brewery rating:
3.71
out of
5
with
0
ratings