Full Sail Pale Ale
| Full Sail Brewery & Tasting Room & Pub
BA SCORE
84
good
363
Reviews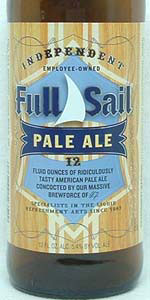 BEER INFO
Brewed by:
Full Sail Brewery & Tasting Room & Pub
Oregon
,
United States
fullsailbrewing.com
Style:
American Pale Ale (APA)
Alcohol by volume (ABV):
5.40%
Availability:
Year-round
Notes / Commercial Description:
Not to be confused with their English Style Pale.
"Our Pale Ale has a fresh, hoppy aroma that comes from two (top secret) Northwest hop varieties, while two-row Pale and Crystal malt give it a mild sweetness that finishes clean and crisp. Feeling out of whack? Put on some music, crack a Pale Ale, and readjust your balance.
ABV 5.4% IBU 37"
Added by BeerAdvocate on 02-14-2002
Reviews: 363 | Ratings: 641
3.98
/5
rDev
+7.6%
look: 4 | smell: 3.5 | taste: 4 | feel: 4 | overall: 4.5
Pours a light orange into a pint glass. About two inches of head and tons of lacing.
Pretty subdued smell...little bit of citrus/pine.
Taste is much bigger than the aroma. A almost perfect balance between the bite of the hops and the sweet malt. Very good...gives SNPA a run for its money.
Mouthfeel is very good, and drinkability is insane. A perfect session brew.
Overall, I wasn't expecting too much, but was pleasantly surprised. An very good APA.
★
456 characters
3
/5
rDev
-18.9%
look: 3 | smell: 3 | taste: 3 | feel: 3 | overall: 3
Typically I break a review down into appearance, smell, taste, mouthfeel, and drinkability descriptions, but this beer didn't really have anything notable in any category. This was exactly average. Not great, not terrible. It was okay. Hoppy, med/light body, drinkable. I don't know. It was okay.
★
296 characters
4.3
/5
rDev
+16.2%
look: 4 | smell: 4 | taste: 4.5 | feel: 4 | overall: 4.5
Apperarence, a light amber with a thin white head which disapears pretty quickly. Smell is citrus hops and sweet malt. Taste is off the charts, malt flavors of apple, light roasted, a little creamy and caramel. Very well hopped. A light bitterness throughout with a little citrus, piney and herbal hop flavor. A very complex ale but very drinkable and well balanced.
A great pale ale from a great brewery.
★
407 characters
2.92
/5
rDev
-21.1%
look: 3 | smell: 3.5 | taste: 2.5 | feel: 3 | overall: 3
A - Clear yellow/amber, light bubbly head that remains for quite a while
S - Newly harvested grain, malts, and a bit of citrus
T - You can taste raw grain in the malt with an acridly bitter background in the mouth and in the aftertaste. I did not get the doughy flavors that others speak of.
M - Has enough carbonation, but feels thin in the mouth.
D - The bottle was within its service date, but I did not experience many of the smells and tastes that others report. This is not a beer I will stock in my cooler.
★
517 characters
4.4
/5
rDev
+18.9%
look: 4 | smell: 4 | taste: 4.5 | feel: 4 | overall: 5
Oh, the pure unmitigated joy that belongs to this beer. Oh how I do enjoy this brew. It pours out and I shed a tear, not of sorrow but delight. This beer is by far one of my favorites. It is not heavy, or has special, exotic ingredients, instead this beer is simply one of the tastiest beers I have ever had. What are you still reading for? Go buy one for yourself.
★
365 characters
4.06
/5
rDev
+9.7%
look: 4 | smell: 3 | taste: 4.5 | feel: 4 | overall: 4.5
Honestly, I have seen this beer numerous times and never purchased it because I don't like the bottle. So, as soon as they changed the design I bought a six pack. It turns out I should be less superficial because this is a very good beer.
The beer poured a clear orange color with hints amber in the right light. There was a nice thick head with an average amount of lacing. There really wasn't much odor to this beer so I wasn't sure what to expect in the flavor. I have grown wear of American pale ales that have the hoppiness of an IPA. I like hops, but I don't want it to be all I taste in my beer. This beer didn't disappoint me. The flavor started out with piny and slightly citrusy hops, and then finished with a nice malty/grainy taste. It was very well balanced, not too bitter, not too sweet, and went down incredibly smoothly. I could drink this beer all night.
★
880 characters
2.22
/5
rDev
-40%
look: 2 | smell: 2.5 | taste: 2 | feel: 2 | overall: 2.5
Served from a bottle, part of a sample pack.
Pours with basically no head. None or very little lace. Smells of a touch of caramel, with a slight (and I mean slight) veggie smell, possibly green bean, which is strange. Taste isn't much better. Flavors, when you can taste them at all, are light hoppiness, and ripe grass.
Mouthfeel is decent, reminds me of a full bodied lager, not really a pale ale, which should be a lot creamier than this.
Best thing this beer has going for it is drinkability. Could easily drink a few of these, but why bother?
I liked the other Full Sail I had, what happened to this one?
Edit: Had another one, decided I was being a little too harsh on taste, smell. It grows on you. That's two things going for it.
★
744 characters

3.38
/5
rDev
-8.6%
look: 3.5 | smell: 3 | taste: 3.5 | feel: 3.5 | overall: 3.5
Appearance was a light copper color, there was a constant supply of carbonation from the bottom serving the head which lasted about 2 minutes for me. No lacing, though.
Smell was of lightly dispersed aromatic hops. Some citrus, mainly ripe grapefruit.
Taste was very good kick of carbonation and citrus. Light on the taste of hops.
Mouthfeel was light, crisp, and "bitey". The sensations from the beer last for you though and the carbonation cleans the palette.
Overall a good example of an American Pale Ale for the price point. Pairs very well with either burgers or pizza since the carbonation, as mentioned before, clears the palette for other tastes. Enjoy!
★
666 characters
3.97
/5
rDev
+7.3%
look: 3.5 | smell: 4 | taste: 4 | feel: 4 | overall: 4
After pouring, this beer shows a classic tan color and a good solid head that dissipates quickly. The maltiness is perfectly balanced by a citrusy hop flavor and aroma. The finish is complex and interesting: bitter, sweet, and clean. I find this beer to be very easy to drink, making it a regular session beer.
★
310 characters
3.77
/5
rDev
+1.9%
look: 3 | smell: 3.5 | taste: 4 | feel: 3.5 | overall: 4
poured from a 12 oz. bottle into a pint glass.
appearance: pours a nice reddish caramel hue, two-finger head which lingers. fine lacing.
smell: malty, hint of honey, bready. there is a citrus sense.
taste: malt is very good, some bitterness, nice complexity and finish with some hop.
mouthfeel: light-to-medium, good carb.
drinkability: very nice, great drinker. i had four of these the other night and didn't even realize it. good abv. admitted fan of full sail, and this pale ale is one of the reasons.
★
509 characters
3.98
/5
rDev
+7.6%
look: 4 | smell: 3.5 | taste: 4 | feel: 4 | overall: 4.5
A - Copper in color with a lingering head that remained for the entire session
S - Very little aroma that would be expected
T - A sweet, fruity taste hits first that leads to a bitter finish that is somewhat nutty
M - The carbonation makes this a crisp APA with light-medium body
D - It might not be the most distinct APA, but it is very refreshing and has enough character to keep me interested. It's a good session beer
★
425 characters
3.31
/5
rDev
-10.5%
look: 4 | smell: 3 | taste: 3.5 | feel: 2.5 | overall: 3.5
Saw six-packs of this and their Amber for the first time at my local spot in Astoria and was drawn to a small batch American Pale Ale. Poured straight into a Sam Adams pint glass, light head with decent lacing. Definitely drinkable with balanced hops, but had a sharper aftertaste that I'm not crazy about. Would like to try it on tap, but probably would fall into the queue of desired pale ales...cheers
--
BC
★
410 characters
3.91
/5
rDev
+5.7%
look: 4 | smell: 3 | taste: 4 | feel: 4.5 | overall: 4.5
Full Sail was a suprisingly good beer. It does not have much of a smell to it. In fact in barely smells at all, but it does have a fantastic taste that follows through with an outstanding refreshing aftertaste. I drank this beer paired with a bowl of fresh baked ziti and I must say it was excellent. Overall I would defintely carry this beer in my fridge. Cheers!
★
364 characters
Full Sail Pale Ale from Full Sail Brewery & Tasting Room & Pub
3.7
out of
5
based on
641
ratings.