Full Sail Equinox
| Full Sail Brewery & Tasting Room & Pub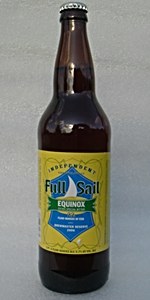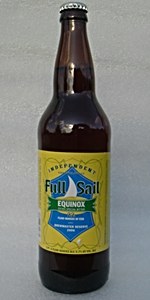 BEER INFO
Brewed by:
Full Sail Brewery & Tasting Room & Pub
Oregon
,
United States
fullsailbrewing.com
Style:
Extra Special / Strong Bitter (ESB)
Alcohol by volume (ABV):
5.70%
Availability:
Winter
Notes / Commercial Description:
No notes at this time.
Added by Jason on 04-10-2002
This beer is retired; no longer brewed.
Ratings: 38 | Reviews: 36
4.56
/5
rDev
+15.7%
look: 3.5 | smell: 5 | taste: 4.5 | feel: 4.5 | overall: 4.5
Forms an attractive fluffy white head that leaves lots of spider web lacing. Light copper in color, almost pale aleish in color and appearance.
The smell is glorious, a large hop presence, leaning towards the fruity, citrusy side of things. Malts are laid back, also leaning towards the fruity end of the spectrum. This is definately a unique ESB in the grand scheme of things. Not quite as balanced as its sister brews and leaning towards the namesake "bitter". I get even added bitter qualities from a slightly roasted malt goodness.
Notes: This is arguably the best in the style for my money. Hell take style completely out of the equation, this is a kick ass offering. I wish I had picked up more bombers, but next time I see it, its all mine...
755 characters

4.67
/5
rDev
+18.5%
look: 4 | smell: 4.5 | taste: 5 | feel: 4.5 | overall: 4.5
04/23/06- Purchased at Beverages and More in San Mateo, CA.
Presentation- 22oz bottle. No freshness date listed. Poured into my Full Sail pint glass.
Appearance- Orange hued coloring in the pour. 1/2 inch white head. Light rim sticks around for the entirety. Light spotty lacing left behind.
Smell- A great mixture of toasted caramel malt and pine scented hops. Smells like this one is going to be nice.
Taste- Indeed it is. Great malt taste and texture. Pine ridden hops assualt the taste buds and leave a nice bitter lashing on the tongue. Not to bitter, but just right. The malt blends perfectly with the hops.
Mouthfeel- Perfect carbonation level and a nice bitter aftertaste.
Drinkability- Pretty sure this is the best ESB I have had hands down. Anvil comes pretty close though. Could even pass for an English style IPA. Quality stuff and definitely sessionable. Looks like I'd better get a few more of these while I can.
944 characters
3.45
/5
rDev
-12.4%
look: 3.5 | smell: 3.5 | taste: 3.5 | feel: 3 | overall: 3.5
Pours a dark gold - amber with a thin, soapy eggshell head; It leaves thin, wispy rings of soapy lacing, fed by some rising bubbles.
The scent is somewhat lemony-zest malts and grapefruit hops, with a bit of bready middle.
The taste is actually rather bitter for a bitter, which tend to not be bitter (say that five times fast). The hops are rather fresh in this bottle, lending a grapefruity, steely taste that lingers. Malts are present, being of a zesty, light citrus and doughy quality.
Mouthfeel is smooth, somewhat snappy. It finishes with rather a lot of stickiness.
Final thoughts - an american interpretation that's a little heavier, more alcoholic, and more bitter than I like in my ESBs, but still good.
726 characters
4.23
/5
rDev
+7.4%
look: 4.5 | smell: 4 | taste: 4.5 | feel: 4 | overall: 4
Pours a nice orange amber with a full 2 finger head that melts to full lacing.
Aroma is sweet malt...nice malts, not too sticky with a slight bready yeast afterwards.
Taste is immediately bitter from the Target an Saaz English hops...very different than I am used to with the NW hops. A smooth malt sweetness follows and then finishes with citrus drying and bitterness.
Aftertaste is lightly citrus peel
Very quenching and would enjoy several of these (and maybe several more) on warm to hot days.
501 characters
4.43
/5
rDev
+12.4%
look: 5 | smell: 4.5 | taste: 4 | feel: 4.5 | overall: 5
Consumed around the spring equinox and review today from notes. A memorable beer, perhaps a british IPA, that I enjoyed greatly.
Pours a two-finger cream-tan head that settles to a low clingy layer. Almost perfectly clear bright copper liquid. Smells earthy oranges, fragrant like flowers, lemon balm. Quite hoppy, but accompanied by a sweet malt. This malt rides the more aromatic flowery character in a very enticing manner.
Tastes hoppy. Very floral with some co-ho edge. Woody, yet citrusy. Is this british hops? Malt sweet mixes well with the hops, but is clearly the undertone. Relatively dry with a touch of iron in the flavor. Md to Md-light in body and modest carbonation. A real pleaser on the palette. Not a killer that gets me wanting to fly to the brewery to try, but, *damn* it was a nice beer to put down. I rarely buy the same beer twice, but this is one I can see getting again and maybe again. Judged to style, this beer is incredible. Judge to preference, this beer is really really good.
1,013 characters
4.13
/5
rDev
+4.8%
look: 4.5 | smell: 4 | taste: 4 | feel: 4 | overall: 4.5
Pours light copper with a fluffy 3 fingers+ light tan head.Good lacing & very good head retention
Smell: citrussy hops & not much else
Taste: Grapefruiity hops & then malt fruitiness. Finishes wet, fruitty & hoppy (some pineyness)
MF: Nice carbonation, maybe skewed a little to the hoppy side for the style, but that's a minor nitpick, otherwise balanced
Pretty drinkable & quinching, At more afforabable price this would be a solid part of the spring/summer rotation, pity
485 characters
4
/5
rDev
+1.5%
look: 4 | smell: 4 | taste: 4 | feel: 4 | overall: 4
Appearance – This poured a light, brownish-orange and was very clear. The white head came up just right, showed decent retention, and left some lovely Belgian lacing on the inside of my Maritime pint glass.
Smell – The toasted malts and light yeast are covered in dirt. This is a raw, dried leaf and soil mix that really wets your appetite. The moderate sweetness is like a mix of liquid malt and caramel.
Taste – The toasty malts lead the way at the taste. They are very powerful without being too big or full, which is important for a sessionable style like ESB. The sugary finish is very light.
Mouthfeel – This is a solid medium-bodied with a bitter but not overly powerful body.
Drinkability – A good, all around, ESB session ale. It would be a great one to introduce someone to the style. It's bitter but not over the top and the toasted malts are just right. I mean, this is a very good standard for a newbie to experience what we mean by, "toasted malt flavor".
989 characters

3.41
/5
rDev
-13.5%
look: 4 | smell: 3 | taste: 3.5 | feel: 3.5 | overall: 3.5
Poured from a bomber, amber color with huge pillowy head. Great head retention with long fingery lacings. Aroma is sweet caramel and green apple with piney aroma hops, all the aromas are a bit too distinct, not very smooth. Mouthfeel is a bit dry with a medium body. Very little to no carbonation feel. Taste is a bit to the sweet side but still has a good amount of bittering and nice piney aroma hops. Overall it is hard to say on this one, the bittering and hops flavor was pretty nice but the malt flavor was lacking somewhat with a kind of green apple immature freshness. Not bad but I usually expect a bit more from Full Sail.
632 characters
3.21
/5
rDev
-18.5%
look: 4 | smell: 3 | taste: 3 | feel: 3.5 | overall: 3.5
I picked up a brown bomber bottle of this at Full Sail's pub at the brewery. I poured mine into my Baldwin-Wallace standard pint glass, and I found clear, copper colored beer produced a large, 1 inch plus of head during a standard, 45 degree to straight pour. A nice ring of thick bubbled, lacing left itself around the top ring of the glass. The beer's nose included a surprising amount of what I would consider skunkiness. Some hop presence lingered, but stayed in the background. The flavor too seemed to have a fair amount of skunkiness to it, but, proved to be fairly well balanced: light hops up front with a faint, soft malt back to it. The beer did have a distinctness to it, but within Oregon we have too many high quality bitters, including two from Rogue and Bachelor ESB from Deschutes, to reach for this rendition from Full Sail. The ESB style has quickly become one of my favorites as I have become increasingly more acquainted with it, but I found this beer's nose, and subsequent initial mouth fulls, to be unsatisfactory.
Notes: I picked this beer up from the brewery itself, and expected to find a bottle that was well taken care of, but I perhaps had receieved a poorly cared for bottle. While this may be the case, I chose to review the beer as though it was intended to be this by choice, for it was purchased from the brewery itself.
1,358 characters

3.48
/5
rDev
-11.7%
look: 4 | smell: 3.5 | taste: 3.5 | feel: 3 | overall: 3.5
New and on sale. Pours a clear copper with a slight ruby hue. Foam dances on top and rims the glass, leaving a nice fractal lacing.
Aroma is earthy malt that's aged and funked an authentic amount. Milder hops provide a herbal accessory.
Taste is direct with a rangier yeast fruitiness and sour malt compliment. Hops give it a bitter edge, but are weaker on the flavoring. Thinner body considering the range of flavors, but makes for an easy drink.
I'd love to try this on cask, or even tap. The carbonation gives it just the slightest bit of dryness that detracts from the overall drinkability. Still, nice.
616 characters

3.95
/5
rDev
+0.3%
look: 4 | smell: 4 | taste: 4 | feel: 3.5 | overall: 4
New Brewmasters Reserve release 2006.
Nice looking beer, clear amber with a great looking frothy /bubbly off white head, that sticks around, afterwards lashings of lace.
Very English style malty aromas backed up with very untypical NW hops ( for the style), but good and fresh none-the-less.
Quite a good job on the taste of this it has very English characteristics in the malting but throws in a bit of American hop enthusiasm, giving a nice bitter twang to the beer, big for an English ESB.
MOuthfeel was odd it started off really nice then sort of lost its way in wateryness..the nice bitter after taste saved it however.
A nice beer sort of a hybrid in my opinion between an ESB and an American Pale..though for me the ESB characteristics edge a win.
759 characters
4.12
/5
rDev
+4.6%
look: 3.5 | smell: 4 | taste: 4.5 | feel: 3.5 | overall: 4
Personally Full Sail, is a favorite brewery, whose beers always seem to please, just great everyday drinkable beers that "NO" matter which one you pull off the shelf will most certainly be a pleasure.
A nice deep amber to copper color on the pour, the head impressive in size, frothy, lace adequate enough to conceal the glass. Nose is lightly floral, malt, crisp and lemon-lime fresh. Sweet malt start, the top middling and the finish spicily hopped, stinging in its acidity, dry long lasting after taste.
509 characters
4.1
/5
rDev
+4.1%
look: 4 | smell: 4 | taste: 4 | feel: 4 | overall: 4.5
Presentation: 12oz brown with a "enjoy by" date clearly marked.
Appearance: Copper hued amber with a delightful sticky lace.
Smell: Ripe fruit, grain and fresh spicy hop.
Taste: Very smooth with a medium body ... nice full malty mouthfeel. Hops are aggressive with a pungent / semi coarse bitterness. Quick flash of malt with a handful of pale and crystal malt flavour. Oddly enough it does have a faint licorice note within the grainy, hoppy and fruity flavours. Hops linger everlasting into a long drawn-out drying finish along with a grainy taste.
Notes: Great stuff went superb with bbq pulled pork, red beans and dirty rice. Very drinkable ... close to being addictive as an after work beer.
708 characters
Full Sail Equinox from Full Sail Brewery & Tasting Room & Pub
Beer rating:
76.3%
out of
100
with
38
ratings